Room Configuration
Room Configuration
Selecting the most appropriate video conferencing solution for your environment and organizing your physical meeting space are the essential first steps needed to ensure professional-quality video meetings. The final step is to place and configure the equipment in the best possible way to support this goal.
Here are some key considerations and best practices:
Compute
All Logitech Video Conferencing Solutions are USB peripherals with plug-and-play connectivity to a computer of some form. The most common options are a personal laptop, sometimes referred to in terms of Bring Your Own Device (BYOD), or a dedicated computer of some type permanently installed in the meeting room.
Logitech Video Conferencing Solutions are ideal for BYOD scenarios since they work right out of the box without additional software once everything is plugged in. With USB plug-and-play simplicity, BYOD users enjoy the flexibility to set up ad hoc meetings in any video-enabled meeting space with full access to any application on their own laptop.
Alternatively, many organizations prefer the consistency and convenience of provisioning video meeting spaces with dedicated computer sources. In this scenario, all connections are already made and tested so that everything is always set up and ready to launch a meeting. Users encounter the same experience every time and enjoy the reliability of a pre-configured, consistent experience. Rooms with a dedicated computer can gain additional ease of use by installing the optional Logitech Tap control surface.
PLACEMENT
The primary location for the computer source is either on the meeting table (as with a personal laptop), mounted below the table or behind the display wall. An advantage of positioning the computer near the display is proximity to AC power, Ethernet, and other components to which the computer connects.
Regardless of the chosen location, the computer requires proximity to the camera to connect through the USB cable. Supplied USB cables vary in length from 6.5' to 16' depending on which Logitech solution is acquired. In all cases, a quality Internet connection is required to provide a quality experience with video calls. Due to this requirement, wired Ethernet is recommended over using wireless (WiFi).
When planning the placement of the computer source, consider the connections for the meeting controller (see next section), HDMI cable(s) to the display, USB cables for the camera and speakerphone, Ethernet and power. HDMI and USB extenders are available if the in-box connectors for the camera, speakerphone and meeting controller are not long enough for a specific instance.
Meeting Controllers
In addition to the basic components of a video conferencing system [the display, computer source, and either an all-in-one solution or the combination of a camera, mics, and speakers] a meeting controller is also needed. The meeting controller can be either wired or wireless. Product options include a Logitech K400 Plus Wireless Touch Keyboard, a Logitech Tap or wireless tablets.
Tap is a 10" (254mm) touch surface which displays the native interface for video conferencing software. Tap requires a USB connection to the computer, power, and provides an optional HDMI input to enable wired content sharing. Tap can be placed on a table out of the box; additionally there are swivel mount, riser and wall mount optional accessories available. If the supplied USB cable is not long enough, the Logitech Strong USB cable is another option accessory that comes in 33 feet (10m) or 82 feet (25m) forms. Strong USB is an active optical cable that enables the extension of USB 2.0, USB 3.0 and USB 3.1 up to distances of 82 feet (25m). Being optical, the cable does not pass power to power remote devices, but does power itself from the device to which it is connected and therefore does not need any external power supply.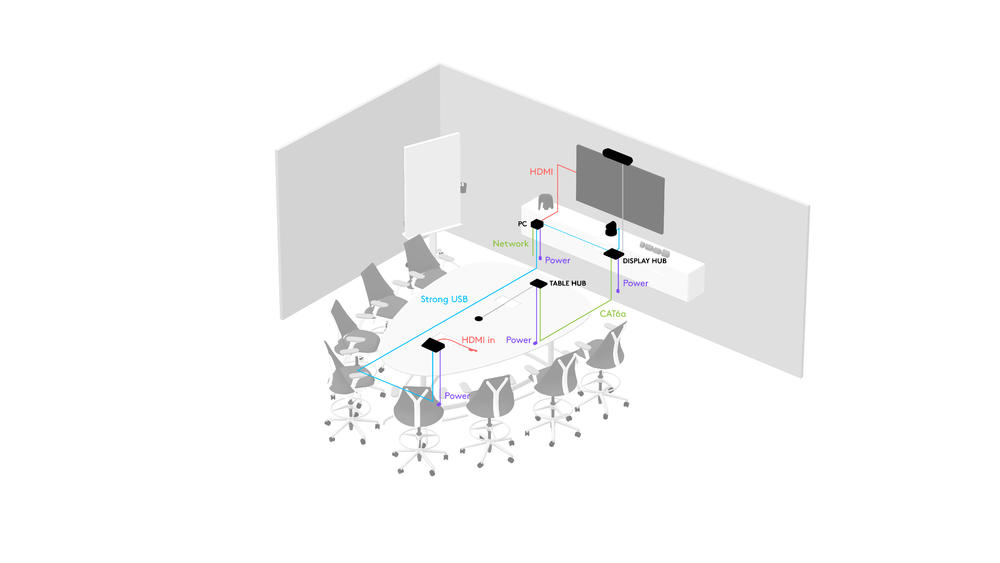 Cabling example of Tap and Rally in a mid-sized meeting room with a dedicated room computer
For configurations with a user supplied wireless tablet, power is needed close to the placement of the tablet on the table to avoid a low battery state at an inconvenient moment. Be sure to secure the tablet using a charging dock.
Connections
At the most basic level, you will need to ensure power is readily available to the video conferencing hardware, display(s), and the computer source.
Other cables and connections include a USB cable between the video conferencing hardware and computer source, an HDMI cable or cables between the computer source and display(s), and an Ethernet connection for Internet access. Take note of how cable lengths and proximity to power/network outlets will inform your possible installation options in any given room.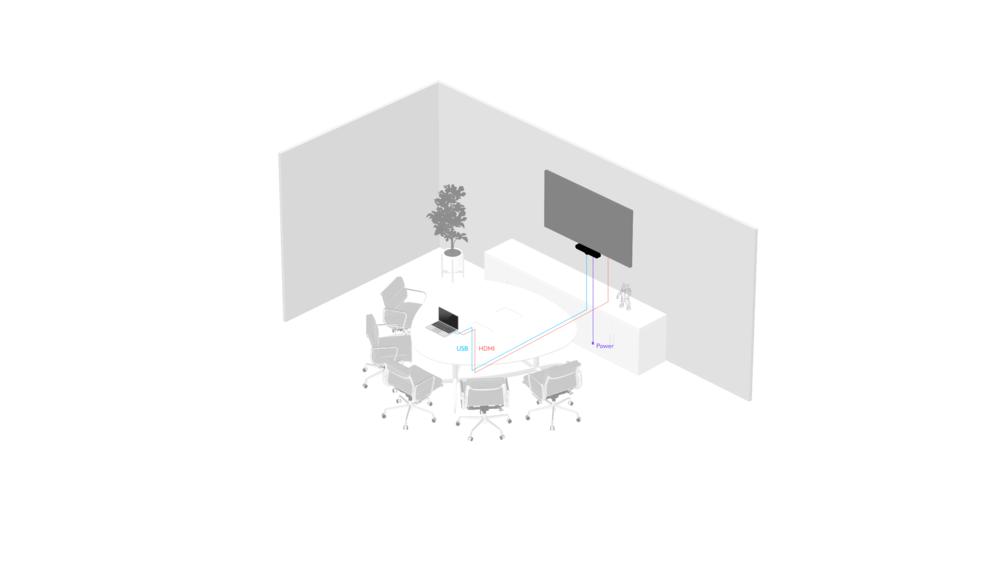 Huddle room cabling example with MeetUp and BYOD setup
For Logitech GROUP deployments in larger conference rooms, additional connections are required between the hub, camera, speakerphone, and optional expansion microphones.
Logitech Rally offers even more installation flexibility, including the addition of up to seven individual mic pods and an external speaker (mono) or two (stereo). With each Rally Mic Pod providing exceptional conversational clarity throughout a 7.5' (2.3m) radius (effectively serving up to 10 people) the possibilities are expansive.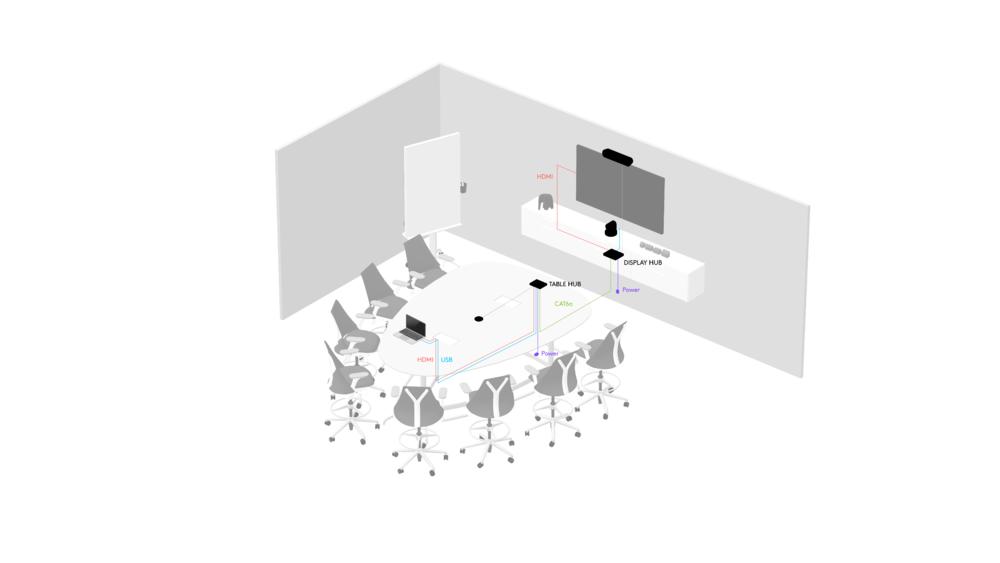 Mid-sized meeting room cabling example with Rally and BYOD setup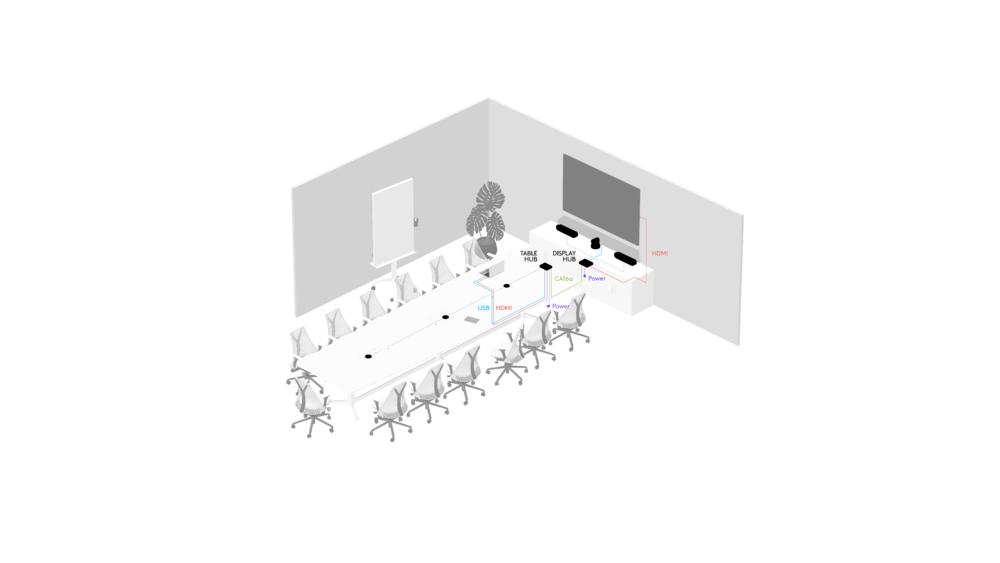 Large meeting room / boardroom cabling example with Rally and BYOD setup
For seamless meeting room installations, route cables through a conduit or under-the-table wire tray to keep cables organized, mitigate visual clutter, and reduce potential tripping hazards.
Logitech Screen Share brings fast and easy content sharing to any conference room computer. Simply connect a laptop or tablet via HDMI to start sharing. There is no need to install software, enter a passcode, or even connect to the internet. Screen Share works with Zoom, Skype for Business, WebEx, BlueJeans, and other meeting services that support content sharing via USB.
Packed with video encoding technology in a surprisingly compact device, the Screen Share connects to the conference room computer via USB, and provides an HDMI input for instant content sharing as shown here.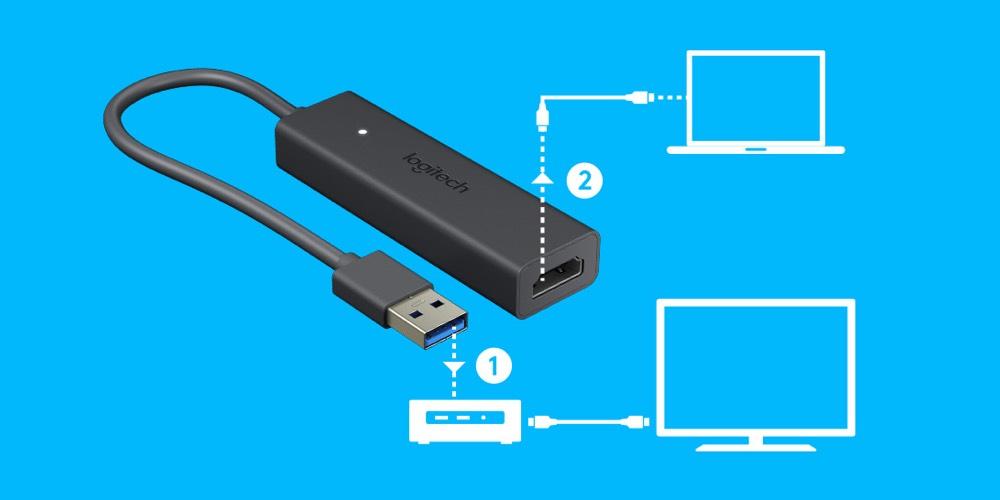 Logitech Screen Share connects to the conference room computer via USB (1) and provides an HDMI input (2) for instant content sharing
Cable Management
In order to create a clean and professional video meeting space, cable management is an essential part of the installation process. Depending on room size along with number and length of cables, managing wiring can become a complex challenge for installers seeking to keep cables and cords neatly organized and contained.
A disorganized jumble of cables and cords can be distracting, diminish user experience, and reduce the overall effectiveness of meetings. Taking the time to do the installation right is well worth the effort. Here are some basic considerations for a streamlined cable management plan:
TABLE GROMMETS
Table Grommets allow devices and connections needed above the table to cleanly pass the wires through to the bottom side with minimal visual impact.
Combined with under-table trays, organize and protect cables, hubs, and computer resources beneath the work surface and provide access points through table grommets located wherever wired equipment (like a Rally Mic Pod) is positioned. In situations where power or Ethernet outlets have been installed in the floor, consider using cable ties to secure connectors and power cords to table legs.
STRAIN RELIEF
Strain Relief is a way to mechanically secure cables to that the connector on the cable and the connector on the device to which it connects is not under tension (also called strain). Properly implementing strain relief is vital to a proper install to reduce potential failures that could occur during install or at any point in the future. This is true for all products, but even more for products that may be moved around like the Tap when it is not permanently mounted using the swivel mount.
When installing cable runs, remember to leave some slack in the line to allow for flexibility of movement during use. With the GROUP speakerphone, for example, users tend to move the speakerphone in their direction in order to use the controls.
CONDUITS

Conduit can be installed under the floor, above a suspended ceiling, or behind walls to help run cables from different parts of the room to the required devices. When running cables through conduit, take care to ensure compliance with applicable fire and building codes. Plenum-rated cable has a special insulation with low-smoke and low-flame characteristics and is typically specified for use in conduits and air-handling spaces. Note that conduits have a fixed capacity for how many cables they can accommodate.
RACEWAYS
Where space for concealed conduit is unavailable, consider above-floor raceways to deliver cables from wall to table while mitigating potential tripping hazards. Compared to running cables under carpet, cable channel raceways provide greater flexibility for adding, removing, or modifying cable runs in needs change. Raceways are also available for wall applications as when installing the display or Rally Speakers.
CABLE RETENTION 
Various cable retention brackets, Velcro, and zip tie solutions are available from third-party providers. With Rally, a Rally Mounting Kit is available that includes two robust cable retention brackets to help secure the Rally Display Hub and Rally Table Hub connectors, reduce cumbersome cable clutter, and support a streamlined installation with a professional appearance.
CABLE EXTENDERS
In larger video meeting spaces, the standard cables may not reach far enough for the planned installation. The good news is that extender solutions are readily available.
For GROUP, easily customize your conference room setup with the GROUP 10m or 15m Extended Cable. Use it to increase the distance from the hub to the camera or speakerphone. This 10-meter cable replaces the 5-meter DIN cable included with GROUP and can be routed through a conduit or raceway for super-clean conference room installations.