Case Study: Team Sunweb Chooses Logitech Video Conferencing Tools To Improve Collaboration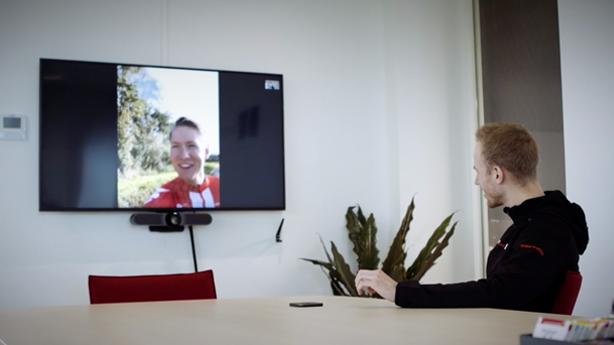 OVERVIEW
Team Sunweb is a cycling team that operates internationally. Its headquarters are located in Deventer and the Keep Challenging Center is in Sittard. The successful cyclists in both men's and women's racing are supported by a professional team that manages everything to do with cycle racing as seamlessly as possible. All year round trainers, nutritionists, mechanics and other experts are there, on the road or in Deventer and Sittard, to ensure the cyclists can perform to the best of their abilities.
Opening the two locations in the Netherlands was the perfect time to optimise mutual communication. Team Sunweb turned to Logitech to integrate the best solutions for everyday video conferencing and which come closest to face-to-face communication. The critical factor in choosing Logitech was the shared vision that you can only enhance performance by continuously improving collaboration and through continuous innovation.

INDUSTRY

Professional Cycling
LOCATION

Deventer, Overijssel, The Netherlands
SOLUTIONS
Meetup
Zone Wireless
Brio
K780
MX Master 2S & MX Vertical 
CHALLENGE
Like many other companies, Team Sunweb very much values communication. But the challenges it faced were different to other companies
Team Sunweb works with an international team to create an environment in which cyclists can perform to the best of their abilities. Ideally everyone works on the same goals at the same location, but in reality different teams are cycling at different times and in different locations around the world.
Coaches, trainers, nutritionists and other experts can't always be there with the cyclists, but they're crucial for the development of the cyclists and, ultimately, in getting results. Additionally Team Sunweb has many international contacts, such as its partners and organisers, with whom it communicates frequently.
So Team Sunweb needed a solution that enabled accessible communication of the highest quality. Cyclists and staff need to be able to communicate easily in the office, at home and on the road, and preferably using video communication as this comes closest to face-to-face communication and enables crucial non-verbal communication.
SOLUTION
Team Sunweb chose Logitech Meetup as its video conferencing solution for its small meeting rooms. The basis for this is 'Bring Your Own Device' which utilises the equipment an employee brings into the meeting room. MeetUp is ideal for the size of the meeting rooms and compatible with all conferencing services. HDMI and USB cables make it quick and easy to connect in the meeting room. And the actions are the same as when using a desktop
Brio and the Zone Wireless are ideal solutions for video conferencing in a fixed workplace. Team Sunweb works in open-plan offices and Zone Wireless offers employees a headset so they can make hands-free calls, participate in video calls and focus fully on their work. Active noise cancelling on the headset filter out background noise. The noise cancelling microphone ensures that other people's conversations don't disturb the call. Logitech Brio provides clear and sharp image quality for video calls. 
In addition to video conferencing solutions, Team Sunweb also uses the MX Master 2S and MX Vertical mice and the K780 keyboard. These Logitech products help Team Sunweb's employees to be more productive and efficient.
RESULT
Logitech solutions have supported Team Sunweb in improving its communication efforts. Because all integrated video conferencing solutions are so accessible, people feel encouraged to use them frequently. Employees don't need to be in the same place to collaborate efficiently, see each other and make the best decisions. As a result of this innovative way of communicating, people are collaborating more efficiently and better, which ultimately enables Team Sunweb to perform better.
Team Sunweb's philosophy is "Keep Challenging. We're continuously innovating and improving our collaboration efforts to make sure our cyclists and staff keep improving, thus enhancing our performance. Communication is key in both innovation and collaboration. Cyclists such as Michael Matthews, Wilco Kelderman and Coryn Rivera are often on the road to different competition and training locations, so clear communication with their trainers, coaches and nutrition experts is crucial. Video communication with these high-end Logitech devices is the perfect solution for us. It comes closest to face-to-face communication." 



 Iwan Spekenbrink
CEO, Team Sunweb
VIDEO CONFERENCING FOR EVERY SPACE.
Find out more about how Logitech video conferencing products
perform in a business environment.