Pangea temporary hotfixes here
ARTICLE
Esports and Education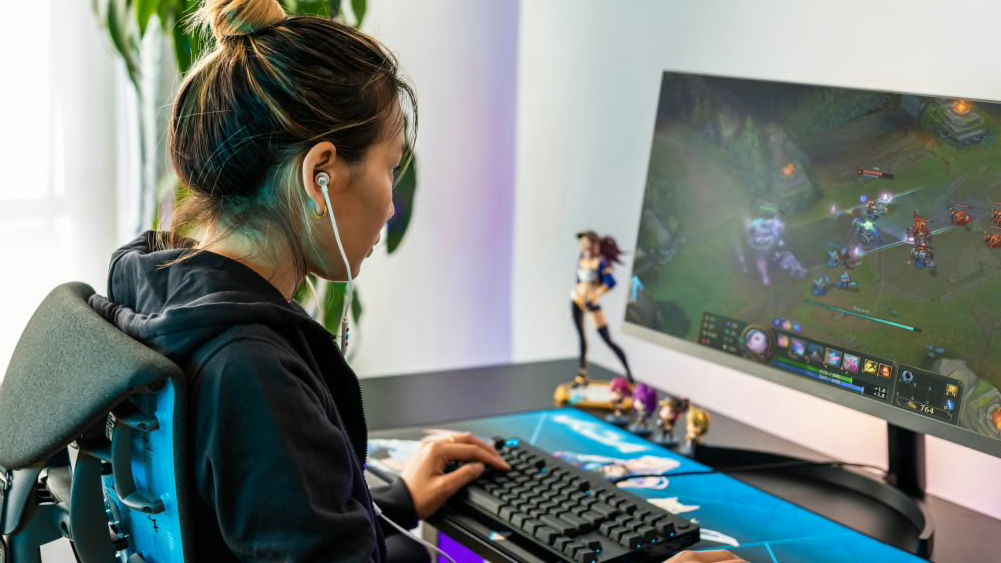 Here are a couple of stats that will make you look twice: The Pew Research Center found in 2018 that 97% of boys and 83% of girls aged 13 to 17 identify themselves as gamers. Rather than an isolating pursuit, gaming is a surprisingly communal activity that requires constant communication and collaboration. And the community is thriving. 77% of players say they play with others online or in-person on a weekly basis2021 Essential Facts About the Video Game Industry." Entertainment Software Association. https://www.theesa.com/resource/2021-essential-facts-about-the-video-game-industry/. Estimated monthly viewership of esports is up a robust 11.4% from 2020. That's 26.6 million pairs of eyes — many of them school-aged — fueling the rise of the industry.
As part of our commitment to expanding educational opportunities for all students, we went to work alongside Generation Esports to launch the Adopting Excellence program and help bring esports programs to 600 students in 12 middle and high schools across the U.S.. The program, a 6-week curriculum-based workshop series, leverages esports as an entry point to encourage academic and career engagement and interest. Logitech provided the technology and access to STEM professionals for workshops, while Generation Esports supplied the curriculum for the program. For their part, students enjoyed building community and interests via deep dives into esports, not only from a player point of view but from an industry and career perspective.
When students are able to combine learning with their real-world interests, the potential for accelerated growth, community and purpose is endless. "We've all been told to 'do what you love', and watching young people discover the academic and career pathways available to them through their own passions (like gaming) is simply amazing," said Casey Newton, Head of Business Development at Logitech. "Kids becoming more engaged in their learning and making real-world connections to their futures is what it's all about.
At the program's conclusion, we saw compelling proof that esports can have a meaningful impact in schools. Program outcomes combined with reactions from 479 students surveyed paint a clear picture: Students are ready to engage with esports — in life, in school and even in careers. The benefits strike a similar chord to those we've seen in the world of Logitech G. Collaboration. Confidence. Critical thinking. And there's even more to the story when placed within the context of the classroom.
STEAM Awareness Surge
Creating interest in STEAM is an ongoing challenge for educators. Esports allow educators and schools to engage students in areas of interest and make STEAM learning more approachable and appealing.
Survey says: Esports athletes are nearly twice as likely — 60% versus 36% of all other students — to major in STEM in college."Teens, Social Media and Technology." Pew Research Center 2018.
In their own words: "I got to see an inside perspective from a woman who found a way to make esports and gaming a part of her life while also being educated in other fields and being respected in the tech community!" Sophomore, Hutchison High School
Social-Emotional Learning Spike
Inclusion and community are powerful — many students find them in esports. Students that do not have esports opportunities might otherwise miss out on social-emotional connections from extracurricular activities. When paired with curriculum and student-driven sessions, esports programs can also help students find themselves.
College and Career Readiness Growth
File this under arguments you wish you had when your parents said to turn off the Nintendo: Modern esports naturally introduce students to career pathways in STEAM and beyond. The Adopting Excellence program enhanced the experience with professional insights and sessions that illuminated how interests can become careers.
Survey says: 76% of participating students agreed or strongly agreed that their confidence about college resources and college and career planning increased after participating in the workshop.
In their own words: "When the workshop speakers explained how it was alright to change career choices in the future, that really helped me because it showed me that it was possible and that it was alright to try out new things." Sophomore, John I. Leonard High School 
Critical Thinking Confidence
Real-world context makes lessons more memorable. Esports give students the opportunity to practice 21st-century skills such as critical thinking, collaboration and flexibility.
Survey says: The High School Esports League (HSEL) has found that students who join esports programs not only learn skills common in all sports like teamwork, cooperation and dedication, they also earn better grades (GPA +1.7)."It's Time for Schools to Embrace Video Games." National School Boards Association. https://www.nsba.org/ASBJ/2020/February/esports
In their own words: "One big thing that I got from the workshop is that you need to be able to rely on others and work together. Even if you have the best players, your team won't work unless you build good connections. Knowing how to work well with your team is not only a good skill to have for esports but for most careers that will have you working with a team." Senior, Bayside High School
Esports create a path for students to build confidence in class, career and life. They build community, spark a passion for STEAM and extend purposeful play to all grade levels. When educators join the game and incorporate esports into schools, everyone wins.
THANK YOU FOR CONTACTING US
A product expert will reach out to you shortly.