Pangea temporary hotfixes here
Managing Screen Time At Any Age
by Olivier Girard, Ergonomist and Posture Therapist, Member of Logitech Ergo Lab Scientific Advisory Board
Screen time – one of the most difficult things to manage in a work-from-home, school-from-home environment. And while it's very important to manage the amount of screen exposure your children have, it's equally important that we limit screen time for ourselves – even when working from home.
The graph below shows my recommendations regarding total screen time, depending on your age and the device that you use. If your 12-year old child uses a desktop computer only, she can spend up to 2hr per day on it, provided that you ban all other screens (TV, etc.). If your only computer is a laptop, the daily limit is 40min (i.e. 3 times less). If you use a smartphone only, the limit is 20min (i.e 6 times less).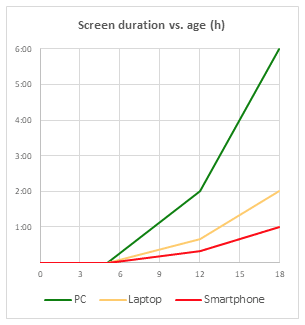 The same logic applies to taking breaks: the smaller the screen, the more frequently you should take a break, as shown below.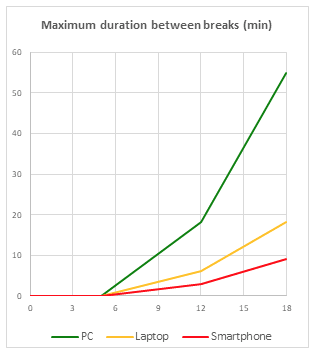 Back To The Office—How To Readapt?

Come back to the office with healthier and more productive habits. All thanks to working from home.

Give Your Neck Some Desk-ercise

How to relax your neck—easy stretching exercises from the expert.

Is an Ergonomic Mouse Better for Me?

Ergonomic mice bring comfort and wellbeing to your workspace. What else can they do for you?

Do Ergonomic Keyboards Really Help?

Ergo keyboards promote a more natural posture—see how they can make a difference.

5 Easy Ways to Increase Your Productivity

Want to supercharge your day?

Mouse vs. Touchpad - Does it Really Make a Difference?

Switching from a touchpad to an external mouse delivers a number of benefits like higher productivity levels, better ergonomics, and all-day comfort.

The First Steps to Better Ergonomics at Home

Tips on setting up a home workstation that really work.

Better Ergonomics for Home-Schooled Children

Children and teenagers need ergonomics, too. Follow these rules for the whole family.

Advanced Work-From-Home Ergonomics

How to recreate a proper work environment.

Work-From-Home Mental Wellbeing Hacks

A few simple ticks and tricks to maintaining your mental wellbeing while working from home.