MeetUp
All-in-One ConferenceCam with an extra-wide field of view and integrated audio, perfect for small conference and huddle rooms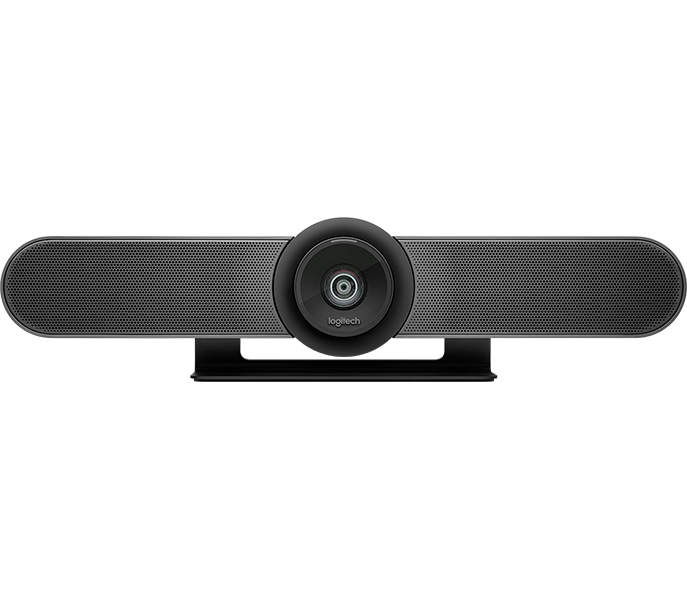 See everyone, even those close to the camera
RightSense™ Technologies with automatic framing
Compact design minimizes cabling and clutter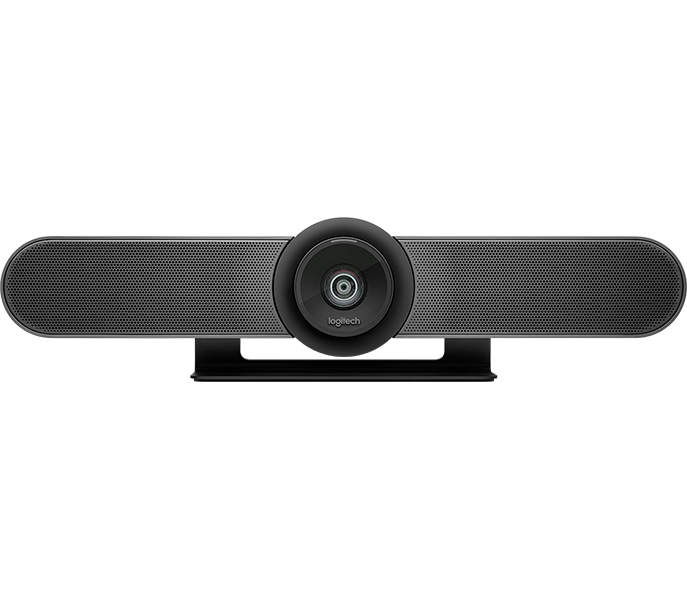 Additional Features
5x Zoom
Perfectly frame presenters to minimize background distractions. Zoom in on whiteboards and objects so remote participants can see what you see. Thanks to its advanced 4K image sensor, video remains sharp and clear, even when you zoom in on the details.
Premium Camera Optics
MeetUp features exquisitely engineered, premium camera optics that capture a wide field-of-view without distorting faces and furniture with a "fisheye" effect. Faces look natural, whiteboard writing remains legible, and straight lines stay straight.
Extended Range
Logitech Expansion Mic for MeetUp provides greater flexibility in huddle room configurations. MeetUp's built-in beamforming mics are optimized for up to 4 meters (13.1 feet). To extend that range up to 5 meters (16.4 feet), add an Expansion Mic. So whether people are seated at a table, sitting against the wall, or walking around the room, Expansion Mic for MeetUp means everyone will be heard.
Bluetooth® Speakerphone
Already connected on your smartphone? Dialing into an audio conference? Pair MeetUp with your smartphone or tablet to enjoy outstanding audio clarity, volume, and range that handheld devices can't match.
Take Control
MeetUp gives you two ways to aim the camera, zoom in and out, set and recall presets, and manage volume and mute. The included remote control uses radio frequency (RF) signals for reliable and discrete control from anywhere in the room. Or, download the free Logi Remote app (available on iTunes to control MeetUp with a smartphone or tablet.
Versatile TV Mount
Logitech TV Mount for MeetUp lets you mount the MeetUp ConferenceCam either above or below a flat-panel monitor, and attaches to the industry-standard VESA mounting points available on most TVs and monitors.
RightSense Technologies
Logitech RightSense™ proactive technologies make better video meetings easy and automatic. RightSound® optimizes the human voice and enhances conversational clarity, RightSight automatically moves the camera and adjusts the zoom so no one gets left out of the picture, and RightLight helps everyone look their best on camera, regardless of lighting conditions.
Dimensions

Main unit

Height x Width x Depth:
104 mm x 400 mm x 85 mm

Remote Control

Height x Width x Depth:
83 mm x 83 mm x 10 mm

System Requirements

Windows®7, Windows 8.1, or Windows 10
macOS 10.10 or higher


Chrome OS™ Version 29.0.1547.70 and higher
USB 2.0 port (USB 3.0 required for 4 K video)

Technical Specifications

OVERALL

Field of View

Diagonal:120°
Horizontal: 113°
Vertical: 80.7°

3-microphone speakerphone

Optional expansion microphone-ready

4K Ultra HD video calling (up to 3840 x 2160 pixels @ 30 fps with customer-supplied USB 3.0 cable); 1080p Full HD video calling (up to 1920 x 1080 pixels @ 30 fps); 720p HD video calling (up to 1280 x 720 pixels @ 30 fps); with supported clients

All-in-one design

Motorized pan/tilt

Logitech lens

3 camera presets

Bluetooth® wireless technology

RF remote control

Multiple mounting options, including table and wall mount; optional TV mount available

Kensington security slot




MICROPHONE

Pickup Range: 4 meters (13.1 feet)

Pickup Range with Expansion Mic: 5 meters (16.4 feet)

Sensitivity: -27dB

Microphone frequency response: 90Hz - 16kHz for full voice reproduction and high intelligibility without noise

Factory-paired, very low distortion broadside beamforming algorithm steers the microphones directly at the talker for the best voice pickup and noise reduction

AEC (Acoustic echo cancellation)

VAD (Voice activity detector)

Microphone background noise suppression

Microphone date rate: 32 kHz sampling rate

Recommended # of participants:6

Recommended # of participants with expansion mic: 8




SPEAKER

Patent-pending anti-vibration enclosure improves voice clarity while limiting sound transmission to adjacent spaces

Volume adjustable to 95 dB SPL at 1/2 meter peak

Speaker sensitivity 86.5+/-3dB SPL at 1/2 meter

Distortion: 200 Hz–300Hz < 3%, 3000 Hz–10KHz < 1%

Peak-limiting algorithm prevents even momentary speaker clipping to prevent distortion




COMPATIBILITY AND INTEGRATIONS

Plug-and-play USB connectivity

Certified for Skype for Business and ready for Teams

Zoom Certified

Fuze Certified

Certified for Google Hangouts Meet Hardware

Microsoft Cortana®

Cisco Jabber®

Compatible with BlueJeans, BroadSoft, GoToMeeting, Vidyo, and other video conferencing, recording, and broadcasting applications that support USB cameras




Package Contents

MeetUp ConferenceCam
Remote control
USB cable: 5 m
Power supply
Wall mount and hardware
User documentation

Warranty Information

2-Year Limited Hardware Warranty

Part Number

MeetUp + Expansion Mic

PN: 960-001201

Meetup

PN: 960-001101
Get Started

Documents, downloads, and resources for MeetUp.

Resources

Enhance integrations, improve performance, and find spare parts for MeetUp. Resources include:


Soft remote app for smartphones and tablets
Firmware updates
Diagnostic utility
Camera Settings application
Far End Camera Control integrations for Skype, Skype for Business, Lync 2013, and Lync 2010

Compare

Meeting spaces come in all shapes and sizes. These resources help you compare Logitech ConferenceCam models so you can find the best fit for every room.
Find the products that are right for you
'ConferenceCams for Every Room
Desktop video conferencing solution for private offices, home offices, and most any semi-private space

CAD 349.99

Portable ConferenceCam with Bluetooth speakerphone for the huddle room, home office, and on the go

CAD 699.99

All-in-One ConferenceCam with an extra-wide field of view and integrated audio, perfect for small conference and huddle rooms

CAD 1199.99

Video conferencing for mid to large-sized meeting rooms

CAD 1499.00

Diagonal Field of View

78°
90°
120°
90°

Up to Full HD Video (1080p30)

Up to Ultra HD Video (4K)

HD Zoom

1.2x
4x
5x
10x

Pan/Tilt

Available Expansion Mics

1
2

Recommended Room Sizes

S
S
S/M
M/L
Contact Sales
Our team of product experts can help you find the best solution for your company. Fill out the form and a Logitech representative will contact you.
Call Us
Call Logitech now at 800-973-2156
Sales reps are available 8:30 - 5:30 CST
Get Support
For technical support questions, visit our
Video Collaboration Support portal
MeetUp
All-in-One ConferenceCam with an extra-wide field of view and integrated audio, perfect for small conference and huddle rooms
All-in-One ConferenceCam with an extra-wide field of view and integrated audio, perfect for small conference and huddle rooms
CAD 1199.99 - 1449.99
Free shipping on orders over CAD49.00