Pangea temporary hotfixes here
K580 Slim Multi-Device Wireless Keyboard ChromeOS™ Edition + M350 Wireless Mouse
Ultra-slim keyboard with ChromeOS layout + silent portable mouse
K580 Slim Multi-Device Wireless Keyboard ChromeOS™ Edition + M350 Wireless Mouse
Ultra-slim keyboard with ChromeOS layout + silent portable mouse
DELIVERY OPTIONS
Enter your zip/postal code to show delivery options in your area.
We could not find your current location.
Shipping times are estimated
Meet the mouse and keyboard duo that streamlines your Chromebook™ setup. K580 Multi-Device Keyboard ChromeOS Edition lets you type on your computer, switch, and type on your phone—with a layout specially designed for ChromeOS devices.
Dimensions
Mouse
Height: 107 mm
Width: 59 mm
Depth: 26.5 mm
Weight (with batteries): 100 g
Keyboard
Height: 143.9 mm
Width: 373.5 mm
Depth: 21.3 mm
Weight (with batteries): 558 g
USB Receiver
Height: 23.1 mm
Width: 18.7 mm
Depth: 6.1 mm
Weight: 2 g
Technical Specifications
Mouse
Sensor Technology: High Precision Optical Tracking
Sensor resolution: 1000 DPI
Number of Buttons: 3
Scroll Wheel: Yes- Mechanical
Scroll Buttons: Middle Button
Unifying ready mouse: Yes
Unifying ready receiver: No
Battery: 18 months
Battery type: 1 AA pre-installed battery
Wireless operating distance: 10 meters Wireless range may vary due to environmental and computing condition
Wireless technology: Logitech Receiver or Bluetooth Low Energy Technology
1-Year Limited Hardware Warranty
USB Receiver
Available USB port required.
ChromeOS
Certified Works With Chromebooks
Bluetooth
Required: Bluetooth Low Energy Technology
ChromeOS
Google Pixelbook™ Go
Certified Works With Chromebooks
Android: Wi-Fi enabled smartphone with Android 4.2 or later 5.0 or later
2 AAA batteries (pre-installed) Unifying USB receiver User documentation
1 AA battery (pre-installed)
Ultra-slim, compact, and quiet keyboard for computers, phones or tablets with a special ChromeOS layout
MINIMALIST. MODERN. FOR CHROME OS.
Meet the mouse and keyboard duo that streamlines your Chromebook™ setup. K580 Multi-Device Keyboard Chrome OS Edition lets you type on your computer, switch, and type on your phone—with a layout specially designed for Chrome OS devices. The M350 wireless mouse delivers silent clicks and scrolls plus a smooth organic shape that fits right in your palm. It's your everyday multi-tasking duo.
SLIM AND MODERN
Make a visual statement with a mouse and keyboard duo designed to fit your modern desk set-up -with a slim profile and minimalist design.
WORK SEAMLESSLY WITH EASY-SWITCH™
Meet the computer keyboard that also works with your smartphone and your tablet. The Easy-Switch buttons let you pair two devices.  You could be typing a report on your computer, then switch, and type a message on your phone — which you can place in the built-in phone cradle for better multitasking.
MAXIMIZE YOUR SPACE
K580 lets you get the most out of your workspace, with a number pad and all the keys you need for great productivity right at hand. The compact design allows you to place your M350 mouse closer, which means less arm reaching—so you can work comfortably for longer.
TOOLS FOR STUDENT ACHIEVEMENT
Logitech understands that the right tools can help educators bring their lessons to life. We have over 35 years of experience designing innovative, high-quality technology. Our goal is to help foster the continuous development of students' knowledge and skills, making the classroom a place where students and educators can truly thrive.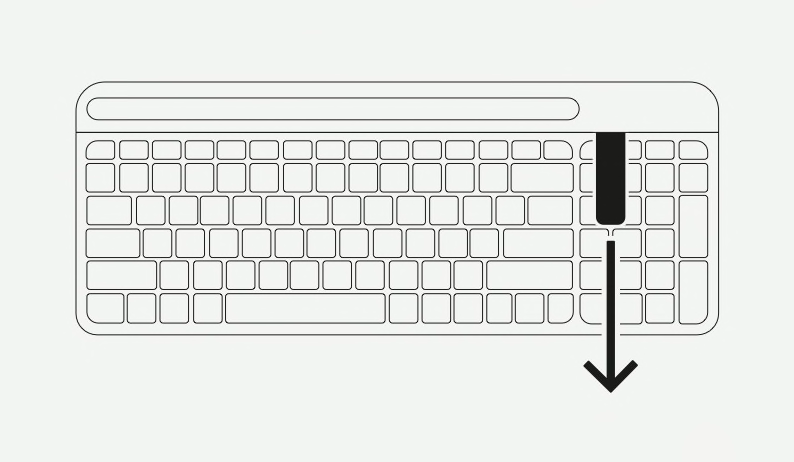 Remove pull-tab. First, pull the tab from your keyboard. Your keyboard will automatically turn on. Channel 1 will be ready to pair via either the USB receiver or via Bluetooth.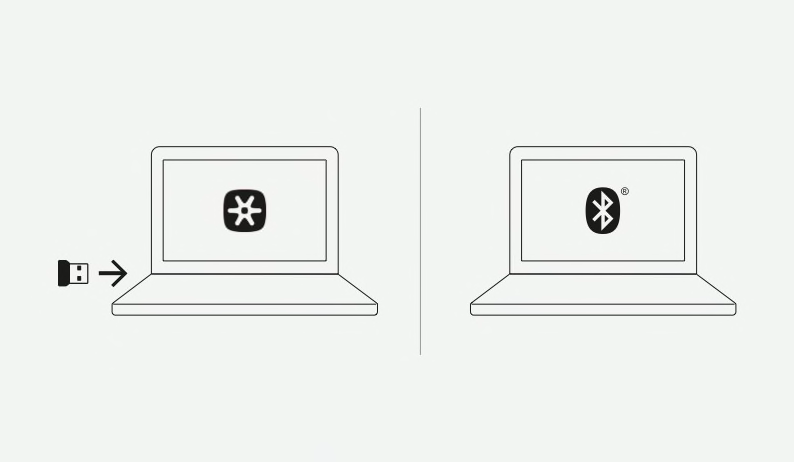 Connect via the USB receiver: Get the USB Unifying receiver from the compartment inside the battery door. Insert the receiver into any available USB port on your laptop or tablet. 
Connect via Bluetooth: Open the Bluetooth preferences on your device. Add a new peripheral by selecting "Logi K580 Keyboard." A code will appear onscreen. On your keyboard, type the code provided,  and your keyboard will be ready to use.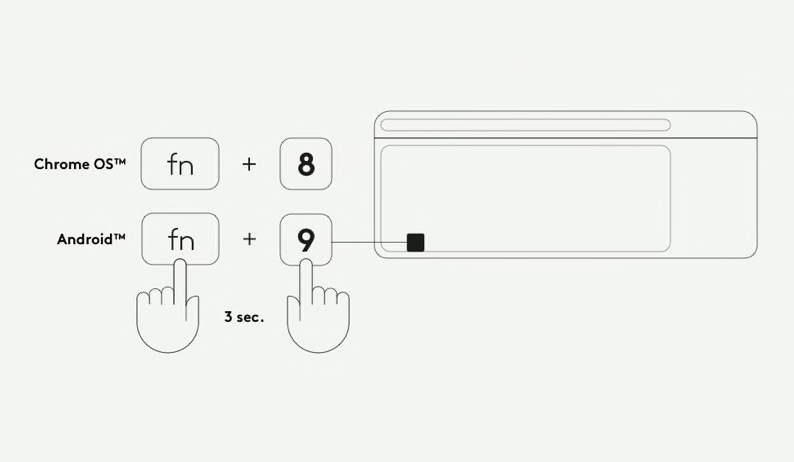 Chrome OS is the default operating system layout. To switch to Android layout on your keyboard, press FN and "9" keys simultaneously and hold for 3 seconds. The LED on selected channel key will light up to show that the OS has been successfully changed. To switch back to Chrome OS layout, long press the FN and "8" keys simultaneously for 3 seconds. After selecting the OS layout, your keyboard is ready to use. 
View the section below for additional setup tips or visit logitech.com/support/k580 for support.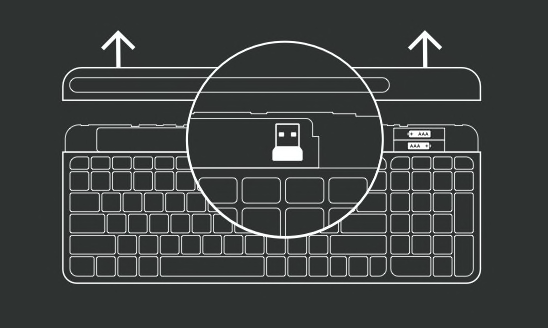 Remove keyboard battery door
Slide the upper part of the keyboard up to find the batteries and receiver storage inside.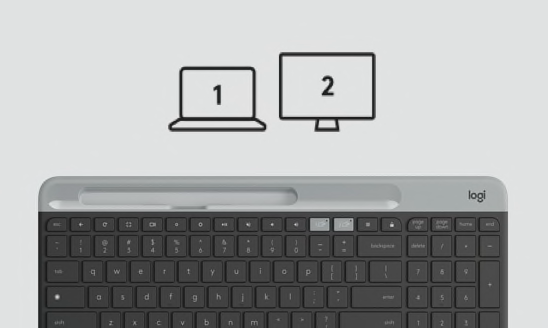 Pair the keyboard with a second device
Long press for 3 seconds the Easy-Switch key - Channel 2. When the LED starts blinking the second channel will be ready to pair through a Bluetooth connection.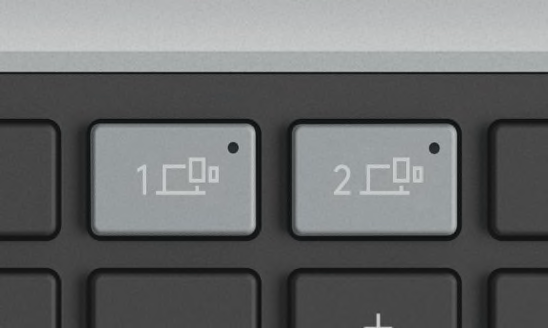 Simply short press either channel 1 or 2 to switch typing on your devices.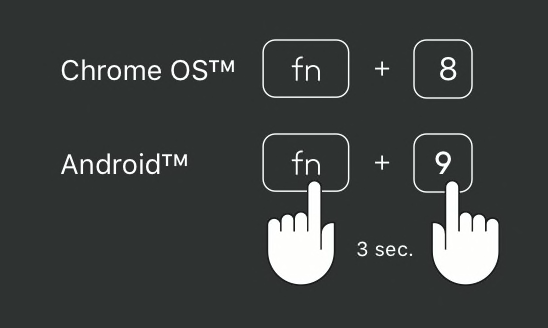 Quickly switch between keyboard OS layouts
Hold the following keys for 3 seconds.
For Chrome OS: fn + 8
For Android: fn + 9
The LED on selected channel key will light up to show that the OS has successfully changed.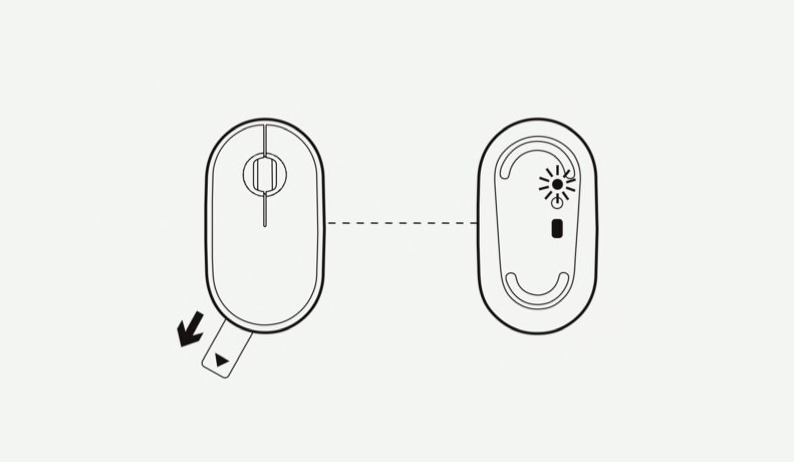 Just pull the sticker tab and your Logitech Pebble M350 will automatically turn on.  As it's ready to be connected, the status light flashes green and blue.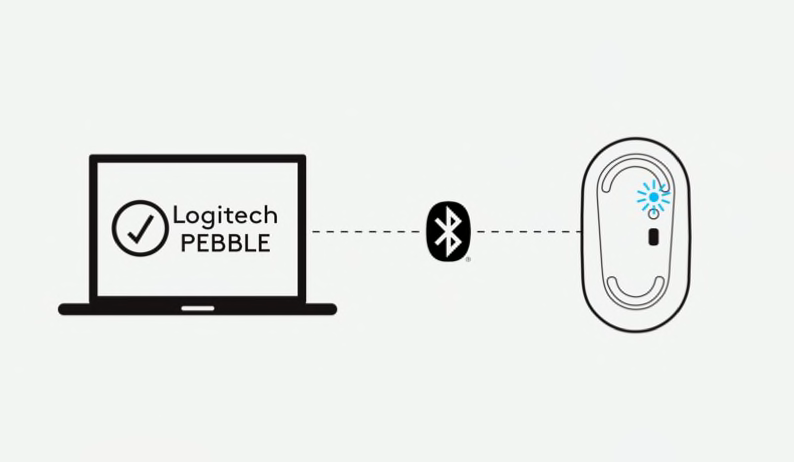 Easily connect via Bluetooth by turning on your computer's Bluetooth connection and searching for your Logitech Pebble M350. Select and ta-da – you're paired.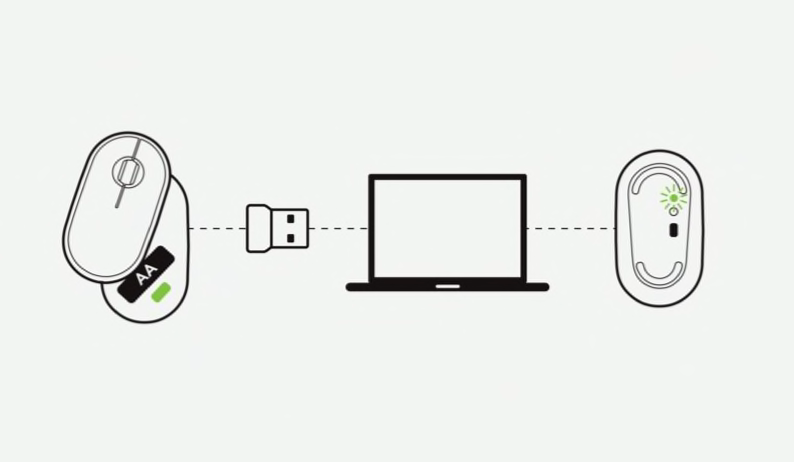 Alternatively, connect using the USB receiver by plugging the receiver found inside your mouse into your computer. Easy peasy.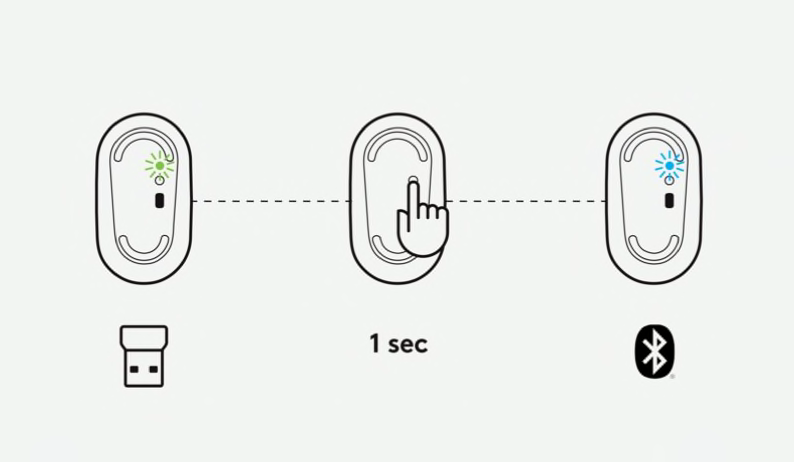 Toggle between connectivity
Once paired you can easily switch between the Bluetooth and USB connections. Just press the button on the downside of the mouse for 1 second: Blue light is to use Bluetooth connection and Green light is for the USB receiver.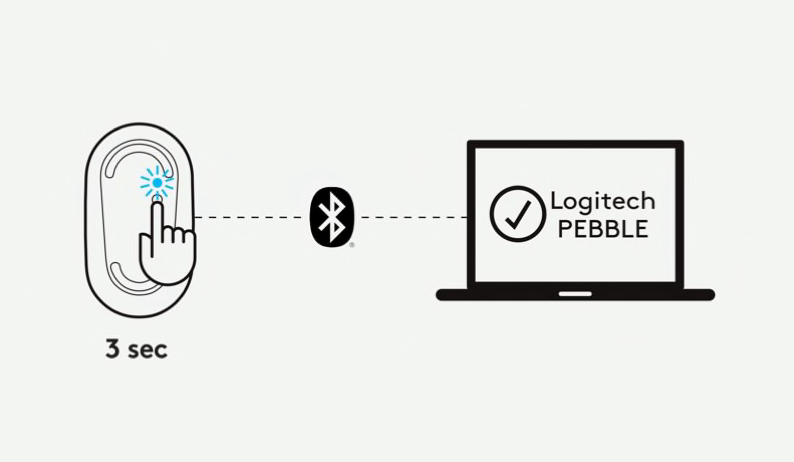 Connect a 2nd Bluetooth device
Pair another device via Bluetooth by pressing the button for 3 seconds. When the blue light starts blinking you are in pairing mode.