Pangea temporary hotfixes here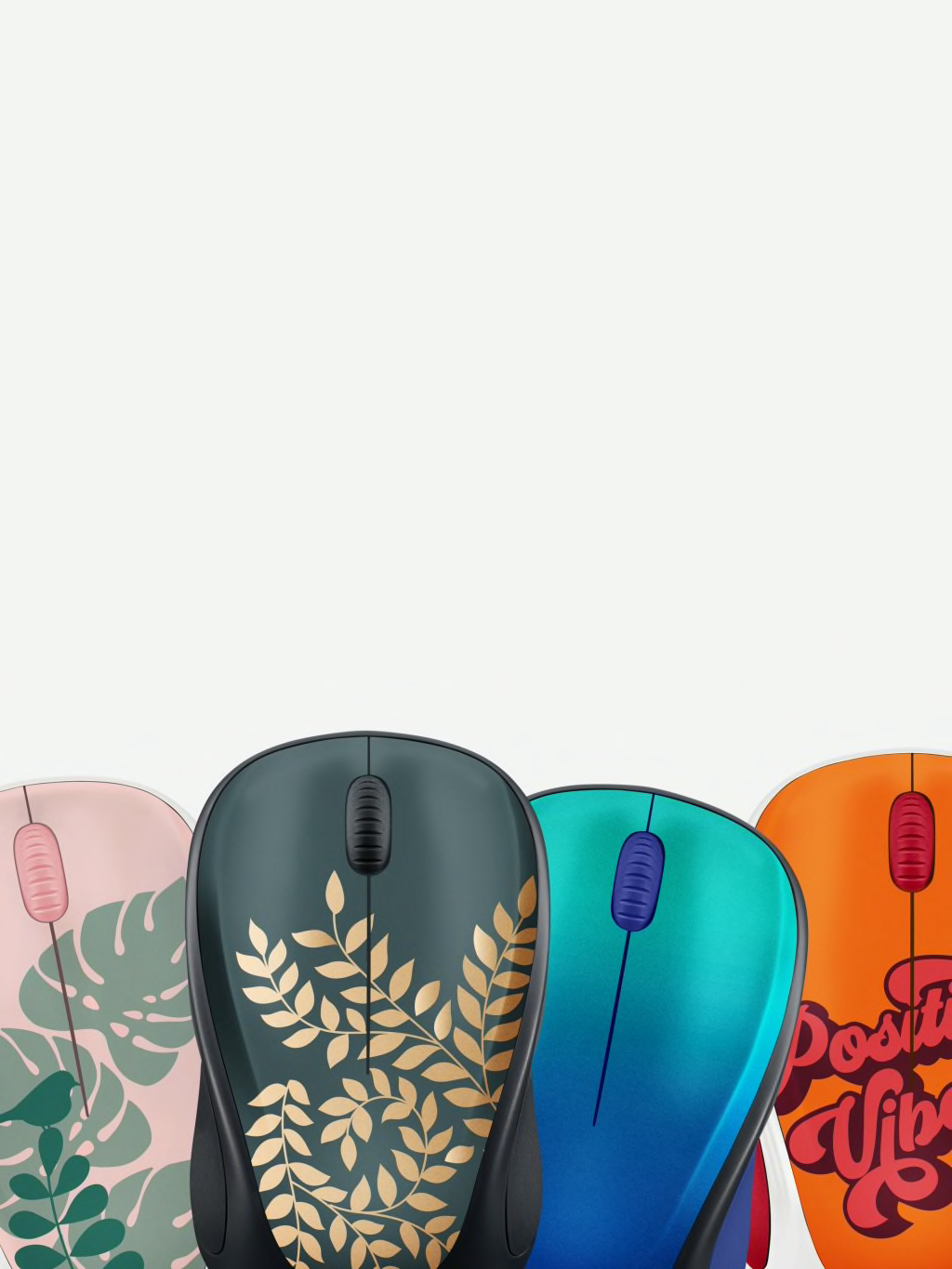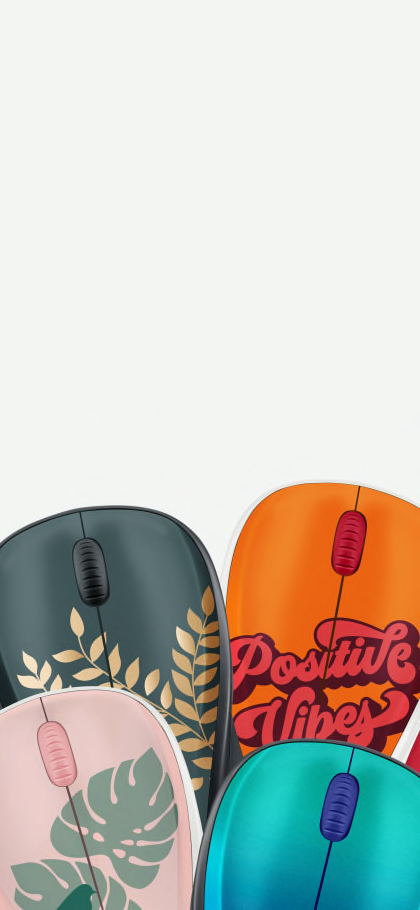 The Design Collection
Comfy & compact mice with mood-boosting designs.
FIND YOUR HAPPY CLICK
Small, comfortable, super responsive, and completely wireless. The compact size is perfect for tight workspaces and anyone  with smaller hands—even kids. Click at your desk, at home—or on the go—for a whole year with one pre-installed battery.
SHOW YOUR COLORS
There's a Design Collection mouse for every style and workspace. Give your mood (and your setup) a boost with a creative splash of bright color.
COMPACT COMFORT
Get hours of comfort at your desk or on-the-go—thanks to the sculpted design and smooth rubber side grips. Lightweight and portable, it's easy to throw in your bag or carry to your next meeting. The compact design is a perfect fit for kids or anyone with smaller hands, making it a great option for homeschooling.
EASY NAVIGATION, PRECISE CONTROL
Navigate more easily with a controlled line-by-line scrolling experience. No more annoying missed clicks—the optical sensor allows you to track with smooth and accurate cursor control on almost any surface.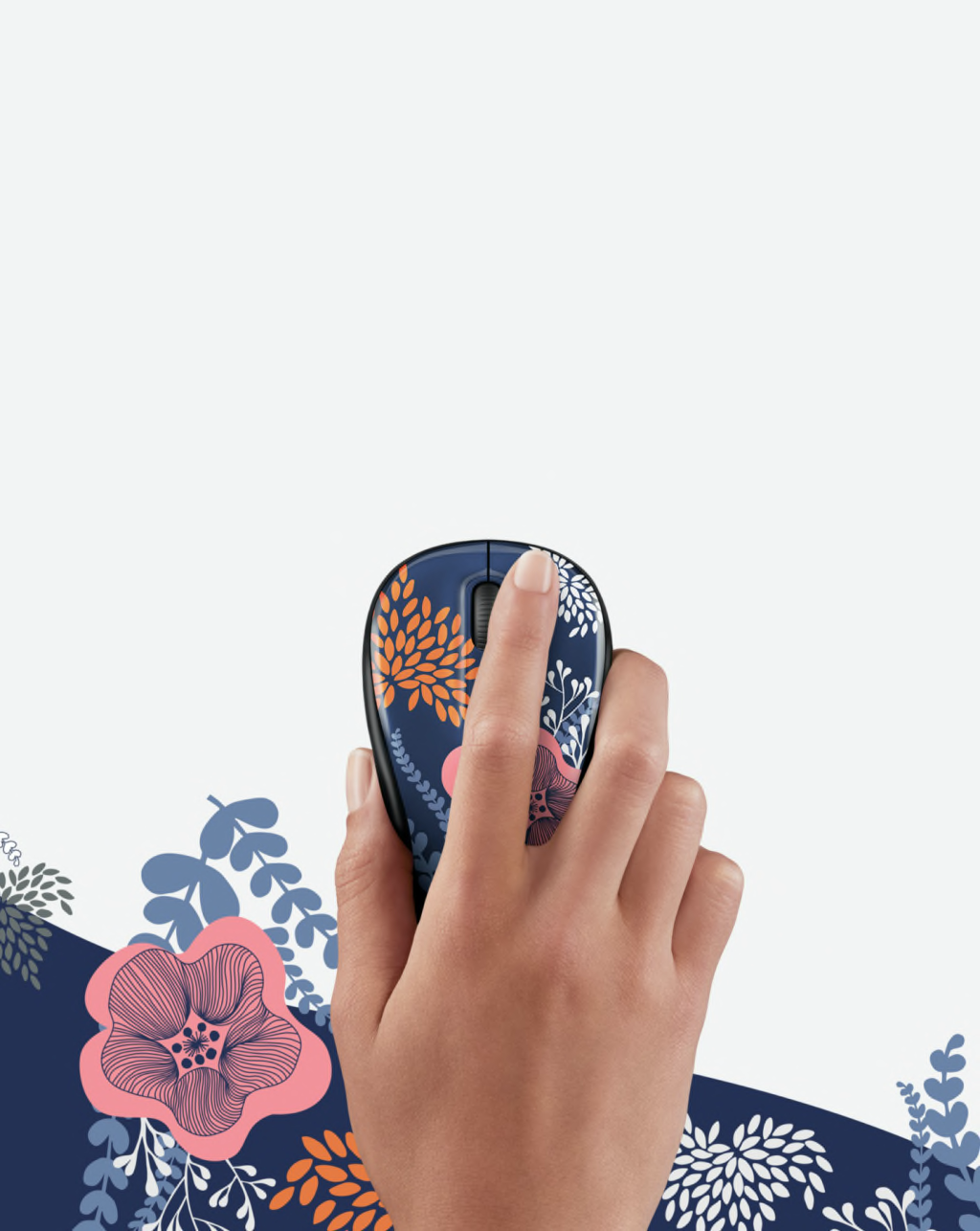 12 MONTHS. ONE AA.
Your mouse takes a power nap when not in use, so it lasts a whole year on a single pre-installed AA battery. You just might forget about batteries altogether. 
UNIFYING RECEIVER
Six compatible devices, one USB receiver. Logitech Unifying technology lets you add a keyboard, or any other compatible device to the included USB receiver for a perfect wire-free setup. Forest Floral and Rose Splash color mice do not have this Unifying Technology.
MADE WITH RECYCLED PLASTIC
The plastic parts in the Design Collection Wireless Mice include certified post-consumer recycled plastic — 54% for Forest Floral, Blue Aurora, Pow, and Golden Garden, and 22% for Rose Splash, Chirpy Bird and Positive VibesExcludes receiver and printed wiring assembly (PWA) — to give a second life to end-of-life plastic from old consumer electronics and help reduce our carbon footprint
Design Collection Limited Edition Wireless Mouse
Comfy & compact mice with mood-boosting designs

Design Collection Limited Edition Wireless Mouse
Comfy & compact mice with mood-boosting designs
Free shipping on orders over CAD49.00
---
---
Mouse

Height: 95 mm
Width: 55 mm
Depth: 38 mm
Weight (with batteries): 84 g

USB connection

Available USB port required
Windows®︎ 10,11 or later
macOS 10.5 or later
Chrome OS
Linux Kernel 2.6+2
Works with Surface

Sensor technology: Logitech Smooth Optical Tracking

Sensor resolution: 1000 dpi

Unifying ready mouse: Yes

Wireless operating distance: 10 m

Sustainability

Forest Floral plastics: 54% post-consumer recycled material
Blue Aurora plastics: 54% post-consumer recycled material
Golden Garden plastics: 54% post-consumer recycled material
Pow plastics: 54% post-consumer recycled material
Rose Splash plastics: 22% post-consumer recycled material
Chirpy Bird plastics: 22% post-consumer recycled material
Positive Vibes plastics: 22% post-consumer recycled material
*Excludes receiver and printed wiring assembly (PWA)

What's in the box

Wireless Mouse
Nano Unifying Receiver (Not available on Forest Floral and Rose Splash mouse)
1 AA battery (pre-installed)
User documentation

1-Year Limited Hardware Warranty

BLUE AURORA Unifying Technology USB Receiver:

910-006117

FOREST FLORAL Standard USB Receiver:

910-006118

CHIRPY BIRD Unifying Technology USB Receiver:

910-005756

GOLDEN GARDEN Unifying Technology USB Receiver:

910-006114

ROSE SPLASH Unifying Technology USB Receiver:

910-006121

POW Unifying Technology USB Receiver:

910-006122

POSITIVE VIBES Unifying Technology USB Receiver:

910-006123