Pangea temporary hotfixes here
ERGO GETS RESULTS
Free users to focus with a science-driven ergonomic keyboard that promotes a more relaxed, natural typing experience designed for hours of comfortable use.
SCIENCE-DRIVEN ERGONOMICS
ERGO MEANS BUSINESS
SCIENTIFIC APPROACH
Our unique approach looks at ergonomics from a scientific perspective, finding the sweet spot between science, desirability, and comfort. Ergo Series keyboards offer more natural typing postures, superior ergonomic benefits, and reduced muscle strain in a familiar, easily adoptable form factor.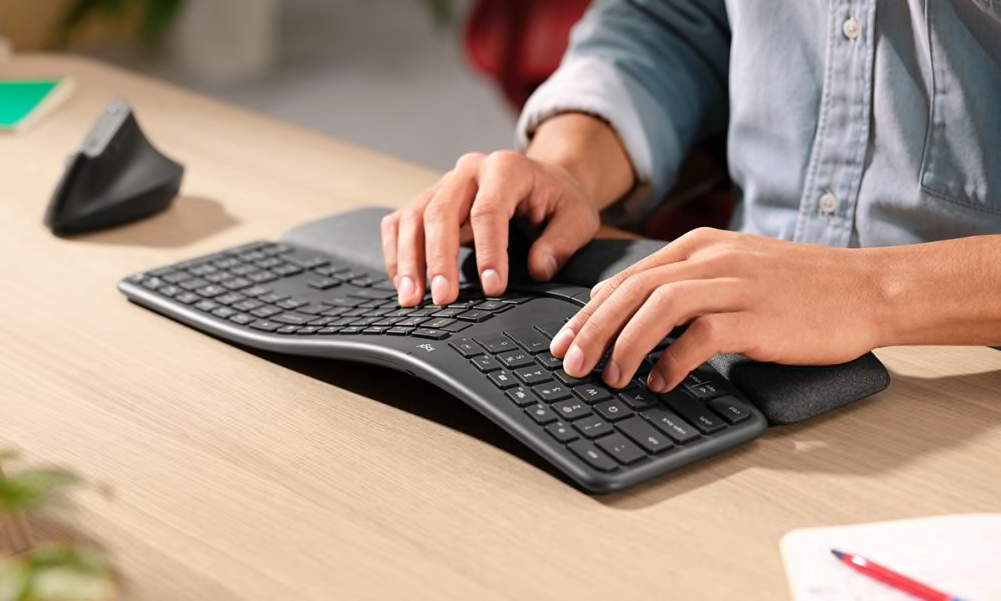 MORE NATURAL POSTURE, LESS MUSCLE STRAIN
Ergo products place hands, wrists, and forearms in a more natural posture, helping to relax the upper body. A more natural posture leads to a quantifiable reduction in muscle activity—meaning people can work just as productively while putting less strain on key muscles.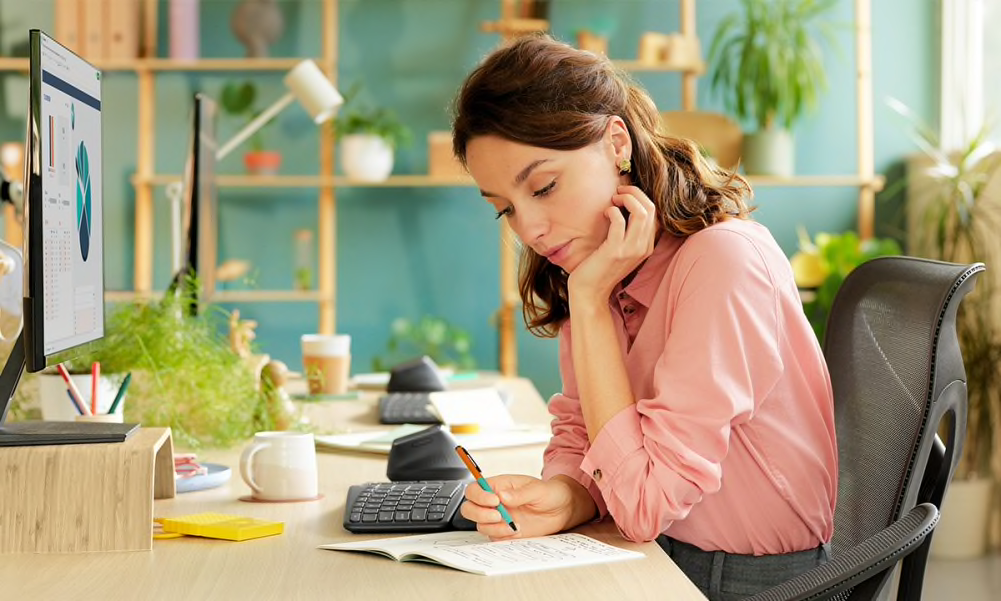 INCREASED COMFORT
Physical discomfort can lead to emotional stress. Reducing pressure, strain, twisting, and bending while adding support leads to a greater level of comfort—immediately and over long periods. Ergonomic products increase comfort so people can be free to focus on what matters.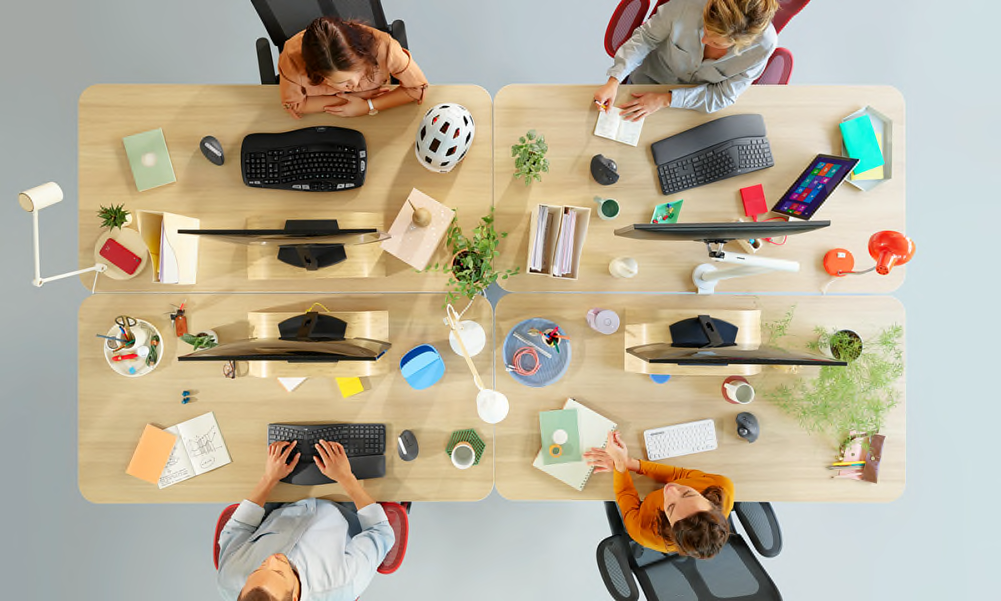 ERGONOMICS IS ECONOMICS
Ergonomic equipment helps people work more comfortably, with higher efficiency and quality, with less downtime. It produces happier employees with lower absentee days. In short, ergonomics is good economics. Our Ergo Series can help your company become a healthier place to work.
Ideal For
People experiencing discomfort
People who want to remain comfortable while working long hours using a computer
Design Features
Curved, split keyframe
Integrated 3-layer Pillowed Wrist Rest
Certified ergonomic by United States Ergonomics™
Designed for Standing and Sitting
Whether using sitting or standing desks, the variable tilt legs lift palms into the optimal ergonomic position
Multi-Computer, Multi-Connections
Ultra Quiet Typing
Increased key stability for reduced noise and optimized responsiveness
2 Ways to Connect, Multi-OS Compatibility
Logi Bolt Wireless Technology
IT Admin Mass-deployment
Device firmware updates (DFUs)
Optional software: Logitech Options including Logitech Flow functionality for Windows and macOS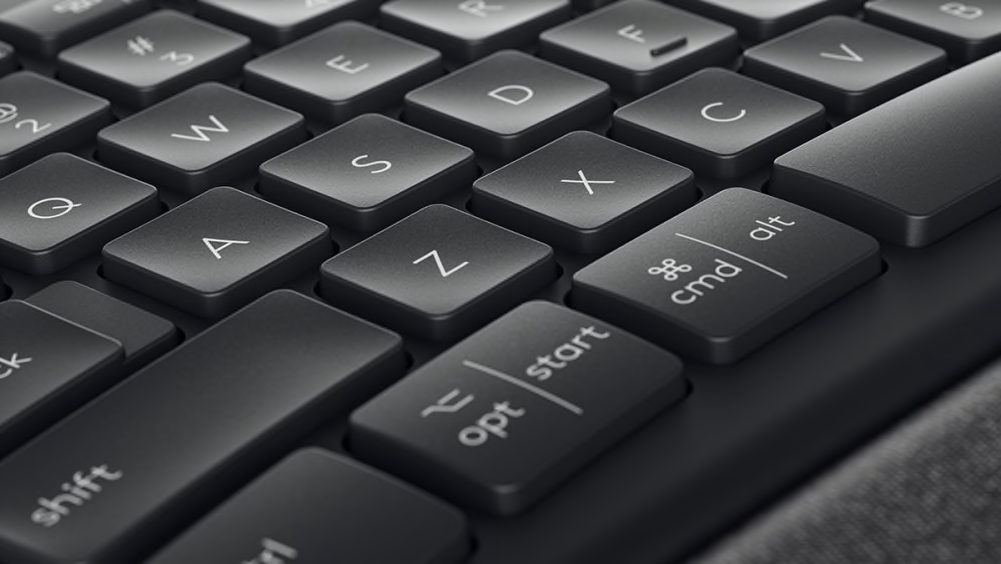 PERFECT STROKE KEYS
Comfortable and nearly silent. Scooped keys with a matte finish make it easy for users to orient their fingers and stay focused. Increased key stability reduces noise and optimizes responsiveness so users feel—but don't hear—every keystroke.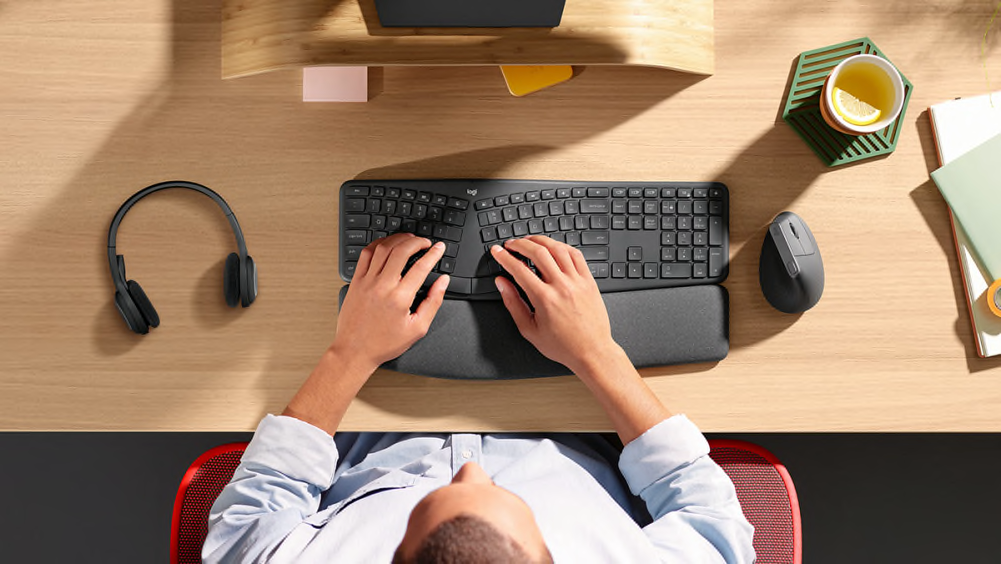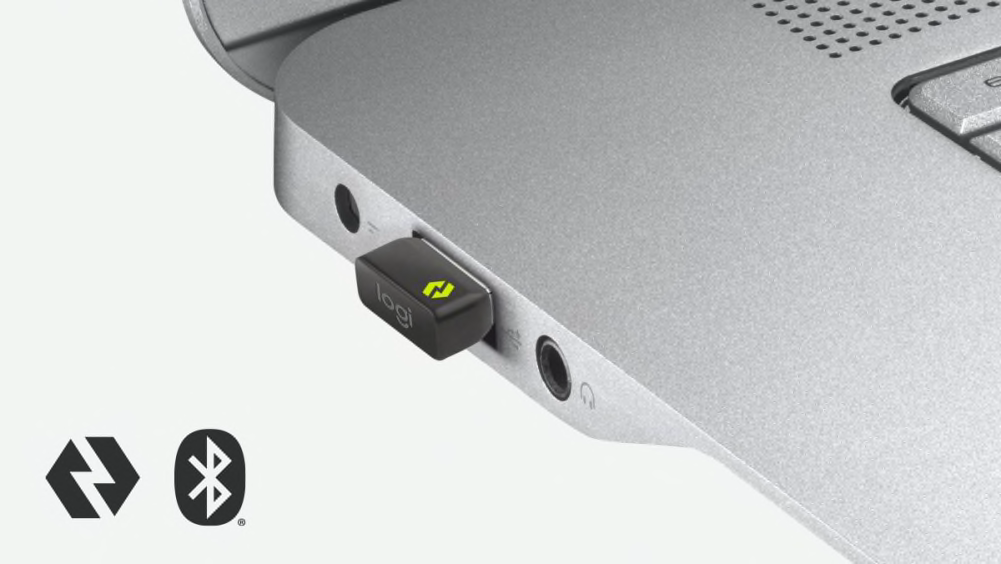 TWO WAYS TO CONNECT
Two connection options: Bluetooth® Low Energy wireless technology or Logi Bolt—a tiny USB receiver designed for security and high performance even in congested wireless environments. Now users have the flexibility to connect how they want while IT ensures those connections are reliable and secure.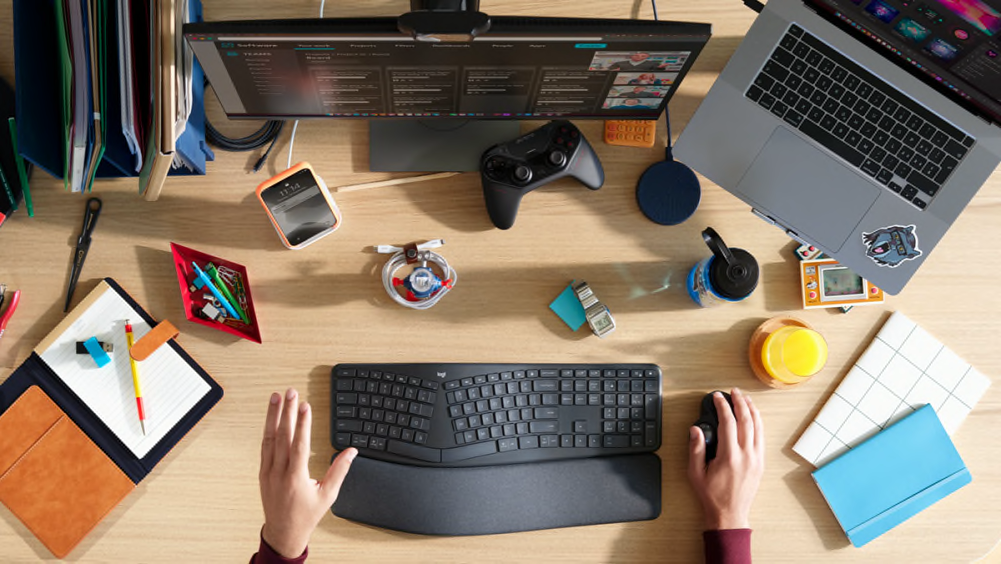 MULTI-COMPUTER WORKFLOW
Easy-Switch™ lets multi-computer users easily switch between up to three computers running the leading operating systems with the touch of a key.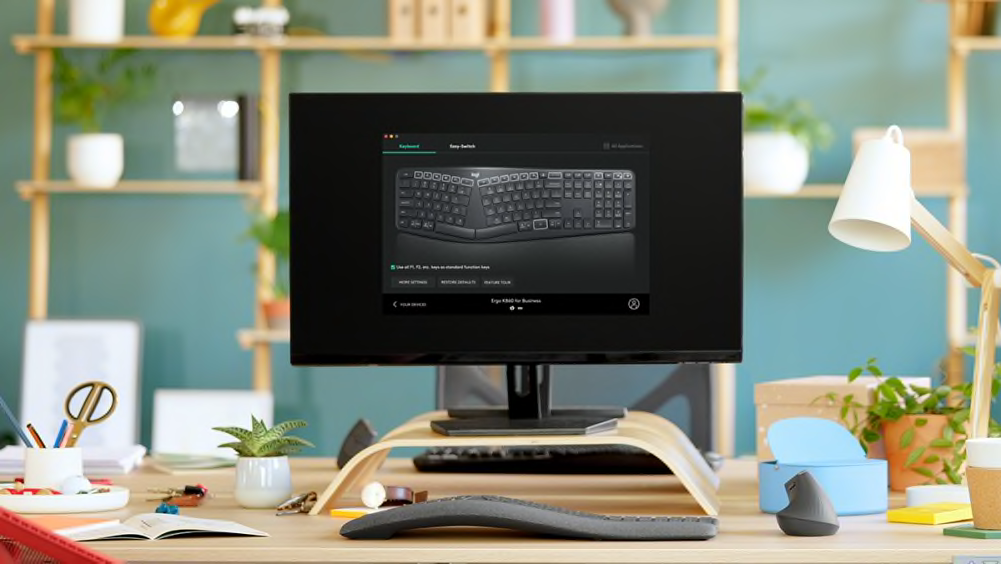 OPTIONS ENHANCED EXPERIENCES
Software app Logitech Options enables users to personalize their ERGO K860 for Business experience by streamlining repetitive tasks with F-key assignments and custom shortcuts. Options combines years of hardware excellence with software smarts.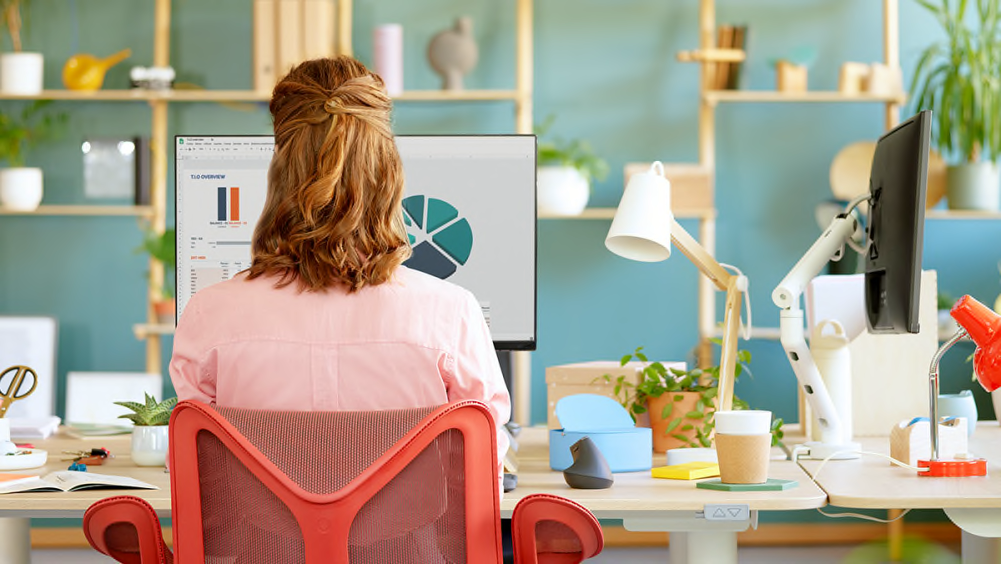 IT REMOTE MANAGEMENT
IT administrators can remotely deploy and manage in mass Logi Bolt device firmware updates (DFU) and our user workflow and productivity software Logitech Options. Define software settings centrally. Push to Windows and macOS systems.
Contact Sales
Our team of product experts can help you find the best solution for your company. Fill out the form and a Logitech representative will contact you.
RESELLERS
Purchase from one of our trusted resellers.
GET SUPPORT
Have questions? Visit our support site to find answers.
THANK YOU FOR CONTACTING US
A product expert will reach out to you shortly.
MORE FROM LOGITECH FOR BUSINESSES
SUBSCRIBE TO OUR BUSINESS NEWSLETTER
THANK YOU FOR CONTACTING US
A product expert will reach out to you shortly.
Default settings which can be customized by users
Logi Bolt Wireless Technology
Bluetooth Low Energy Wireless Technology
Customizable F-Keys
On/Off switch
Productivity F-Keys
Battery indicator light
A curved, split keyframe
Easy-Switch keys
Arrow keys
Integrated numpad
Caps lock indicator
Dual layout is designed for both Mac and Windows users
Integrated 3-layer pillowed palm rest
Variable tilt legs of 0°, -4°, and -7°
Keyboard layout may vary by country.