Pangea temporary hotfixes here
RALLY SPEAKER
Second speaker connects to Logitech Rally for clear, rich sound
LOUD AND CLEAR
Add a second speaker to Logitech Rally to fill large rooms with clear audio. With RightSound™ technologies that virtually eliminate distortion, clipping, and vibration, Rally Speaker makes speech easy to understand while maintaining comfortable volume levels throughout the room.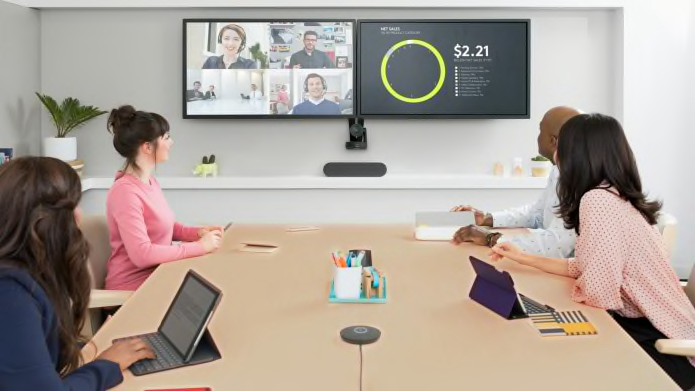 FRONT OF ROOM AUDIO
With Rally Speakers at the front of the room, voices and video always come from the same direction — and never from behind you, a problem with tabletop speakerphones. With Rally Mic Pods on the table and Rally Speakers at the display, conversations feel natural and lifelike.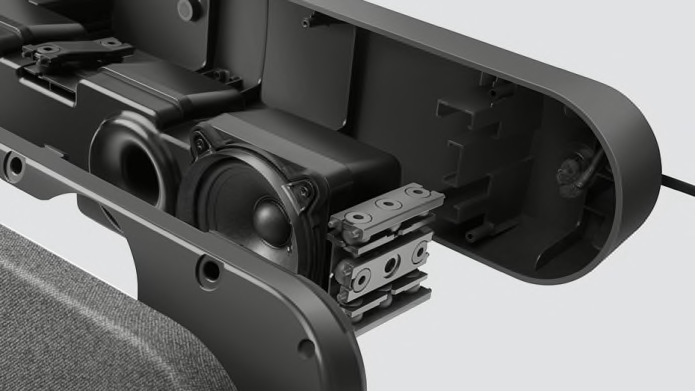 ANTI-VIBRATION ENCLOSURE
An ingenious suspension system decouples the speaker module within the external enclosure, virtually eliminating the vibrations that can travel through walls, stands, and tables. This patent-pending design enables the superior echo cancelling performance of Rally Mic Pods, while ensuring that video images remain clear and steady, even at high volume levels and when zoomed in.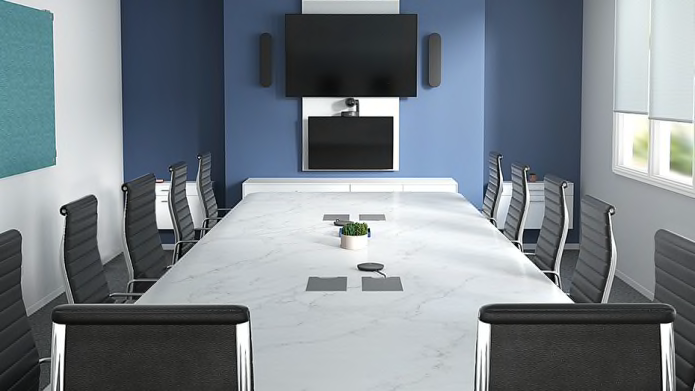 COMFORTABLE VOLUME IN LARGER ROOMS
Turn up the clarity while keeping volume at a comfortable level for everyone in the room. With sound coming from two speakers rather than one, voices carry throughout the room at a moderate volume level. Place speakers on a shelf or credenza, or attach to the wall with brackets in the Rally Mounting Kit.
Rally Speaker
Second speaker connects to Logitech Rally for clear, rich sound

Rally Speaker
Second speaker connects to Logitech Rally for clear, rich sound
---
Logitech Rally system with one speaker

Maximum speakers per system: 2

High-performance 76 mm driver with rare-earth magnet

Patent-pending suspension system eliminates vibration-induced camera shake and audio interference

Mini XLR cable connects to Rally Display Hub for both signal and power

Speaker volume 95 dB SPL @1 W, 100 dB SPL @7.5 W, both +/-2 dB at ½ meter

Distortion: 200 Hz–300 Hz <2.5%, 300 Hz–10 kHz < 1%@7.5 W

Speaker Sampling Rate: 48KHz

AVAILABLE ACCESSORIES

Rally Mounting Kit includes two wall-mount brackets for Rally Speaker, plus cable retainers (x2) and mounting brackets for camera and hubs (x2)

Rally Speaker with 2.95 m Mini XLR cable (supports customer-supplied extension cables up to 3 m)
Documentation

2-Year Limited Hardware Warranty
Getting Started
Find all the documentation we have available to get this product up and running quickly. 
PRODUCT REGISTRATION
Register your product for faster access to support and to activate any applicable warranties. 
Downloads
Find any available downloads that help extend the capabilities of this product. 
Warranty
If you are not completely satisfied with your purchase we want to try to make it right.
Contact Us
Still can't find the answers you're looking for? Drop us a line and an agent will take it from there.  
THANK YOU FOR CONTACTING US