Pangea temporary hotfixes here
ARTICLE
Celebrating Edtech on Digital Learning Day
In honor of the 12th Annual Digital Learning Day, we're highlighting the ways EdTech helps digital learners and educators shine their brightest.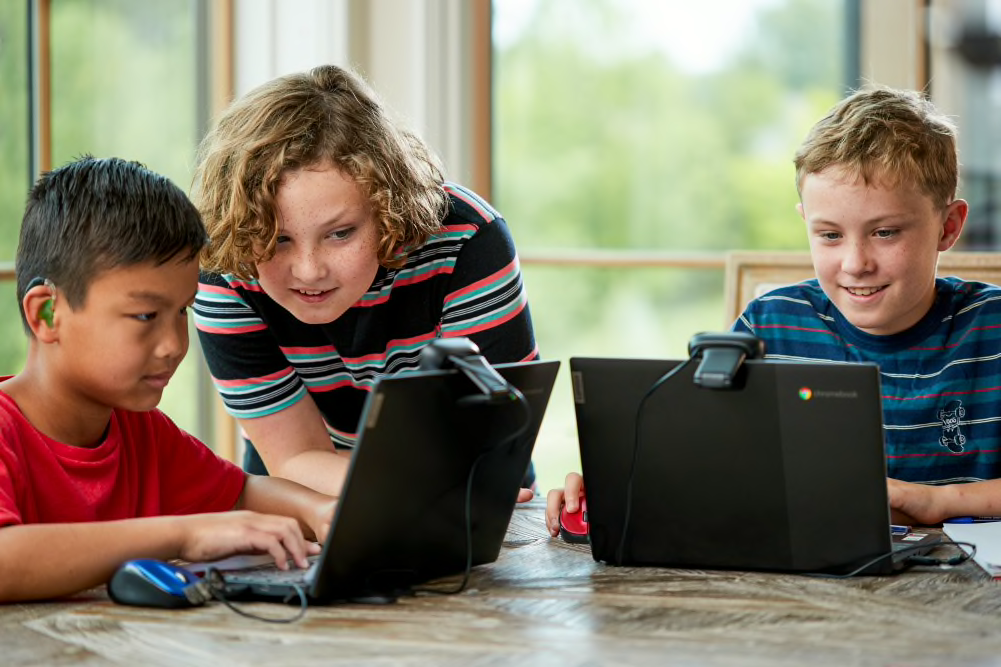 With the influx of 1:1 devices and the need for education to reflect students' opportunities, it is no surprise that digital learning is more prevalent than ever before. With that, it's important to think about how the tech is designed for the needs of the classroom. In a digital, student-centered learning environment, having the right tools are essential to a comfortable, focused and creative experience in the classroom. When done right, digital learning tools create authentic connections and personalized learning opportunities for every student, everywhere.
Comfort That Lasts
In the classroom environment, physical discomfort can cause students to become frustrated and distracted. In a survey conducted by Logitech and EdWeek Research Center of over 1,000 teachers and administrators, 74% of educators said that students' level of physical comfort while using educational technology impacts their level of engagement in learningEdWeek Research Center (2022), survey conducted of 1000+ K-12 educators, administrators, and district leaders.
As their bodies and motor skills develop, the right tools are essential to help students maintain posture, focus, and control. Mice, keyboards, and styluses help students to work in the way that works for them while providing comfort and precision to ensure they remain engaged by comparison to using traditional setups. These devices empower students to use greater precision and control, allowing them to hone their fine motor skills and ability to focus on the task at hand.

Edtech's Clear Picture on the Horizon
As more educators are using mixed media and videos in curriculum, clarity of picture and sound are critical. Research shows that when instructors appear in videos and students can clearly see body language cues and eye contact, student engagement increasesStull, A. T., Fiorella, L., & Mayer, R. E. (2020). The case for embodied instruction: The instructor as a source of attentional and social cues in video lectures. Journal of Educational Psychology. Advance online publication.. Video also gives educators the opportunity to record content so students can review material later.
The Logitech Scribe is a whiteboard camera designed for a modern classroom. The high quality camera can detect sticky notes, enhance the color of marker ink, and even has AI that allows students to see "through" a teacher's hand, giving them full view of what's on the board. With these education-first tools, educators can decrease distractions and keep students engaged in different learning environments throughout the entirety of the school day!
Built For Cheese Puff Fingers and Juice Spills
Educators are more than aware that a classroom can be a tough environment for edtech. Between sticky fingers and curious minds, educators need to know that the tablet or stylus they handed to a student will be meet the durability requirements for student life and all the cleaning involved. Edtech has to both meet the practical needs of school curriculums and budgets, while also being able to withstand years of fidgeting, picking, prodding, and spilling. 
At Logitech, our products are not just "military grade" tested, but tested specifically for the unique needs of students and classrooms. Our products have been thrown into backpacks, knocked off of desks, and had orange juice spilled on them to test the exact specifications of student life. The Rugged Combo family has 4 feet of drop protection and  pluck-resistant keys, while the Logitech Pen and Crayon are both bend and liquid spill resistant. The Logitech Pen for Chromebook and Crayon for iPad come in bright yellow and orange colors that students can easily find in the dark recesses of their backpacks.  

Students can use these devices to type, write, read, fidget, toss it into their bags, and take it anywhere. Educators can feel secure knowing their edtech is protected and built to last.
Easy to Clean
Messes happen, germs spread, and edtech products should be able to withstand both the mess and the clean-up. If multiple students are  using a product, many school districts require that it must be sanitized between uses. 
Let's do the math: On average, a product needs 2700 wipes. That's equivalent to 5 classroom sessions a day, 180 classroom days a year—the highest in the US—with a 3-year warranty. It could also mean two cleanings a day for 365 days and a 3-year warranty, bringing us to 2,200 wipes. This surpasses the amount that home-use tech products are cleaned every day by quite a lot! 
Each of our student-recommended products were tested to simulate years of cleaning. That means logos, keyboard keys, colors, materials, and compliance markings stayed perfectly intact. Logitech tools can be easily cleaned and sanitized with a simple alcohol wipe, which saves educators time and administrators can know their devices are cleanhttps://www.logitech.com/en-us/education/cleaning-solutions.html.
Never Miss a Beat
When a student comes to class with an uncharged device or the battery dies, the lesson can come to a screeching halt. If a student spends part of that class period time waiting for their device to charge, they are missing valuable instruction and participation with their peers. It's essential that edtech have a battery life that can last the entire school day
Logitech devices are made with students and educators' time in mind. Our styluses and keyboards have been designed with features meant to maximize battery life. The Crayon can provide up to 7.5 hours of writing time on a single charge. In a pinch, a 2 minute charge can provide 30 minutes of battery life. The Crayon also preserves battery life, with an automatic shut down after 30 minutes of idle time. Students and educators can easily be given the boost they need to jump back into a lesson at any time. 

When educators have the right digital learning tools, these tools can help create authentic connections and help students and educators boost their confidence, focus, comfort, creativity and efficiency. The most important aspect of choosing the right edtech is that it is student and educator focused, and enables them to perform to their full potential.

THANK YOU FOR CONTACTING US
A product expert will reach out to you shortly.