Pangea temporary hotfixes here
ARTICLE
3 Great Strategies to Supercharge Student Creativity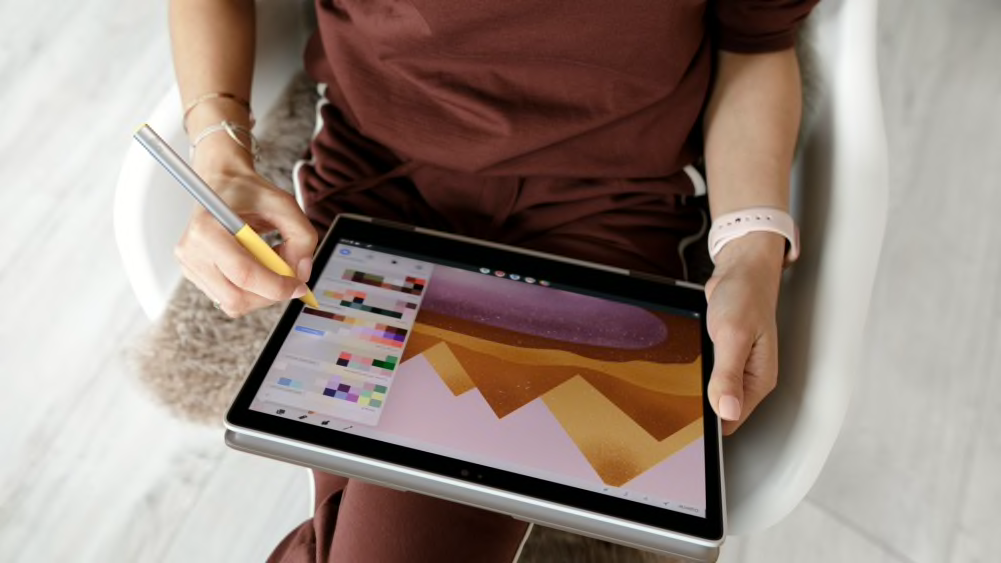 Recent research from Gallup shows that students achieve positive critical outcomes when educators harness the creative potential of technology. But how to do so is a little unclear – where to start?! 
We created this checklist to help elevate the use of technology in any classroom — and watch students tap into their own creative superpowers!
Tools for Creative Input
Tools like a keyboard, mouse, stylus or webcam facilitate learning by removing obstacles. Having multiple input options is essential. A keyboard might be the most effective tool for some learners and creative opportunities. A stylus might be the solution for others. But having the choice gives students the freedom to use what works best for them.
How to do it
The Logitech Pen (for USI-enable Chromebooks) or Logitech Crayon (for iPads) is a powerful alternative to using a finger for writing creatively, producing notes, maps and drawings, or completing assignments. Students can use these styluses to create sketchnotes, where they add drawings, diagrams, and mind maps to their notes to make them meaningful and visually organize information. And charge time?  Both are able to stand up to a full school day on a single charge and re-charge in less time than a class period. 
Similarly, the Rugged Combo 3 Touch helps students improve productivity wherever their learning takes them. The case protects the iPad against wear and tear, but also gives students the option of a keyboard and trackpad to support productivity and choice when working on creative projects. This is particularly impactful for projects that call for plenty of text such as essays and blogs.
Tools for Creative Experiences
Teachers can extend creative learning in person with tools that support whole-class experiences. According to a recent Gallup report on creativity, 81 percent of teachers agree that including transformational tech in their lessons helps students better relate what they learn to the real world. Portable speakers and microphones can support student creativity by facilitating whole-class interactions. They can also allow students to experience unique stories and perspectives.
How to do it
A plug-and-play microphone like the Snowball ICE allows students to share audio learning experiences. For instance, after reading To Kill A Mockingbird, students can create a group podcast that captures their response to the book.
With a rugged, portable speaker like the Wonderboom, students can immerse themselves fully in creative experiences. Why not cue up the sounds of a rainforest for a project on the Amazon River?
Tools for Creative Expression
Students can demonstrate their knowledge using products that work best for their age and needs. For example, they can express their understanding of a subject with a podcast, a video, an interactive presentation or even a performance, using technology to unlock their creative superpower.
How to do it
Students can attach the magnetic case for Rugged Combo 3 Touch to a white board or locker to record a reenactment of a novel or transform it into a news story. 
Or they can use a webcam like the C270 Webcam to create a tutorial that explains a process or demonstrates a personal skill.
With these tools, students can acquire, expand and demonstrate their knowledge in more imaginative ways. ​​And that kind of creativity enables them to perform to their best ability, with less stress and greater confidence.
THANK YOU FOR CONTACTING US
A product expert will reach out to you shortly.