Pangea temporary hotfixes here
ZONE WIRED
USB headset features premium audio drivers and advanced noise-canceling mic technology.
WIRED FOR BUSINESS
Hear and be heard clearly with a USB headset designed for busy open workspaces. Ready for business right out of the box, Zone Wired delivers premium audio and reliable call clarity with advanced noise-canceling mic technology.
HEAR CALLS AND MUSIC CLEARLY
Zone Wired is designed with generously-sized 40mm drivers to deliver pure happiness for your ears. Full-bodied bass, crisp higher frequencies and incredibly low distortion create a satisfying overall sound whether you're on a video call, listening to music, or toggling between the two.
Go ahead, create your own audio bubble on your own terms with a wired headset that sounds great even in the busiest open workspaces.
BE HEARD, DISTRACTION FREE
Open workspaces are often noisy environments, both locally and for anyone you're chatting with on the other end of a call.
Zone Wired solves the ambient noise issue with noise-canceling dual mic technology that accurately suppresses distracting sounds like keyboard clicks, nearby talkers, and HVAC noise as close as 60 cm away. By isolating your voice from any acoustic clutter around you, this USB headset delivers superbly clearer calls and professional video meetings.
COLLABORATE IN STYLE
Zone Wired is lightweight, stylish and designed for all-day use. The Teflon-coated stainless steel headband features a silicone head cushion and memory-foam ear pads that provide a comfortable fit throughout the workday. The spiral-pattern ear cup design and speckled, braided cable on both sides of the headband complete a contemporary, professional appearance.
CERTIFIED FOR MICROSOFT TEAMS
Microsoft Teams certification ensures it's super easy to launch the TeamsUC version available without Teams button app directly from Zone Wired with a single click. Intuitive in-line controls are always at your fingertips on the tangle-free cable to adjust volume, mute, answer/end/reject calls, and play/pause music. The mic boom features a flip-to-mute function that provides immediate privacy any time and LED indicators on the controller provide at-a-glance confirmation of key functions.
APP PROVIDES ADVANCED CONTROL
Access Zone headset controls on your computer with Logi Tune for Desktop, a mini app that works unobtrusively on your screen for uninterrupted video collaboration. The app provides full EQ and sidetone control, quickly tests mic/speaker audio levels, and lets you set mic gain at whatever volume works best for you. Plus easily download firmware updates.

*This app is only available in the following languages: English, French, German, Italian, Spanish, and Portuguese.
READY FOR BUSINESS
Zone Wired works with common calling applications across most all platforms and operating systems. Business certifications include Microsoft Teams, Google Meet and Google Voice, Zoom, Tencent Meeting certified, and works with other popular applications like BlueJeans, GoTo Meeting, and RingCentral to ensure compatibility and seamless integration in the workplace.
Headset

Height: 165.93 mm
Width: 179.73 mm
Depth: 66.77 mm
Weight: 211 g

Earpads

Height: 65.84 mm
Width: 65.84 mm
Depth: 18.75 mm

USB-C adapter

Height: 21.5 mm
Width: 16.5 mm
Depth: 7.9 mm

Compatibility

Windows, Mac, or Chrome-based computer with available USB-C or USB-A port. Functionality for mobile devices with USB-C depends on the device.

Microphone

Type
Main Mic: Uni-directional
Secondary Mic: Omni-directional
Frequency Response: 150Hz-7KHz
Sensitivity
Main Mic: -48 dBV/Pa
Secondary Mic: -40 dBV/Pa

Speakers

Frequency response (music mode): 20-16 kHz
Sensitivity: 99 dB±3 dB at 1000 Hz @30 mW,1 cm
Driver size: 40 (mm)
Driver impedance: 32 Ohm
Audio compliance: Compliant to EN 50332

Headset with inline controller and USB-C connector
USB-A adapter(only use the USB-A adapter with the provided headset)
Travel bag
User documentation

2-Year Limited Hardware Warranty

Zone Wired (UC version) :

981-000875

Zone Wired (Teams version) :

981-000870
FIND THE PRODUCTS THAT ARE RIGHT FOR YOU
Description
Product type
Noise-cancelling mic
ANC (active noise cancellation)
Connections
Wireless technology
Audio driver size
Unifying + Audio receiver
Qi wireless charging enabled
Controls
Logi Tune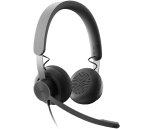 USB wired headset with premium audio for calls and music. Ideal for noisy workspaces.
Wired
Mic array
No
USB-A, USB-C
NA
40 mm
No
No
In-line
Yes
Stylish and sophisticated headset for pro-quality audio
Wired
Bi-directional
No
USB-A
NA
32 mm
No
No
In-line
No
Comfortable, affordable, and built to last
Wired
Bi-directional
No
USB-A
NA
30 mm
No
No
In-line
No
RECOMMENDED PRODUCTS FOR YOU
LEGAL TRADEMARK STATEMENT
BlueJeans and the BlueJeans logo, Chrome, Google Meet, the "Works with Google Meet" badge, Google Voice, the "Works with Google Voice" badge, GoTo Meeting and the GoTo Meeting logo, Mac, Microsoft Teams, the "Certified for Microsoft Teams" badge, RingCentral and the RingCentral logo, Tencent Meeting, the "Tencent Meeting Certified" badge, USB-C, Windows, Zoom, the "Zoom Certified" badge, and all other third party trademarks are the property of their respective owners.