Pangea temporary hotfixes here
WORLD-CLASS COLLABORATION FOR HIGH-VALUE SPACES
Enable your high-value spaces with purpose-built QSC audio and control solutions and Logitech video collaboration to deliver stunning audio-video quality for all employees, wherever they are. The Q-SYS Platform by QSC offers a cloud-manageable platform that is easy to integrate and maintain, while offering advanced audio processing, video content distribution, and room automation.
PLUG-AND-PLAY CONVENIENCE
A single USB cable connects the Q-SYS Core processor to Logitech RoomMate or other compute device. Select the Q-SYS Core within Logitech device settings and leverage robust cloud-manageable audio and control with Logitech room solutions.
Trusted and Proven Integration
Logitech and QSC deliver joint solutions that simplify deployment, exceed end-user expectations, and over-deliver on functionality and performance. These solutions are third-party verified and tested to achieve mutual accreditation, certification, and compatibility.
Distributed Audio and Video Excellence
High-value spaces have a unique set of audio, video, and control requirements. Logitech and QSC offer pre-designed and verified topologies that seamlessly capture the most important sounds, emit the highest fidelity audio, and distribute video throughout your most important spaces.
Robust Automated Environments
The Q-SYS OS allows for a fully customizable and intuitive user experience for organizations that require more AV control. Delight meeting participants with automated environmental controls such as motion-triggered device power, dynamic lighting control, automated camera control, and more, using the convenient Logitech Tap controller.
ENVISION YOUR SETUP
View examples of room configurations with Logitech video devices and Shure audio components for large rooms, boardrooms, and training rooms.
Notes:
Click into small, medium, or large configurations for each of your rooms. Here's how you can add the perfect Logitech accessories to suit your space.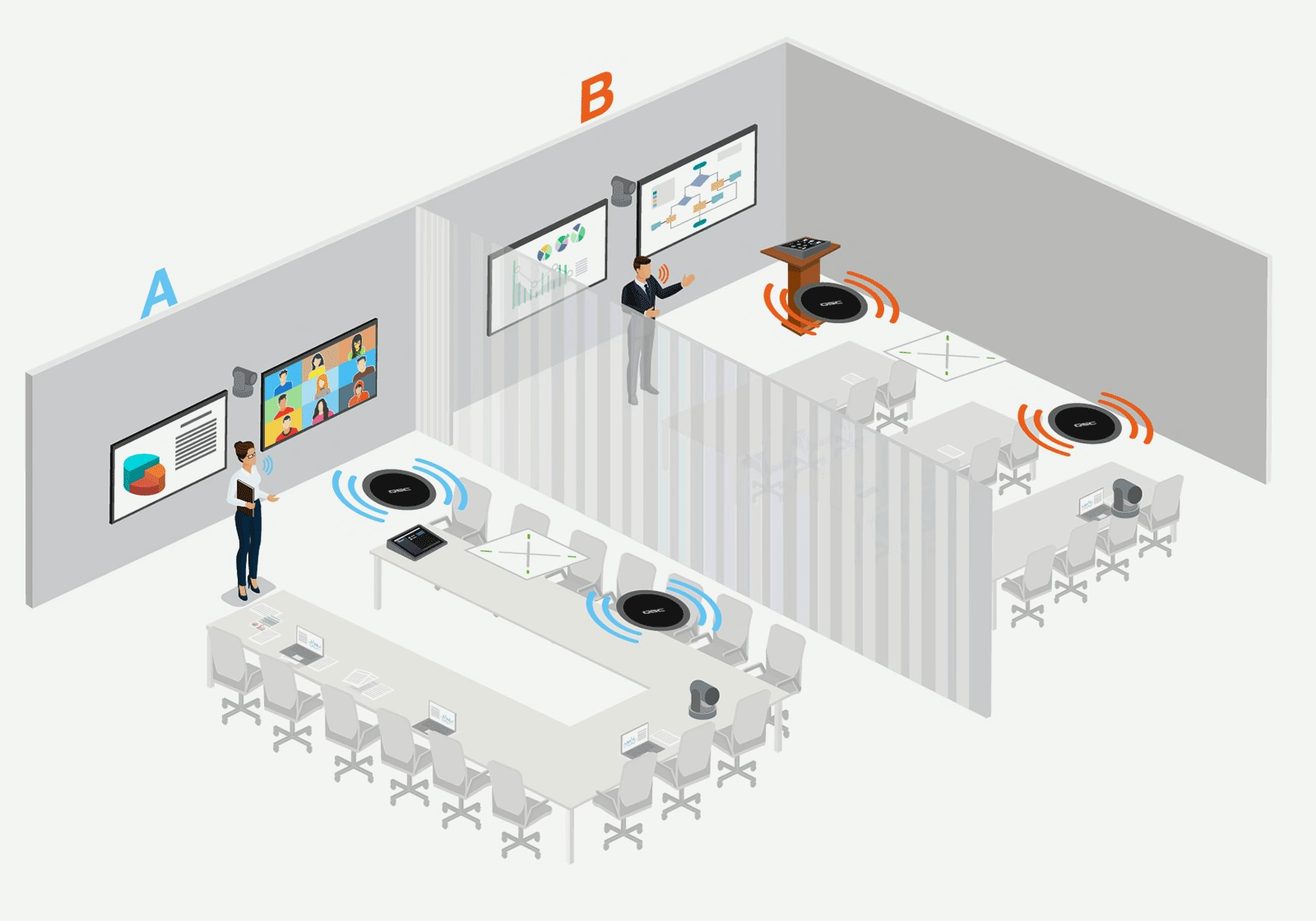 RALLY CAMERA
ROOMMATE
TAP IP
COMPUTE MOUNT
TABLE MOUNT FOR TAP
LOGITECH STRONG USB
CONTACT SALES
Our team of product experts can help you find the best solution for your company. Fill out the form and a Logitech representative will contact you.
THANK YOU FOR CONTACTING US