Pangea temporary hotfixes here
RUGGED COMBO 3 TOUCH FEATURES
Rugged Combo 3 Touch is a slim, protective keyboard case with integrated Multi-Touch™ trackpad for iPad (7th and 8th gen) perfect for students whether in school, at home, or wherever their project takes them. Sealed, pry-resistant keys and durable case that exceeds military drop standards make this the perfect tool for learning anywhere. Designed in collaboration with educators, administrators and IT specialists to bring students the best learning experience on iPad.
HIGH-PRECISION TRACKPAD
Smart Connector technology helps to deliver a super responsive and reliable navigation experience with no pairing required. This gives students more control and precision in apps so they can learn and create seamlessly. With Multi-Touch™ trackpad gestures, they can swipe, pinch, and double tap their way through any assignment.
COMFORTABLE, SILENT TYPING
With the power of a physical keyboard, students can type quickly, easily and accurately thanks to comfortable, well-spaced keys.  This is a must-have tool that delivers a more natural, intuitive typing experience so that students' test results are reflective of their knowledge—not their aptitude with an on-screen keyboard. And because the keyboard is silent, they can type away without distracting their neighbors.
FULL ROW OF SHORTCUT KEYS
A full row of iPadOS shortcut keys gives students one-tap access to common controls—so volume, media controls, and more are right at their fingertips. 
1) Home: go to home screen
2) Screen brightness: adjusts brightness up or down
3) Virtual Keyboard: shows/hides the virtual keyboard
4) Search: brings up iPadOS search field
5) Siri: activate digital assistant
6) Screenshot: take photo of current screen
7) Media controls: Back, Play/Pause, Forward
8) Volume controls: Mute, Volume up, Volume down
9) Screen on/off: locks iPad (7th and 8th generation) screen
DURABLE DESIGN
Rugged Combo 3 Touch is built to hold up against daily handling throughout the school day, whether your student is learning at home, in class, or on the go. The outer fabric is inspired by the luggage industry and chosen for durability. Rugged Combo 3 Touch has been put through scratch, drop, and vibration tests to ensure the highest levels of protection.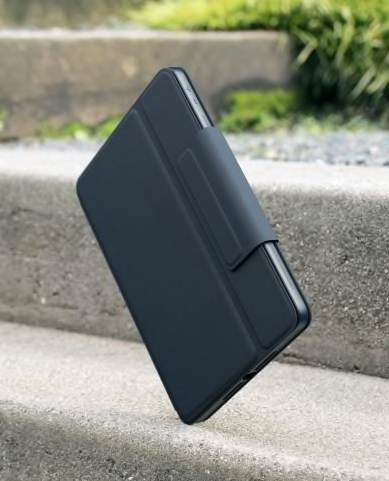 1.4 meters DROP PROTECTION
Rugged Combo 3 Touch is built to withstand falls of up to 1.4 meters and exceeds military standard drop tests (810g). The snug, form-fit case keeps the front, back, and corners of your iPad protected, no matter how active the classroom, field trip, or home-learning curriculum gets.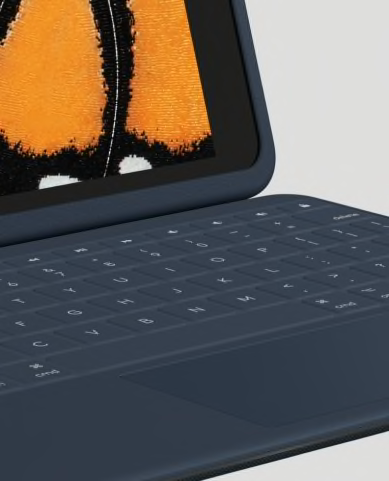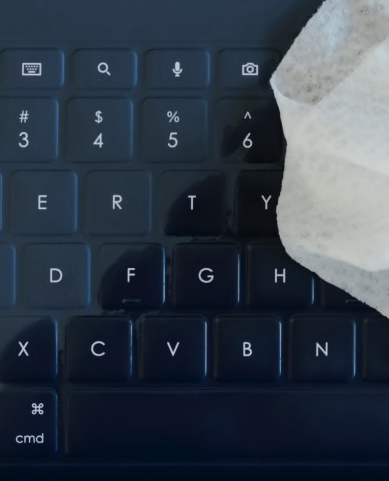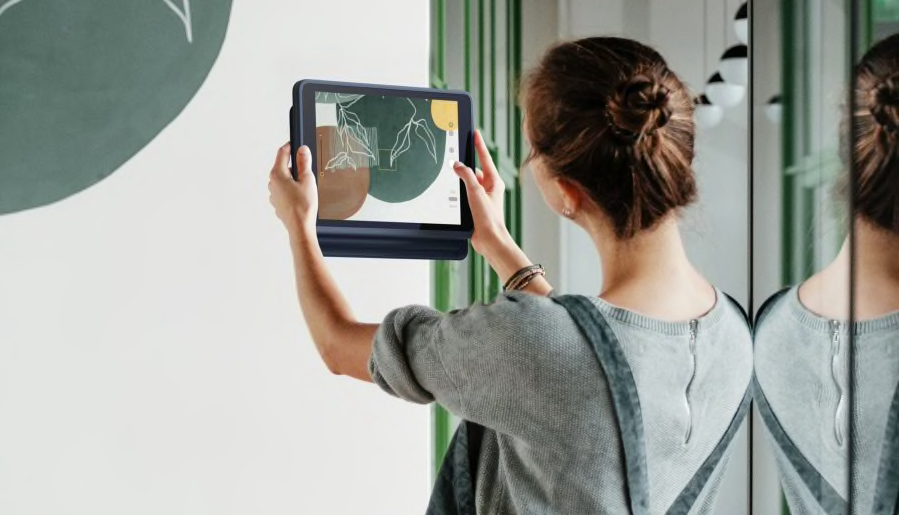 TAKE PHOTOS AND VIDEOS
Rugged Combo 3 Touch lets students capture the world around them, gathering photos and videos. The case is perfectly fitted to the iPad, allowing for full, unobscured access to the iPad's camera, so students can create content for projects and presentations.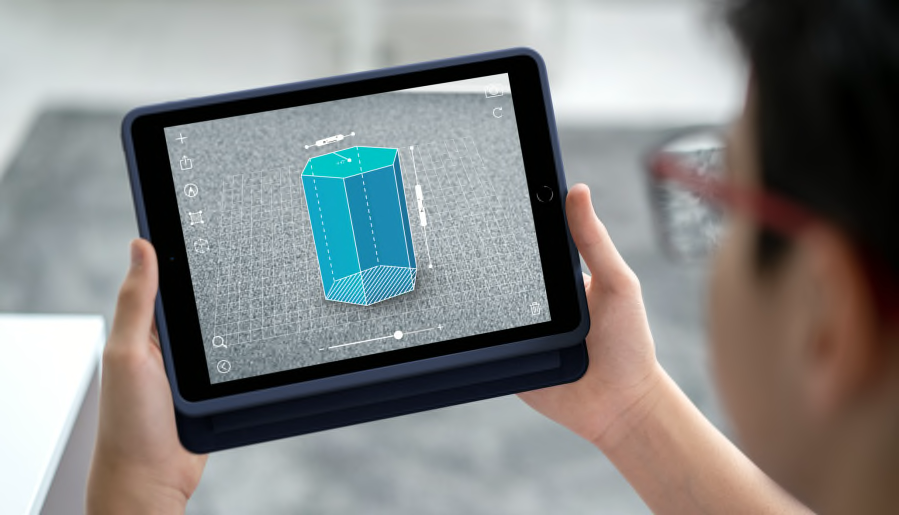 EXPLORE AUGMENTED REALITY
Augmented reality lets students explore and investigate on a whole other level, with educational apps that span history, STEM, and more. Students get a deeper view into systems, calculations, and the inner workings of objects around them.
TAKE PHOTOS AND VIDEOS
EXPLORE AUGMENTED REALITY
ADJUSTABLE KICKSTAND.
MULTIPLE VIEWING ANGLES.
Flexible kickstand offers 40 degrees of tilt so you can always find the right angle for the task at hand. A sturdy mechanical hinge ensures the kickstand stays firmly in place and does not collapse, even with strong tapping.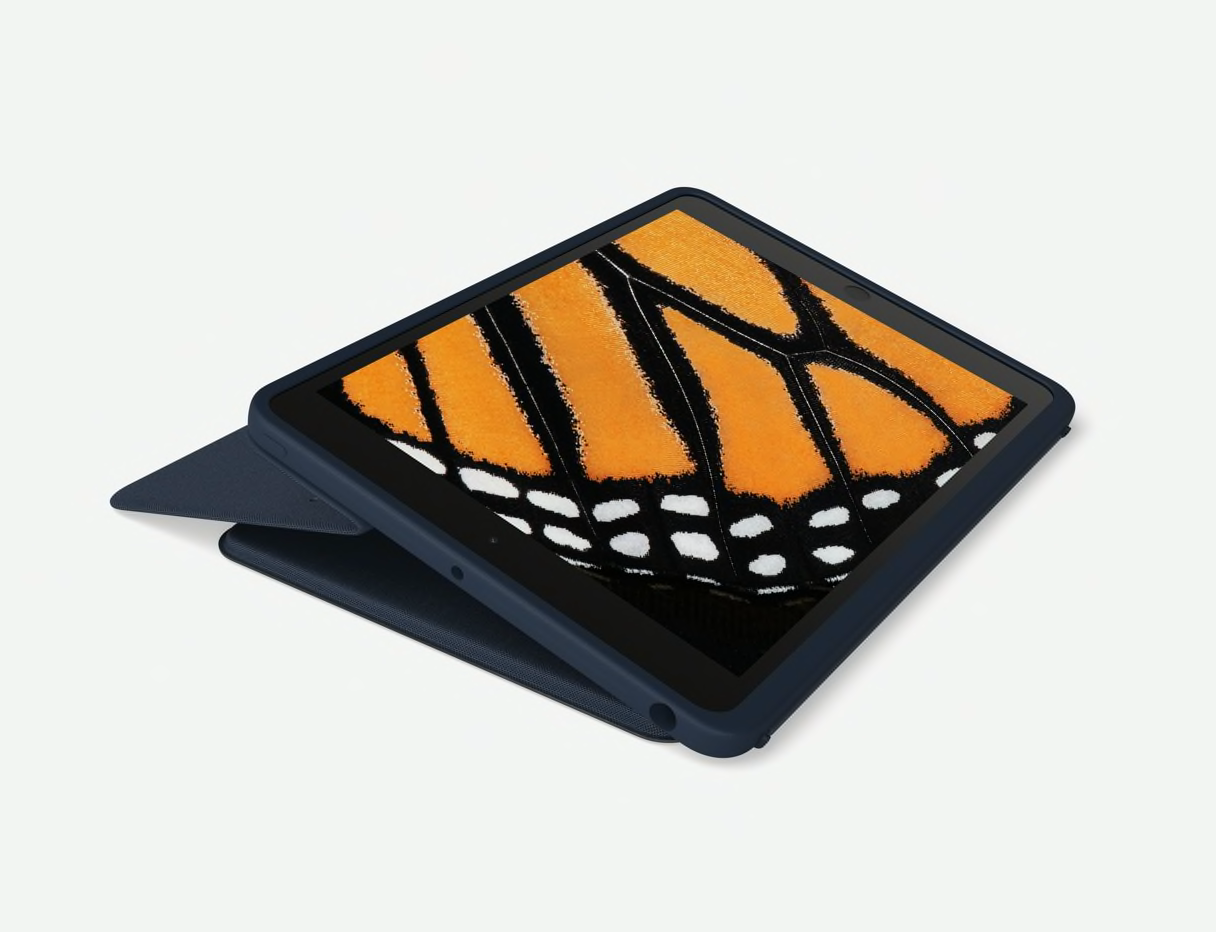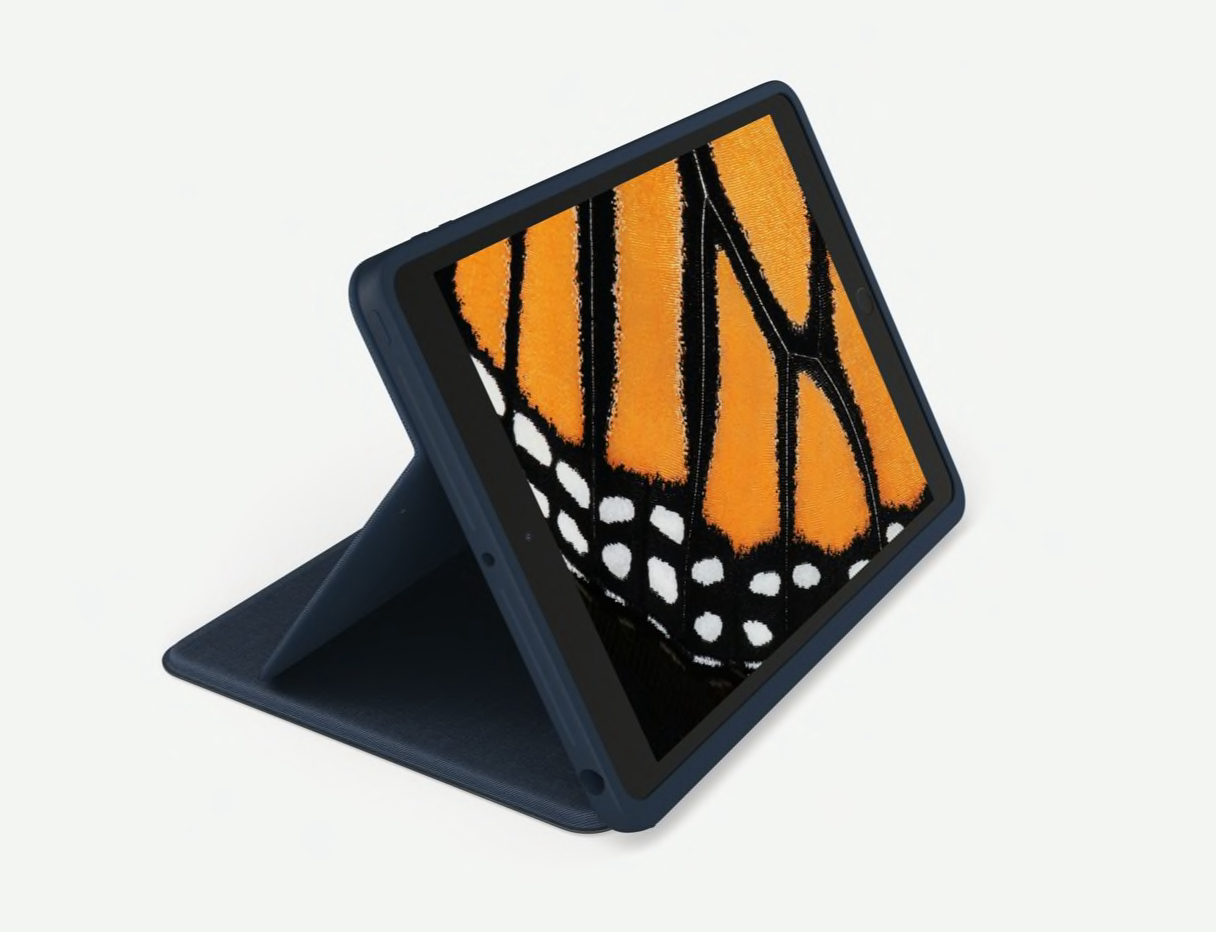 SMART CONNECTOR TECHNOLOGY
INSTANT POWER AND PAIRING
No complex setup or pairing required. Rugged Combo 3 Touch instantly pairs with your iPad via Smart Connector. And batteries aren't included, because you'll never need them—power for Rugged Combo 3 Touch is sourced directly from the iPad and optimized for efficient battery use. 
SECURE DATA TRANSFER
Because the keyboard and iPad are physically connected via Smart Connector, and don't rely Bluetooth®, data is transferred securely—which means students can't swap keyboards or access each other's information. 
A HOME FOR LOGITECH CRAYON
Rugged Combo 3 Touch even has a convenient spot to stow Logitech Crayon or Apple Pencil (1st gen) in the handy magnetic latch, so it's always in reach and ready to use.
SPACE FOR ASSET TAGGING
The large asset tagging window on the back of the Rugged Combo 3 Touch makes it easy to label and manage devices.
ACCESS ALL PORTS
Rugged Combo 3 Touch wraps around the sides of your iPad, while still giving you access to all the important ports, including Lightning Connector, camera opening, and headphone jack.
RUGGED COMBO 3 TOUCH
Protective keyboard case with trackpad
for iPad (7th and 8th gen)

RUGGED COMBO 3 TOUCH
Protective keyboard case with trackpad
for iPad (7th and 8th gen)
---
iPad (7th generation)
Model: A2200, A2197, A2198

iPad (8th generation)
Model: A2270, A2428, A2429, A2430

5 Modes: Type, View, Sketch, Read, Camera

Keyboard Type: Attached keyboard

Adjustable Angles: 20-60°

Power and Connectivity: Power by iPad via Smart Connector

Case

Space to stow Logitech Crayon
Front, back and side protection
Access all ports: Camera, Lightning connector port, headphone port

Keyboard

Full row of iPadOS shortcut keys
18 mm key pitch
1.2 mm key travel

Row of iPadOS Shortcut Keys (Left to Right)

Home
Screen brightness (brightness down, brightness up)
Virtual Keyboard
Search
Siri
Screenshot
Media controls (back, pause/play, forward)
Volume controls (mute, volume down, volume up)
Screen lock

Keyboard case
Documentation

3-year limited hardware warranty

Classic Blue UK English (Qwerty):

920-010367

Classic Blue Suisse / Schweizer (Qwertz):

920-010363

Classic Blue Dansk/ Norsk/ Svenska/ Suomalainen (Qwerty):

920-010366

Classic Blue Deutsch (Qwertz):

920-010361

Classic Blue Français (Azerty):

920-010362
THANK YOU FOR CONTACTING US
A product expert will reach out to you shortly.