Pangea temporary hotfixes here
DESIGNING A POSITIVE FUTURE
Defying the logic of the past to create a more equitable and climate positive world.
Creating a better future for our planet and society requires a different approach to solving big challenges without creating new ones. Discover how we're pioneering new ways of working to design for a sustainable, equitable, and imaginative world – and how everyone can play a part.
DESIGNED BY US
We design possibilities with your future in mind
DESIGNING A POSITIVE FUTURE
WE'RE FOCUSING ON CLIMATE SOLUTIONS
We're working hard to reduce our carbon impact and have a positive impact on the planet.
WE'RE EMBRACING CIRCULARITY
We're transitioning to more circular materials and looking for new ways to reduce waste and extend the life of products, components, and materials.
WE'RE DESIGNING FOR AN INCLUSIVE WORLD
We celebrate and partner with those who are championing diversity, equity, inclusion, and social justice in their communities.
DESIGN FOR SUSTAINABILITY
Our mission is to help ALL people to pursue their passions in a way that is good for society and the environment. This informs every design decision we make from materials and packaging to individual customer experiences.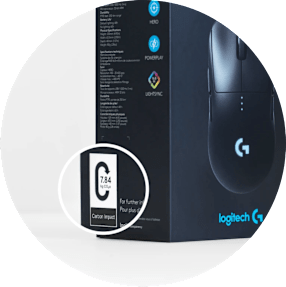 CARBON CLARITY
Carbon is the new calorie - we need to know what we're consuming. By clearly showing our products' carbon impact, we are empowering you to make better purchase decisions.
CLIMATE POSITIVE
Our operations and entire product portfolio are certified carbon neutral, setting us on a path to becoming climate positive and removing more carbon than we create.
DESIGN FOR SUSTAINABILITY
CARBON LABELING
CLIMATE POSITIVE
DIVERSITY, EQUITY & INCLUSION
Reflecting the diversity of the world within Logitech creates the foundation that we need, to create diverse experiences that enable all people to pursue their passions.
LOGICARES
We dedicate ourselves to the communities in which we live and come together to help communities thrive and create positive social and environmental impact.
COMMUNITY RESPONSE
When disaster strikes, we support our local communities. We partner with others to scale up our projects to respond to community needs.
DIVERSITY, EQUITY & INCLUSION
LOGICARES
COMMUNITY RESPONSE
Everyone can play a part. We're applying new logic to big challenges, but we can't succeed without you. It's time to work together to create a better world.