Zoom Meetings + Logitech Headsets and Conference Cameras
BETTER TOGETHER
Logitech and Zoom come together to deliver the best experience for all your meetings needs. Whether at the desktop or in the conference room, our solutions are easy to set up, easy to use and easy to manage. You need seconds, not minutes, to start your meeting.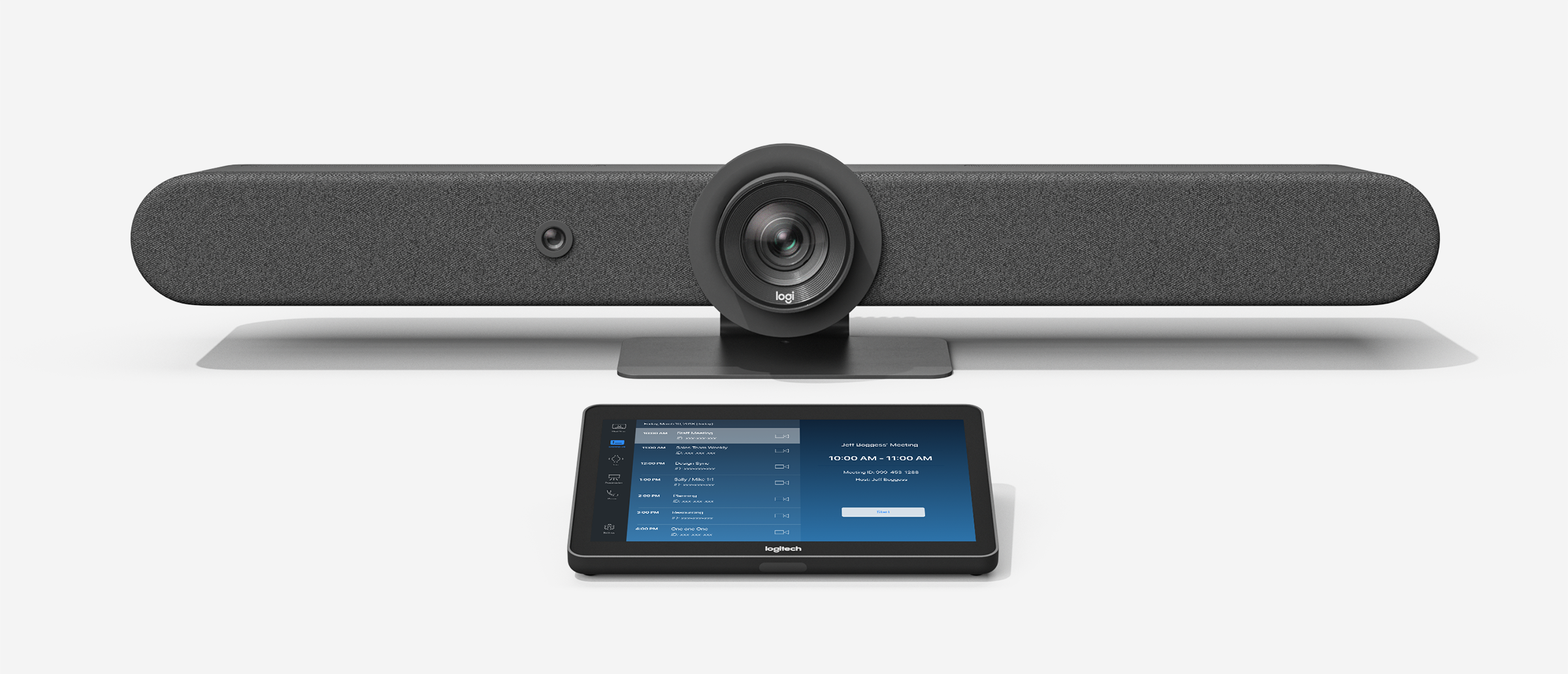 TAP INTO ZOOM ROOMS
Logitech continues to raise the bar for video collaboration, and set new standards for the industry. We combine agility and innovation with decades of insight making best-in-class video solutions, with a persistent focus on affordability for customers without tradeoffs in quality. 
Transform any space into a Zoom Room with one-touch join, wired and wireless content sharing, and center-of-room control with Tap. Logitech® room solutions are available in small, medium, or large configurations with accessories to suit each space.
Tap Scheduler
Make it easy to find and get to the right meeting space with Tap Scheduler, a purpose-built scheduling panel that signals availability from a distance. See meeting details, claim rooms, and book meetings up close on a spacious 10.1" screen.
Easily configure Tap Scheduler as a Zoom Rooms Scheduling Display in just a few simple steps. Provide a professional install with included glass, mullion, and wall mounts and clean cable management. Count on Tap Scheduler for reliable performance with durable components that are built to last.
Remarkably simple to set up and designed for deployment at scale, Tap Scheduler can be added to any room to make the most out of meeting spaces.
Zoom Room For Touch
By combining Avocor interactive displays with the popular Logitech MeetUp, the Avocor ALZ systems are best-in-industry solutions to bring interactive whiteboarding to Zoom meetings in Focus Rooms & Executive Offices and Huddle Rooms & Small Meeting Space.
Logitech + Zoom = Happy Meetings
Our award-winning, professional-quality devices are remarkably affordable, making companies look larger than life without the big spend. Logitech ConferenceCams, webcams, and headsets seamlessly integrate with Zoom to fit any workspace, and simply work.

Learn What Logitech Can Do For You
If you're looking for ways to create Zoom meeting rooms that empower your employees and brings teams closer together than ever, contact Logitech today.