Pangea temporary hotfixes here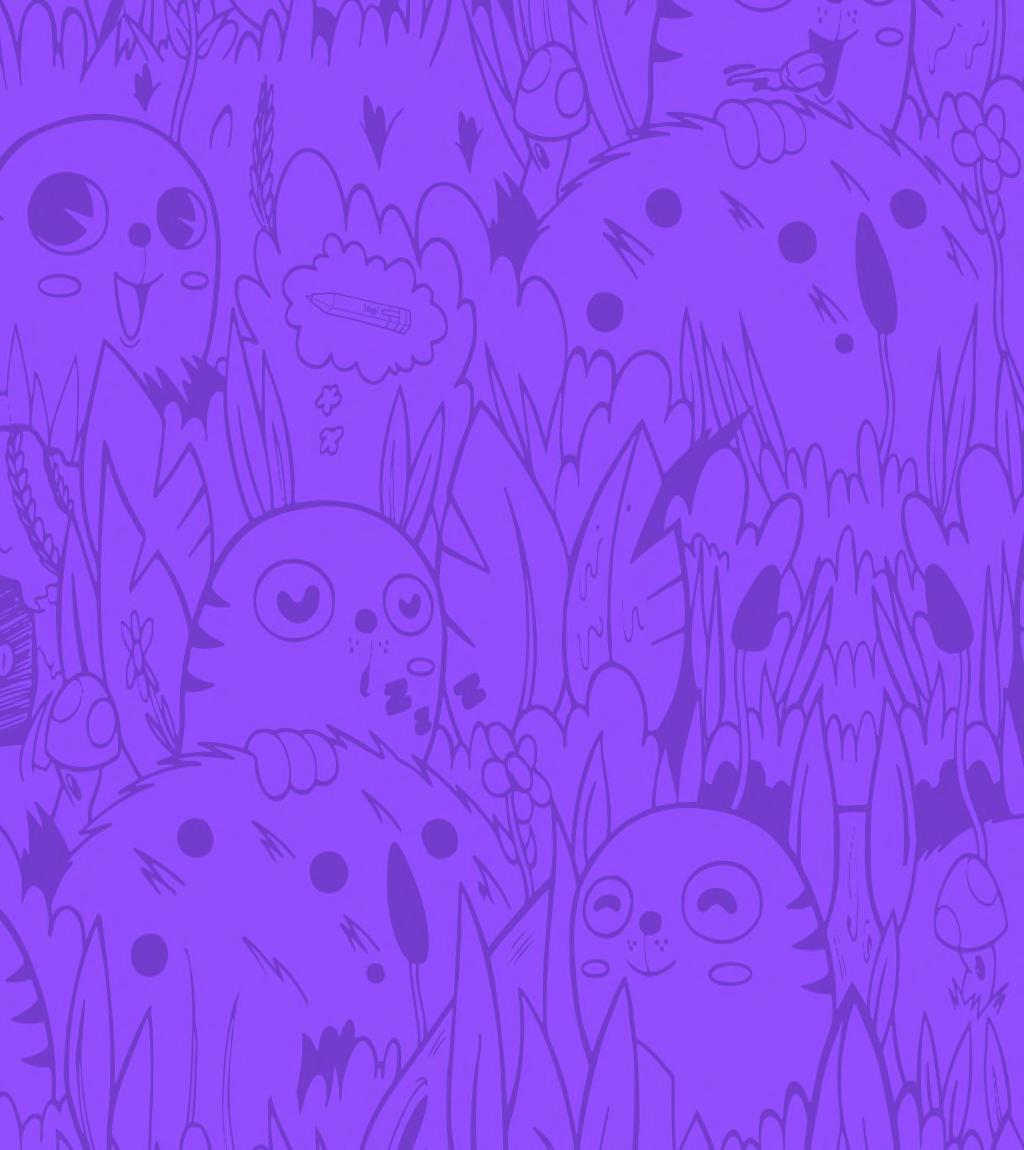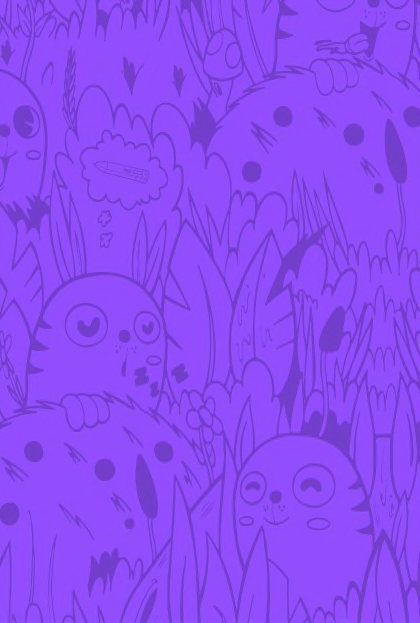 Now compatible with all iPads (2018 releases and later)
GRAB A CRAYON
LET THE FUN BEGIN
Logitech Crayon is a versatile, pixel-precise digital pencil for all iPads (2018 and later) that lets you unleash your creativity. Mark up PDFs, take handwritten notes, or doodle a masterpiece — Logitech Crayon works with apps that support Apple Pencil. And with hundreds of Apple Pencil supported apps available right now, you can start learning, collaborating, and creating on iPad instantly.
IMPROVE YOUR WORK/FUN BALANCE
Logitech Crayon adds dynamic new ways to interact with iPad using Apple Pencil supported apps. Whether you're taking notes in Notability™, drawing in Tayasui Sketches, or even learning to write for the very first time with Writing Wizard, Logitech Crayon makes countless tasks easier and more fun.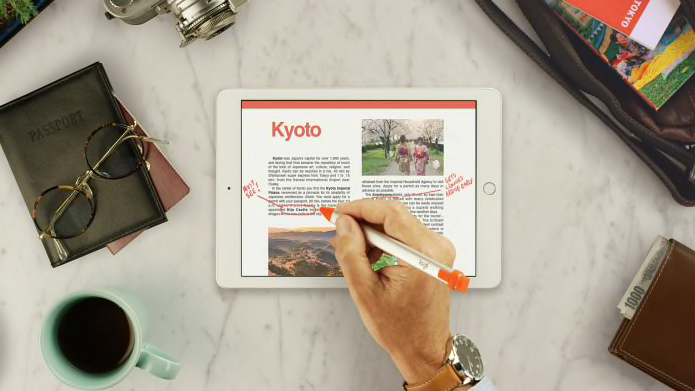 LEAVE YOUR MARK
Logitech Crayon adds an exciting new dimension to the way you interact with your iPad. Effortlessly annotate PDFs, balance the books in Excel — you can even add hand-drawn imagery to your documents with the flick of a wrist. There are hundreds of Apple Pencil supported apps to try, with more coming every day.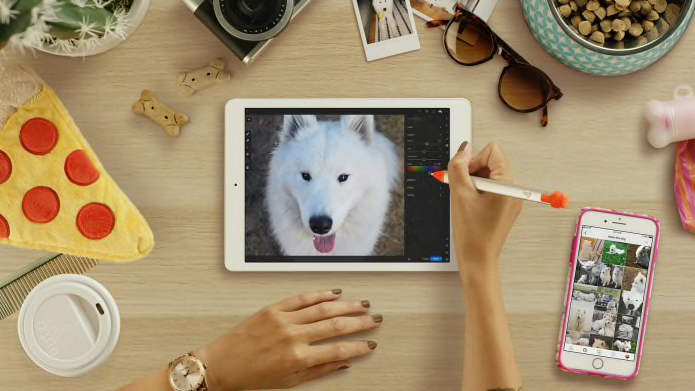 FINE-TUNE YOUR WORK
Stop settling for average and bring your projects to the next level. Logitech Crayon makes it easy to create beautiful, impactful documents by bringing your unique, personal touch to Pages®, Keynote®, Adobe® Lightroom CC, and other productivity apps.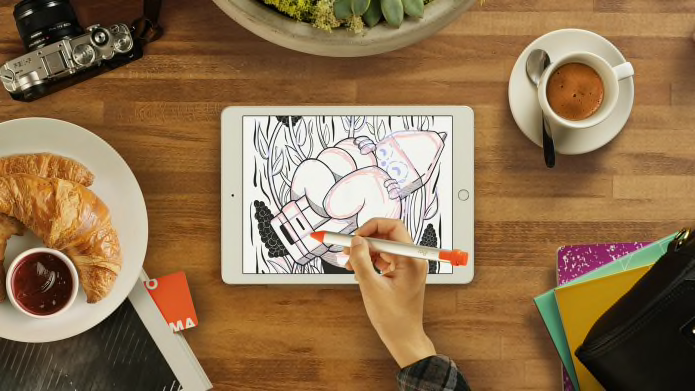 EXPRESS YOUR CREATIVITY
Remember how easily you expressed yourself as a kid? Well now you can again. Logitech Crayon lets you easily add a spark of creativity to any project or task whether you're still young or just young at heart.

USES APPLE PENCIL TECHNOLOGY
Logitech Crayon is built using Apple Pencil technology so you know you're getting the best digital pencil experience available today, giving you access to hundreds of Apple Pencil supported apps instantly — your only limit is your imagination.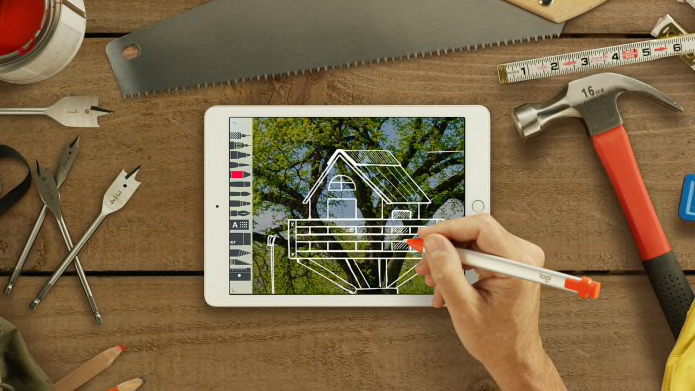 PRECISELY ON POINT. NO DELAYS.
Know how to use a pencil? Then you know how to use Logitech Crayon. With zero perceptible lag time and precision down to the pixel, just write and draw naturally without fear of missing a single line or detail.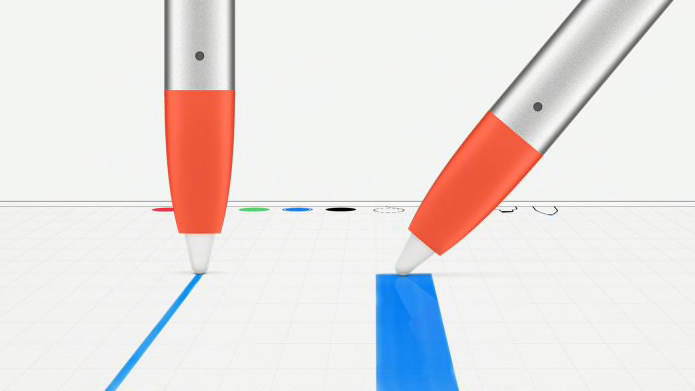 THE PERFECT LINE EVERY TIME
Need a thicker or thinner line? Just tilt. Logitech Crayon has a smart tip which dynamically adjusts line weight depending on the angleDoes not support pressure sensitivity you place it down — just like a regular pencil.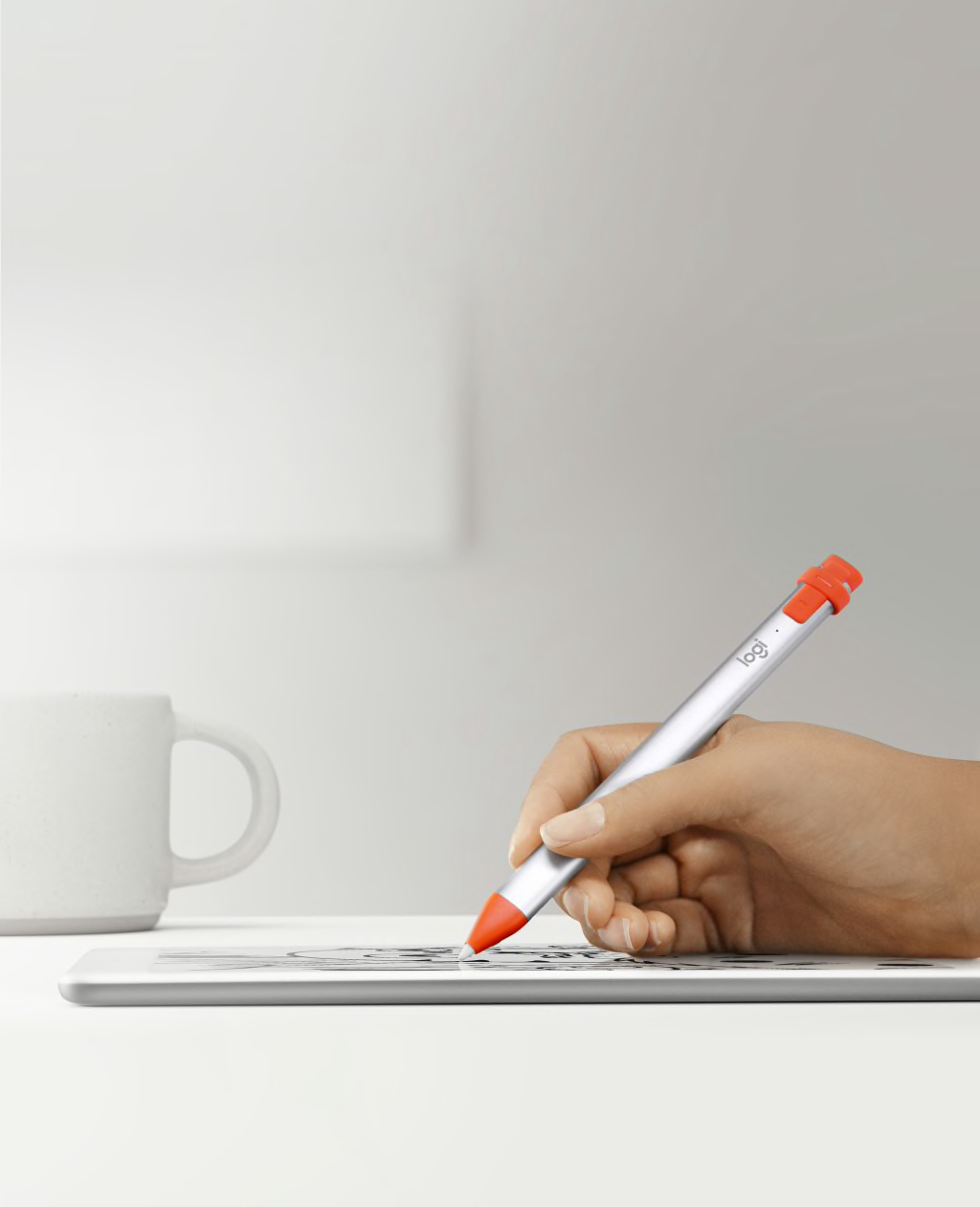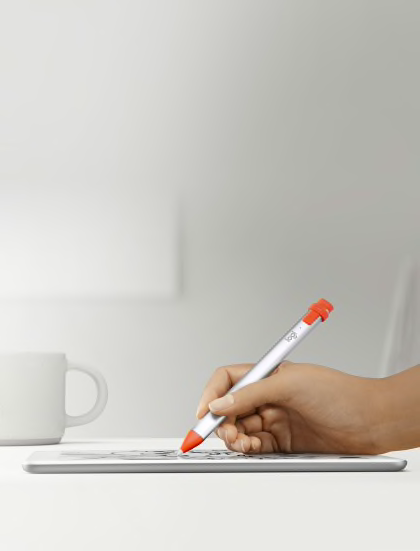 PALM REJECTION TECHNOLOGY
Go right ahead and rest your palm on the screen while you write — iPad supports palm rejection for natural hand placement while using Logitech Crayon. Now you can stop worrying about your hands and focus on the task at hand instead.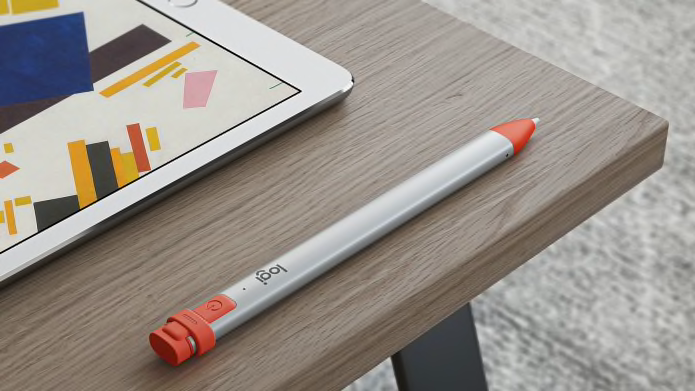 SHAPED TO STAY PUT
The unique design of Logitech Crayon isn't just for show. The flat shape stays exactly where you leave it and prevents it from rolling off desks or getting lost underneath shelves.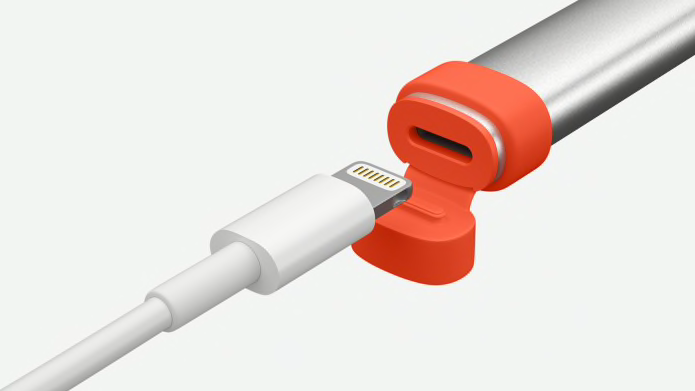 BATTERIES THAT LAST
Logitech Crayon gives you up to 7.5 hours of writing time on a single charge and shuts off automatically after 30 minutes idle time to save precious battery. If you're low on battery, no worries— a 2 min charging boost provides 30 min of writing time. A Lightning Cable is required to charge Logitech Crayon.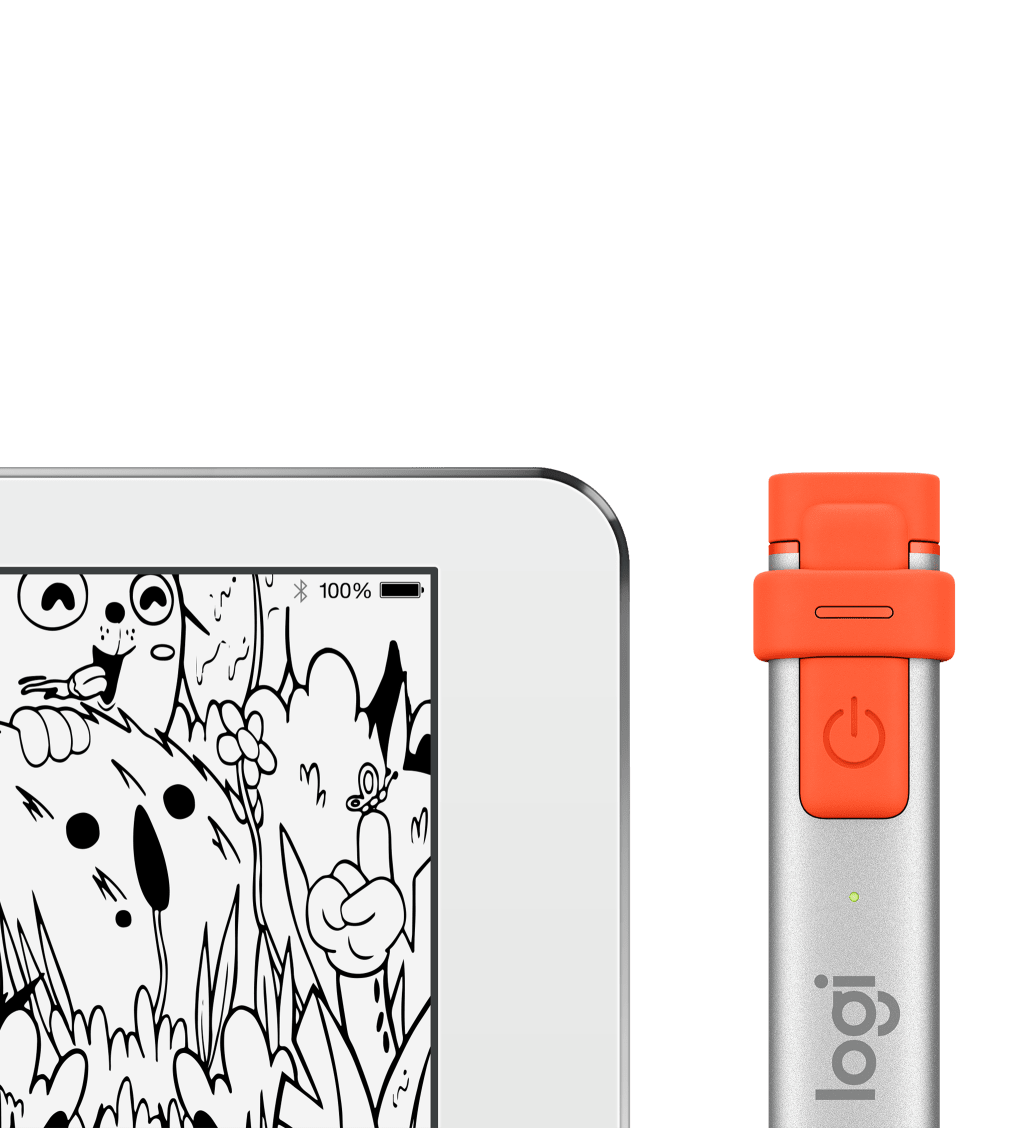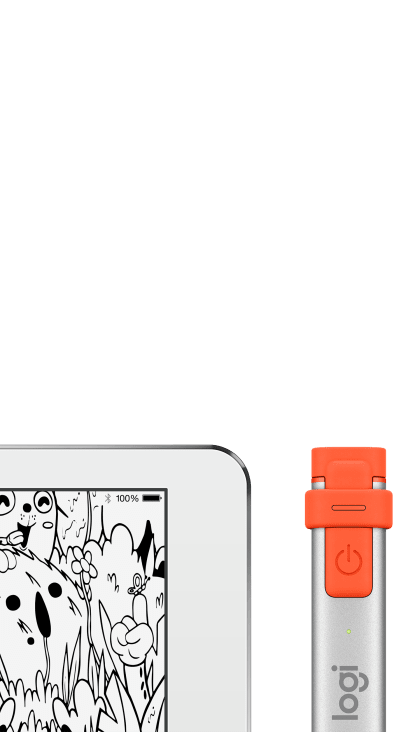 JUST TURN ON AND DRAW
Simply press the on button and start writing or drawing on iPad right away — it's that easy. Logitech Crayon connects to iPad instantly with no complex device pairing or other delays.
WORKS WITH HUNDREDS OF APPS
Use Crayon to learn a new language, sketch, design, or create with apps that are compatible with Apple Pencil.












FIT FOR ANY HAND
Big, small, young, old — Logitech Crayon was designed with light, strong materials that feel natural inside hands of all shapes and sizes. That includes you lefties!
DESIGNED FOR BUSY LIVES
Throw it in a bag or stick it in your pocket — Logitech Crayon is tough enough to go anywhere you do with 1.22 m drop protection and a secure tethered cap.
CRAYON FOR EDUCATIONAL USE
Equip your students with the ultimate learning tool.
JOIN THE FUN GRAB A CRAYON
CRAYON DIGITAL PENCIL
Pixel-precise digital pencil for iPad (all 2018 models and later)

CRAYON DIGITAL PENCIL
Pixel-precise digital pencil for iPad (all 2018 models and later)
---
---
GET TO KNOW YOUR CRAYON
What you need to know before the fun can begin.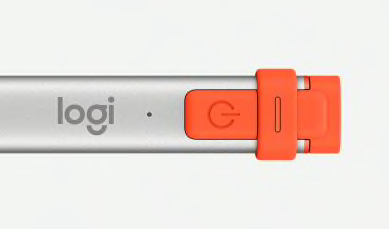 EASY SET-UP
1. Make sure iOS is version 12.2 or above by going to iPad settings → General → Software.
2. Disconnect previously connected digital pencils, such as Apple Pencil. 

3. Press Logitech Crayon power button for 1-2 seconds until LED lights green. 
4. Write and draw away!

Download full setup guide here.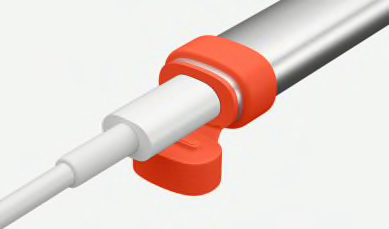 SOFTWARE UPDATES
Updating iOS on your iPad may affect your ability to enjoy the full functionality of certain apps with Crayon. If you notice changes in your experience, update your Crayon's firmware here.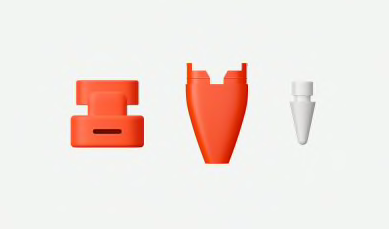 REPLACEABLE PARTS
The tip can be damaged if Logitech Crayon is dropped and will also wear down with use. If either of these occur, the tip will need to be replaced to avoid damaging the screen. Replacement tips for Logitech Crayon can be purchased separately. Replacement tip covers will be available for separate purchase soon.

iPad Pro 12.9-inch (5th Gen)
Model: Coming soon (即将推出 / Prochainement)

iPad Pro 12.9-inch (4th Gen)
Model: A2229, A2069, A2232, A2233

iPad Pro 12.9-inch (3rd Gen)
Model: A1876, A2014, A1895, A1983

iPad Pro 11-inch (3rd Gen)
Model: Coming soon (即将推出 / Prochainement).

iPad Pro 11-inch (2nd Gen)
Model: A2228, A2068, A2230, A2231

iPad Pro 11-inch (1st Gen)
Model: A1980, A2013, A1934, A1979

iPad (8th Gen)
Model: A2270, A2428, A2429, A2430

iPad (7th Gen)
Model: A2197, A2200, A2198

iPad (6th Gen)
Model: A1893, A1954

iPad Air (4th Gen)
Model: A2316, A2324, A2325, A2072

iPad Air (3rd Gen)
Model: A2152, A2123, A2153, A2154

iPad mini (5th Gen)
Model: A2133, A2124, A2126, A2125

*All iPad models must be updated to iOS 12.2 and above


Power and Connectivity

Lithium battery
Up to 7.5 hours of active writing time
Automatically powers off after 30 minutes of idle time to preserve battery
On/off button requiring 1 sec press
Battery life indicator

Short press on on/off button
Green light if battery > 10%
Red light if battery < 10%
LED blinks red if battery life < 5%

Charge via iPad lightning cable
Charging port covered by a replaceable tethered cap

Tip

Replaceable (purchased separately)
Tilt sensitivity for dynamic line weight
Palm rejection technology ignores stray touches

Materials

Tube: Aluminum
Cap: Silicon Rubber
Tip cover: PC+ABS

Logitech Crayon
Documentation

1-Year Limited Hardware Warranty

Grey:

914-000053

Orange:

914-000035
Apple, AirPods, AirPods Pro, Apple Pencil, Apple Watch, Face ID, FaceTime, iPad, iPad Air, iPad mini, iPadOS, iPad Pro, iPhone, Keynote, Mac, Multi-Touch, Numbers, and Pages are trademarks of Apple Inc., registered in the U.S. and other countries.