Pangea temporary hotfixes here
Classroom Exercises to Empower Students as Content Creators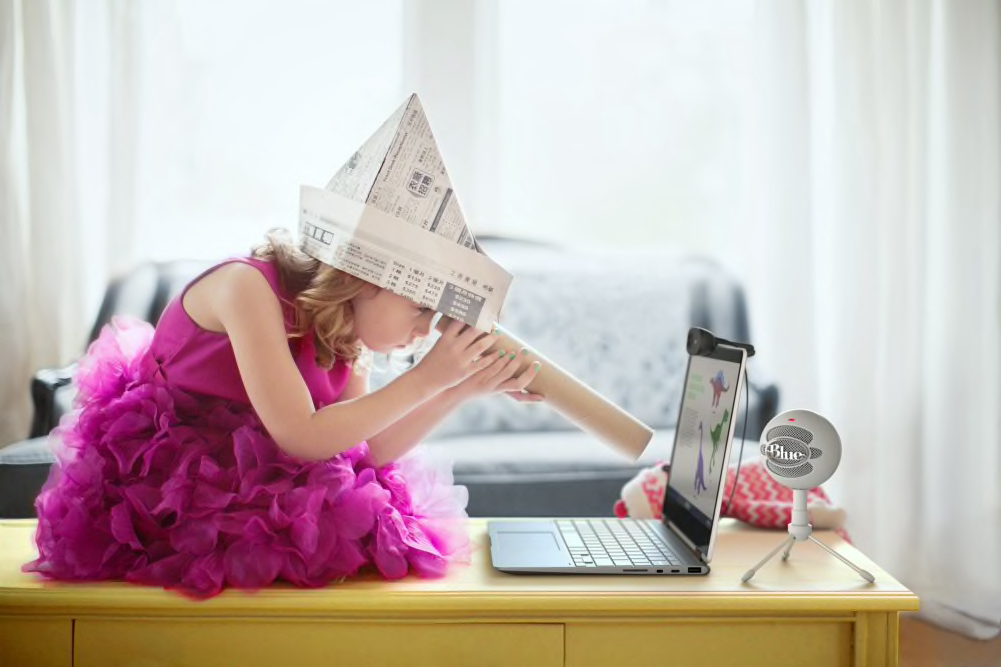 A survey conducted by The Harris Poll and Lego revealed that of 3,000 kids in the United States and the United Kingdom, nearly 30% ranked YouTuber as their top career choice. A recent study by Wakefield Research for Junior Achievement USA found that 60% of teenagers 13-17 years old, were more interested in starting their own businesses than securing traditional jobs, and 37% cited social media influencer as the inspiration for their future careers.
Students' career interests are changing and so are industry needs. The challenge for educators is to prepare students with foundational and flexible skills that equip them to enter a global, digital and diversified workforce. Content creation exercises not only help meet the demands of students' new career interests, they also provide innovative ways to empower the communication, collaboration and technological skills they need.
Collaboration & Communication
Podcasts are great content exercises that can help students develop communication and critical thinking skills through storytelling. Let students develop podcast topics and incorporate key story elements through project guidelines. Stories and podcasts share similar elements. Like the body of a story for example, the main content of a podcast must include credible sources, data, antidotes and examples that support the main idea presented.
For any kind of content creation, the right tools are necessary, especially for podcasts where audio takes center stage. Students need studio-quality equipment that is equal parts sturdy and comfortable. The Logitech H111 180° movable microphone and noise-reduction headset allows students to capture clear audio in remote or hybrid settings, so they can record and listen to other podcasts effectively. For in-class setups, the Snowball iCE delivers crystal-clear audio quality powered by a custom cardioid condenser capsule that delivers a full-bodied sound. Both audio tools offer plug-and-play capabilities for a hassle-free setup.
Content creation exercises also teach students effective collaboration. Slideshow presentations and display boards are traditional forms of group exercises, but there are other ways to encourage cooperation skills. Panel discussions are guided discussions among a small group of experts who explore a specific topic together. Panel discussions infuses collaborative skills like discussion, active listening, role assignment, conflict resolution, and group decision making that employers today seek. Panel discussions also encourage students to conduct research by exploring different aspects of a topic. Group discussions empower students because they help students develop confidence in what they learned.

The Yeti microphone can bring panel discussions to life in the classroom through a real-world setup. With multiple-pattern pickup and studio controls, students and teachers can take charge of every level of the recording process. For remote panel discussions, the C270 HD webcam gives students sharp and smooth conference calls in a widescreen format. Automatic light correction and a built-in noise reducing mic ensures every student panelist and participant is seen and heard clearly.
With Logitech Meetup, you can bring in an outside expert for a more dynamic virtual exchange, discussion or experience. With Logitech RightSense™ proactive technologies, MeetUp automatically enhances conversational clarity and frames everyone in the room to give every student a front row experience to classroom exercises with remote guests.
Empower Student Creators
Some content creation exercises can empower students through creativity, while developing their synthesis and organization skills. These exercises can also be a way to implement tiered learning objectives.
Digital design boards
People love Pinterest because it allows them to visualize organization, instructions and group similar ideas together. Likewise, digital design boards are a creative way to develop students' synthesis skills. Students can create design boards on a specific topic to demonstrate their level of understanding, conceptualize ideas or steps in a process. With pixel-precise and intuitive digital tools like the Logitech Pen and Logitech Crayon, students can opt to either flex their free-form artistic skills or use drawing tools to digitally illustrate and annotate items for their design board.
How-to Videos
Instructional videos are another practical way to inspire student creativity and  incorporate tiered learning objectives. Students can create an explainer video, instructional video, show-and-tell video, or key takeaways video.  The MEVO is a live streaming HD web camera that provides a unique opportunity for students to share compelling how-to-videos with others, while developing communication and presentation skills.
When students are empowered as content creators, they explore career interest and gain foundational media skills required in a digitally-driven workforce. Through content creation exercises, students learn to use digital tools like microphones, headsets and webcams and to tailor and produce content across different platforms. Most of all, content creation exercises help students express knowledge in new and meaningful ways, allowing them to recognize and strengthen the power of their creative talents.
Let's Talk
Learn more about how Logitech can help you shape the future of education.
THANK YOU FOR CONTACTING US
A product expert will reach out to you shortly.