Pangea temporary hotfixes here
THE ERGO SERIES
Put the feel-
good in your workday
The right workspace can do wonders for your wellbeing. Discover the Ergo Series to help you get comfier and feel better after a long day at the desk.
Developed and tested with the Logi Ergo Lab, and with the stamp of approval from United States Ergonomics, you can rest assured our products mean business when it comes to your wellbeing in the workspace.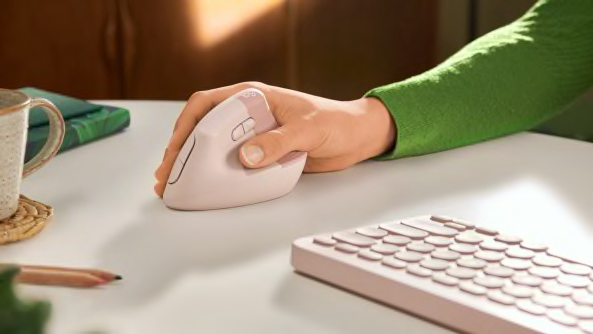 Familiar feel. Only comfier.
Ergo mice and keyboards are shaped to place your hands, wrists and forearms in a natural posture, so you can work in comfort from AM to PM.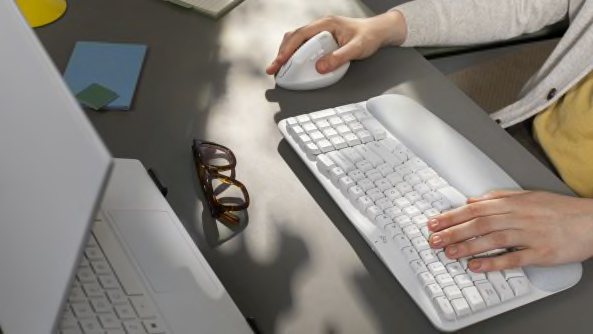 GO EASY ON YOUR MUSCLES
A natural upper body posture throughout the day makes it easier to stay relaxed and focused on the things that matter.
Get comfier with our range of ergonomic mice and keyboards, designed to help workdays go easier on you.
RAISE YOUR HAND INTO COMFORT
By placing your hand in a natural handshake position, our vertical mice relieve pressure on your wrist and keep your hand and forearm relaxed throughout the day. Discover the one for you - with options available for both right and left hands.
THUMBS UP FOR THUMB CONTROL
Less movement, more comfort. With no need to move your arm around to move the cursor, your hand and arm can stay relaxed no matter the task ahead. Ideal for smaller desks.
FEEL-GOOD TYPING ALL DAY LONG
Our ergonomic keyboards with cushioned palm rests are designed to help days of typing feel great. More wrist support, natural upper body posture, big difference.
MIX AND MATCH YOUR COMFORT
Feel better, do better with a combination of Ergo products designed to boost your wellbeing and productivity. Find a match for your needs and your workspace.
PRIORITIZE YOUR WELLBEING
Discover easy, effective ways to feel better and do better at your workspace — from tips on setting up your workstation to science-based hacks that can boost your wellbeing throughout the day.
SETTING UP IS EASY
To feel at your best, don't forget to adjust your workspace to your needs. Follow these simple steps to enjoy greater wellbeing at your desk.