Pangea temporary hotfixes here
Our focus
We dedicate ourselves to the communities in which we live and work. Giving back and driving change are not only a social responsibility but a key aspect of our corporate culture. LogiCares creates opportunities for our employees to give back to the communities we touch.
Empowering our people
Empowering our employees to deepen their relationships with their local communities is fundamental to our culture of giving. Whether it is through paid volunteer time off, or our donations-matching program, we encourage our people to contribute to the communities in which we live and work.
Earth Day
As part of our 2021 Earth Day celebrations, Logitech partnered with ForestNation, an organization helping companies and individuals reforest our planet. We encouraged employees to get outside and enjoy nature to celebrate the places they grow, live, and play. For every employee that took a walk, we planted trees in the Logitech Forest in Tanzania.
Our local communities
At Logitech, we aim to create opportunities to come together and invest in the communities in which we live and work. This is done in collaboration with employees, and Employee Resource Groups (ERGs) who help envision and execute how we contribute to the communities they represent.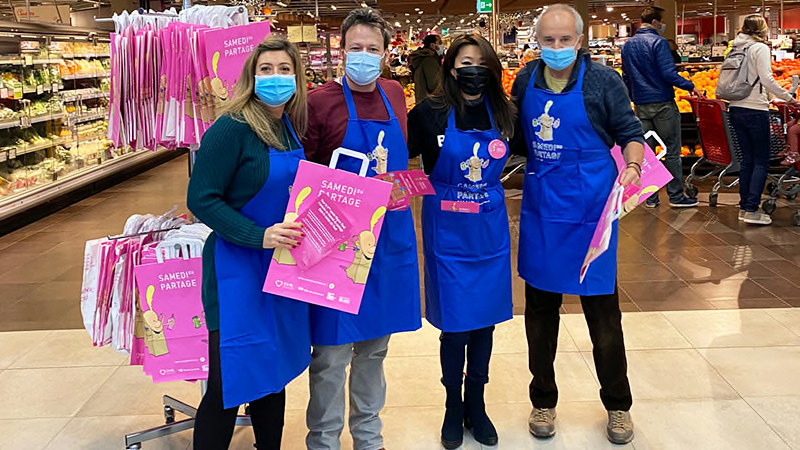 LogiCares Magic in Lausanne
LogiCares Lausanne really made the holidays magical with donations and other efforts, coordinating with local nonprofits Caritas Vaud and Cartons du Coeur. Colleagues from the Switzerland office gave their time, goods, and care to local residents in need this year through the following initiatives: a winter clothing drive, Samedi du Partage, a food drive, support for a shelter, and product donation.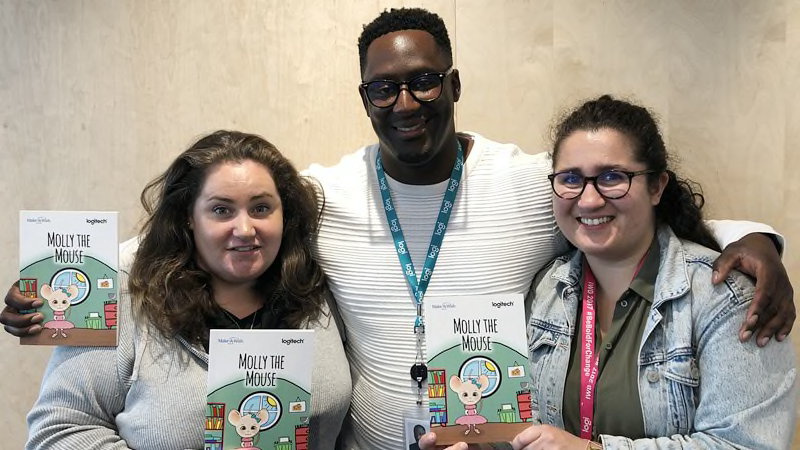 Logitech employees in Cork, Ireland supported Make-a-Wish Ireland for the holiday season. Make-A-Wish is a Children's Charity that grants the wishes of children with life-threatening medical conditions to give hope, strength, and joy.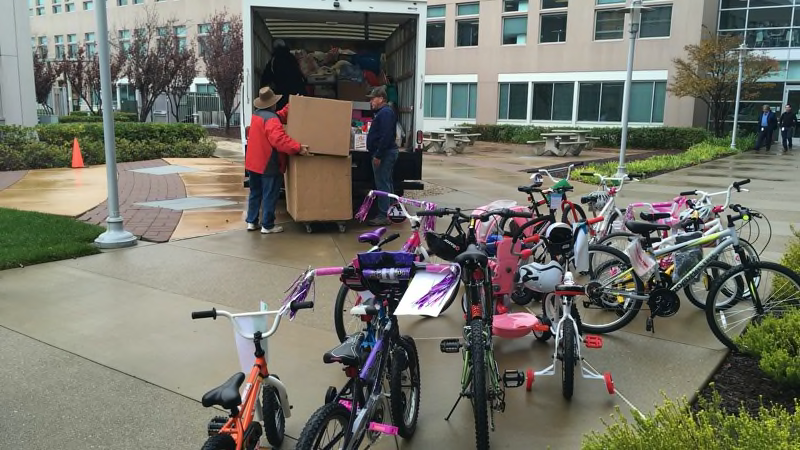 Adopt an Angel, San Francisco Bay Area
Logitech's Silicon Valley office has contributed to Adopt an Angel for over 20 years. Adopt-an-Angel supports the children in Alameda County Child Protective Services. The children make wish lists, requesting items they want, and the program finds volunteers to purchase, wrap, and deliver those gifts to brighten their holiday season.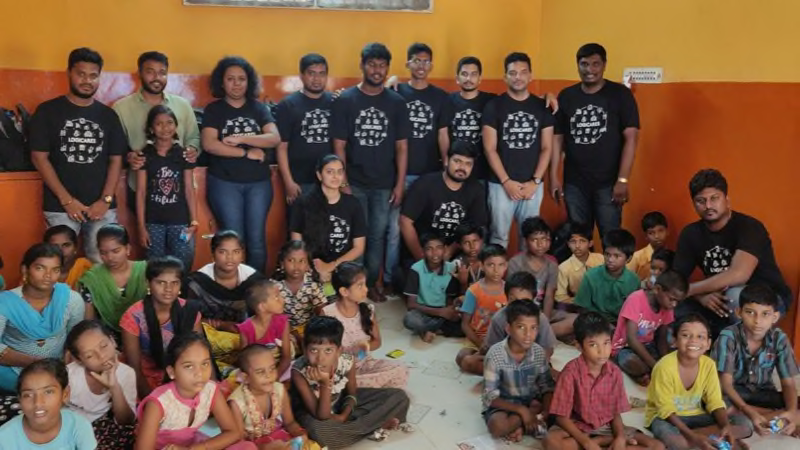 Anaikkum Karangal Children's Shelter, Chennai
Logitech volunteers went to Anaikkum Karangal, a children's shelter home run by Bhumi NGO. Notebooks and flash cards were made and used by these children for the academic year. Employees also set up fundraising events where each clan hosted games, prepared refreshments and offered items that were sold internally to raise funds. The funds were used to support six students through Higher Education, Children Welfare and Women empowerment programmes.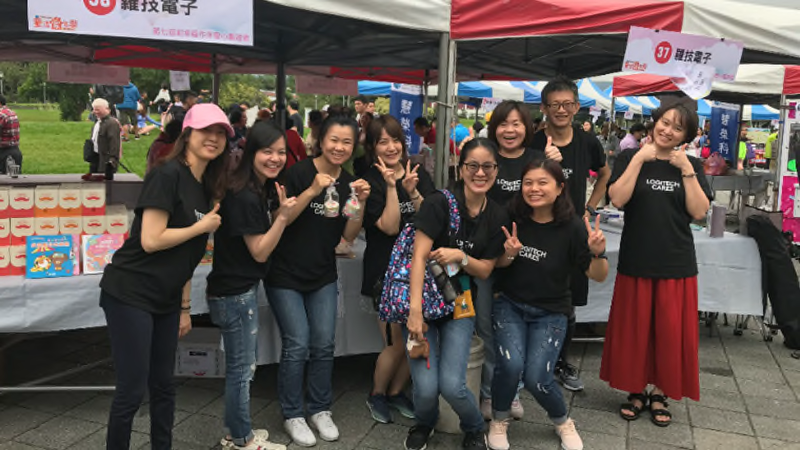 Chung Yi Social Welfare Foundation, Taiwan
Logitech volunteers from our Taiwan welfare committee set up a booth to wash, cut and pack fruit, to be sold along with coffee, cupcakes and books. The funds raised were used to support Chung-Yi's Childrens Home, for children under the age of 18.
LogiCares Magic in Lausanne
Make-a-Wish, Ireland
Adopt an Angel, San Francisco Bay Area
Anaikkum Karangal Children's Shelter, Chennai
Chung Yi Social Welfare Foundation, Taiwan
Leveraging Skills & Products
Equality and the environment are core values of Logitech, and we've made great strides to ensure they are at the center of everything we do. By reimagining the way we do business, we leverage the skills and products that our people and company have to offer to better the lives and futures of others.
MX PARTNERSHIP WITH GIRLS WHO CODE
Inspiring a pipeline of future leaders, the global team for the Logitech Master Series is committed to helping young and aspiring girls discover a passion for engineering and creativity. Logitech has partnered with Girls Who Code, joining this organization in its mission of helping young girls discover a passion for engineering and creativity through a series of collaborative tactics. To support Girls Who Code activities, Logitech will donate an amount measured on a portion of the global sales from every Master Series product sold, including MX Master 3S, MX Keys S and MX Anywhere 3S, to Girls Who Code, supporting its ongoing programming and outreach efforts.
Hopecam Partnership
Hopecam helps children with cancer connect with their friends, their classrooms, and their support systems while they're going through cancer treatment.

Logitech partnered with Hopecam to provide equipment that allows children in cancer treatment to engage directly with their classroom. 
As Hopecam has scaled to help hundreds of children connect with their support communities while undergoing treatment, they've relied on Logitech video conferencing technology to provide the essential face-to-face contact.
STREAMLABS CHARITY
Streamlabs enables creators to build instant communities, with their all-in-one software, and through the Streamlabs charity platform, creators can livestream to Twitch, YouTube, Facebook Live and more, to fundraise for charities that are doing important work.
Since its launch, Streamlabs Charity has helped creators raise over US$16 million for charities on the platform. Streamlabs does not take any portion of the charitable donations and is completely free for creators, donors, and charities.
GLAAD
GLAAD rewrites the script for LGBTQ acceptance. As a dynamic media force, GLAAD tackles tough issues to shape the narrative and provoke dialogue that leads to cultural change. Logitech has partnered with GLAAD to support the creation of their Social Media Safety Index, which provides recommendations for the industry at large and reports on LGBTQ user safety across the five major social media platforms: Facebook, Instagram, Twitter, YouTube, and TikTok.
Best Buy Teen Tech Center powered by Logitech at the San Leandro Boys and Girls Club
Through collaboration between the Best Buy Foundation and the San Leandro Boys and Girls Club, the Best Buy Teen Tech Center® powered by Logitech provides a safe, after-school space where teens can get hands-on experience with the latest technology. Adult mentors and volunteers provide the support for youth to create, innovate and explore. Teens can explore their passions with access to cutting-edge technology including tools for film, digital media, audio engineering, 3D design, and coding. Teens also have access to career training programs, internships, job opportunities, and scholarships for post-secondary education.
For more information about the Best Buy Teen Tech Center program, visit here.
MX PARTNERSHIP WITH GIRLS WHO CODE
Hopecam Partnership
STREAMLABS CHARITY
GLAAD
Best Buy Teen Center
Logitech x Tides Foundation
Giving at Logitech
At Logitech, we believe that together we can drive big change. We aim to level the playing field for all people. And we dedicate ourselves to the communities in which we live and work to help build thriving communities and reduce our environmental footprint. Equality and the Environment is a Logitech core value and is the heartbeat of Logitech's giving strategy. Logitech invests in communities through volunteering, donating products, and grantmaking.
To facilitate our grantmaking, Logitech has established a Donor Advised Fund (DAF) at Tides Foundation. This means that Logitech has advisory privileges to recommend grant distributions out of the Donor Advised Fund to support charitable projects aligned with Tides Foundation's mission.
If you have questions about giving at Logitech, please contact logitechcares@logitech.com