Spotlight Plus
Logitech® Spotlight™ Plus includes Prezi Business software and a 3-year hardware warranty.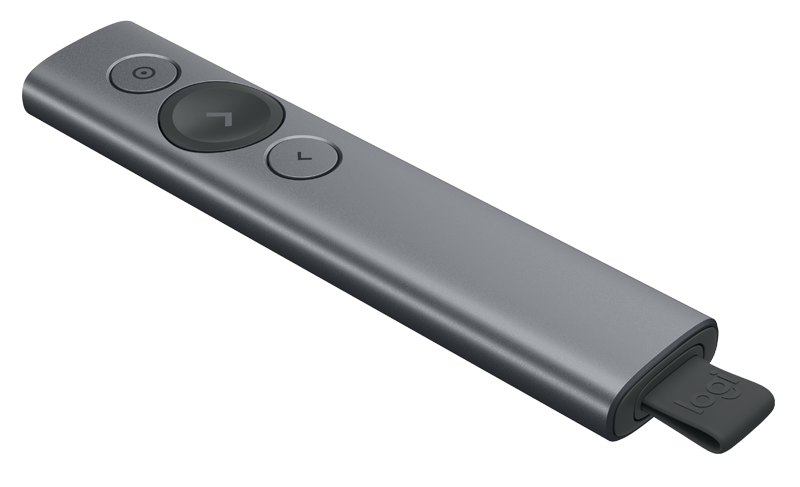 Advanced pointer system precisely highlights or magnifies.
On-screen cursor to play and pause videos and open links.
Connects instantly via USB receiver or Bluetooth®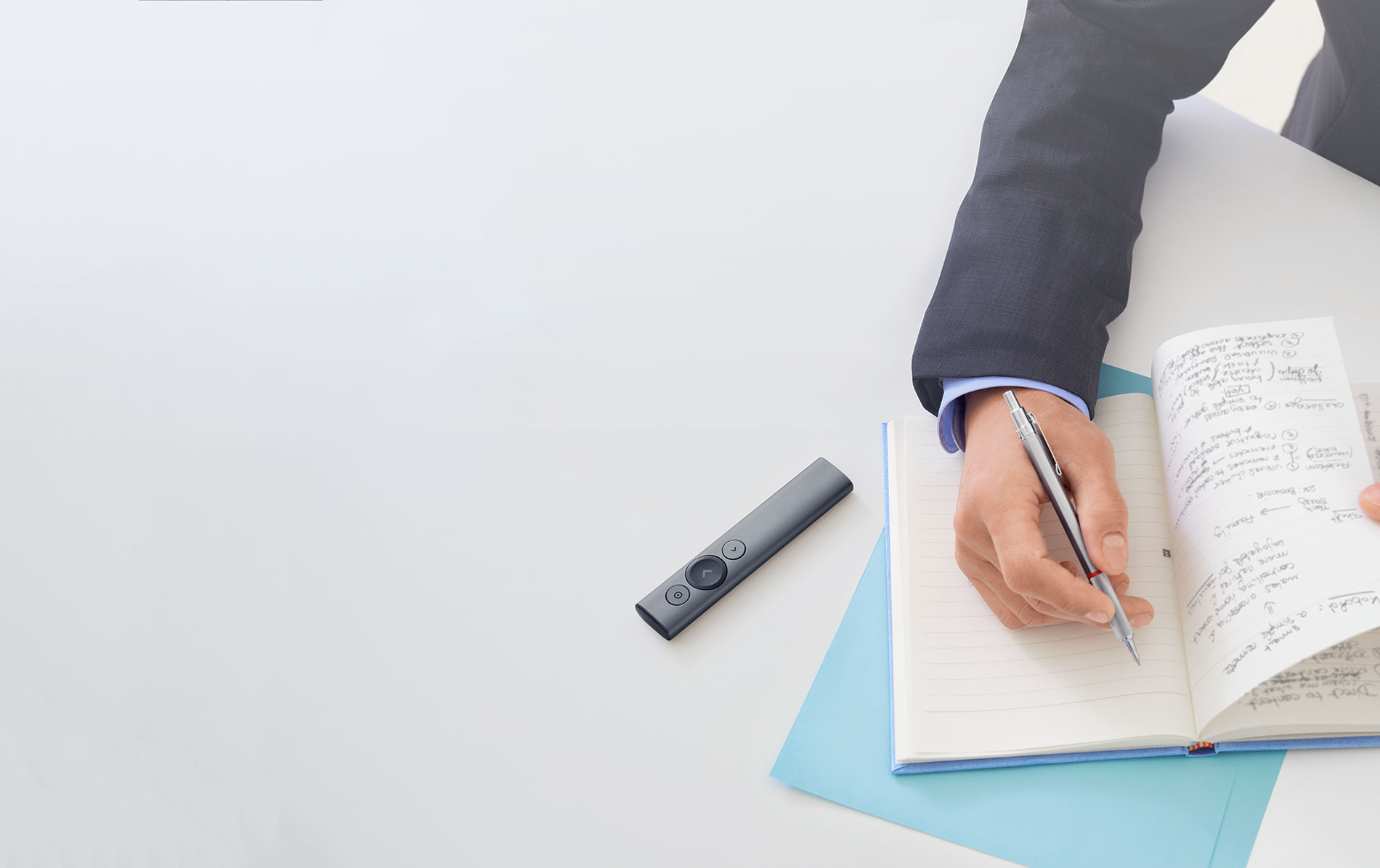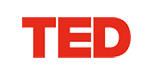 "Spotlight Plus is the preferred presentation remote of TED and the Spotlight Presentation Academy at TED."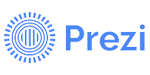 "Logitech has partnered with Prezi to provide Spotlight Plus users with a 6-month Prezi Business trial subscription."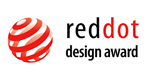 "Spotlight Presentation Remote was honored with a 2016 Red Dot Product Design Award"
Key Features
SPOTLIGHT AND MAGNIFY ON SCREEN

Take your company's next business presentation beyond traditional laser pointing. Spotlight Plus advanced pointer system lets you precisely highlight or magnify areas of focus, all with pixel-perfect detail. The selected area of focus is clearly visible to both the meeting room audience as well as business groups via video conference. Set the pointer mode with the easy-to-use Logitech Presentation App.1

MOUSE-LIKE CURSOR CONTROL

The on-screen cursor can be used to play and pause videos, open links, show proprietary corporate content, and enjoy a range of other rich content interaction. No need to break the flow of a business presentation or go near a mouse or laptop. With Spotlight Plus, both the presentation and the company comes shining through.

SMART TIME MANAGEMENT

Spotlight Plus quietly reminds the speaker when it's time to wrap up. The presentation remote vibrates five minutes before the end of a presentation and again when time is fully up. Speakers can eliminate distractions and awkward interruptions, track presenting time, and customize vibration alerts in the Logitech Presentation App.2

DUAL CONNECTIVITY

Sleek, portable, and wireless, Spotlight Plus travels from home office to headquarters to center stage without a glitch. Connect to a computer via USB receiver or low energy Bluetooth. Switch seamlessly between the two by plugging or unplugging the receiver. A discreet and convenient dock built into the base of the actual remote stores the USB receiver when not in use.

LOGITECH PRESENTATION APP

Set the stage before a business presentation begins. Pair Spotlight Plus with its powerful app to set time alerts, toggle pointer mode, and customize actions—all within a user-friendly interface. Configure the back button to go to a blank screen, or to activate gesture-commanded volume control, scrolling, and more. Never worry about the computer going to sleep, the app keeps it awake while the presentation is underway.
Additional Features
UNIVERSAL COMPATIBILITY
Spotlight Plus is optimized to work with Windows®, Mac OS and all leading presentation software including PowerPoint®, Keynote®, Adobe PDF, Google Slides™, and Prezi.
30-METER OPERATING RANGE
Move and present freely from as far as 30 meters so you can own even the largest rooms. Range may vary based on environmental and computing conditions.
QUICK CHARGING
Quick charge in one minute for three hours of use – and use Spotlight Plus for three months on a full charge. When it's time to recharge, Spotlight's battery indicator light glows red. Use the USB-C charging cable to top up the power. Charging time may vary based on environmental and computing conditions.
Free 6-month Prezi Business trial subscription
Take a test drive with 4 team members today. No credit card required. Prezi offers a more visual, collaborative, data-driven and conversational way to present. It combines all the benefits that make your presentations stand out, and includes new business productivity tools such as easy to customize designer templates, smooth HD rendering, secure remote presenting, and highly-anticipated features like live analytics, and cloud-based collaboration.
Dimensions

Height x Width x Depth: 131.3mm x 28.1mm x 12.1mm

Weight (incl. Battery) 49.2g

Height x Width x Depth: 6.8 mm x 17.2 mm x 40.4 mm

Charging cable length 140 mm

System Requirements

Compatibility

OS: Windows® 7 or later, Mac OS 10.10 or later

Software: PowerPoint, Keynote, Adobe PDF, Google Slides, Prezi

Technical Specifications

Sensor technology: Accelerometer and Gyroscope leveraging Invensense 3D technology

Air mouse: Move the cursor with gesture and click like a mouse

LED Indicator: Battery and connectivity indicator

Battery: Lithium-polymer battery (85mAh)

Battery life: Up to 3 month on a full charge, 1min of charging gives 3 hours of presentation and takes 1h to fully charge

Charging port: USB-C with supplied cable, USB-A to USB-C (13 cm)

Wireless Operating Distance: Up to 30 meters

Button life expectancy: 1M clicks

Material: Anodized aluminium body and plastic parts

Connectivity: USB-A receiver for 2.4 Ghz Logitech Proprietary & Low energy Bluetooth

Haptic engine: Battery status, range alert, time management reminders

Drop test: Resist to 1M drop

Spare parts available: Receiver + charging cable

With Logitech Presentation Software

Compatible with OS: Windows 7 and up, Mac Yosemite 10.10 and up

Compatible Presentation Software: Powerpoint 2003 & higher, Keynote, Google Slides, Adobe PDF, Prezi

Requires admin rights to install

Onboarding/Tutorial on how to use the product

Software update support for 3 years

Software Language available: English, French, German, Italian, Spanish, Danish, Russian, Finnish, Greek, Dutch, Norwegian, Polish, Portuguese (Portugal), Swedish

Without Software

No highlighting (spotlight, magnify, circle)

No button customization (no gesture to scroll, control volume, blank screen, pan, custom keystroke)

No vibration intensity customization

No ballistic/cursor speed customization

No firmware/software update

Warranty Information

3-year Limited hardware warranty

Package Contents

Presentation remote

Proprietary receiver

User documentation

Charging cable

Pouch

Part Number
GBP 119.99
Free shipping on orders GBP39.00 and over.
Enabled via Logitech Presentation App.
Enabled via Logitech Presentation App.