Pangea temporary hotfixes here
K120 Corded is reliable and durable, equipped with a number pad with an easy-to-use design that works right out of the box. Just plug in this corded keyboard via USB and go.
Items we suggest
Dimensions
Technical Specifications
Product carbon footprint: 4.02 kg CO2e
3-year limited hardware warranty
Español (Qwerty) :

920-002499

Dansk/ Norsk/ Svenska/ Suomalainen (Qwerty) :

920-002822

UK English (Qwerty) :

920-002501

Suisse / Schweizer (Qwertz) :

920-002504

Deutsch (Qwertz) :

920-002489

Pусский (Йцукен/Qwerty) :

920-002506

Magyar (Qwertz) :

920-002491

US International (Qwerty) :

920-002508

Portuguese :

920-002816

Italiano (Qwerty) :

920-002492

Dutch (Azerty) :

920-002482

Français (Azerty) :

920-002488
What you need
Windows® 10,11 or later
Available USB port
Keyboard
User Documentation
RELIABLE SIMPLICITY
Getting things done should be simple. That's what makes this full-sized keyboard the right fit. It's a reliable and durable partner equipped with a number pad with an easy-to-use design that works right out of the box. Just plug in this corded keyboard via USB and go.
COMFORTABLE AND FULL-SIZE
This full-size keyboard with integrated number pad makes data entry, calculations and navigation a breeze. The curved space bar along with easy-to-read keys provide a comfortable and familiar typing experience.
EASY PLUG & PLAY
The keyboard works right out of the box. Just plug into the USB port, and it's ready to go. No downloads, no setup, no fuss.
BUILT TO KEEP GOING
K120 is built with the same high quality and reliability standards that have made Logitech the #1 global leader for mice and keyboardsBased on independent sales data (in units) aggregated for Logitech mice and keyboards from major global markets including Canada, China, France, Germany, Indonesia, Republic of Korea, Russian Federation, Sweden, Taiwan,Turkey, UK, US (July '19 - July '20 period). Retail channel only..
TYPING FEEL YOU LOVE
This stable keyboard delivers a familiar typing feel, with deep-profile keys, and a springy, responsive bounce-back.
Plastic should have more than one life
RECYCLED PLASTICS
The plastic parts in K120 include 51% certified post consumer recycled plasticExcludes plastic in packaging.— to give a second life to end-of-life plastic from old consumer electronics and help reduce our carbon footprint.
Carbon is the new calorie
CARBON CLARITY
We believe everyone should know what they're consuming. The carbon footprint of this product is 4.02 kg CO2e. We're working hard to reduce it, and we have offset our residual carbon impact to zero by supporting forestry, renewables and climate-impacted communities.
1
2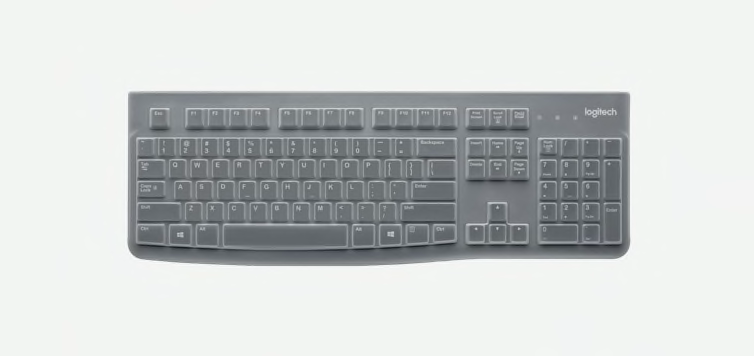 Adding a full-size keyboard with one-touch functions and a number keypad to a Chromebook or laptop lets students type on a familiar platform for maximum efficiency. The result? Students can focus on what matters most - their schoolwork.
RUGGED DURABILITY
Our education products are drop-tested to withstand falls from standard school desk heights.
WARRANTY
3-year Warranty for Keyboard
90-day Limited Warranty for Protective Cover
THANK YOU FOR CONTACTING US
A product expert will reach out to you shortly.
DECADES OF DESIGN EXPERTISE
With more than 22 years experience designing high-quality keyboards, we carefully design, develop, prototype, and study all the essential components of our keyboards, from the core technologies to the comfort and ergonomics of their design.
We strive to provide each individual with their ideal typing experience, according to their stature, lifestyle and deskspace.
RECOMMENDED PRODUCTS FOR YOU