Pangea temporary hotfixes here
MX Mechanical
Wireless Illuminated Performance Keyboard
MX Mechanical
Wireless Illuminated Performance Keyboard
Claim your complimentary 1-month Adobe Creative Cloud* subscription when you purchase from Logitech.com. Learn More
Dimensions
MX Mechanical
Height: 131.55 mm
Width: 433.85 mm
Depth: 26.10 mm, including keycaps
Weight: 828 g
Logi Bolt Receiver
Height: 6.11 mm
Width: 14.4 mm
Depth: 18.65 mm
Weight: 1.68 g
Technical Specifications
MX Mechanical is compatible with MX Palm Rest
Easy-switch: connect up to 3 devices and switch between them
Hand proximity sensor activated backlighting
Auto-adjust ambient light sensor
Caps Lock and Battery indication
Battery: Rechargeable Li-Po (1500 mAh) battery
2-Year Limited Hardware Warranty
Graphite Deutsch (Qwertz) Tactile Quiet :

920-010748

Graphite US International (Qwerty) Clicky :

920-010759

Graphite US International (Qwerty) Linear :

920-010758

Graphite UK English (Qwerty) Tactile Quiet :

920-010756

Graphite US International (Qwerty) Tactile Quiet :

920-010757

Graphite Suisse / Schweizer (Qwertz) Tactile Quiet :

920-010752

Graphite Deutsch (Qwertz) Clicky :

920-010750

Graphite Deutsch (Qwertz) Linear :

920-010749

Graphite Dansk/ Norsk/ Svenska/ Suomalainen (Qwerty) Tactile Quiet :

920-010753

Graphite Dansk/ Norsk/ Svenska/ Suomalainen (Qwerty) Clicky :

920-010755

Graphite Français (Azerty) Tactile Quiet :

920-010751

Graphite Dansk/ Norsk/ Svenska/ Suomalainen (Qwerty) Linear :

920-010754
Keyboard
Logi Bolt receiver
USB-C charging cable (USB-A to USB-C)
User documentation
Performance Duo
Get a free desk mat and a palm rest with the purchase of MX Mechanical with MX Master 3S in your choice of color.
Offer available only on logitech.com and subject to availability.
Feel It. Master It.
Feel every moment of your creative process or every line of code with the irresistibly tactile MX Mechanical. Features low-profile mechanical keys in your choice of 3 switch types for satisfying feedback with every keystroke, smart illumination and Easy-Switch – allowing you to connect up to 3 devices. 
Choose between the full-size MX Mechanical with an integrated numpad or the space-saving minimalist MX Mechanical Mini.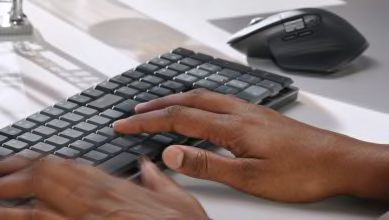 Ultra Fluid Mechanical Typing
Low-profile mechanical switches offer a deep and reassuring typing feel. Your fingers glide effortlessly across the matte surface of the keys – and dual color keycaps make it easy to orient your fingers and stay in your flow.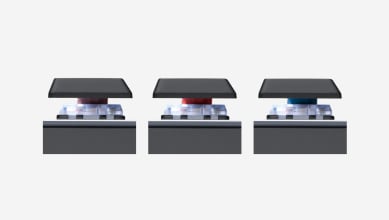 3 Unique Switch Types
MX Mechanical is outfitted with one of three switches that each have a distinct feel and sound – Tactile Quiet, Clicky and Linear. Choose the mechanical switch type that matches your style and preference of feel.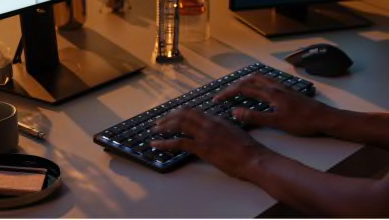 Smart Illumination. Non-Stop Performance.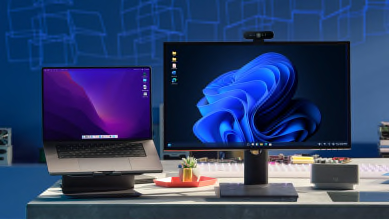 Multi Device. Multi OS.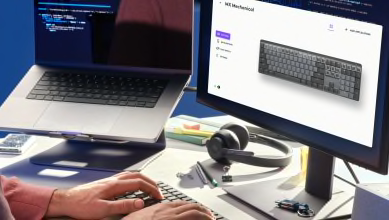 Work across devices and operating systems, change Fn key functions, select backlighting effects, assign app-specific profiles and Smart Actions shortcuts to optimize nearly every aspect of your workflow.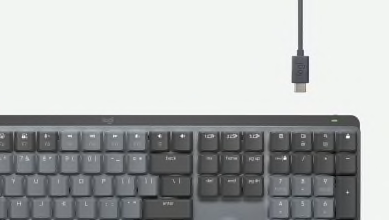 Usb-C Quick Charging