Pangea temporary hotfixes here
How IT Leaders Can Help Their Organizations Achieve Sustainability Goals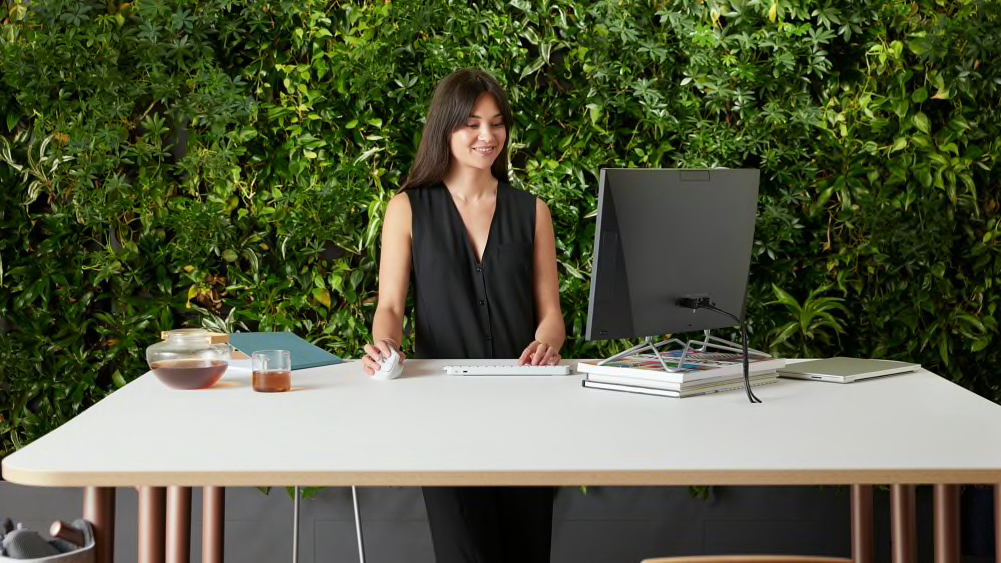 "When your organization purchases a product or service, it usually considers things like cost, quality, and technical capabilities. Buying responsibly adds another important layer of considerations to the table: considerations for the well-being of people and the planet." – World Wildlife Fund
In an era of climate change and public dissatisfaction with government response, private companies are seizing an opportunity to lead on issues of sustainability and the environment. In part, they're responding to customers and shareholders who are increasingly vocal on these topics.
Customers want to know whether the companies they buy from engage in sustainable business practices. Shareholders are scrutinizing corporate ESG policies and records. As a result, many large companies like Logitech now publish detailed reports on their efforts to support Environment, Social, and Governance goals. And every area of the business is expected to contribute toward those goals, including IT.

Sustainable IT, also known as "Green IT," is an emerging concept to describe "the initiatives IT undertakes to support the broader organization in achieving its ESG goals.".1 Proponents of Sustainable IT recognize that IT is a contributor to an organization's environmental impact – as well as a key partner in reducing that impact.
On the one hand, IT can help organizations automate and digitize processes that reduce energy consumption and the use of natural resources. On the other hand, these operational efficiencies address only the tip of the iceberg. For many organizations, the greatest contributor to environmental impact comes not from internal operations, but from the supply chain.2

With that in mind, IT's greater opportunity to reduce a company's environmental impact may come from its own procurement decisions. It has been said that "the fastest way to green your business is to purchase from one that has already greened theirs."3 For IT leaders, this means examining the contribution of vendors and the supply chain and developing a strategy to minimize those inputs.
To Achieve Sustainable IT, Focus on Scope 3 Emissions
When organizations look at sustainability and environmental impact, they often do so through carbon accounting, or their carbon footprint. Carbon accounting is a framework of methods to measure and track how much greenhouse gas an organization emits.
This emission of greenhouse gas is categorized into three types: Scope 1 emissions, which covers direct emissions from an organization's facilities; Scope 2, which covers emissions from electricity purchased by the organization; and Scope 3, which covers other indirect emissions, including those from suppliers or vendors.

For IT, Scope 3 emissions should be a key sustainability focus. By requesting that vendors measure and transparently report on their environmental impact – including both their own carbon footprint and the contribution from their suppliers – IT leaders can purchase strategically to support the business's sustainability goals.
An Action Plan for Achieving Sustainable IT
Make no mistake, achieving a more sustainable IT organization is not a simple matter. It requires a significant effort and a long-term commitment. Nevertheless, every journey begins with a step in the right direction.
Step 1: Understand the impact you're having as an organization right now. This means measuring the impact of your operations and the impact of your supply chain, including all the technology you purchase and provide to the business – computers, network equipment, peripherals and devices for employees, and so on. Create a baseline which you can then measure against in subsequent years to see whether purchasing decisions are reducing your carbon footprint.

Step 2: Put together a set of requirements or guidelines for purchasing decisions. Prioritize opportunities to reduce Scope 3 emissions through vendor evaluation and selection.

Step 3: Include criteria on RFPs that require vendors to disclose their ESG and sustainability practices and record. Some criteria for evaluating vendors include:

Formal commitments

Sustainability efforts spanning product lifecycles

Environment and society-focused efforts

Track record of meaningful impact

Third-party recognition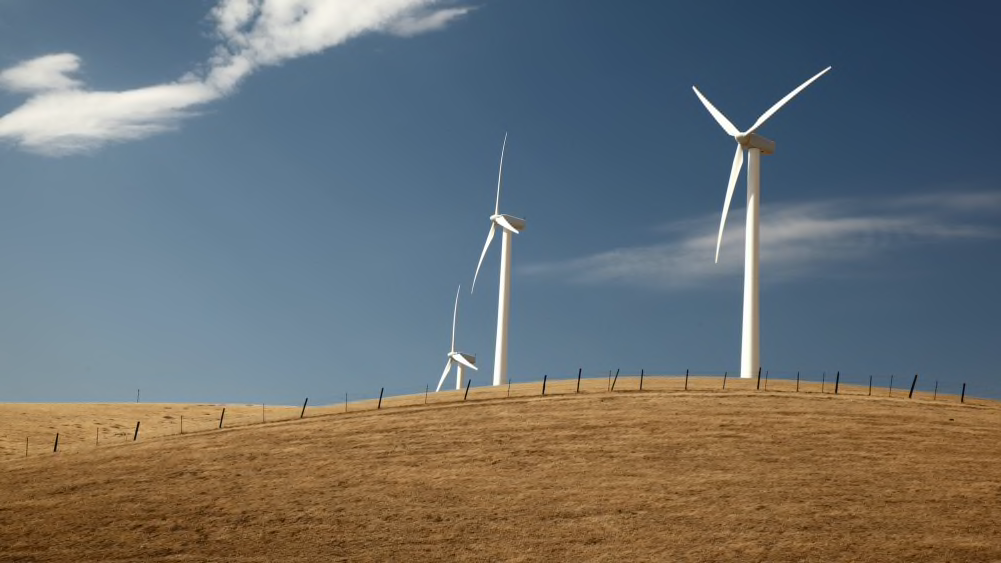 Logitech invests in projects such as wind farms in China to help offset carbon emissions.
Logitech's Commitment to Sustainability
At Logitech, equality and the environment are core values, and we've made great strides to ensure they are at the center of everything we do. Sustainability is core to every design decision from the moment raw materials are sourced to the end-of-life of a product. Our ultimate purpose is to create products that extend human capability and help all people pursue their passions in a way that is good for people and the planet.
Logitech's most recent annual sustainability report, titled FY22 Impact Report, marks the 14th reporting year for the company. The FY22 Impact Report intentionally reflects our expanded commitment and approach to measuring and understanding our impact and progress. Transparency is critical.

Among the achievements documented in the FY22 Impact Report are these:

Certified carbon neutral throughout the entire product portfolio and operations across the full value chain and on track to becoming climate positive by 2030

Exceeded our carbon reduction, renewable electricity, and external metrics goals

Reduced the carbon intensity of our operations (Scope 1 and 2) by 97% since 2015

Reduced overall carbon intensity (Scope 1, 2, and 3 emissions) by 20% since 2019

1 in 3 products currently use 2nd life materials to increase circularity

35 major product lines now use FSC®-certified packaging for responsible forestry management

Currently on track to have 100% of products carbon impact labeled by 2025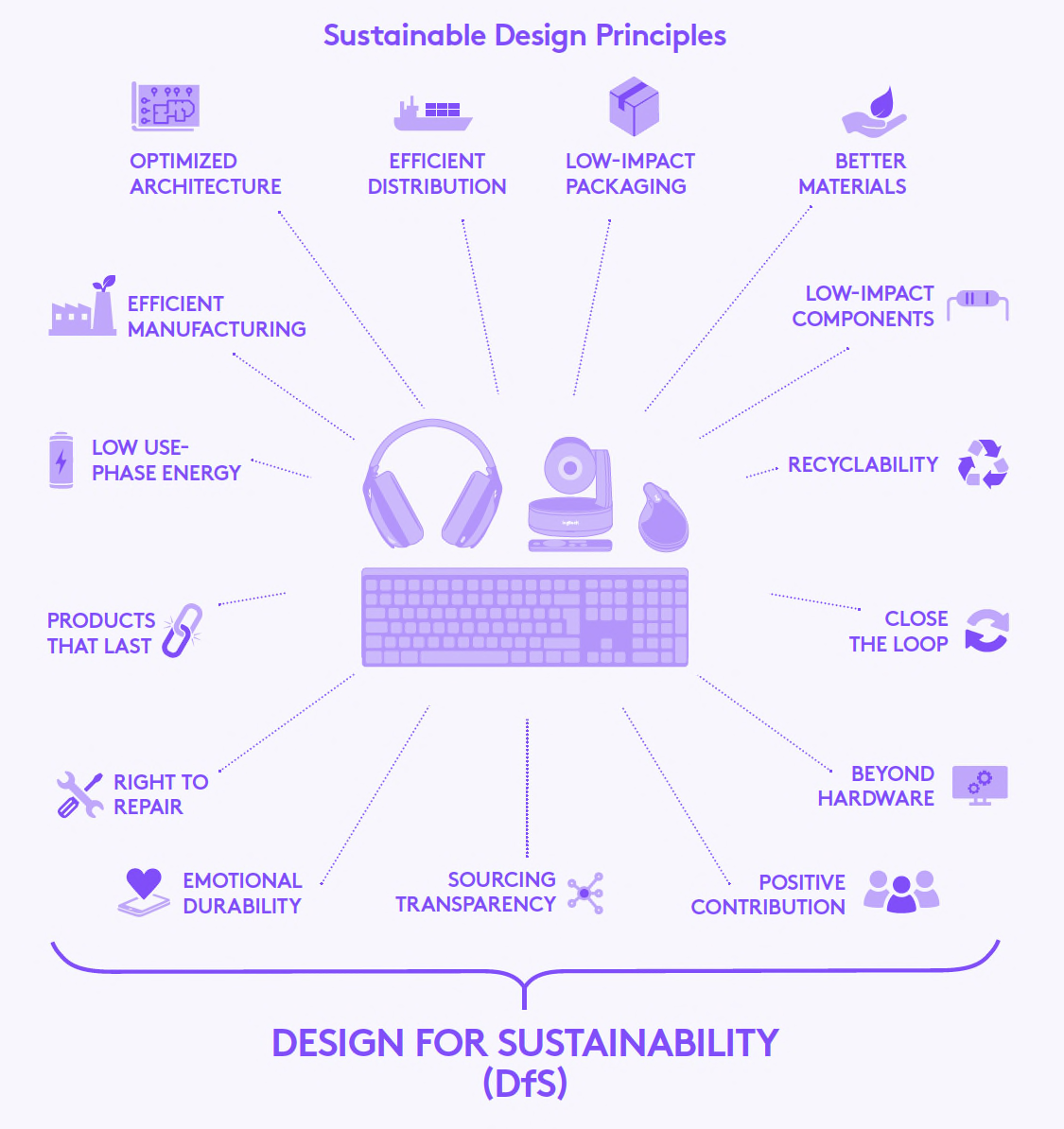 At Logitech, product development teams are guided by our sustainable design principles.
We report on all of these goals and achievements annually with as much transparency as possible. We urge you to review our commitment as documented in our extensive FY22 Impact Report. And we invite you to work with us to help you achieve Sustainable IT for your company or organization.

YOU MAY ALSO BE INTERESTED IN
Recommended products for you
VIDEO CONFERENCING FOR EVERY SPACE
Find out more about how Logitech video conferencing products perform in a business environment.