Video Conferencing Solutions
Video Conferencing Solutions
Logitech regularly surveys business video conferencing users around the globe each year to identify trends and insights that can help continually improve our products. Given that "ease of use" is the most cited factor in the selection of a business video conferencing system, Logitech is intently focused on delivering products that are as intuitive and easy to use as possible.
Each of the following Logitech video conferencing solutions provides purpose-driven attributes and benefits matched to specific room types–from huddle rooms and small conference rooms to large meeting spaces, all with the plug-and-play simplicity our customers value.
Look for Logitech RightSense™ technologies in our video conferencing products that make better video meetings easy and automatic. RightSense proactive technologies are built right into our cameras and audio solutions to make video meetings naturally more beautiful and efficient with no calibration, manual intervention or support required.

Logitech RightSight™ automatically moves the camera and adjusts the zoom so no one gets left out of the picture. 
Click Here for more information

Logitech RightLight™ helps everyone look their best on camera, regardless of lighting conditions.

Logitech RightSound™ optimizes the human voice and enhances conversational clarity
The latest addition to the video conferencing product line that increases the ease and functionality of meeting spaces is Logitech Tap. Tap is a touch control surface that enhances existing systems such as MeetUp and Rally products. This accessory enables the native user interface of supported software clients to be just a finger press away.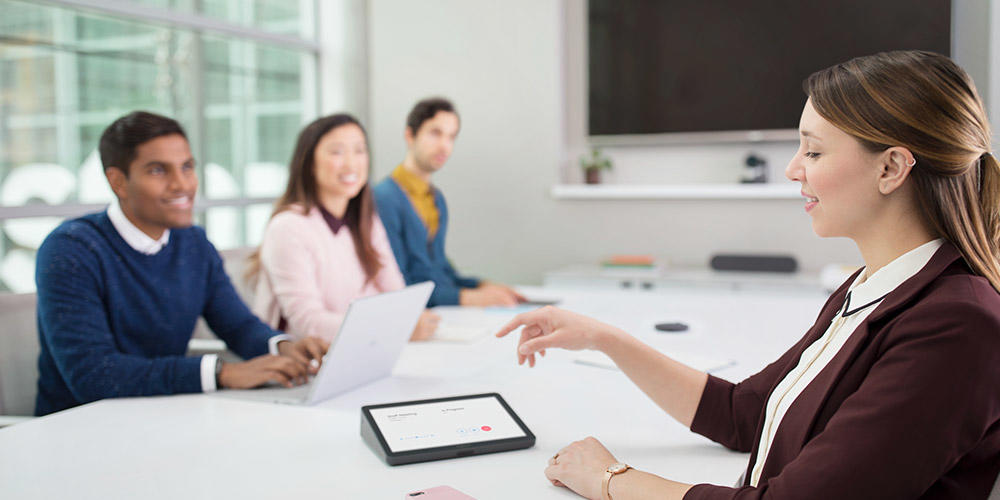 HUDDLE ROOMS/SMALL MEETING SPACES
Logitech MeetUp is the preferred ConferenceCam for groups of up to six people (or up to eight people with the optional Expansion Mic for MeetUp) in huddle rooms and small conference rooms. With a super-wide, low-distortion 120° diagonal field of view*, even those closest to the camera can be seen. The space saving, integrated audio bar provides an exceptional, natural sound experience for all meeting participants. The integrated audio includes a speaker for amplification coupled with a beamforming microphone so that your entire installation can reside with the display and not require complex cabling. With a compact design that minimizes cable clutter, MeetUp fulfills the unique audio and visual requirements for successful meetings in smaller spaces. MeetUp also integrates seamlessly with a dedicated room computer for room based software clients. When paired with these services, adding the optional Logitech Tap meeting room controller provides an intuitive easy to use touch interface at the table or on the wall to join and control a meeting.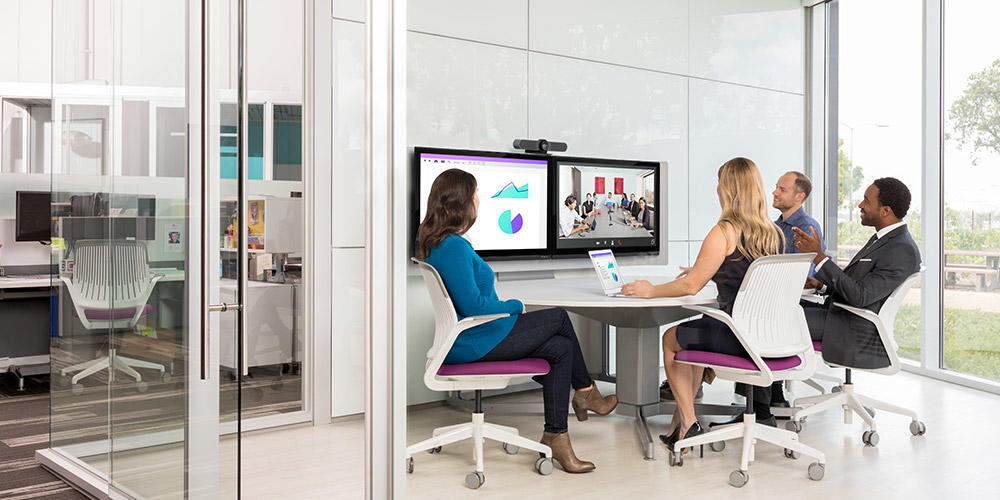 Logitech Connect is a portable, all-in-one solution designed for small groups of up to six people. With a rechargeable battery, Connect is compact and mobile so you can take it from room to room. Designed for tabletop placement and small spaces, this video conference solution offers a generous 90° diagonal field-of-view with digital pan and tilt, 4x zoom, and razor-sharp optics making it easy to see everyone in the room.
Logitech BCC950 is ideal for personal use or for small ad hoc meetings with up to four people. An all-in-one device with 1080p video and professional audio, BCC950 delivers HD video from a motorized camera and wideband audio from a full-duplex speakerphone.
MEDIUM/LARGE MEETING SPACES
Logitech Rally is the flagship video conferencing solution for medium and large meeting spaces of up to 40+ people. Rally sets the standard for video quality, vocal clarity, industrial design, and meeting automation. Modular audio, expansive PTZ capabilities, and Ultra-HD video are combined with Logitech RightSense™ technologies that automatically frame human figures and optimize color and luminance for human faces. Rally provides an unprecedented level of design and installation flexibility while still maintaining the same level of simplicity that the entire Logitech video conferencing product line contains. The Rally base package fulfills the needs and requirements for most spaces on their own. When additional audio coverage is required you can add one speaker and up to six additional beamforming Logitech Rally Mic Pods.
Rally easily integrates with a dedicated room computer and can be paired with the Tap meeting room controller for simple to use native interface for joining and controlling your meeting.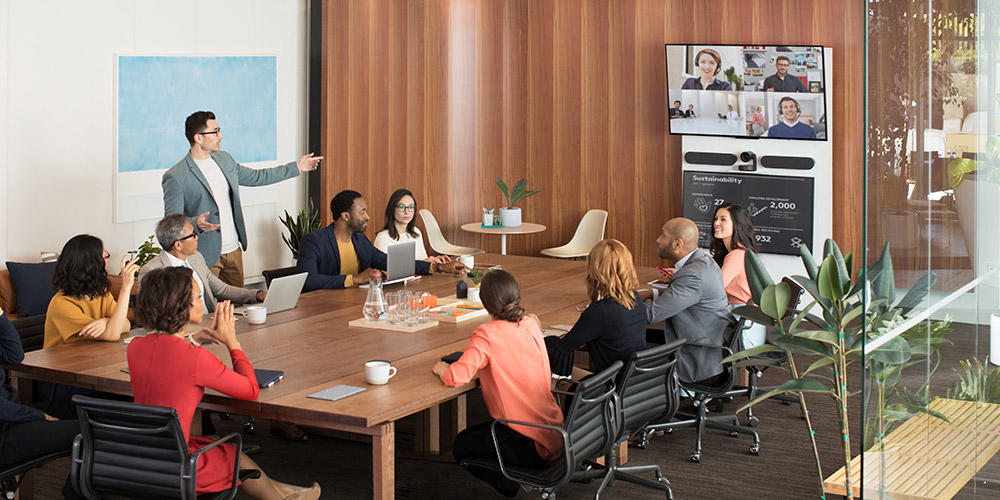 Logitech GROUP is the amazingly affordable video conferencing solution for rooms that seat up to 14 people (or up to 20 with optional expansion mics). A familiar speakerphone experience with center of table audio combined with advanced features like acoustic echo cancellation, noise reduction technology, and intuitive controls, it's easier than ever to include everyone in the conversation. For great-sounding audio calls, pair a mobile device with Bluetooth® wireless technology to the GROUP speakerphone.