Pangea temporary hotfixes here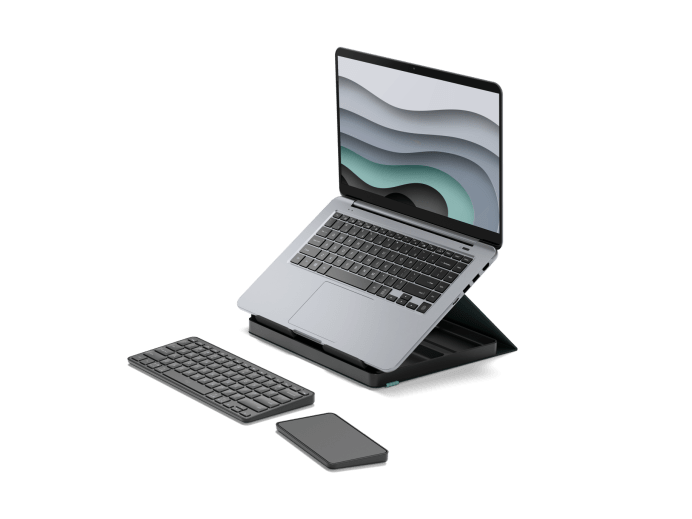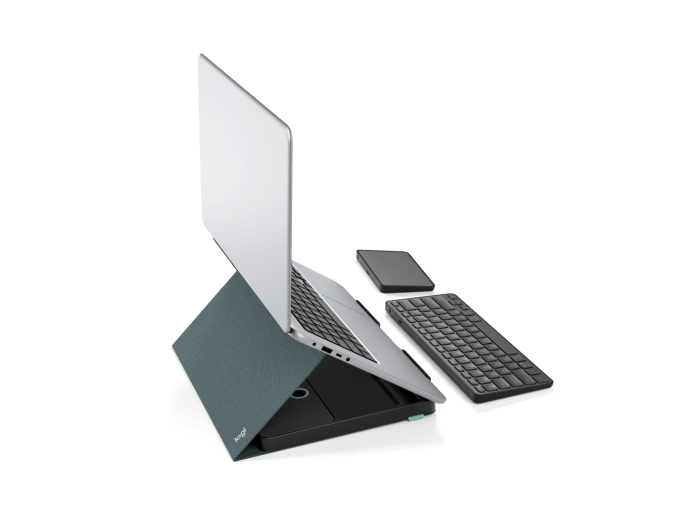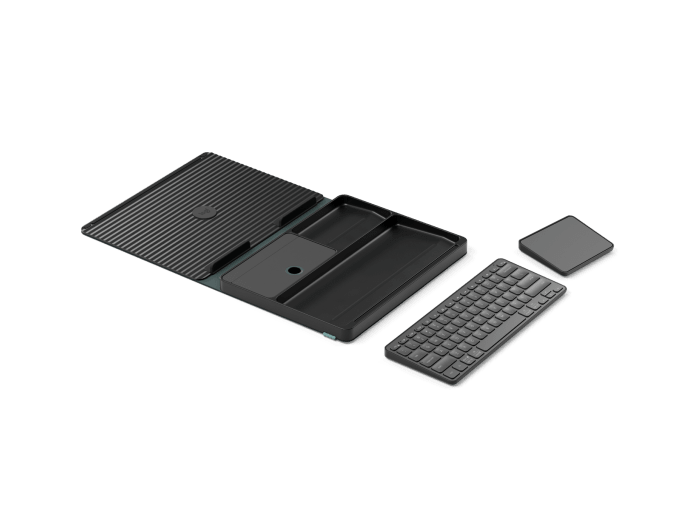 With Casa Pop-Up Desk, get comfy, focused work done anywhere in the home. Once you're done? Fold it out of sight, out of mind. Casa has all you need to work from home in one compact kit, with a wireless keyboard, wireless touchpad and a book-like case that transforms into a laptop stand.
Dimensions
CASA TOUCH
Height: 14 mm
Width: 88 mm
Length: 125 mm
Weight: 160 g
CASA BOOK
Height: 29 mm (closed), 160 mm (opened as a laptop stand)
Width: 230 mm
Length: 290 mm
Weight: 690 g without devices nor cable
Book teeth (holding laptop): 12 mm
CASA POP-UP DESK
Weight: 1,2 kg / 2.65 lbs
Technical Specifications
Battery: Rechargeable Lithium polymer (1500 mAh) battery - 1 for Touchpad & 1 for Keyboard, USB-C rechargeable
Indicator Lights (LED)
Touchpad and Keyboard: Battery LED
Keyboard: 3 Bluetooth channel LEDs, Caps Lock LED
Touchpad: 3 Bluetooth channel LEDs
1-Year Limited Hardware Warranty
Classic Chic English :

920-011283

Nordic Calm English :

920-011285

Bohemian Blush English :

920-011284
Requirements: (for Casa Keys and Casa Touch)
Bluetooth® Low Energy
Internet connection for app download
Logi Options+ App download to enable touchpad gestures on macOS
Casa Keys: Keyboard
Casa Touch: Touchpad
Casa Book: Book-like case that transforms into a laptop stand
USB-C charging cable (USB-C to USB-C)
User documentation
WORK FROM HOME, YOUR WAY.
With Casa Pop-Up Desk, you decide where comfy, focused work happens in the home. And when the workday is done? Fold it out of sight, out of mind.
In one compact kit, there's a laptop stand, wireless keyboard, touchpad, and storage space. All packed into a beautiful fabric case, available in three colours tuned to the home.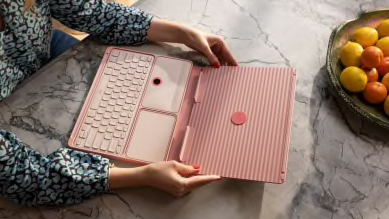 YOUR WORK ESSENTIALS IN ONE COMPACT KIT
Casa has all you need to work from home in one compact kit, with a wireless keyboard, wireless touchpad, storage space for smaller items such as stationery and a book-like case that transforms into a laptop stand.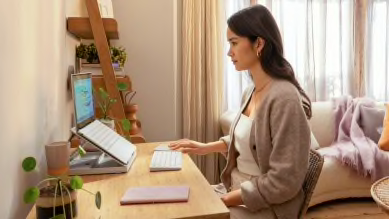 Did you know putting your laptop screen at eye level can help encourage better posture? Casa Book transforms into an ergonomic laptop stand, keeping you feeling strong and comfy for as long as you need.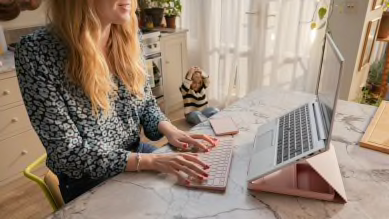 GREAT TYPING EXPERIENCE AND TOUCHPAD FEEL
Enjoy the laptop-like experience you know and love on Casa Keys and Casa Touch, the minimalist wireless keyboard and smooth wireless touchpad.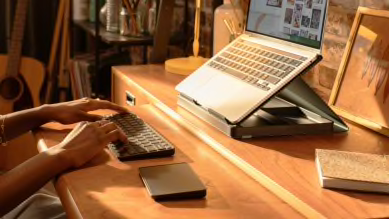 COMPATIBLE WITH MOST LAPTOPS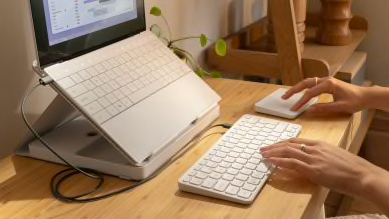 LONG-LASTING AND RECHARGEABLE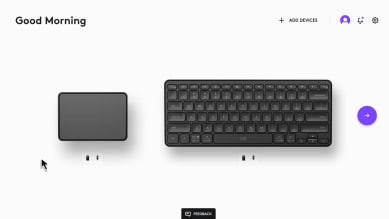 MAKE THE CASA EXPERIENCE YOUR OWN
SHORTCUTS PUT MORE TIME IN YOUR DAY
Casa Keys' minimalist form has all the keys you need to stay in focus mode and get work done faster. Discover handy shortcuts such as Media Keys, Mic Mute, and Emoji — all placed conveniently at your fingertips.
Easy-Switch
Emoji

Dictation
Screenshot
Full Media Controls
Mute
Quick Lock Screen
FEEL PRODUCTIVITY FLOW WITH GESTURE CONTROLS
Work feels smoother with touchpad gestures such as pinch to zoom in & out and swipe left or right to switch between desktops and full-screen apps.
If you're a Mac user, download and connect to Logi Options+ App to enable touchpad gestures.
DESIGNED FOR A POSITIVE FUTURE
Our goal? To design for sustainability. That means as we innovate our new generation of products, we reduce their carbon footprint in any way we can — from their overall construction to the tiniest component. All with zero compromises on quality and performance.
Plastic should have more than one life
RECYCLED PLASTICS
The plastic parts in Casa Pop-Up Desk include certified post-consumer recycled plastic—minimum 62% for the touchpad, minimum 47% for the keyboard and minimum 44%Excludes plastic in printed wiring assembly (PWA), cables and packaging. for the book—to give a second life to end-of-life plastic from old consumer electronics and help reduce our carbon footprint.
It's not just what's inside the box…
RESPONSIBLE PACKAGING
The paper packaging of Casa Pop-Up Desk (including product wrap) comes from FSC™-certified forests and other controlled sources. By choosing this product, you are supporting responsible management of the world's forests.
Everything in to take carbon out
CERTIFIED CARBON NEUTRAL
Rest easy knowing that the carbon impact of your Casa Pop-Up Desk has been reduced to zero. That's because beyond designing for sustainability, we also offset our residual impact by supporting forestry, renewables, and climate-impacted communities.

1
2
3