Pangea temporary hotfixes here
MK200 Media Corded Keyboard and Mouse Combo
Plug-and-Play USB Combo with media keys
MK200 Media Corded Keyboard and Mouse Combo
Plug-and-Play USB Combo with media keys
Dimensions
Keyboard
Height: 155 mm
Width: 450 mm
Depth: 18 mm
Weight: 550 g
Cable length: 180 cm
Mouse
Height: 113 mm
Width: 62 mm
Depth: 38 mm
Weight: 90 g
Cable length: 180 cm
Technical Specifications
Mouse
Sensor technology: Optical tracking
Number of buttons: 3 (Left/Right-click, Middle click)
Scrolling: line-by-line
Scroll Wheel: Yes, optical
3-year Limited hardware warranty
Keyboard
Mouse
User documentation
DURABLE AND RELIABLE
Simply plug this corded ambidextrous mouse and full-sized keyboard via USB and start working in seconds. The keyboard features an integrated number pad supplemented by eight easy access media keys, while the mouse offers a comfortable palm support and smooth tracking for easy everyday navigation.
COMFORTABLE AND FULL-SIZED
A full-sized keyboard with a number pad gives you the keys you need to make data entry a breeze. Eight media keys make it easy to access music, volume, apps, your preferred internet browser, and more with one touch. Enjoy the comfortable typing thanks to the curved spacebar, familiar layout, and easy to read keys.
COMFORT FOR EITHER HAND
A full-sized, ambidextrous mouse delivers smooth tracking and a curved shape to support the palm, for easy and comfortable navigation.
EASY PLUG & PLAY
Both the keyboard and mouse work right out of the box. Just plug into the USB ports, and they're ready to go. No downloads, no setup, no fuss.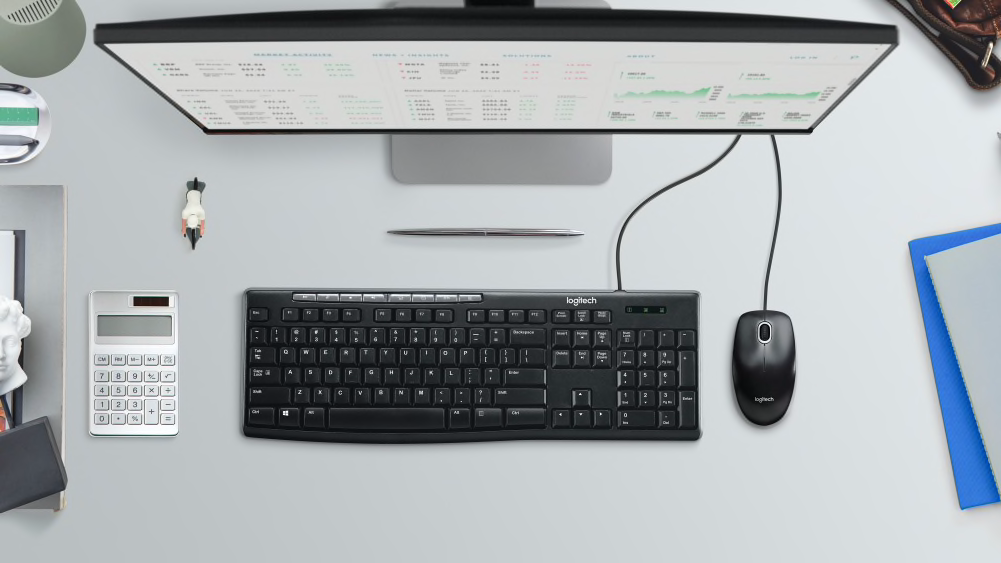 RELIABLE AND DURABLE
With an included 3-year warranty, MK200 is built with the same high quality and reliability standards that have made Logitech the #1 global leader for mice and keyboardsBased on independent sales data (in units) aggregated for Logitech mice and keyboards from major global markets including Canada, China, France, Germany, Indonesia, Republic of Korea, Russian Federation, Sweden, Taiwan, Turkey, UK, US (July '19 - July '20 period). Retail channel only..
FIND THE PRODUCTS THAT ARE RIGHT FOR YOU
Description
Connectivity
Multi-Device
Size
Battery life
Compatibility
Logitech Options Software
Typing feeling (Keyboard)
Adjustable height (Keyboard)
Palm rest (Keyboard)
Phone or tablet stand (Keyboard)
Tracking (Mouse)
Scrolling (Mouse)
Programmable buttons (Mouse)
Rubber grip (Mouse)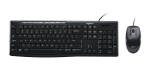 MK200 Media Corded Keyboard and Mouse Combo
Plug-and-Play USB Combo with media keys
Corded
No
Keyboard: Full-size (with number pad)
Mouse: Full-size
Corded
Windows
No
Deep-profile keys
Yes
No
No
Red LED Optical Tracking
Line-by-Line scrolling wheel
0
No
USB Wireless
No
Keyboard: Full-size (with number pad)
Mouse: Small
Keyboard: 36 months
Mouse: 12 months
Windows, Chrome OS
Yes (mouse only)
Deep-profile keys
Yes
No
No
Smooth Optical Tracking
Line-by-Line scrolling wheel
1
No
DECADES OF DESIGN EXPERTISE
With more than 22 years experience designing high-quality keyboards and mice, we carefully design, develop, prototype, and study all the essential components of our devices, from the core technologies to the comfort and ergonomics of their design.
We strive to provide each individual with their ideal typing and navigation experience, according to their stature, lifestyle and deskspace.

RECOMMENDED PRODUCTS FOR YOU