Pangea temporary hotfixes here
MX MECHANICAL
Wireless Illuminated Performance Keyboard
MX MECHANICAL
Wireless Illuminated Performance Keyboard
Dimensions
MX MECHANICAL
Height: 131.55 mm
Width: 433.85 mm
Depth: 26.10 mm, including keycaps
Weight: 828 g
MX Mechanical Mini
Height: 131.55 mm
Width: 312.60 mm
Depth: 26.10 mm, including keycaps
Weight: 612 g
Logi Bolt Receiver (included in both)
Height: 6.11 mm
Width: 14.4 mm
Depth: 18.65 mm
Weight: 1.68 g
Technical Specifications
MX Mechanical is compatible with MX Palm Rest
1-Year Limited Hardware Warranty
Graphite English MX Mechanical Linear :

920-010761

Graphite English MX Mechanical Tactile Quiet :

920-010760
Keyboard
Logi Bolt receiver
USB-C charging cable (USB-A to USB-C)
User documentation
FEEL IT. MASTER IT.
Meet MX Mechanical and MX Mechanical Mini – keyboards with extraordinary feel, precision, and performance.
ULTRA FLUID MECHANICAL TYPING
Low-profile mechanical switches deliver a next-level typing feel. 
Ultra-precise and stable switches offer deep and reassuring key travel – in a low-profile form factor. Your fingers glide effortlessly across the matte surface of the keys – and dual color keycaps make it easy to orient your fingers and stay in your flow.

YOUR SET-UP. YOUR CHOICE.
Choose between the full-size MX Mechanical that features an integrated numpad or the space-saving minimalist MX Mechanical Mini. Both keyboards are crafted with an aluminium top case for ultimate stability and style.
3 UNIQUE SWITCH TYPES
Choose the mechanical switch type that matches your style and preference of feel. MX Mechanical and MX Mechanical Mini are outfitted with one of three switches that each have a distinct feel and sound – Tactile Quiet, Clicky and Linear.
SMART ILLUMINATION. NON-STOP PERFORMANCE.
The backlit keys magically light up the moment your hands approach, and automatically adjust to suit your lighting conditions – resulting in optimal battery consumption.  
Both keyboards also introduce a variety of immersive backlighting effects to draw you into your workflow. You can toggle between the effects in Logi Options+Available on Windows and macOS at logitech.com/optionsplus or by simply pressing the Fn key and bulb key at the same time.

DO MORE WITH LOGI OPTIONS+
You've Got Options
Do more with your keyboards with Logi Options+Available on Windows and macOS at logitech.com/optionsplus. Work across devices and operating systems, change Fn key functions, check battery life, select backlighting effects, assign app-specific profiles and Smart Actions to optimize nearly every aspect of your workflow.
Charge Quickly, Connect Instantly
10 MONTHS
WITH BACKLIGHTING TURNED OFF
BLUETOOTH LOW ENERGY
WIRELESS CONNECTION
MULTI OS COMPATIBILITY

EASY SWITCH
Designed For A Positive Future
Our goal? To design for sustainability.
That means as we innovate our new generation of products, we reduce their carbon footprint in any way we can — from their overall construction to the tiniest component. All with zero compromises on quality and performance.
Aluminium just got cool
LOW CARBON ALUMINIUM

Did you know producing aluminum is energy-intensive? That's why the aluminum in MX Mechanical's top case is made with renewable energy rather than fossil fuels. Beautiful, with a lower carbon impact.
Power up
smarter!
SMART BATTERY EFFICIENCY

Backlit keys automatically adjust to the environment and turn off when not needed – resulting in optimal battery consumption.
Everything in to take carbon out
CERTIFIED CARBON NEUTRAL

Rest easy knowing that the carbon footprint of your MX Mechanical has been reduced to zero. That's because beyond designing for sustainability, we also offset our residual impact by supporting forestry, renewables, and climate-impacted communities.
1
2
3
4
FIND THE PRODUCT THAT ARE RIGHT FOR YOU
Description
Key Type
Compatibility
Illuminated Keys
Connectivity
USB Type
Color Options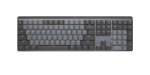 Wireless Illuminated Performance Keyboard
Mechanical Keys
Windows, macOS, iPadOS, ChromeOS, Linux
Yes
Bluetooth & Logi Bolt USB receiver (included)
USB-A to USB-C
Graphite
Advanced Wireless Illuminated Keyboard
Membrane - scissor keys. Perfect Stroke Keys
Windows, macOS, iPadOS, ChromeOS, Linux
Yes
Bluetooth & Logi Bolt USB receiver (included)
USB-A to USB-C
Graphite/Pale Gray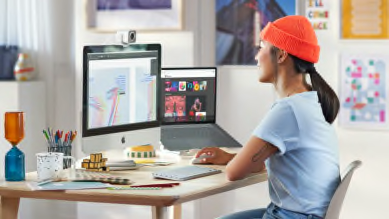 MX for Mac
The power of the Master Series, optimized for Mac. Get even more out of your Mac devices with the advanced functionality of MX.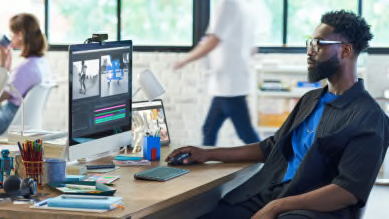 MX for Creativity
The Master Series, a range of products that unleash your capability to create, make and do.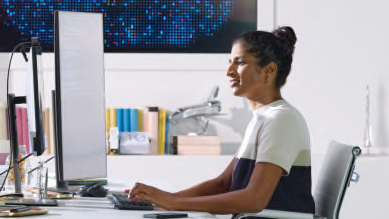 MX for Coding
The Master Series gets you into a flow and keeps you there until the last life on code is written.
ADOBE CREATIVE CLOUD WITH YOUR MX CREATIVE TOOLS
Introducing a partnership empowering creators, makers and doers to explore their full capability. Learn how MX and Adobe can unlock true creative flow, and claim an Adobe® Creative Cloud® subscription – on us.
Women Who Master
Logitech MX is committed to spotlighting and supporting impactful initiatives and individuals that are disrupting the industry worldwide, to inspire girls and women to pursue a career or continue thriving in STEM.
With #WomenWhoMaster, our mission is to ignite an industry-wide movement that addresses the gender gap and unequal access to opportunities in tech and IT, once and for all.
TACTILE QUIET
Mechanical key switches with a satisfying tactile bump you feel – for precise feedback, reactive key reset, and less noise so your typing doesn't disturb those around you.
LINEAR
Mechanical key switches with uninterrupted key travel and minimal spring force – for fast reactivity and an ultra-smooth typing feeling.
CLICKY
Mechanical key switches with a gratifying, audible click and tactile feedback with every keystroke – for a familiar mechanical feel and sound.
Breathing lighting
Your keyboard comes to life with a breathing lighting effect.
Contrast lighting
Modifier keys are lit brighter than the rest of the keys for even better peripheral visibility.
Wave lighting
Keys light up in a progressive elegant wave from left to right.
Random lighting
Individual keys are randomly lit to create a mesmerizing pattern.
Reaction lighting
Each time you press a key it lights up in response for a satisfying back and forth between you and your keyboard.
Recommended products for you