GET ACCESS TO ALL YOUR SYNC RESOURCES
Logitech Sync makes it easy to support large-scale video deployments while minimizing site visits and trouble tickets—all from a simple browser-based interface. Watch demo and tutorial videos, read customer stories, and get exclusive access to upcoming Sync events to learn how you can take a fresh approach to remote monitoring and device management at scale.
THOUGHT LEADERSHIP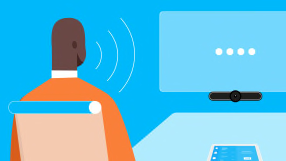 ARTICLE: NEW AI & VOICE CONTROL TECHNOLOGY FOR MEETINGS
Learn how IT leaders are using AI and voice control to make meeting rooms safer and improve the meeting room experience as employees return to the office.
ARTICLE: Logitech Announces New AI-Powered Insights and More for Returning to Offices
As businesses move to re-open offices and support hybrid work environments to keep employees connected, the adoption of new and emerging collaboration technologies has accelerated.
TUTORIALS
Video: How to Deploy Logitech Sync with JAMF
Video: How to Deploy Logitech Sync with SCCM
Video: Introduction to Logitech Sync Provisioning
Video: Introduction to Sync Insights
Video: How to integrate Logitech Sync with ServiceNow
Video: Multitenancy with Logitech Sync
CUSTOMER STORIES
MHI VESTAS OFFSHORE WIND
Renewable Energy Provider Reduces Carbon Footprint and Travel Costs with Logitech Room Solutions for Microsoft Teams
Sync Events and Webinars

Virtual Event: Intro to Logitech Sync - Device Management at Scale
TAP
Touch control for the workplace, including video conferencing room solutions for Google, Microsoft, and Zoom