Pangea temporary hotfixes here
Give Hybrid Meetings the Gift of Sight
Upgrade Your Conference Rooms with an AI-powered, Center-of-Room Camera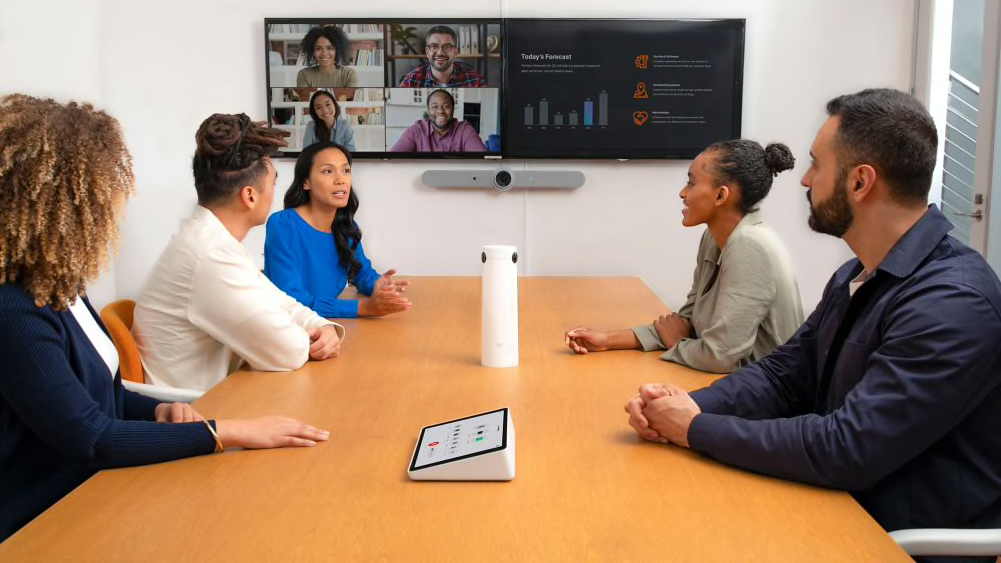 Consider the typical medium-to-large conference room configuration. A display, camera, and speaker are all positioned at the end of a table to capture the entire room of participants for the viewers on the other end of the call. But is this optimal?
Not for remote participants. If you're that person attending a large meeting by connecting remotely, here's what it's like. You can't hear everyone equally. People at the far end of the table are hard to see. Some people in the room may be blocked by the person sitting next to them. Microphones don't always capture voices equally, and image quality can vary, especially of people sitting further from the camera. Because you can't hear and see everyone clearly, you may feel excluded from the discussion, and you may have a hard time participating. That's a typical experience for remote employees.
Clearly, change is needed.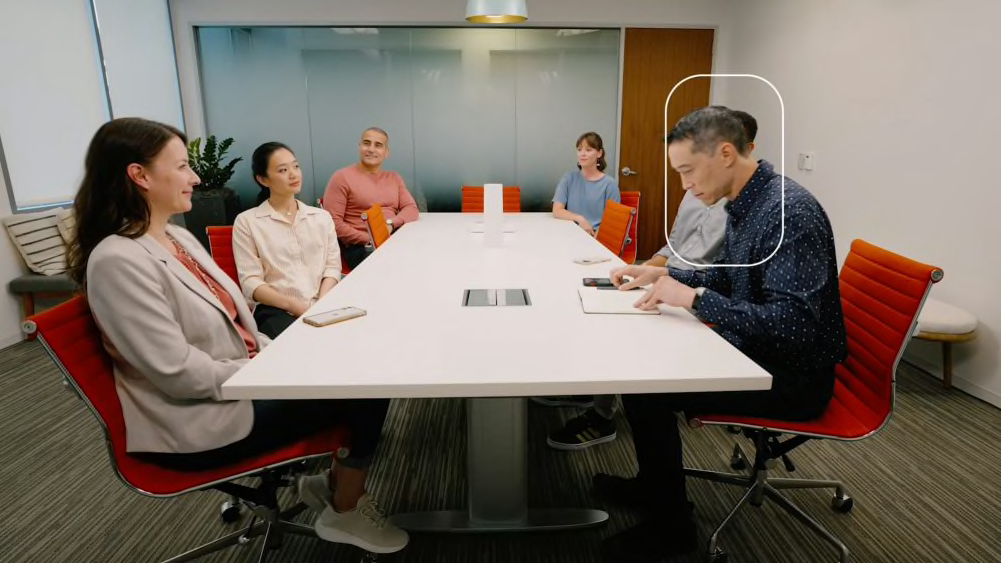 Example of meeting participants being blocked
Hybrid Meetings are Simply not Equitable
Remote workers are simply at a disadvantage compared to their in-office counterparts, and these issues have a measurable impact on inclusiveness and productivity. According to Frost & Sullivan, 26% of IT decision makers list "lack of meeting equity" among the top challenges their end users face when working remotely.1  In addition, Microsoft's 2022 Work Trends Index found that 43% of remote employees and 44% of hybrid employees report not feeling included during meetings. The company's 2022 Work Trends Index found that inefficient virtual meetings are the top disruptor of productivity.
To address concerns with meeting equity, many of you turned to solutions like Logitech Rally Bar or Rally Bar Mini, which gave you integrated audio, video, and microphone as well as AI features like RightSight 2 auto-framing technology, Grid View, Speaker View, and Group View to give remote users more control over how they view the conference room feed. 

But what if we could extend the power of the Rally Bar solutions to help remote users feel like they're truly in the room and at the center of the conversation?
Introducing Logitech Sight: an AI-Powered Solution to Inequitable Meetings
That's what we did with Logitech Sight, an AI-powered tabletop camera that works in conjunction with Rally Bar or Rally Bar Mini to capture each in-room meeting participant and track conversations as they move around the conference room. Sight gives remote users the perspective they've been missing: a view of each in-room participant as if they're physically present in the middle of the room. It complements that classic front-of-room view that allows participants to see everything happening in the room all at once.
Sight brings remote workers face-to-face with employees in the office, providing an immersive hybrid meeting experience that can't be conveyed with front-of-room camera and microphone solutions. Sight puts these remote attendees right in the middle of the action and gives them a more detailed understanding of the in-room dynamics. Sight thus helps remote users pick up the subtle nuances of meetings, like body language and other physical cues of each person in the room. Instead of feeling like they're off to the side, remote users are right in the middle of the discussion.
With dual 4K cameras and seven beamforming microphones, Sight can present up to four active speakers and capture audio equally from each in-room participant. When there are more than four people in the room, Sight will dynamically and seamlessly replace speakers as they contribute to the conversation. 

In future releases of CollabOS (the software operating system that runs Logitech video conferencing devices), Sight will even coordinate with Rally Bar and Rally Bar Mini to switch camera feeds intelligently, providing the remote participant with a constant front-facing image.

Smart Switching will be available through a future software update.
The Value of Sight for IT Teams
IT departments are increasingly tasked with scaling up their organizations' video conferencing capabilities, so solutions that are easy to deploy, manage, and use will provide tremendous value to their organization and their end users. Not to mention, IT would score a huge win with their organization's end users if they could help solve a major pain point of hybrid meetings — keeping remote workers engaged, thus boosting meeting productivity. Sight checks all those boxes.
Installation is simple, as Sight only requires two CAT cables, one that plugs into a PoE+ port or PoE injector for power and one with a dongle that plugs into Rally Bar or Rally Bar Mini.

After installing with your choice of three mounts — a table mount for simple placement on a conference room table, a grommet mount if a hole can be drilled in the table, or a freestanding tripod mount — Sight is immediately usable with all major video conferencing platforms and BYOD setups.
Check out how easy it is to start using Sight with Microsoft Teams, Zoom, or Google Meet:
IT can also monitor all Sight devices with Sync (our device management software), push out software updates, and get notified when there are issues with equipment. By deploying this AI-powered tabletop video and audio solution alongside Rally Bar or Rally Bar Mini, your organization can bridge the gap between in-office and remote teams, ensuring everyone enjoys an inclusive and engaging meeting experience. The AI-powered capabilities that Sight provides make it a must-have for modern workplaces, especially in a time when equitable and efficient meetings are paramount to company culture and productivity
1. Frost & Sullivan Annual ITDM Survey on Investment Priorities, January 2022
YOU MAY ALSO BE INTERESTED IN
Recommended products for you
SUBSCRIBE TO OUR BUSINESS NEWSLETTER