Pangea temporary hotfixes here
Every Student Deserves a Front Row Seat. Here's How to Give Them One.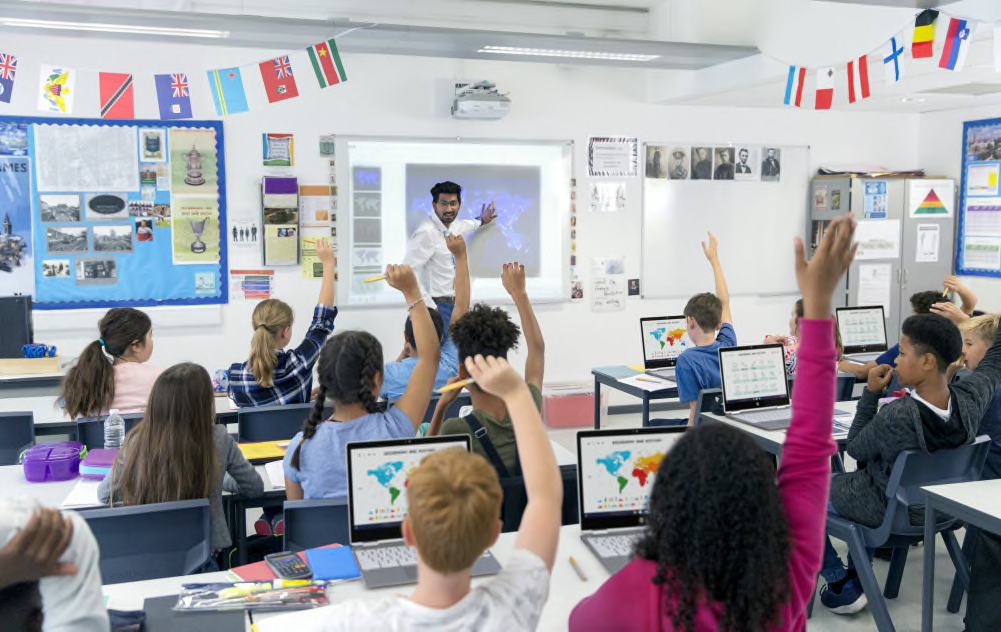 Whole class learning gives students seated at the front of the classroom the advantage of seeing, hearing and collaborating more easily. Studies have shown that these students tend to perform better than their peers seated at the back of the class.Pichierri, M., & Guido, G. (2016). When the row predicts the grade: Differences in marketing students' performance as a function of seating location. Learning and Individual Differences, 49, 437–441. https://doi.org/10.1016/j.lindif.2016.04.007 Students with common sensory impairments may have even more trouble focusing and engaging when their desks are in the rear of the learning environment. Giving every student a front row seat would promote engagement and improve the average learning experience. But, is this possible?
With the support of edtech tools, it is. With the right tech setup, all learning environments can enable students to see and hear clearly, connect freely and stay engaged.
See and be seen
Since 80% of learning is driven by visual cues, poor vision can directly affect a student's ability to learn. Moreover, 40% of school-aged children now have myopia, or near-sightedness, compared to 20% three decades ago. Educators can address these factors by using tools that enhance classroom activities with clear and focused images and video.
Logitech Scribe Whiteboard Camera
With its custom lens, automatic color and contrast enhancer, and sticky note detection, Logitech Scribe enables whiteboards to be shared in video meetings. This ensures students can see the whiteboard at all times in vivid detail. A hybrid learning solution, Logitech Scribe gives every student, whether seated at the back of the class or at home, the best seat in the room.
Use Case: Try Logitech Scribe during lessons to give students an unobstructed view of diagrams, graphs and whiteboard notes. As writing is added on-screen, the AI-powered transparency feature lets students see through the writer, so they can focus on important details.
Logitech Reach
Logitech Reach is an articulating camera experience that lets educators show non-digital content from all vantage points with ease and precision. It provides an immersive "show and tell" experience that brings students close to the material, where they learn best.
Use Case: Use Reach to show close-ups of any object that supports a lesson. As students watch the demonstration, they can see every step in a mechanical process, craft project or science experiment. The intuitive design allows educators to move Reach's camera around the content with just one hand, instead of vice-versa. This gives students a seamless, 3-D look at subjects, which can aid recall and provide an enriched learning experience.
Zone Learn Wired Headset
The Logitech Zone Learn Wired Headset is designed for learners and built for schools. It's tuned for vocal clarity, rather than music, and it is comfortable enough that students can stay in the learning zone all day. In hybrid or remote learning environments, Zone Learn encourages whole-class participation by giving each student an equal share of important audio content.
Use Case: Try using Zone Learn while students are using education apps or listening to a guest speaker. Verbal instruction and other sounds are delivered  loud and clear, ensuring everyone stays engaged and on-track.
Connect with others
Collaborative learning not only helps develop students' higher-level thinking skills, but it also boosts their confidence and self-esteem. Regardless of where learning happens, it's critical that students have the ability to interface with peers and educational material. The right classroom technology gives students the chance to create, inquire and engage with others.
Logitech Rally Bar Video Conferencing Solutions
For classrooms of any size, there's a Logitech Rally Bar solution to match. With advanced camera systems, AI enhancement, and powerful, room-filling sound, Rally Bar solutions welcome remote students to the conversation and centers everyone in the learning experience.
Logitech Pen and Crayon
With Logitech Pen for USI-enabled Chromebooks or Logitech Crayon for iPads, students have a tool for endless collaboration. These styluses work just like a pen and paper, with no pairing required. Everything from the shape, to the weight and color was carefully designed to ensure students can express ideas confidently. 
Use Case: Combine Rally Bar and the Logitech Pen or Crayon to spark collaboration in a multi-school lesson (see the Connecting Youth Project for inspiration). With the clear video and audio of Rally Bar video conferencing solutions and the seamless connectivity of Pen or Crayon, students in different schools or even different countries can learn from each other, inspire each other's creativity, and grow together.
Equitable education means ensuring all students can absorb the visuals and sounds crucial for focus and engagement. Edtech solutions built with student needs in mind transport kids from home or the back of the class to the front row, giving them a better learning experience.
Let's Talk
Learn more about how Logitech can help you shape the future of education.
THANK YOU FOR CONTACTING US
A product expert will reach out to you shortly.