Pangea temporary hotfixes here
WOMEN WHO MASTER
Celebrating, amplifying, and enabling the rise of phenomenal women in STEM.
In STEM fields such as software engineering, systemic issues continue to prevent women from rising to the top.
The Logitech Master Series seeks to equip both men and women with the tools they need for peak performance and success - strengthening the company-wide values of global gender balance, diversity and equality.
With #WomenWhoMaster, our mission is to ignite an industry-wide movement that addresses these issues once and for all.
What (and Who) is Holding Women Back in Tech?
Logitech MX and Girls Who Code surveyed 400 Tech and IT workers, revealing the most influential breakthrough factors for women pursuing careers in these industries.
By educating about these key barriers and breakthrough factors in more schools, workplaces and society at large, we can support the success of more women in STEM.

Five Breakthroughs For Women Pursuing Tech
Early influences matter
Adult role-models such as teachers, parents and mentors play a pivotal role in supporting women at a young age.
60%
Over half of women said a parent or a teacher encouraged them
Passion is the main driver for women pursuing tech or IT
Early passion for computers or how things work should be encouraged and pursued.
38%
of women who studied computer science said they developed their interest in high school
Once hired, a job that makes a meaningful contribution to society is very important
Finding a job that positively contributes to society is central to women's career choices.
35%
I have always been passionate about computers
33%
I have always been interested in how things work
32%
This is the job of the future
Access to women-friendly communities of support help them persist
Women reported that programs dedicated to women (44%) and finding support through professional networks (31%) help them persist.
90%
of women have experienced microaggressions at work
Meaningful action from men makes a difference
To increase gender equality in the tech industry men must transform good intentions into meaningful action.
60%
of men survey respondents acknowledge women have fewer opportunities to advance in the IT sector
1
2
3
4
5
How Logitech Mx Is Taking Action
The Logitech Master Series' #WomenWhoMaster project comprises a range of initiatives that act on our mission.
Meet The Masters
You can't be what you can't see. To give girls more real-life role models in STEM, Logitech MX is putting the spotlight on women who have mastered their fields. Our featured #WomenWhoMaster provide aspiring girls and women with powerful stories about overcoming barriers and priceless career tips.
An Industry-Wide Movement
Authentic support from role models plays a pivotal role in keeping girls on the path to STEM mastery. Discover some of the initiatives and conversations Logitech has organised - each designed to help companies, parents and teachers challenge the status quo, rethink the system, and inspire action.
Partnerships For Early Access To Code
It takes a village to change the world. That's why Logitech has partnered with a series of initiatives with a shared ambition to democratize access to code for young girls. Learn more about our partnerships with Girls Who Code and Techlit Africa and how you can make a difference.
An Industry-Wide Movement
Catch up on initiatives from Logitech MX designed to inspire parents, teachers, companies and girls themselves to challenge the status quo.
Close The Gender Gap: Getting Girls Excited About STEM
Monday, February 6, 2023, at 10am PT / 1pm ET
Logitech MX invited women who have mastered their fields in STEM to discuss the role of parents, teachers and companies in setting girls up for success in tech.
Panel:
Delphine Donné, VP and General Manager of PWS, Logitech
Dr. Tarika Barret, CEO of Girls Who Code
Aisha Bowe, Founder & CEO of Lingo and STEMboard
Nelly Cheboi, Founder & CEO of TechLitAfrica
This Webinar is only available in English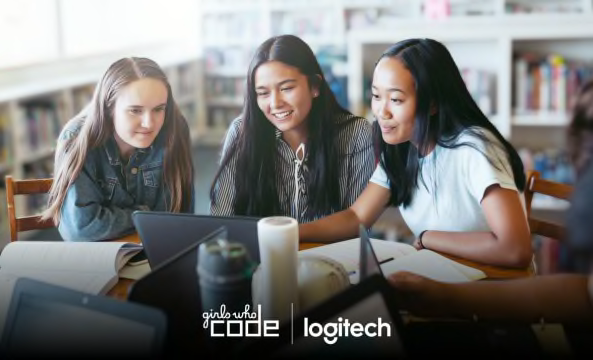 Barriers Companies Can Overcome to Support Women in STEM
April 2023
Join Logitech MX for an exchange among female STEM leaders as they highlight the importance of creating a welcoming, encouraging environment for women to pursue tech careers.
Panel:
Wei Shen-Cory, Head of PWS Software Engineering, Logitech
Ohilda Holguin, Corporate Channel Account Manager, Logitech
Yuko Nagakura, Founder of SHEquality and Co-Founder of World Coding Club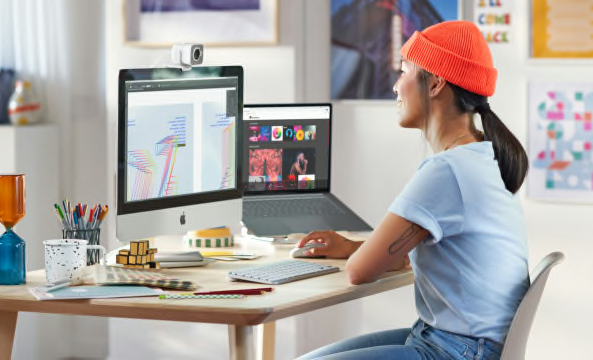 1
2
Closing the gender gap in tech once and for all, one exceptional coder at a time.
Fewer women are entering tech than ever
Did you know that in 1995, 37% of computer scientists were women - but today, it's only 24%?*
By addressing systemic problems in the world of coding, and countering the high drop-off rate in girls between the ages of 13 and 17, Girls Who Code aims to close the gender gap in entry-level tech jobs - by as early as 2027. And Logitech is committed to helping this ambition come true.
Enabling technical literacy as a path to financial independence.
Digital skills unlock global opportunities
To eradicate poverty in her home country, Kenya, Nelly Cheboi founded nonprofit Techlit Africa - which now provides 4,000 students across 10 rural schools with the skills they need to thrive. Soon expanding to 100 additional schools across Kenya, Nelly is set to bring self-efficacy, troubleshooting and internet skills to 40,000 students.
For the entirety of 2023, Logitech will be funding all computer classes in Logiri School. 
How You Can Make A Difference
Check out these four easy ways to join us on our mission and stay updated
Nominate Your #Womenwhomaster
Know any women in tech with a story that could inspire young girls everywhere? Help us put the spotlight on the right people by nominating your own #WomenWhoMaster by tagging them on Instagram.
Join The Movement
Have an idea, want to start a conversion, or are co-organizing projects aligned with our mission to fight the gender gap in tech and IT? Reach out to girlswhocreate@logitech.com and let's chat!
Support Girls Who Code
Whether you wish to donate directly or are keen to lend your time to helping young girls thrive in STEM, discover the many ways you can support Girls Who Code here.