SPEAKERPHONE FOR ALL YOUR MOBILE DEVICES
Instant Conference Room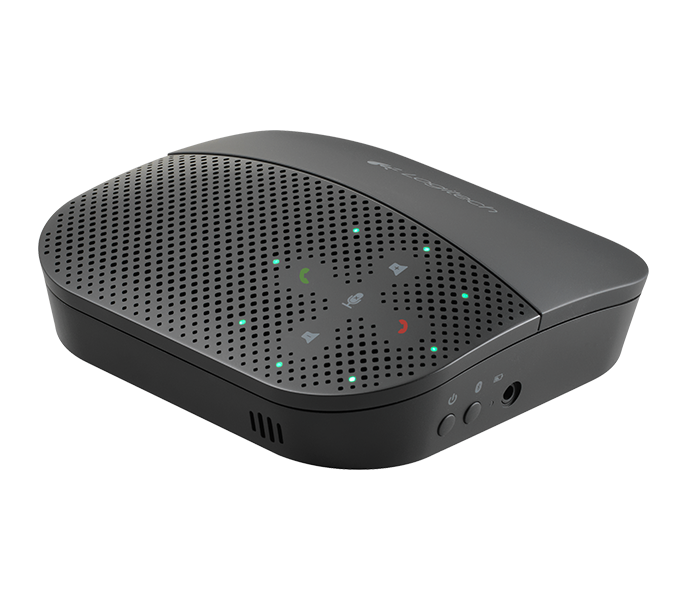 Works with most any computer or mobile device
Go cordless with up to 15 hours of talk time
Integrated stand for smartphones and tablets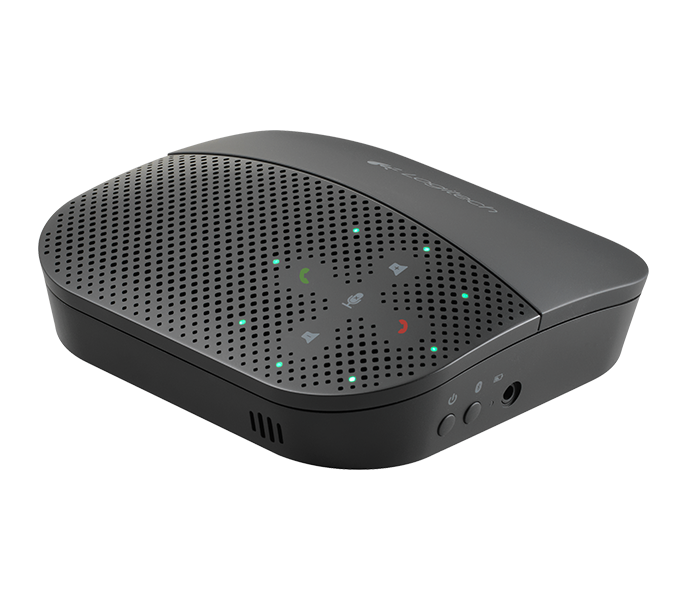 Key Features
FLEXIBLE HANDS-FREE CONFERENCING

For the multitasking professional, the Logitech P710e speakerphone lets you instantly connect and start a video conference using your mobile device. The P710e holds your device steady for undisturbed visibility on the other end of the call while you take notes or type on a second device or computer.

TAKE THE MOBILE P710E ANYWHERE

When you need to take a call in a busy office, at home, or in a hotel room, the P710e speakerphone provides long battery life with up to 15 hours of talk time. A custom speaker and noise-cancelling mic offer clear sound on both ends of the call. Plug headphones into the P710e for additional privacy.

CONNECT INSTANTLY TO A MEETING

When you're ready to jump on a call, connect your mobile phone or tablet to the P710e speakerphone using Bluetooth with optional NFC pairing or the attached USB cable. Pair up to eight Bluetooth devices. Easily pair and unpair NFC-enabled mobile devices to the P710e by simply touching them together.

DESIGNED FOR BUSINESS

Video conferencing is easy with the P710e. Optimized for Microsoft® Lync™, Cisco® compatible1, and certified for Skype® and Skype for Business, the P710e provides enterprise-quality audio and an integrated conferencing experience.1
Additional Features
INTEGRATED STAND
An integrated stand positions a mobile phone or tablet at just the right angle for shake-free video calls and hands-free access to the mobile screen.
NOISE & ECHO CANCELLATION
With acoustic echo cancellation and a noise-cancelling microphone, P710e is optimized so you can hear and be heard, even in noisy workspaces.
LONG BATTERY LIFE
Up to 15 hours of talk time between charges the Mobile Speakerphone P710e outlasts the longest workday.
OPTIMIZED FOR VOICE AND MUSIC
A dynamic equalizer automatically switches between voice and music modes, delivering the best sound quality for what the user is listening to.
TOUCH CONTROLS
Touch controls with LED indicators provide excellent response without transmitting audible noise through the audio path.
INTEGRATED USB CABLE
The USB cable is hardwired into the speakerphone so it's never lost and neatly coils away beneath the unit when not in use.
Dimensions

Height x Width x Depth:
4.8 in (120 mm) x 4.8 in (120 mm) x 1.5 in (40 mm)

System Requirements

Compatible with

Windows Vista®
Windows® 7 or Windows 8 (32-bit or 64-bit), Windows 10
Mac® OS X 10.6 or later
Linux
Bluetooth mobile device
Available USB port
AC power

Drivers/Software Downloads

Recommended: plug-ins for Jabber™ and Skype™. Select the P710e product on our support site for more information.

Application Compatibility

Compatible with most leading conferencing platforms such as Skype and Skype for Business, Google Hangouts Pro, Cisco® (see www.logitech.com/ciscocompatibility for more info), and so on

Certifications

Certified for Skype and Skype for Business; Cisco compatible

Technical Specifications

Loudspeaker

Frequency response: 140 Hz to 16 kHz
Support wideband speech and HIFI audio
Volume: adjustable to 85 dBA at 0.5 meter

Microphones

Omni-directional microphone, 360-degree coverage
Frequency response: 50 Hz to 8 kHz
Supports wideband and narrowband speech

Auxiliary Audio Output

3.5mm jack
Frequency response: 20 Hz to 20 kHz

Audio Enhancements

Acoustic echo canceller
Noise reduction

Automatic gain control

Package Contents

Speakerphone
Travel case
User documentation
Phone spacer

Warranty Information

2-Year Limited Hardware Warranty

Part Number
Get Support

Documents, downloads, and resources for P710e.
Contact Sales
Our team of product experts can help you find the best solution for your company. Fill out the form and a Logitech representative will contact you.
Get Support
For technical support questions, visit our
Video Conferencing Support portal
P710e SPEAKERPHONE
Ready for any mobile device with Bluetooth or USB
Ready for any mobile device with Bluetooth or USB
$ 189.99
Free shipping on orders over $29.00