Pangea temporary hotfixes here
K380 FOR MAC MULTI-DEVICE KEYBOARD + M350 LOGITECH PEBBLE MOUSE
Minimalist, Bluetooth® and quiet accessories for Mac
K380 FOR MAC MULTI-DEVICE KEYBOARD + M350 LOGITECH PEBBLE MOUSE
Minimalist, Bluetooth® and quiet accessories for Mac
The compact K380 Multi-Device for Mac offers comfy and quiet typing, while the Logitech Pebble M350 delivers silent clicks and scrolls—plus a smooth organic shape that fits in your pocket.
Dimensions
Keyboard
Height: 124 mm
Width: 279 mm
Depth: 16 mm
Weight (with batteries): 423 g
Mouse
Height: 107 mm
Width: 59 mm
Depth: 26.5 mm
Weight (with batteries): 77 g
Nano receiver
Height: 18.7 mm
Width: 14.4 mm
Depth: 6.1 mm
Receiver Weight: 1.8 g
Technical Specifications
Mouse
Sensor Technology: High Precision Optical Tracking
Sensor resolution: 1000 DPI
Number of Buttons: 3
Scroll Wheel: Yes- Mechanical
Scroll Buttons: Middle Button: Middle Button
Unifying ready mouse: Yes
Unifying ready receiver: No
Battery: 18 months
Battery type: 1 AA pre-installed battery
Wireless operating distance: 10 meters Wireless range may vary due to environmental and computing condition
Wireless technology: Logitech Receiver or Bluetooth Low Energy Technology
1-Year Limited Hardware Warranty
Mouse
Windows® | macOS | ChromeOS™ | Linux® | Works with Surface
Via Receiver
Available USB port required.
Windows® 8, 10, 11 or later
Mac 10.15 or later
ChromeOS
Linux Kernel 2.6+
Via Bluetooth
Required: Bluetooth Low Energy Technology
Windows® 8, 10, 11 or later
macOS 10.15 or later
iPadOS 14 or later
ChromeOS
Android 8.0 or later
Linux Kernel 2.6+
Works with Surface
2 AAA batteries (pre-installed)
User documentation
1 AA battery
1 nano receiver
OWN. YOUR. SPACE.
Make any space minimalist and modern with a design-forward mouse and keyboard designed to work with your Apple devices. 
The compact K380 Multi-Device for Mac offers comfy and quiet typing, while the Logitech Pebble M350 delivers silent clicks and scrolls—plus a smooth organic shape that fits in your pocket. 
It's the multi-tasking and matching duo that goes wherever you like to get to work.
MODERN, SLIM, AND BEAUTIFUL
New colors, new you. Own your space with a blueberry, rose or off-white keyboard and mouse duo that matches your favorite accessories. Your desk setup? It's now a design statement.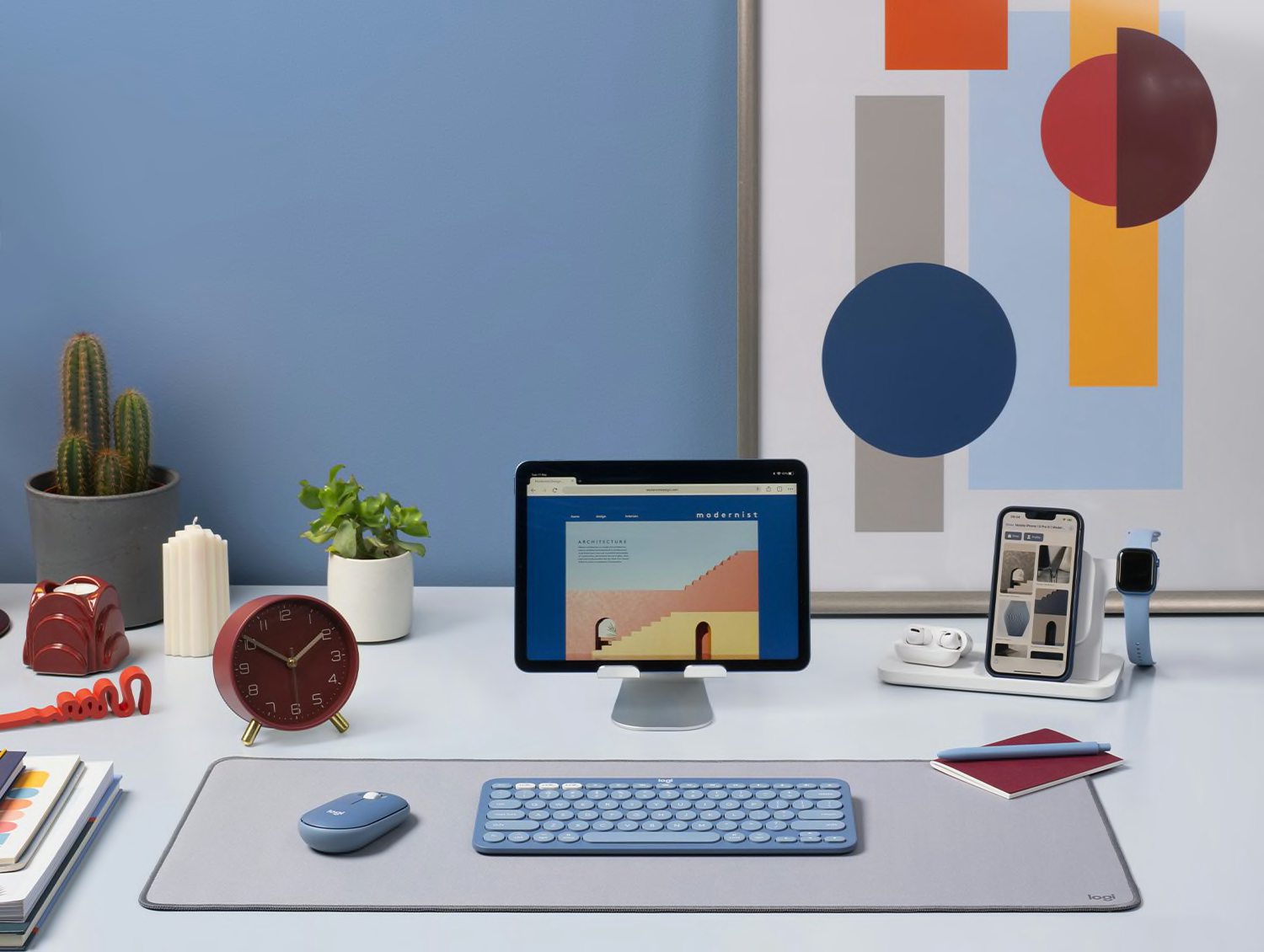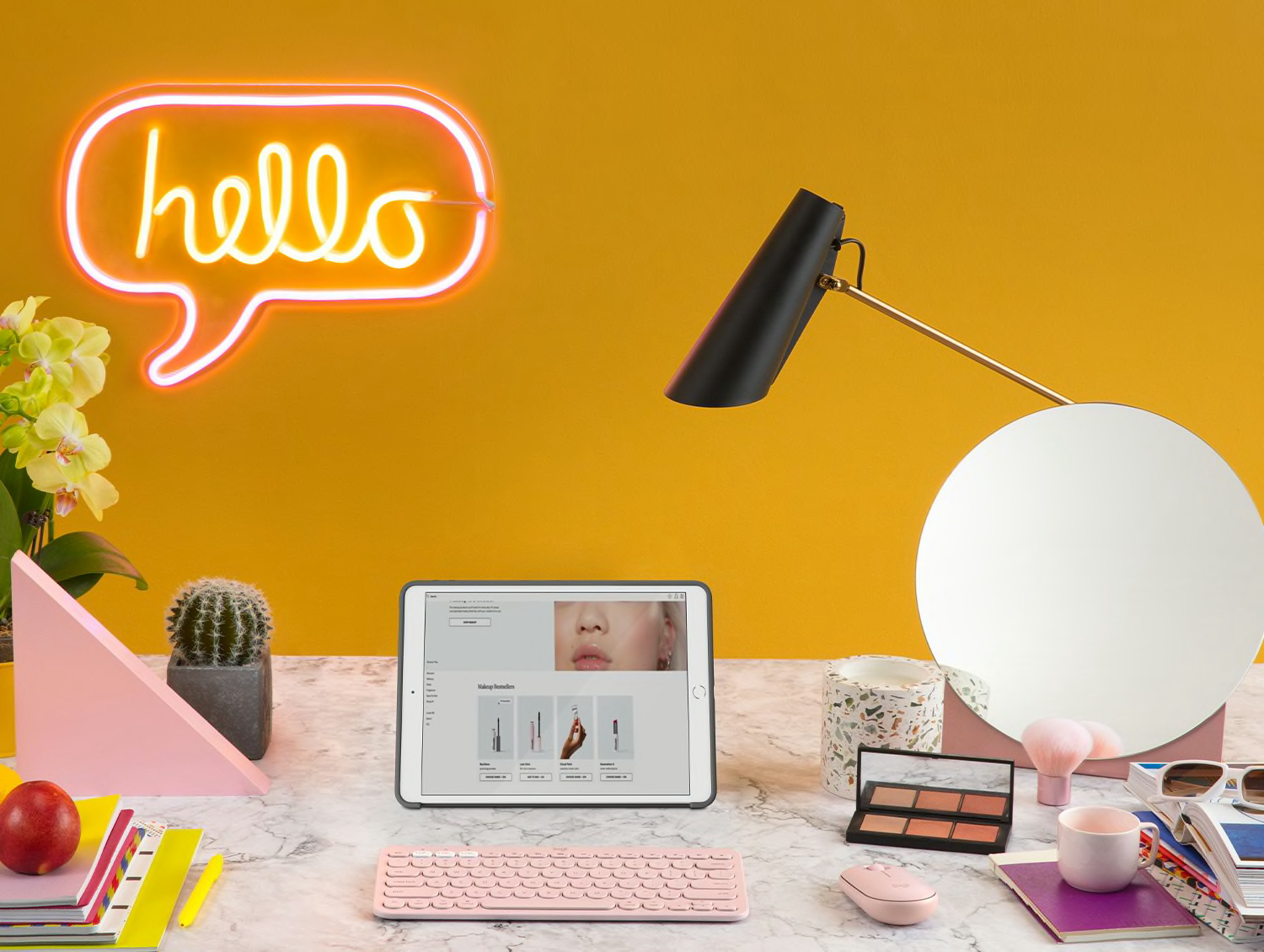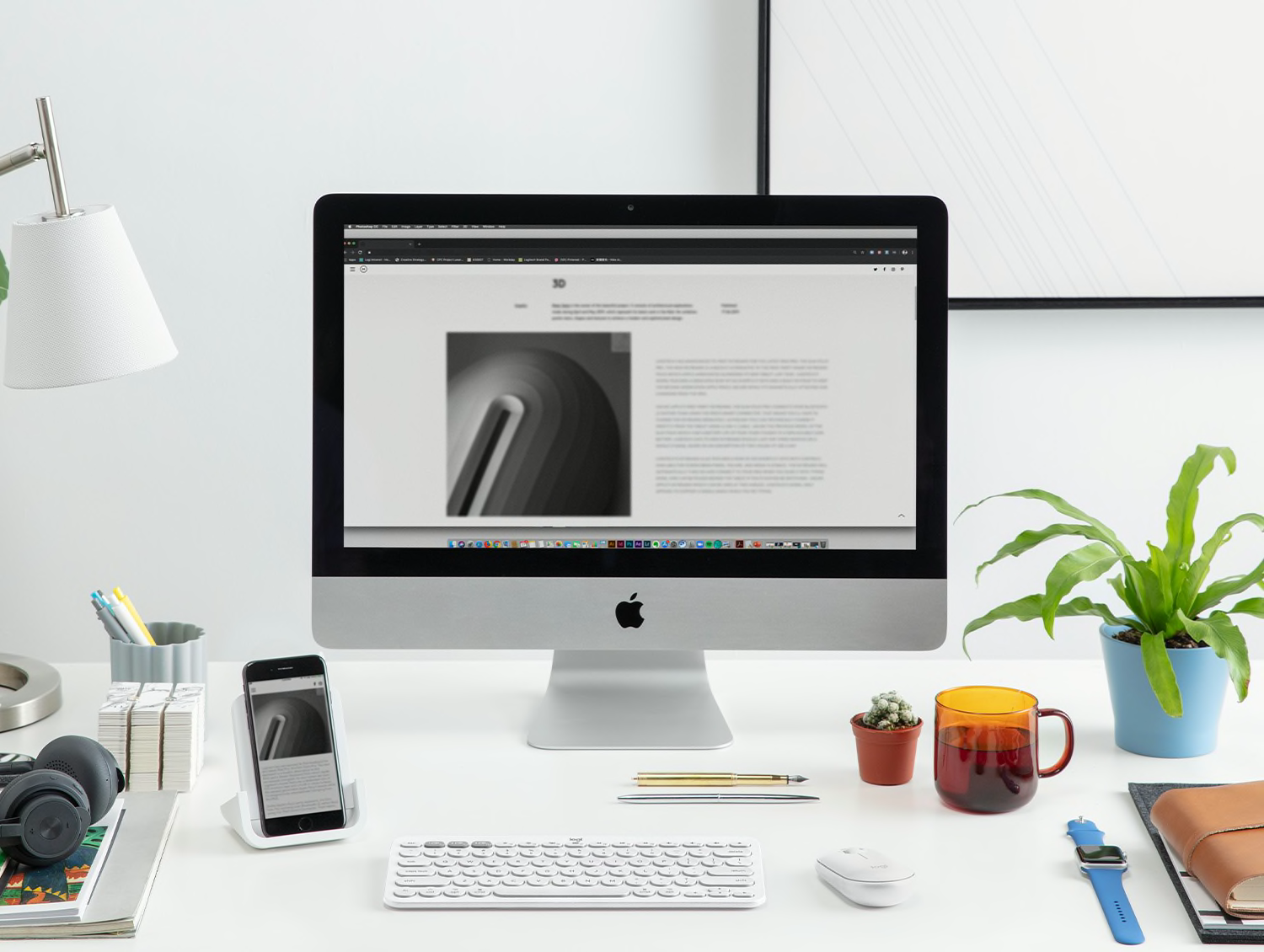 1
2
3
YOUR SPACE. ANYWHERE.
Minimalist, mobile, and ready for your Mac. The slim, lightweight K380 Multi-Device for Mac keyboard and M350 Pebble are easy to carry and outfitted with Bluetooth so you can multitask wherever you like to set up. You can even track your Pebble mouse on bed covers. Type and click on a MacBook or iPad to truly own your space.
EASY-SWITCH BETWEEN APPLE DEVICES
K380 Multi-Device for Mac is Bluetooth-enabled and connects to all your Apple devices—so you can work seamlessly on macOS, iOS and iPadOS. The Apple-specific layout gives you dedicated mac keys on F and A rows, so you can use all your favorite shortcuts. 
Get the comfort and ease of desktop-style typing on your MacBook, iPhone, and iPad. 
Thanks to the Easy-Switch Technology, you can pair up to three devices simultaneously and switch typing between them by the tap of a button.
Start typing a report on your iMac then switch and type a message on your iPhone.
Logitech Pebble mouse connects via Bluetooth or USB receiver to your desktop, laptop, or iPad.
COMFORTABLE SET-UP
The keyboard's extra-small footprint lets you place your mouse closer for less arm reaching and better body posture. The scooped, low-profile scissor keys give you a fluid, quiet, laptop-like typing experience.  While the slim, pebble mouse fits naturally in the palm of your hand for a lovely and comfy duo.
LONG BATTERY LIFE
The keyboard and mouse both feature a battery-saving sleep mode that kicks in when you're taking a break—to make them last even longer.
Logitech Pebble: 18M battery life
K380 Keyboard: 24M battery life
CREATE AND STREAM LIKE NEVER BEFORE
Type, record, and stream with modern design tools that elevate your desk setup. Work quietly with a slim, lightweight keyboard and mouse. Boost your video meetings and presentations with StreamCam and the Zone Vibe 100 wireless headphones. It's everything you need to own your space and take your content to the next level.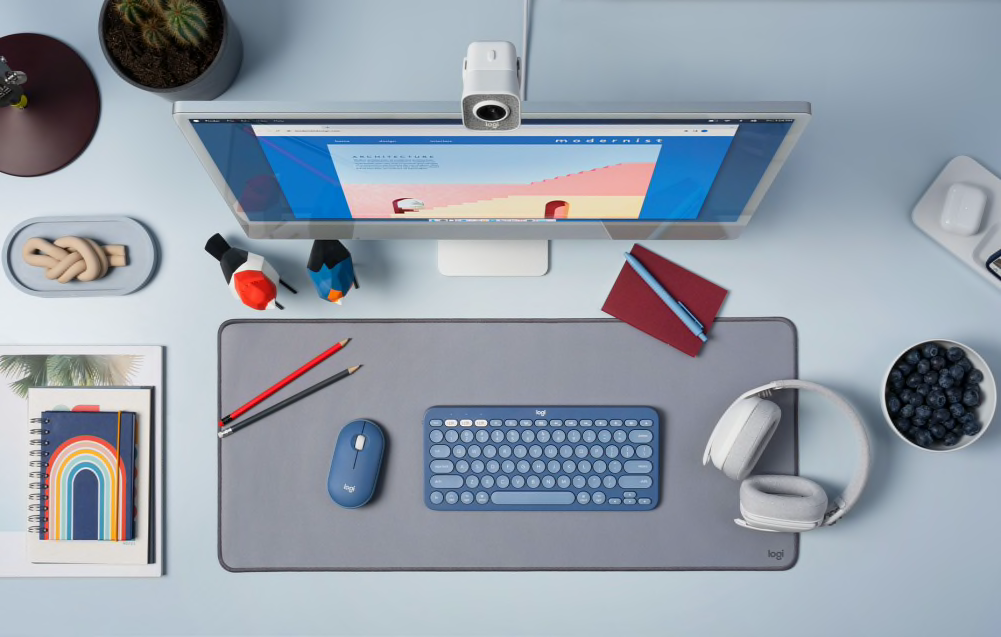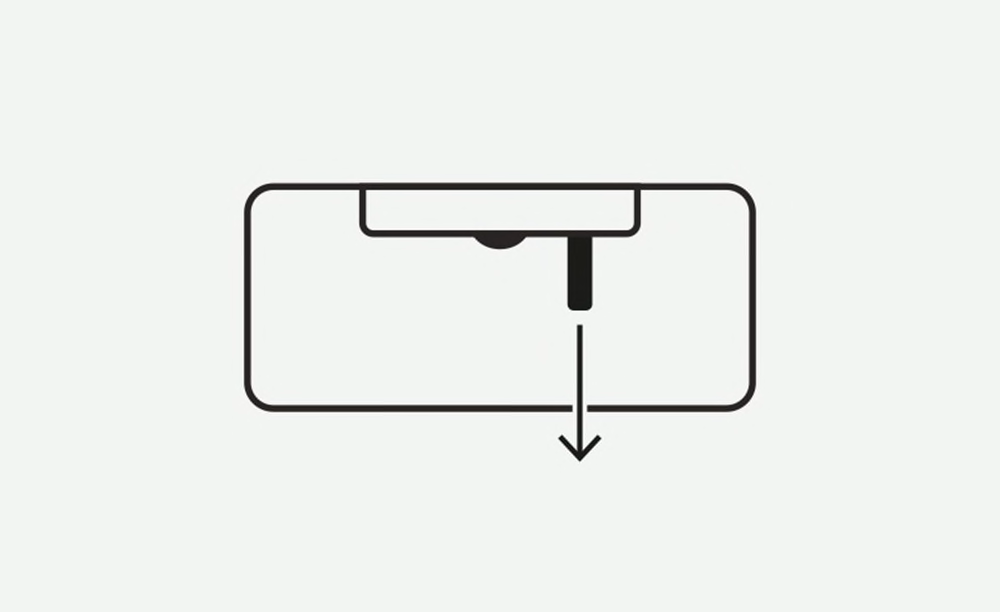 Remove Pull-Tab
First, remove the pull-tab from the back of the keyboard and it will be turned ON.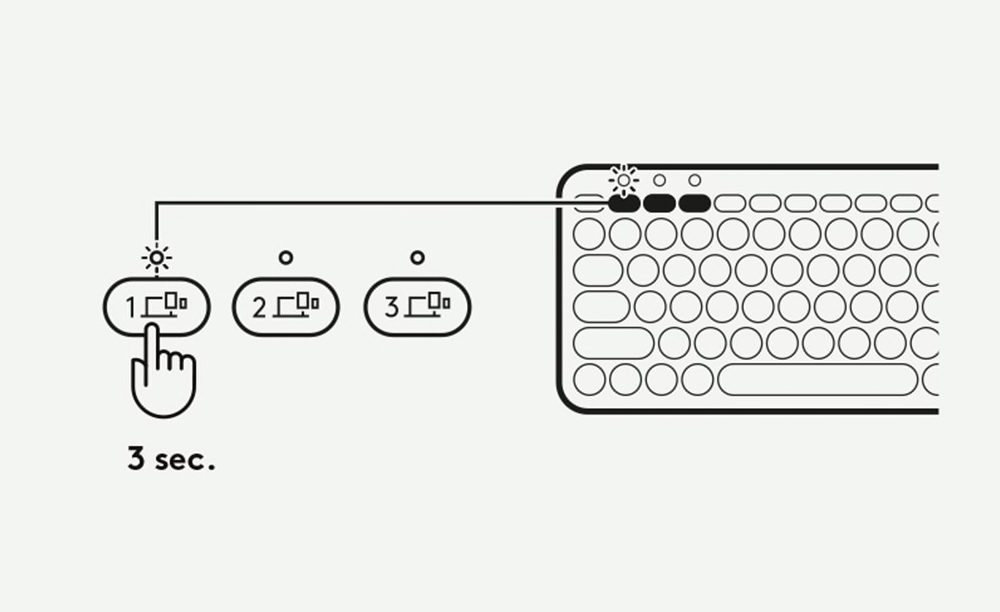 Enter Pairing Mode
Long press Channel 1 key for 3 seconds to enter on pairing mode. The LED on top of the channel key will start blinking.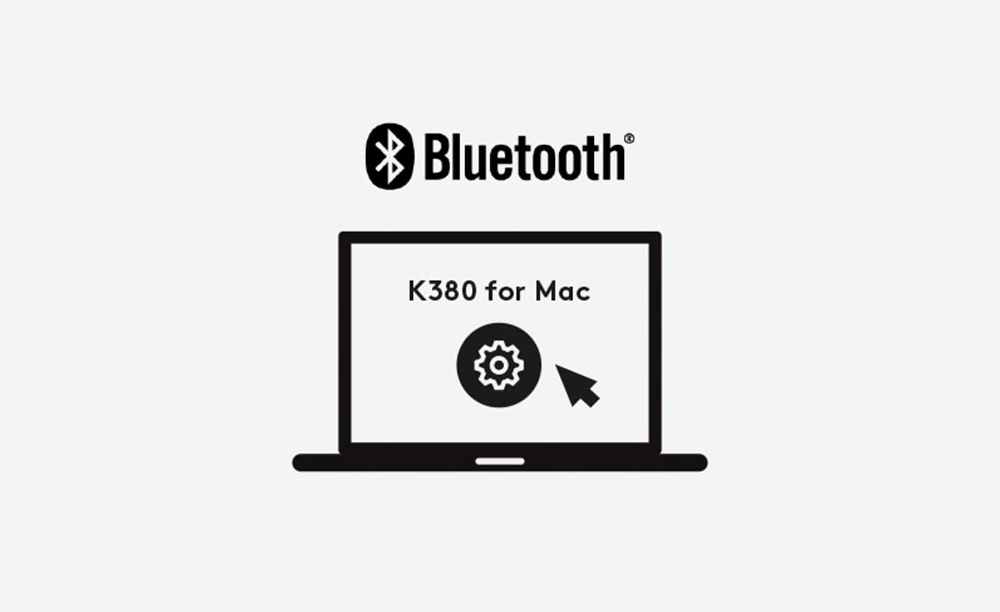 Connect your Keyboard via Bluetooth
Open the Bluetooth preferences on your iMac, Macbook, iPhone, or iPad. Add a new peripheral by selecting "K380 for Mac" from the list of devices.
Your keyboard will request a PIN code to complete the connection. On your keyboard, type the code shown on-screen, and then press the Return or Enter key.
Your keyboard will be ready to use.
NOTES: Each connect code is randomly generated. Make sure you enter the one shown on your device screen.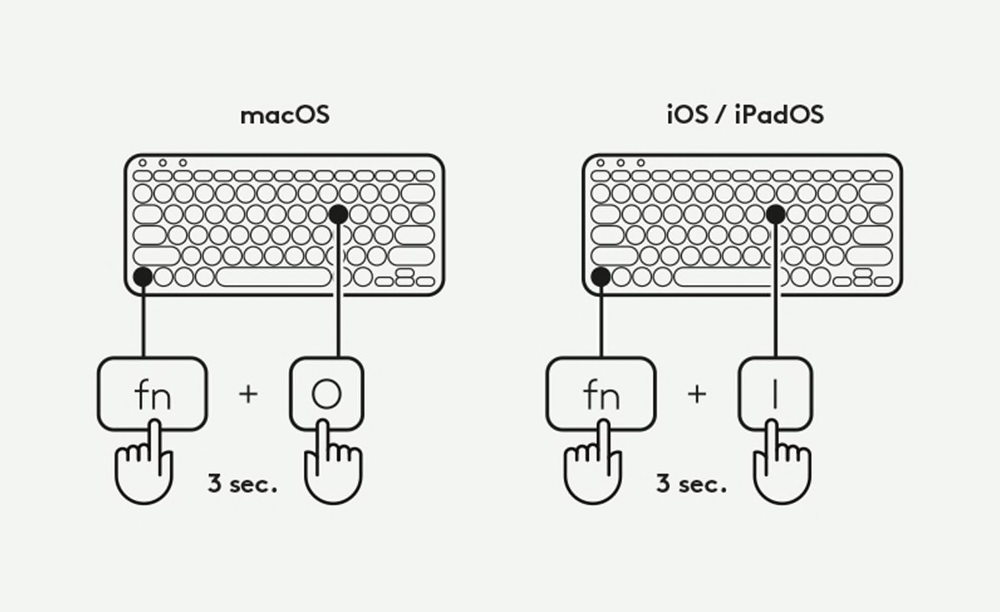 Choose Operating System layout
MacOS is the default keyboard layout.
To switch to iOS / iPadOS layout on your keyboard, press FN and "I" keys simultaneously and hold for 3 seconds. The LED light over the corresponding channel key will light up for 10 seconds to show that the OS has been successfully changed.
To switch back to MacOS layout, long press the FN and "O" keys simultaneously for 3 seconds.
MULTI-DEVICES: EASY-SWITCH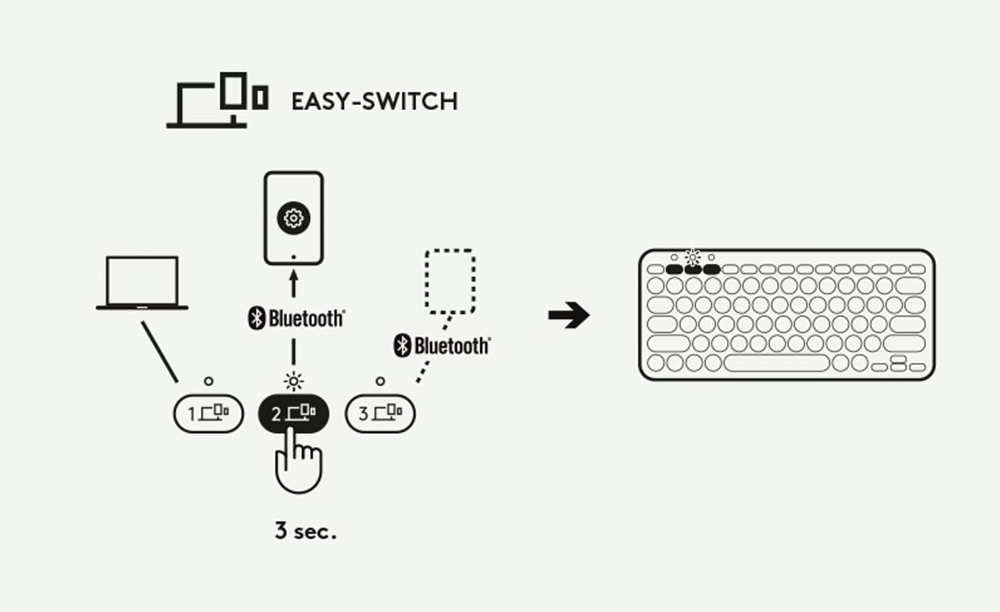 Pair the keyboard with a second device
Long press for 3 seconds the Easy-Switch key - Channel 2. When the LED starts blinking the second channel will be ready to pair through Bluetooth connection.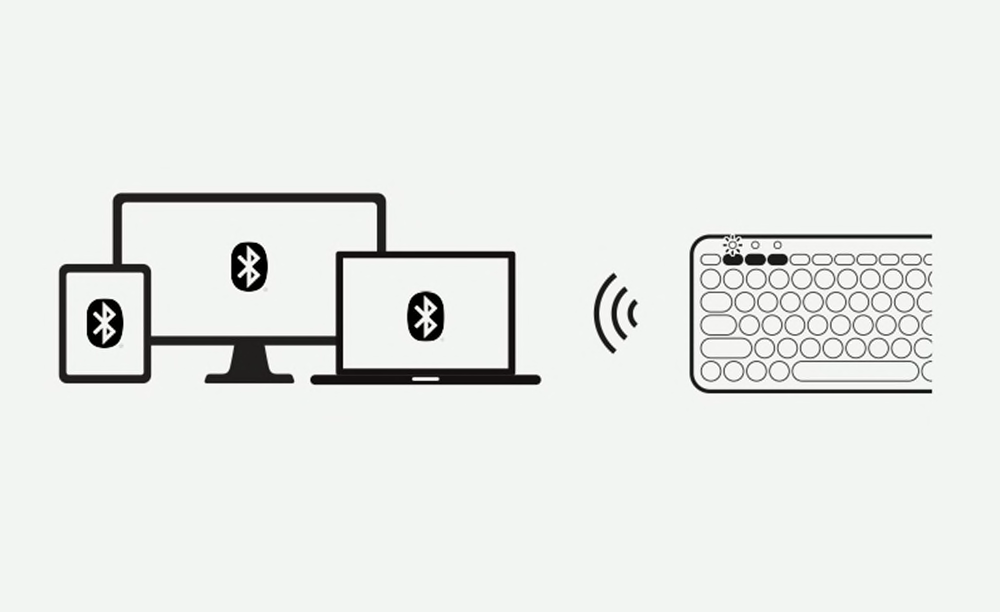 Toggle between devices
Simply short press either channel 1, 2 or 3 to switch typing on your devices.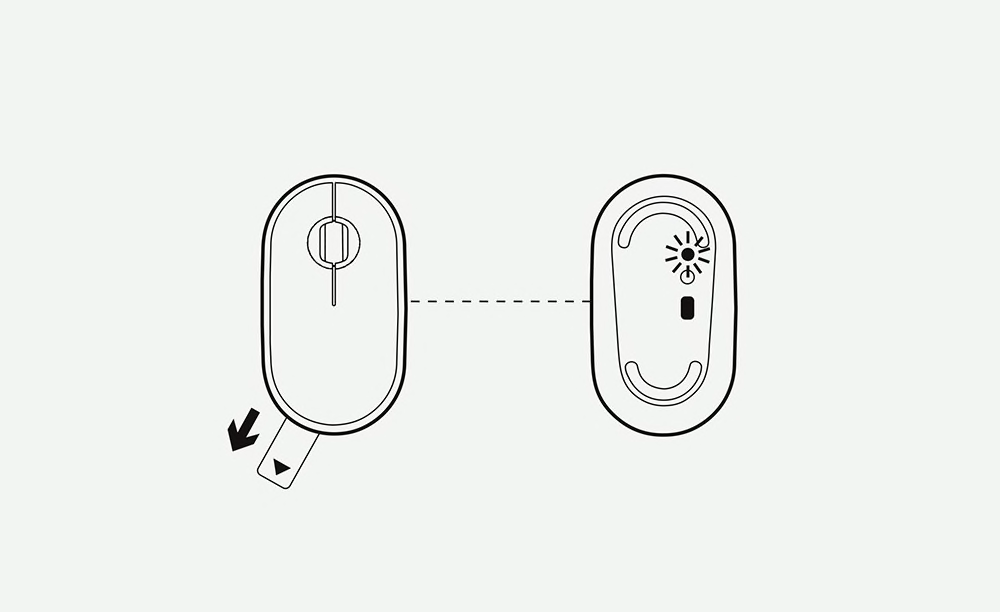 Remove the pull-tab
Just pull the sticker tab and your Logitech Pebble M350 will automatically turn on.  As it's ready to be connected, the status light flashes green and blue.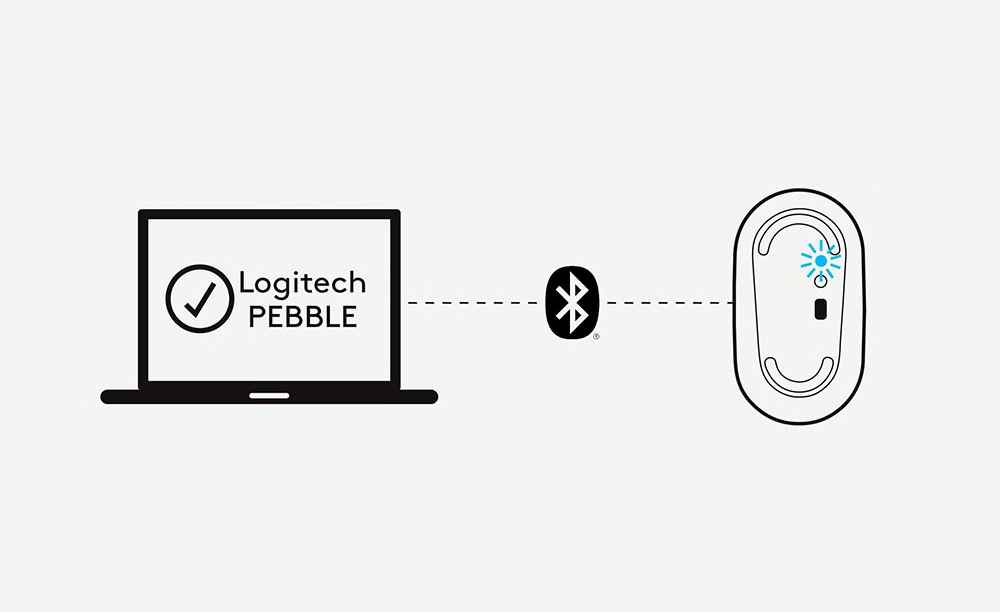 Connect to Bluetooth
Easily connect via Bluetooth by turning on your computer's Bluetooth connection and searching for your Logitech Pebble M350. Select and ta-da – you're paired.
Connect via USB
Alternatively, connect using the USB receiver by plugging the receiver found inside your mouse into your computer. Easy peasy.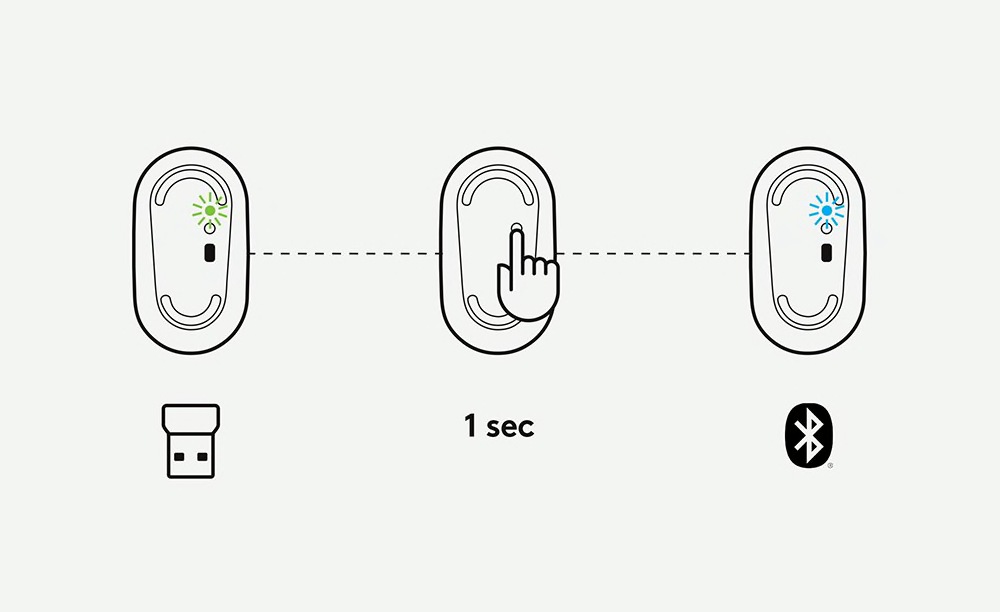 Switch Between Connections
Once paired you can easily switch between the Bluetooth and USB connections. Just press the button on the downside of the mouse for 1 second: Blue light is to use Bluetooth connection and Green light is for the USB receiver.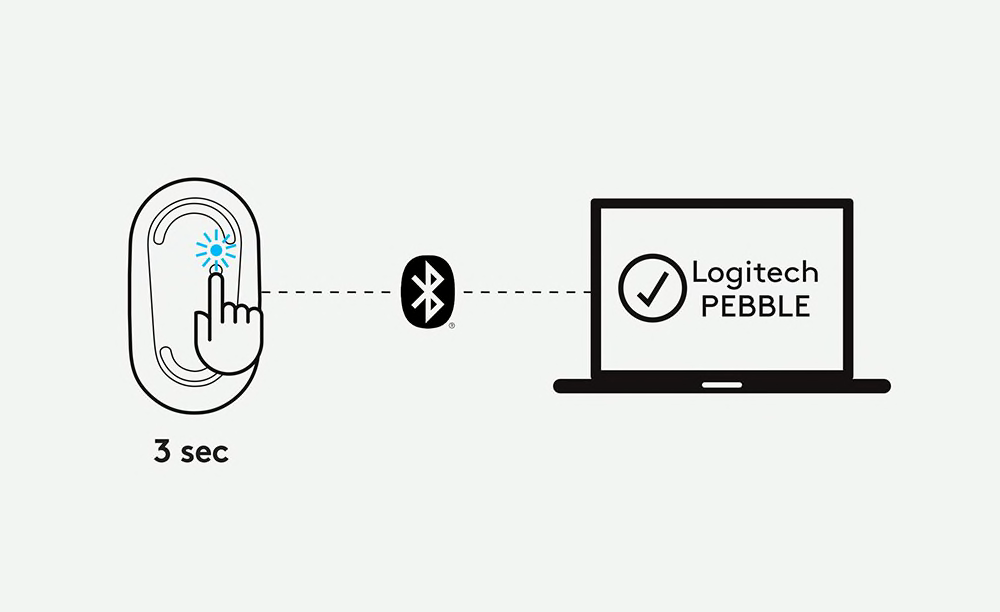 Pair a second device via Bluetooth
Pair another device via Bluetooth by pressing the button for 3 seconds. When the blue light starts blinking you are in pairing mode.
RECOMMENDED PRODUCTS FOR YOU