Pangea temporary hotfixes here
How Do You Get the Best Out of Your Interactive Flat Panel?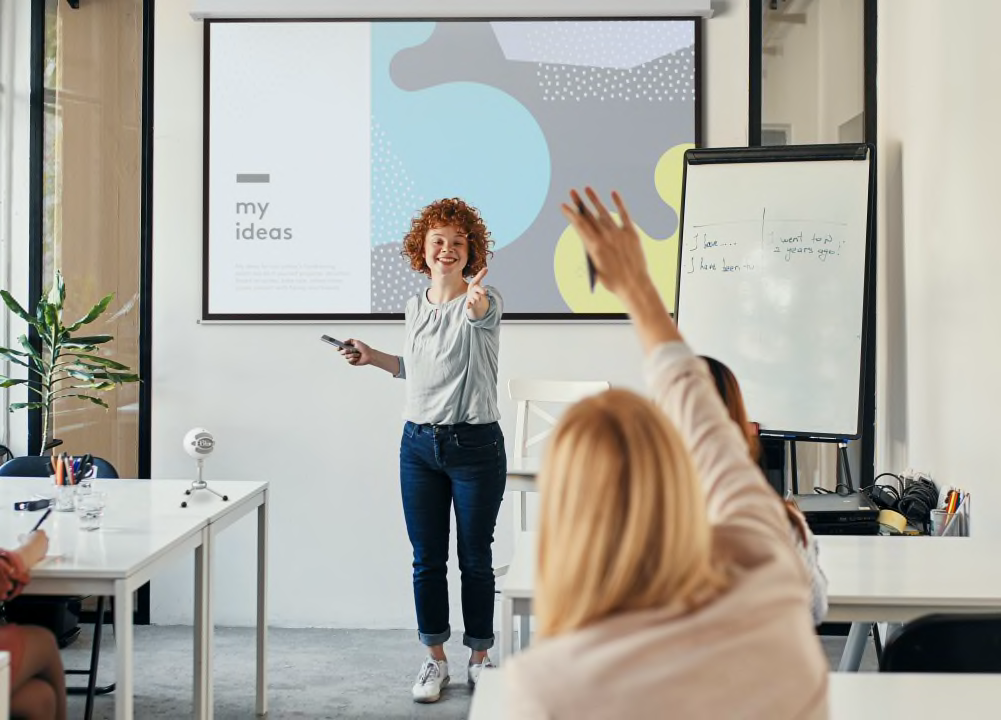 What is an Interactive Flat Panel?
An IFP is a large touchscreen display used in collaborative spaces like classrooms. The display is integrated with apps and software, allowing educators to pull up content at the front of the room for students to participate in or lead. Many schools are switching to IFPs from interactive white boards (IWBs), just as they earlier switched to IWBs from traditional whiteboards. Why? IFPs provide all the boosts to creativity, engagement, and retention as their predecessors, and they're also easier to move, don't require calibration, and don't require expensive projector lamps to work.
IFPs help make lessons exciting, collaborative, and visually appealing, improving student engagement and retention In one study, 99% of students reported that interactive displays helped them learn better than traditional whiteboards.Amolo, Sharon & Dees, Elizabeth. (2007).The influence of Interactive Whiteboards on Fifth-Grade Student Perceptions and Learning Experiences. Valdosta State University. https://vtext.valdosta.edu/xmlui/handle/10428/1248 Another study of 28 schools found student engagement rose 22% on average after adding IFPs to their classrooms.Promethean Case Study, Palmdale School District. (2018). prometheanworld.com. https://cdn.prometheanworld.com/wp-content/uploads/2023/04/18150529/Palmdale_School_District_Case_Study_0220v1.3.pdf
Adding the right solutions can maximize the benefits of IFPs by making IFPs easier for educators to put them into action.
Rally Bar Video Conferencing Systems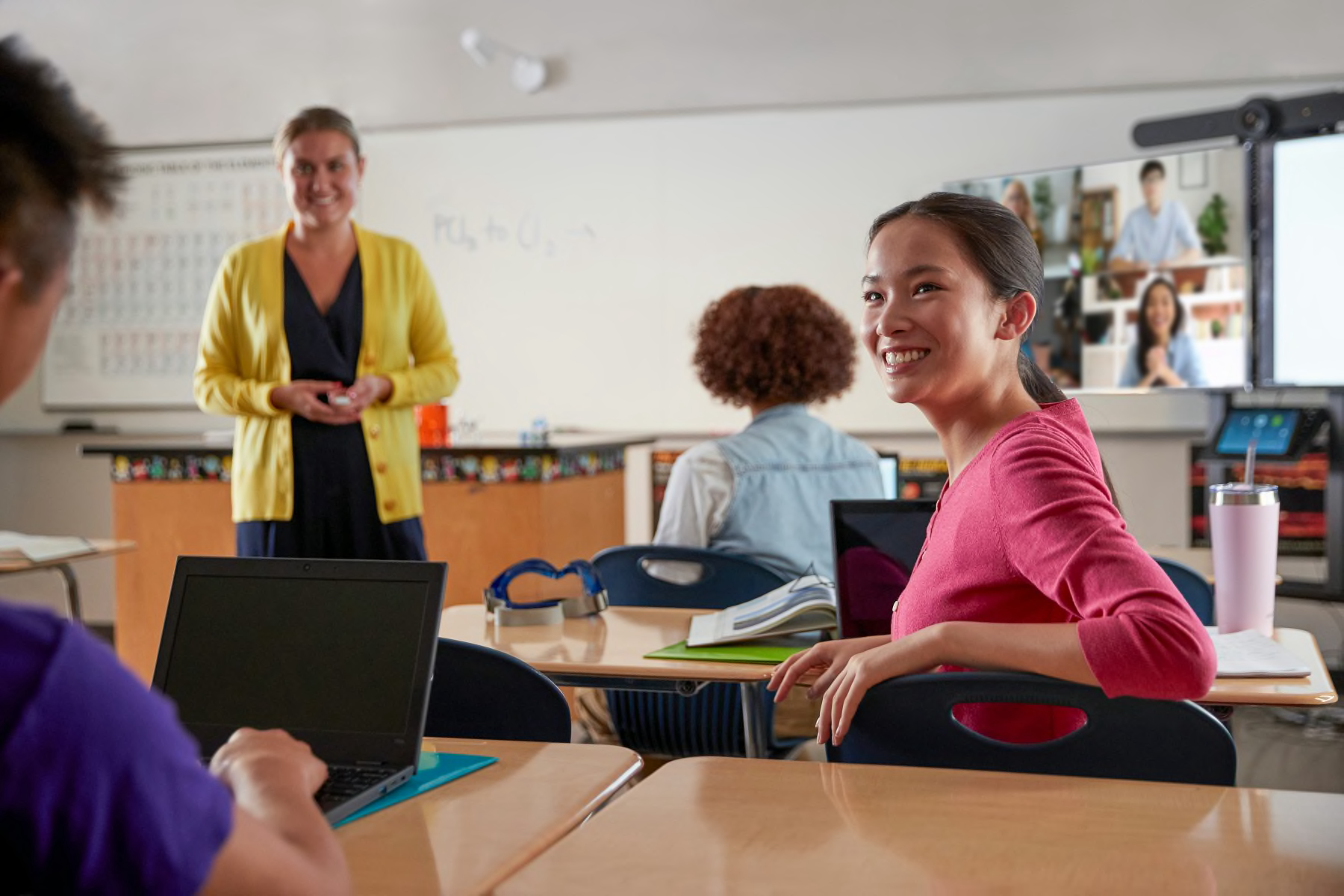 An IFP paired with Logitech's Rally Bar video conferencing systems can increase collaborative learning to help students succeed. Rally Bar solutions ensure students, guest speakers, and lesson content are seen and heard clearly, with a dual camera system and auto-framing technology to deliver a cinematic video experience. Three different views accommodate students' learning preferences, while advanced audio engineering fills classrooms with clear, rich sound — no extra mics or speakers needed.
In hybrid learning environments, pairing a Rally Bar and IFP allows students to lead lessons for classmates. Watching their peers go through slides in a presentation or make notes on diagrams can inspire other students to engage and take initiative. Rally Bar can also give students a lifelike experience of activities beyond the classroom or school building.
Try taking a virtual field trip so that students can see new sights and meet guest experts, or have them collaborate with peers across borders in virtual exchange programs. By effortlessly connecting with an IFP and the major platforms used on it, Rally Bar drives new, exciting ways of connecting learners everywhere. Rally Bar video conferencing solutions can enhance learning environments of all sizes, from large classrooms with Rally Bar Plus to small spaces with Rally Bar Huddle.
Logitech Crayon or Logitech Pen
According to a Gallup poll, 87% of teachers say creativity makes lessons more impactful.Gallup Panel. (2019). Creativity in Learning. gallup.com. https://www.gallup.com/education/267449/creativity-learning-transformative-technology-gallup-report-2019.aspx Styluses paired with compatible IFPs are a natural choice for sparking creativity. Logitech Pen and Logitech Crayon styluses have auto-pairing capability, so students and educators can go from marking their own devices to marking an IFP seamlessly. The pixel-precise capability and palm-rejection technology make for comfortable, accurate writing while taking notes, drawing, sketching, shading, or navigating material on the IFP.
To bring the power of these styluses to life, educators can try a group proofreading or brainstorming exercise on an IFP. Students can take turns adding ideas or comments in different colors with their Logitech Crayon or Logitech Pen. At the end, they'll see how applying many minds to a single problem can yield sharp insights and out-of-the-box solutions. This also gives students a chance to move around, which results in better academic performance with respect to motivation, memory, and recall.Mualem, Raed et al. (2018). The Effect of Movement on Cognitive Performance. Frontiers in Public Health. https://www.frontiersin.org/articles/10.3389/fpubh.2018.00100/full
K400 Plus Wireless Touch Keyboard
One-on-one instruction may strengthen academic achievement more than any other method.Vadasy, P., Jenkins, J., Antil, L., Wayne, S., & O'Connor, R. (1997). The Effectiveness of One-to-One Tutoring by Community Tutors for At-Risk Beginning Readers. Learning Disability Quarterly. https://journals.sagepub.com/doi/10.2307/1511219 But to reach students one at a time during a group activity, teachers need to be able to move around the classroom. The Logitech K400 Plus Wireless Touch Keyboard allows teachers to give each student the special attention they thrive on, while accessing and manipulating content on screen from anywhere in the classroom with a built-in trackpad. The solution's plug-and-play capability makes connecting to the IFP easy, and the 18-month battery life means educators won't have to worry about losing power in the middle of a lesson.
To see how this keyboard combo opens up learning possibilities, educators could try an untethered PowerPoint quiz. Educators can go through the slides of the quiz using the K400 Plus, while walking around the room and checking in with students answering on their own tablets. This allows them to give individual students their full attention without breaking the flow of learning for other students.
Spotlight Presentation Remote
When presenting material on an IFP, educators can engage their students by adjusting the flow of learning and drawing attention to important points from anywhere in the classroom with the Logitech Spotlight Presentation Remote. With its intuitive three-button interface and plug-and-play capability, this digital pointer gives educators the freedom to navigate their slides, emphasize details, and enhance their activities with custom adjustments and gesture controls. Spotlight has three advanced pointing modes — Highlight, Magnify, and Digital Laser — to give teachers a dynamic way to engage students when presenting.
Give in-person, remote, or hybrid lessons a boost with a presentation featuring zoomable diagrams. Use Spotlight to move through images at the perfect pace, while employing Magnify mode to pull fine details out of the big picture. This can help give students a sense of scale or complexity to put key concepts in their full context.
Logitech solutions can help make IFPs more user-friendly, flexible, and immersive. With just a few accessories, an IFP becomes the centerpiece of a classroom and a daily resource for enabling student creativity, engagement, and collaboration.
Let's Talk
Learn more about how Logitech can help you shape the future of education.
THANK YOU FOR CONTACTING US
A product expert will reach out to you shortly.