Pangea temporary hotfixes here
Mx Mechanical Keyboards
Meet MX Mechanical & MX Mechanical Mini –  keyboards with low profile mechanical switches and smart illumination for extraordinary precision and performance. Available in full-size or mini versions.
Get a complimentary 1-month Adobe Creative Cloud subscription* when you purchase a Master Series device from Logitech.com.
FEEL IT. MASTER IT.
Feel every moment of your creative process or every line of code with the irresistibly tactile MX Mechanical. Features low-profile mechanical keys in your choice of 3 switch types for satisfying feedback with every keystroke, smart illumination and Easy-Switch – allowing you to connect up to 3 devices. 
Choose between the full-size MX Mechanical with an integrated numpad or the space-saving minimalist MX Mechanical Mini.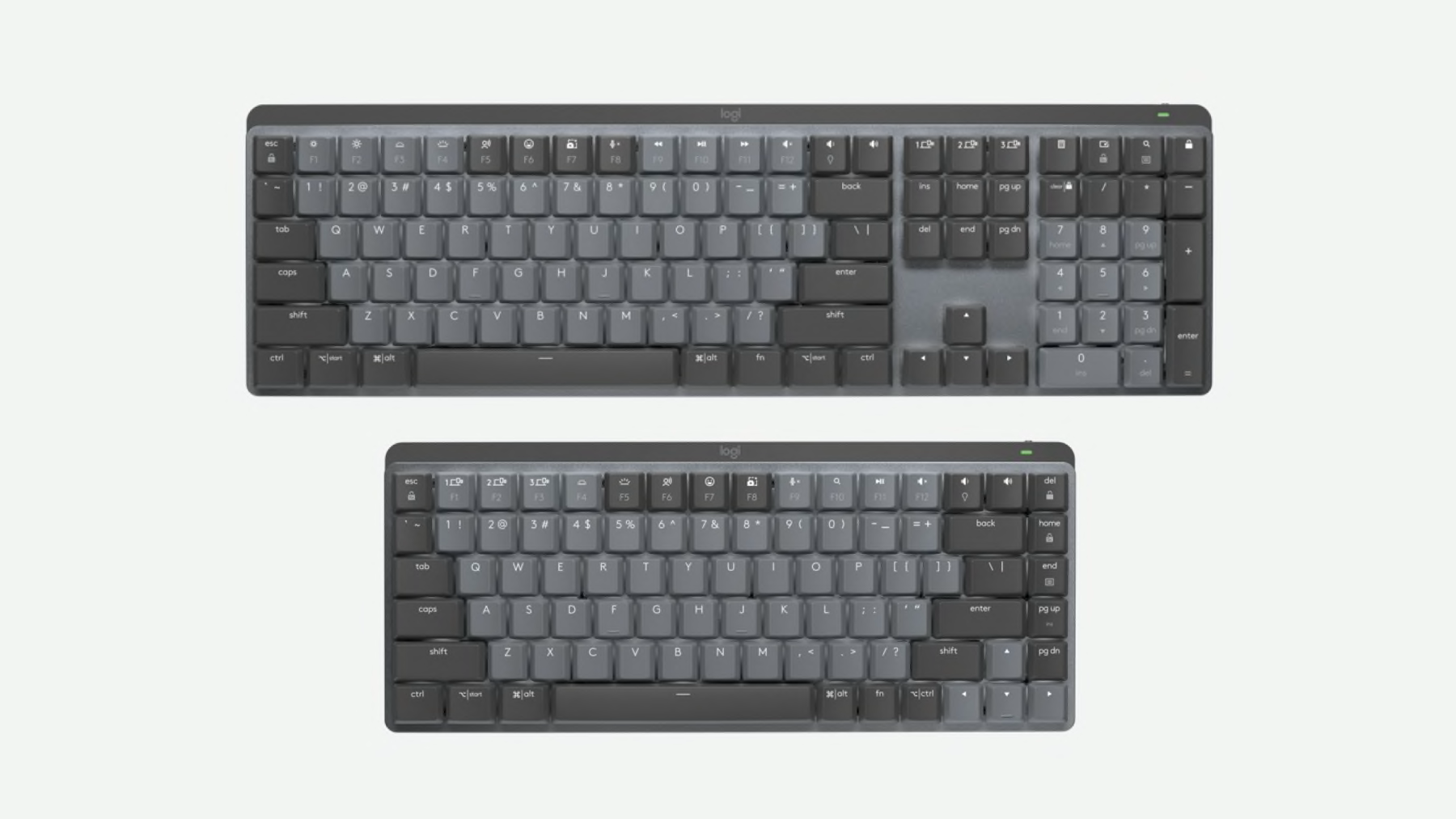 ULTRA FLUID MECHANICAL TYPING
Low-profile mechanical switches deliver a next-level typing feel. Ultra-precise and stable switches offer deep and reassuring key travel – in a low-profile form factor. Your fingers glide effortlessly across the matte surface of the keys – and dual color keycaps make it easy to orient your fingers and stay in your flow.
3 UNIQUE SWITCH TYPES
Choose the mechanical switch type that matches your style and preference of feel. MX Mechanical and MX Mechanical Mini are outfitted with one of three switches that each have a distinct feel and sound – Tactile Quiet, Clicky and Linear.
SMART ILLUMINATION. NON-STOP PERFORMANCE.
The backlit keys magically light up the moment your hands approach, and automatically adjust to suit your lighting conditions – resulting in optimal battery consumption.  
The keyboard also introduces a variety of immersive backlighting effects to draw you into your workflow. You can toggle between the effects in Logi Options+Available on Windows and macOS at logitech.com/optionsplus or by simply pressing the Fn key and bulb key at the same time.

DO MORE WITH LOGI OPTIONS+
You've Got Options
Do more with your keyboards with Logi Options+Available on Windows and macOS at logitech.com/optionsplus. Work across devices and operating systems, change Fn key functions, check battery life, select backlighting effects, assign app-specific profiles and Smart Actions to optimize nearly every aspect of your workflow.
Work Seamlessly
Installing Logi Options+Available on Windows and macOS at logitech.com/optionsplus app enables Logitech Flow when paired with an MX mouse. Your MX keyboard follows your mouse through devices, allowing you to control multiple computers, in multiple operating systems, in one fluid workflow.
Charge Quickly, Connect Instantly
10 MONTHS
WITH BACKLIGHTING TURNED OFF
BLUETOOTH LOW ENERGY
WIRELESS CONNECTION
MULTI OS COMPATIBILITY

EASY SWITCH
Designed For A Positive Future
Our goal? To design for sustainability.
That means as we innovate our new generation of products, we reduce their carbon footprint in any way we can — from their overall construction to the tiniest component. All with zero compromises on quality and performance.
Aluminum just got cool
LOW CARBON ALUMINUM

Did you know producing aluminum is energy-intensive? That's why the aluminum in MX Mechanical's top case is made with renewable energy rather than fossil fuels. Beautiful, with a lower carbon impact.
Power up
smarter!
SMART BATTERY EFFICIENCY

Backlit keys automatically adjust to the environment and turn off when not needed – resulting in optimal battery consumption.
Everything in to take carbon out
CERTIFIED CARBON NEUTRAL

Rest easy knowing that the carbon footprint of your MX Mechanical has been reduced to zero. That's because beyond designing for sustainability, we also offset our residual impact by supporting forestry, renewables, and climate-impacted communities.
1
2
3
4

Made To Master The Adobe Suite
You'll get even more out of your MX Mechanical with a complimentary Adobe® Creative Cloud® subscription ADOBE - only for countries that have partnership!. Choose the package that's right for you (1-month Adobe Creative Cloud All Apps or 2-months Adobe Creative Cloud Photography Plan). This subscription credit can be applied to either a new or existing Adobe account.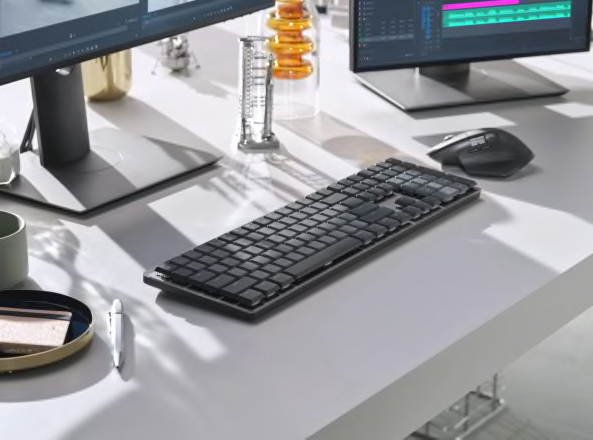 A Set Up Engineered For Speed, Efficiency, And Precision
Pair MX Mechanical with MX Master 3S
Enjoy a set-up for full-sized functionality and performance with the fluid mechanical typing of MX Mechanical and the precise scrolling of MX Master 3S.
Pair MX Mechanical Mini with MX Anywhere 3S
Pair the minimalist mechanical keyboard with the compact performance mouse to work for hours at a time with less arm reaching and better posture.
Women Who Master
Logitech MX is committed to spotlighting and supporting impactful initiatives and individuals that are disrupting the industry worldwide, to inspire girls and women to pursue a career or continue thriving in STEM.
With #WomenWhoMaster, our mission is to ignite an industry-wide movement that addresses the gender gap and unequal access to opportunities in tech and IT, once and for all.