Pangea temporary hotfixes here
Expanding Conference Room Device Management with Zoom Web Portal and Logitech Sync
Unleashing Advanced Configurations and Insights for Remote and Hybrid Workforces
In today's rapidly evolving work landscape, the management of rooms and devices across remote and hybrid workforces presents a significant challenge for IT teams. To address this challenge in Zoom-based environments, two complementary solutions step into the spotlight: Logitech Sync and Zoom web portal.
These applications offer comprehensive device management solutions, but it's not always clear what their differences are.
In this article, we delve into the robust sets of tools provided by Logitech Sync and Zoom web portal. We discuss the complementary functionalities of each, starting with Zoom, which can be used alone for ease of use. For users who want a bit more control, we'll then show how Logitech Sync can unlock advanced configurations and customization options.
Let's discuss how Logitech Sync and Zoom, together, can empower IT administrators with the knowledge and insights needed to navigate the ever-evolving landscape of device management.
Start Here: Conference Room Device Monitoring and Platform Management through Zoom Web Portal
As an IT administrator, you begin your day with the overwhelming task of managing hundreds of devices across your organization. That's where Zoom web portal comes to the rescue. Picture it as your trusted command center, providing you with a range of capabilities to customize your Zoom experience and effortlessly manage shared devices.
In the Zoom Rooms Management section of the Zoom web portal, you gain a comprehensive overview of your conference rooms. Device configuration and management are easily accessible, along with critical real-time information regarding the online, offline, and meeting status of your devices.
Furthermore, effective device management extends beyond configuration alone. It involves keeping your devices up to date and optimized. The Zoom Device Management (ZDM) section of the Zoom web portal simplifies this process with its integrated update capabilities. For appliance-based devices, from a single list you can remotely update device firmware versions, ensuring that your devices receive the latest features and security updates. Coming soon: administrators may also remotely update the Zoom Rooms and Zoom Rooms Controller applications on Logitech appliance devices.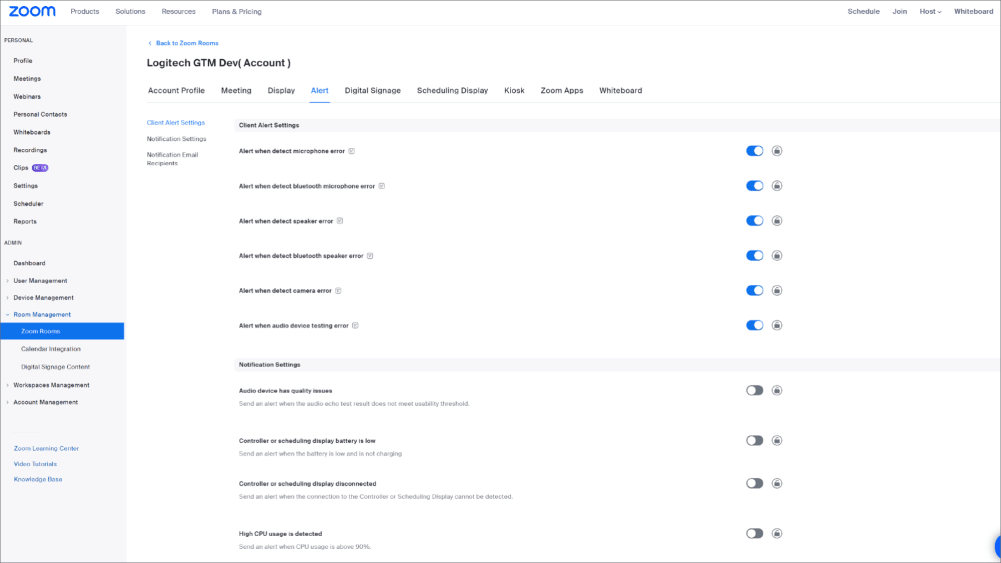 When it comes to discovering potential issues, timely notifications and alerts are invaluable allies. Zoom provides a robust array of options for in-room alerts and email notifications in the Zoom Rooms Management section of the Zoom web portal, ensuring that you stay informed about potential outages and can take prompt action.
For users in the room, Zoom offers a range of "client alerts" that can be enabled. These alerts will cause the Zoom Room to show a message on its display, alerting users to potential problems, such as microphone errors, speaker errors, and camera errors. These alerts may also be used to signal users to choose another available room, in addition to alerting IT staff by email or webhook to remedy any issues in the room.
Zoom web portal also allows for the configuration of email and webhook-based "notifications," providing IT teams with instant information concerning Zoom Rooms issues. These notifications cover critical areas such as high CPU usage, disconnections of controllers or displays, and low network bandwidth. Notifications allow administrators to swiftly respond to issues before they escalate. This allows IT teams to react quickly and stay one step ahead, to ensure a consistent user experience and minimize downtime.
In short, alerts and notifications play a crucial role in minimizing downtime and optimizing device performance. By enabling teams to quickly identify problems and respond to issues, these features contribute to a consistent and productive work environment.
Meeting Reports and Analytics
Zoom Dashboard provides powerful reporting and analytics, offering a wealth of data on meeting activity and platform usage. With this valuable information, you can understand how your associates and teams are utilizing the platform. Examples include: total number of meetings held on a given day, scheduled vs. ad hoc meetings, and room usage and status trends. 
Zoom Dashboard also offers granular details for individual meetings, including device and network connectivity information. Did an employee raise concerns about latency in a meeting? You can take a look at the meeting details to identify a potential cause of the issue. This helps IT teams ensure the quality of service is maintained, while also providing the data-driven confidence that management wants.

In summary, Zoom serves as an excellent starting point for device management with its user-friendly interface and integrated device monitoring capabilities. With Zoom, you can easily oversee the status of your rooms and devices and monitor your platform service, ensuring smooth operations. The platform's comprehensive notifications and alerts enable you to proactively address any room or device issues that arise, minimizing disruptions. Additionally, Zoom empowers you to delve into the nitty-gritty details of your platform usage through data-rich reports, providing valuable insights for optimizing your collaboration experiences. With its simplicity, robust features, and comprehensive reporting, Zoom sets a strong foundation for effective device management and enhanced productivity.
Zoom Web Portal serves as a great starting point for teams seeking a simple and efficient way to check device status and perform software updates. It provides a consistent user-friendly interface, enabling you to manage a wide variety of Zoom Rooms–based hardware.

Even More Control: Advanced Device Management Made Easy with Logitech Sync
While Zoom provides a great starting point with its one-size-fits-all approach, you may desire a bit more control and information about your video conference devices. That's where Logitech Sync comes in. Add Logitech Sync as a complementary tool beyond the Zoom web portal, to fine-tune your device management, gaining enhanced control, advanced features, and comprehensive insights.
Advanced Update Management for Conference Room Devices
In certain cases, companies and IT teams require a more controlled and standardized approach when validating and deploying device updates. This becomes particularly significant when managing large numbers of devices, multiple locations, or even different countries.
To address these challenges, Logitech Sync offers a tailored solution through its specially designed Update Channels. Update Channels allows specific software versions and devices to be assigned to a channel with a specific version designated by that channel. This means IT teams gain precise control over the testing and deployment of specific updates in different groups or locations.

With software updates, Logitech Sync also equips administrators with comprehensive release notes about the software version, providing information about each update. This detailed information allows administrators to select and test the appropriate update, without having to guess what specific improvements and enhancements are introduced with each update.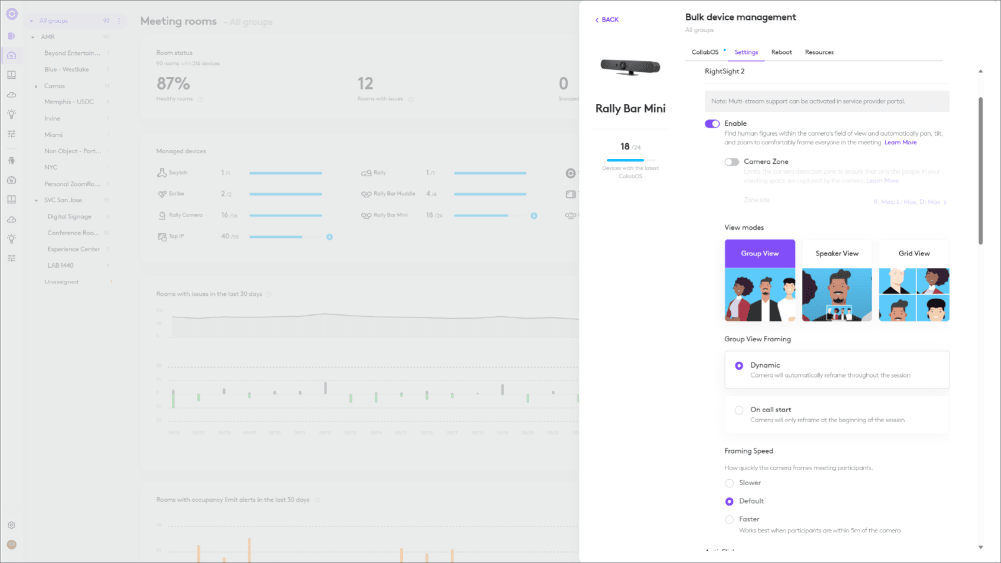 Device settings play a pivotal role in optimizing meeting experiences, minimizing distractions, and enhancing collaboration. Logitech Sync empowers administrators with the ability to finely tune Logitech devices individually or by group, enabling customized setups to provide users a consistent meeting experience, no matter what room they're in.
Meeting Room and Device Insights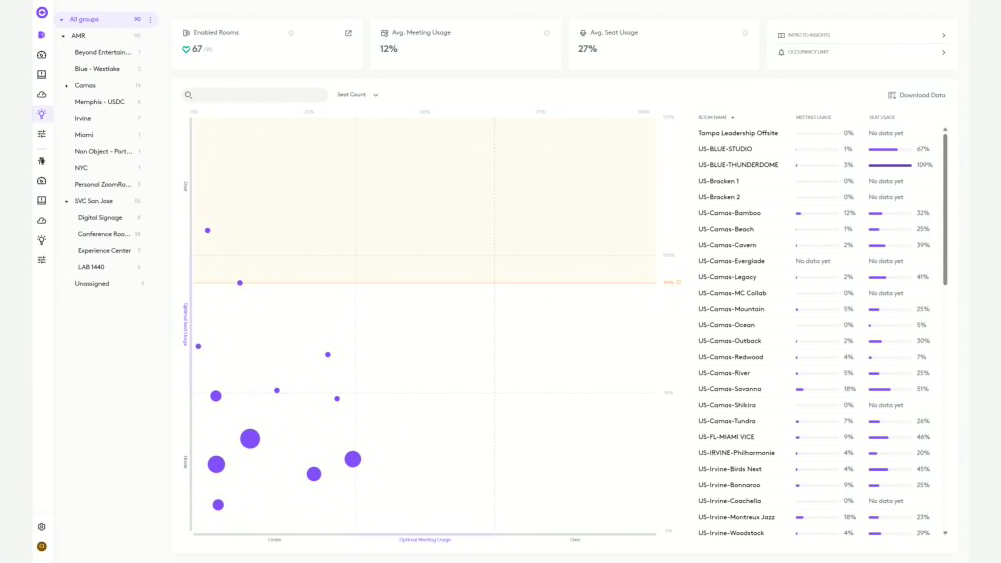 Logitech has collaborated closely with IT and facilities teams to address their most pressing concerns regarding hybrid work and the return to the office. Questions such as the number and size of conference rooms required, as well as how they will be utilized, have been at the forefront of discussions.
While Zoom Dashboard serves as an excellent starting point for understanding video application usage, Logitech Sync provides data on devices and rooms, providing complementary information to help teams make informed decisions about their meeting spaces. 
With Logitech Sync Insights, teams gain an understanding of general occupancy patterns of a room throughout the day and week; even when the video conference device is not in use. Additionally, Logitech Sync aggregates this data into charts, allowing you to assess and analyze room utilization trends across your organization.
Facilitate Service Requests with Logitech Select
The Logitech Sync portal seamlessly integrates with the Logitech Select portal, providing a streamlined experience for managing support tickets and hardware issues and giving you the peace of mind you need when managing devices at scale.
The Logitech Select portal becomes your centralized hub for managing support tickets. Our service specialists have deep expertise in video collaboration and partner ecosystems like Zoom for quick issue resolution. With a Select partnership, together we can optimize your uptime and resolve issues before they impact your business.
To sum it up, Zoom provides a good starting point and can be used as a standalone option, with its comprehensive set of monitoring, updating, alerting, and analytics features within a single pane. In many cases, teams desire additional control, deeper insights, and solutions that extend beyond the confines of the conference room. That's where the complementary Logitech Sync comes in, enabling you to take your device management game to the next level. By incorporating Logitech Sync into your strategy, you can unlock advanced features, gain enhanced control, and access invaluable insights that empower your organization to thrive.
YOU MAY ALSO BE INTERESTED IN
SUBSCRIBE TO OUR BUSINESS NEWSLETTER