Pangea temporary hotfixes here
Vihara Dhammacakka Jaya
Vihara Dhammacakka Jaya Accommodates Safe Public Worship Activities with Logitech Room Solutions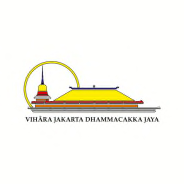 Vihara Dhammacakka Jaya is a long-standing center for Buddhist worship activities in Jakarta, Indonesia. Its history dates back to 1985 and it is currently a home for Sangha Theravada Indonesia bhikkhus.
"Logitech Video Collaboration allows us to enhance the online worship experience for the Buddhist community. Supported by excellent audio and video quality, people can perform worship solemnly and feel connected, while also remaining safe."
Ardi Utama
Management Chairman of Vihara Dhammacakka Jaya Buddhist Temple
Vihara Dhammacakka Jaya was inaugurated in 1985 and is the first Theravada vihara in Indonesia. The Vihara also serves as a center for education, social, and cultural activities. Therefore, it has never experienced a shortage of visitors.
Due to the pandemic, all activities were temporarily halted. This, however, did not hold them back in continuing to serve the people. Vihara Dhammacakka Jaya innovated by conducting a number of online worship activities so that people could continue their worship activities as usual.

To be able to provide seamless online worship services, the Vihara realized that their video conferencing technology must have excellent audio and video quality, as inaudible audio and blurry video would surely disrupt the solemness of their worship activities
Vihara Dhammacakka chooses Logitech Rally Plus to seamlessly support their worship services and other activities.
Rally Plus camera is also equipped with 15x zoom capacity and 4K resolution, providing the ability to capture the room as a whole, creating an in-room experience for the people.

With crystal-clear audio and video from Logitech Rally Plus, worship services, Sunday schools, and Vesak celebrations can be organized solemnly and without any disruption, despite being virtual.
The presence of video conferencing technology supported by Logitech Room Solutions has made it possible for the Vihara to continue serving their people amidst the pandemic.
YOU MAY ALSO BE INTERESTED IN
Recommended products for you
SUBSCRIBE TO OUR BUSINESS NEWSLETTER