Pangea temporary hotfixes here
PopCom
Innovation in Retail Automation with Logitech
PopCom uses Brio cameras for its unique digital pop-up shops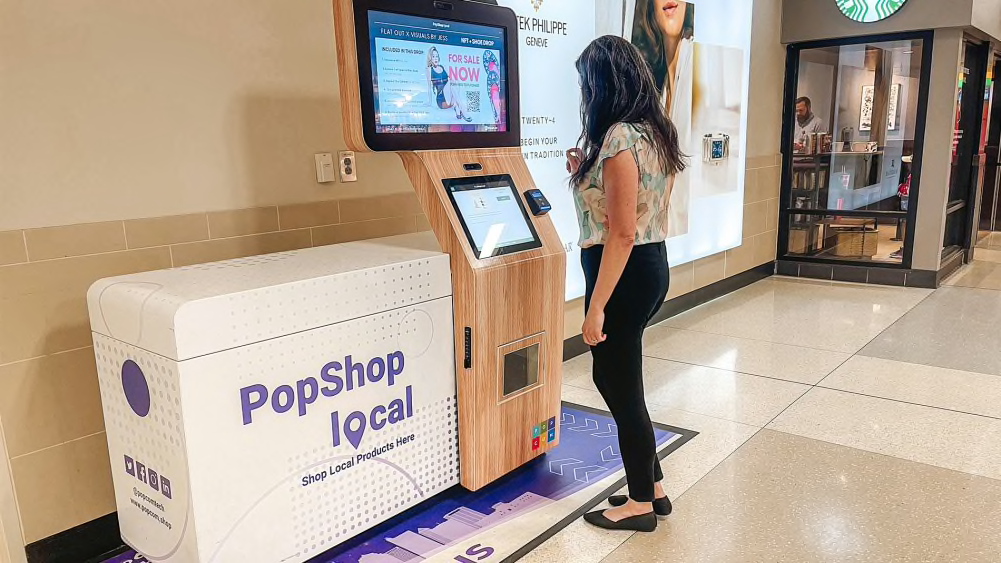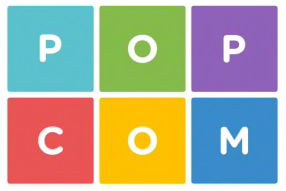 Information Technology, Retail Trade
Columbus, OH, United States
Retail is transforming, but many retailers struggle to keep up with change and adapt to a constantly evolving retail landscape. How to reach not just more people, but the right people at the right time, is the question on top of every retailer's mind.
Some are unlocking a path forward by video-enabling essentially anything with a processor and a screen, including kiosks and pop-up shops. And they are turning to the simplicity and clarity of Logitech to do so.
Video-enabling robotic storefronts
PopCom is a technology company based in the U.S that builds robotic storefronts in order to help retailers reach more customers in a data-driven fashion. Combining robotics, AI-driven software, and cameras, PopCom uses high-resolution video and biometrics to capture anonymized customer data like foot traffic analysis, demographics, and sentiment.
The data is automatically shared with the retailer to help them with their insights. They can use the data to adjust marketing and advertising by targeting with different ads or product suggestions. Some of these products include beauty products, shoes and other apparel, accessories, and food items like sauces and teas.
Founded by CEO Dawn Dickson, PopCom has machines operating in cities including New York, Los Angeles, Dallas, Columbus, Cleveland, San Francisco, and others. The company has found success in venues like hotels, airports, conference and convention centers, and universities.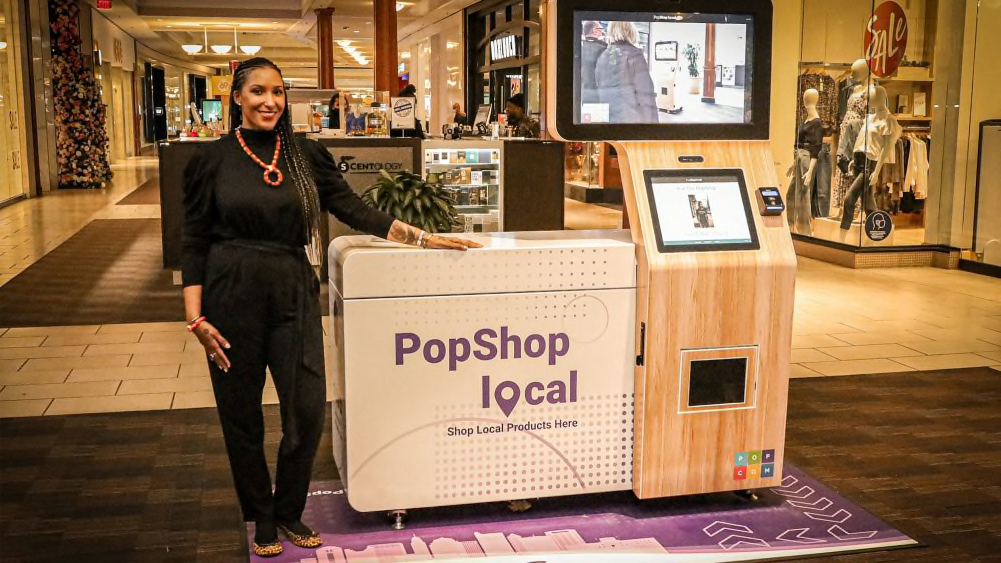 Each PopCom machine includes two Logitech Brio cameras
Pursuing the "iPhone of vending machines"
Years ago, Dawn set out on a mission to create "the iPhone of vending machines," with sleek rounded edges, intentional curves, and a high-tech feel. 
But back then, people were not yet comfortable with technologies like facial recognition and biometrics. Big tech companies like Snapchat have since altered how people perceive these applications, and retail has taken notice, according to Dawn. 
She said that, a decade ago, people thought her vision was "crazy." But today, it makes a lot of sense, and the market is responding. 
Recently, demand for solutions like PopCom has increased due to factors like online ad-tracking policy changes by big tech companies, which have made it harder to track shoppers' behavior online. This has incentivized retailers to rethink how they connect with customers. 
Additionally, the pandemic accelerated the normalization of retail automation, increasing customers' comfort (and for some, preference) around devices like touchscreens, cameras, and kiosks.
Logitech Brio cameras are at the center of PopCom's robotic storefront
As metrics and measurement are key parts of the value PopCom brings, it was important for the company to find the right cameras for their machines, taking into account factors like resolution, distance, range, and compatibility with other hardware and software.
PopCom needed cameras that were "clear and fast," said Dawn. Additionally, finding a camera that integrated well with a lot of other technologies at the same time was essential, as each PopCom machine includes two PCs running on different operating systems, a touch screen, a 52-inch ad screen, modems, routers, multiple different card readers, and a robotic arm.
Logitech was a natural fit in this regard given its emphasis on both industrial and network design. Dawn said that, early on, her team researched different cameras and quickly found that Logitech was the ideal solution both from an engineering and manufacturing point of view.
In fact, Dawn said, the PopCom machines were largely built around the Logitech cameras, demonstrating their central role in the product design.
Each PopCom machine features two Logitech Brio cameras; one above the ad screen at the top, and one above the point-of-sale screen in the middle. The top camera analyzes foot traffic, while the other is for heat mapping purposes to analyze customer sentiment in real time.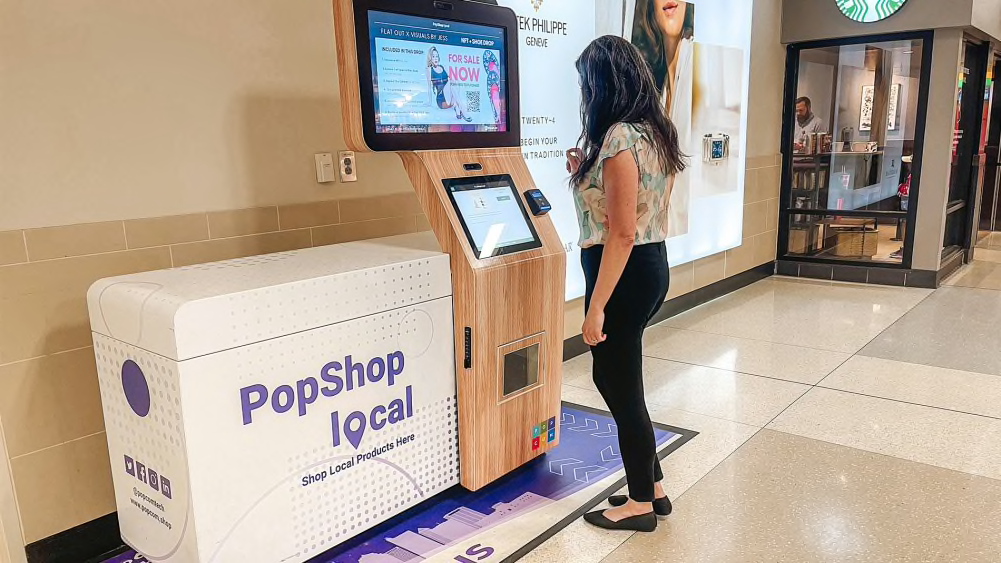 Each camera serves a different function to gather customer data
With more than 23 machines built in total, PopCom has deployed approximately 60 Brio cameras to date. With Logi Tune software, the fleet of cameras can be remotely updated and managed in one place, with the ability to adjust for zoom, field of view, color adjustment, and more.
Helping retailers stay ahead of the curve
PopCom has big plans for the future to meet the needs of the next generation of shoppers, who expect to be able to use filters to experiment with different looks, and integrate social media into everything they do. 
The company is interested in using Logitech cameras to let customers virtually try on products in the machine, such as glasses, lipstick, hats, and other items. It also sees an opportunity to use cameras to let customers have their picture taken and uploaded to their social media accounts while interacting with the storefront. And it is increasingly looking at more use of audio for a richer experience. 
Additionally, the company is aiming to expand into regulated products, such as pharmaceuticals. For compliance purposes, with the industry-leading image quality and advanced features of Logitech cameras, it can easily conduct "liveness" tests to prove that the customer is human. The machine can then verify the person's identity via their smartphone. 
In an increasingly video-enabled world, cameras like Brio have many uses outside of the office. Logitech has become a trusted partner for PopCom as both companies share a vision around creating new ideas with cameras and maximizing the potential of camera technology.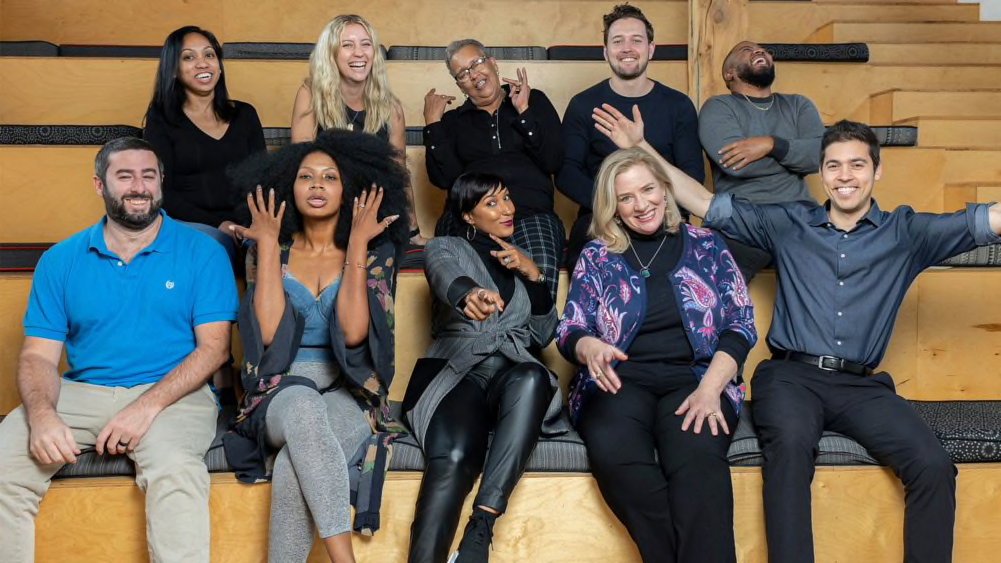 YOU MAY ALSO BE INTERESTED IN
Recommended products for you
SUBSCRIBE TO OUR BUSINESS NEWSLETTER