Rugged Combo 3
Unlock the educational potential of iPad® in K-12 classrooms with this refreshed rugged keyboard case.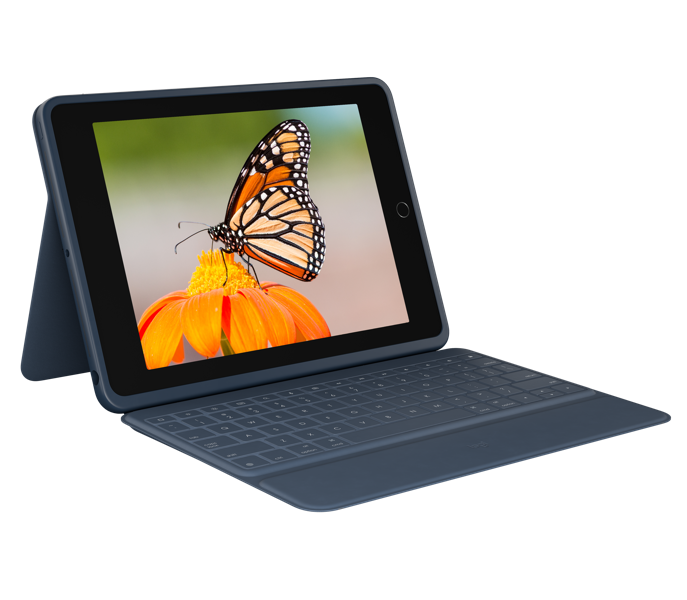 Protection from bumps, scratches and drops up to 4 ft
Pry- and spill-resistant keyboard
Adjustable kickstand for wide range of viewing angles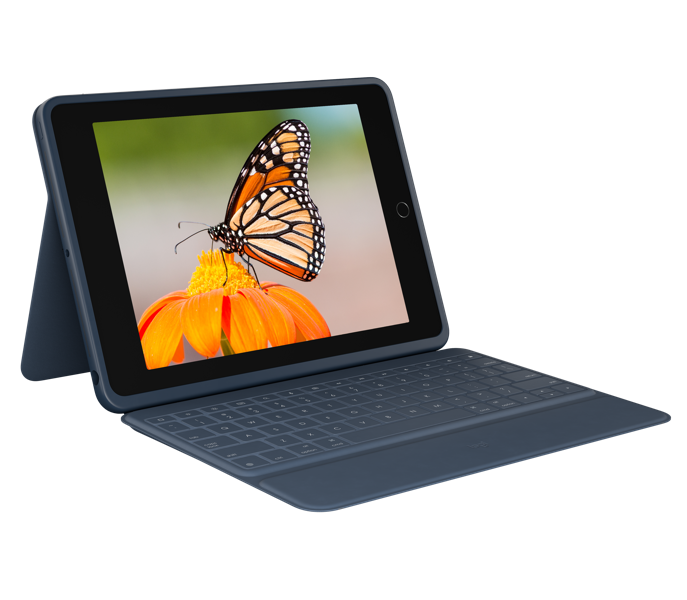 Key Features
Tough enough for any grade level

Its sturdy design and construction is built to take on daily wear and tear inside K-12 classrooms. The outer fabric of the case is inspired by the luggage industry and was chosen for its resistance to damage including spills. Rugged Combo 3 has been put through scratch, drop, spill, and vibration tests to ensure the highest levels of protection and durability.

Protects from drops up to 4 ft

Rugged Combo 3 is built to withstand falls up to 4 feet. So no matter the curriculum—a field trip, a classroom presentation or a lab session—iPad stays protected from drops and mishaps.

Pry- and spill-resistant keys

A durable high-performance membrane seals in the keyboard, protecting it from prying fingers, spilled drinks, and other classroom mishaps. If an accident does occur, crumbs and liquids can be safely wiped clean.

Full row of shortcut keys

Rugged Combo 3 features iOS shortcut keys so important functions are always at students' fingertips.

1) Home: go to home screen
2) Screen brightness: adjusts brightness down and up
3) Virtual Keyboard: shows/hides the virtual keyboard
4) Search: brings up iOS search field
5) Siri: activate digital assistant
6) Screenshot: take photo of current screen
7) Media controls: Back, Play/Pause, Forward
8) Volume controls: Mute, Volume down, Volume up
9) Screen on/off: locks iPad (7th generation) screen

One click to connect and charge

The keyboard connects to iPad instantly—no pairing required. Power comes directly from the iPad so you never have to charge the keyboard. Plus, the physical connection is the only data transfer point, making it a secure solution for testing and exams. A lightning connector port makes it easy to charge or sync the iPad when needed.

Four modes to tackle any task

Rugged Combo 3 is flexible enough for any class or assignment.

Type Mode: Dock the keyboard upright and type away.

Viewing Mode: Fold back the keyboard and pull out the kickstand to watch educational videos and more.

Sketch Mode: Collapse the screen to sketch or take handwritten notes with Logitech Crayon.

Read Mode: Fold the keyboard back to read books, articles, and more.

Any angle kickstand

Flexible kickstand offers 40° of tilt so you can always find the right angle for the task at hand. Sturdy mechanical hinges ensure the kickstand stays firmly in place and does not collapse, even with strong tapping.
Additional Features
TAKING PHOTOS IS A SNAP
New picture mode makes it easier than ever to take photos in class. Just fold back the keyboard to take pictures of whiteboard notes, science displays, or whatever else students need.
CONVENIENT POWER AND DATA TRANSFER
Need to charge or sync? Just plug into Rugged Combo 3's lightning connector port - iPad never has to leave the security of the case.
FITS MOST CHARGING CARTS
Designed to fit popular charging carts including:


Bretford PowerSync MiX Cart 30 (HKPX2)
Bretford PowerSync MiX Cart 45 (HKPY2)
LocknCharge Carts featuring small and large 5-slot mobile device baskets
EXTRA LARGE ASSET-TAGGING WINDOW
The updated transparent window on the back of the case provides convenient space for asset tagging, yet stays hidden during use.
THE PERFECT COMBO
Designed to work with Logitech Crayon and Apple Pencil (1st gen). Just extend the kickstand for the perfect sketching angle and instantly start hand-writing notes, illustrating projects or marking up documents directly on iPad. Plus, Rugged Combo 3 has a built-in holder to store your Logitech Crayon or Apple Pencil so it's always there when you need it.
3-YEAR WARRANTY
Something not working? Rugged Combo 3 comes with a 3-year limited hardware warranty and customer support.
Compatible Devices

Modes

Keyboard Type

Backlit Keys

Viewing Angles: Adjustable

40 degrees of adjustable angles
Highest angle: 60 degrees
Lowest angle: 20 degrees

Dimensions

Technical Specifications

Power and Connectivity

Upon placing iPad in holder, instantly pairs and powers via Smart Connector

Case

Space to charge and stow Apple Pencil (1st generation)

Front and back protection

Access all ports: camera / Lightning port

Keyboard

Full-sized, well-spaced keys

Full row of iOS shortcut keys

Row of iOS Shortcut Keys (Left to Right)

1) Home: go to home screen
2) Screen brightness: adjusts brightness down and up
3) Virtual Keyboard: shows/hides the virtual keyboard
4) Search: brings up iOS search field
5) Siri: activate digital assistant
6) Screenshot: take photo of current screen
7) Media controls: Back, Play/Pause, Forward
8) Volume controls: Mute, Volume down, Volume up
9) Screen on/off: locks iPad (7th generation) screen

Package Contents

Keyboard case
Documentation

Part Number

Warranty Information

3-year Limited hardware warranty
For IT Administrators

Follow our step-by-step guide

1. Setup

2. Deployment

Post Deployment

3. Support

For Educators

1. Deployment

Classroom Posters

2. Support
All sales and samples are handled through the Apple Education channel.

• Contact your Apple Education rep for additional details
• Don't know your rep? Call 1(800) 800 APPLE or find more info at www.apple.com/education/purchasing