Key Features
ALEXA, LET'S GO FOR A RIDE

Adjust your home's temperature with Nest, listen to a book on Audible, and play tunes on Amazon Music. Take your Alexa skills with you, wherever you go. Simply wave to activate your phone, then speak as you would with Alexa at home.

YOUR FAVORITE APPS, VOICE-CONTROLLED

Turn your car into a connected car with additional voice control features. ZeroTouch gives you hands-free control to text, make and receive calls, navigate roads using Waze or Google Maps, find destinations and ratings on Yelp, and control music on Spotify. All with the wave of your hand and the power of your voice.


LOOK UP AND TALK

Research* has shown that the combination of a car phone holder with a hands-free app is the optimal design to help drivers keep their eyes on the road.

ZeroTouch has been independently tested and awarded the TÜV SÜD certification mark for Reduced Driver Distraction.** For more information, visit www.tuv-sud.com.


HOW IT WORKS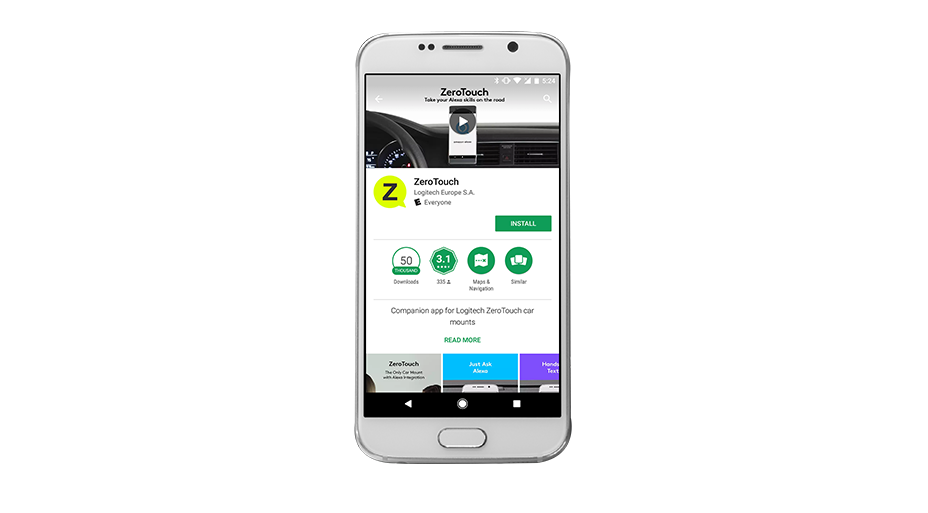 Step 1
Download the free app on Google Play Store. The app works with Android™ 5.0 or later.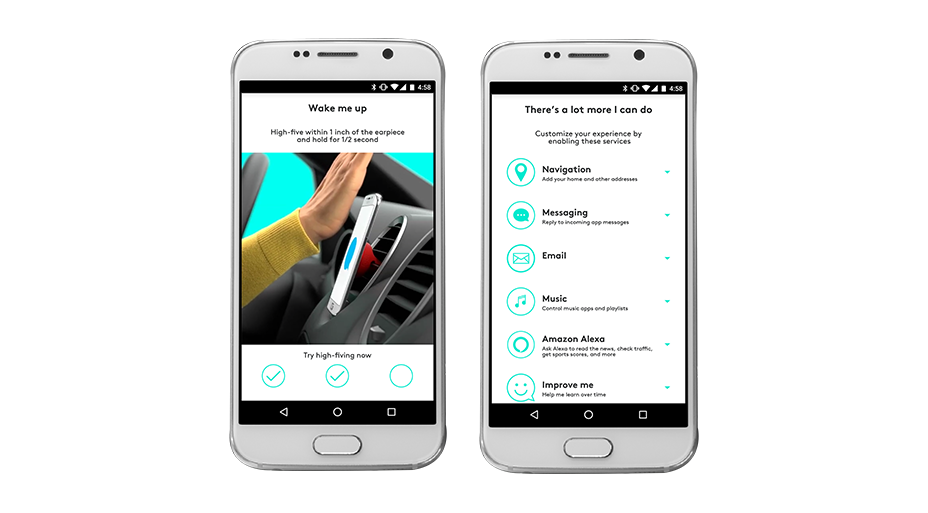 Step 2
Launch the ZeroTouch App for step-by-step instructions, including the Bluetooth pairing and customization options.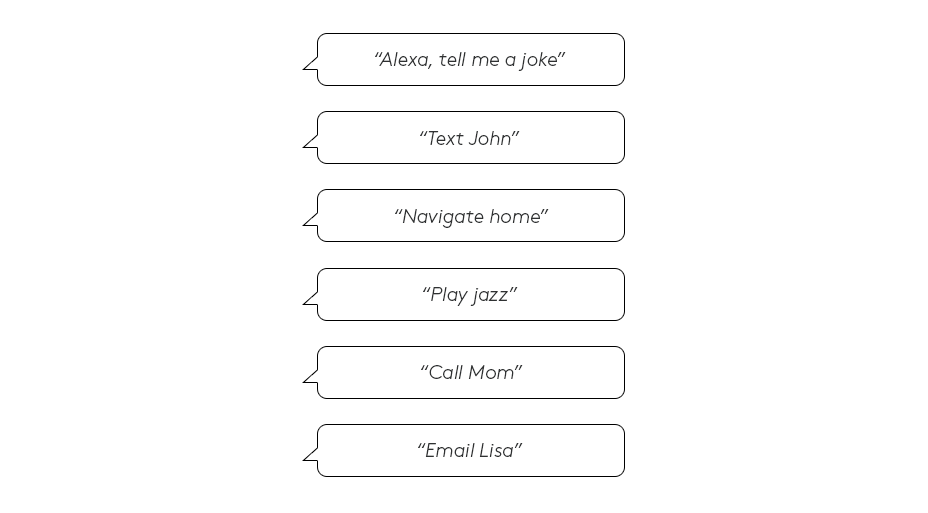 Step 3
Experience ZeroTouch in the car, here are some examples. Simply high-five the phone and give your command. For Alexa skills, high-five and say the wake word "Alexa".
"Now, the list of things you can do with ZeroTouch include all of Alexa's 8,000-plus skills, which include smart home control features, checking the weather, getting news briefs or having audiobooks read aloud to you."

"Logitech's aftermarket ZeroTouch mounts and companion app bring the same dash-based Alexa experience but to the car you already own."

"Logitech finally made a useful, sexy phone dash mount."
ZEROTOUCH
Car Mount with Voice Control for Android Only
Dimensions

ZeroTouch Air Vent: 38 mm x 38 mm x 31 mm

ZeroTouch Dashboard: 72 mm x 65 mm x 61 mm

Inner case adapter: 38 mm x 0.6 mm

Outer phone adapter: 38 mm x 20 mm x 0.6 mm

Package Contents

ZeroTouch Air Vent or ZeroTouch Dashboard
2 metal adapters
Documentation

System Requirements

Android™ device OS 5.0 or later

Bluetooth® Smart technology

For full functionality, an active mobile data and text message plan are required.

Carrier charges may apply.

For full music functionality, an active account with Spotify™, Pandora, Google Play™ Music, or SoundCloud® is required. Amazon Music works via Alexa.

Warranty Information

2-Year Limited Hardware Warranty

Part Number

Air Vent

Black: PN: 989-000197

Dashboard

Black: PN: 989-000201
! DO NOT set up or touch the ZeroTouch App on your phone while driving. Set up or touching of your phone or any app while driving will cause distraction, which could result in personal injury or death. Perform these actions only while your vehicle is not in operation.

! Use of this device while driving may cause distraction, which could result in personal injury or death. Follow all operating instructions. Drivers should exercise caution and devote full attention to operation of the vehicle at all times, including any time ZeroTouch is in use.

! Drivers under age 25 are more susceptible to distractions while driving, which could result in personal injury or death. These drivers must use extreme caution while operating ZeroTouch, if they choose to use ZeroTouch at all.

! Country, county, and local laws and regulations may limit or prohibit use of ZeroTouch or other voice-operated technology while driving. For example, novice drivers and school bus drivers are prohibited from using a cell phone and/or texting while driving in most jurisdictions, and may also be prohibited from using ZeroTouch or other voice-operated technology. Users should consult applicable laws and regulations prior to use of ZeroTouch to ensure full compliance with any restrictions and limitations.

*Based on a Logitech sponsored study by Precision Driving Research from February 2015.
**Logitech sponsored study in December 2016.

From engadget, February © 2017 AOL Inc. All rights reserved. Used by permission and protected by the Copyright Laws of the United States. The printing, copying, redistribution or retransmission of this Content without express permission is prohibited.