Pangea temporary hotfixes here
Ergo Series
WAVE KEYS FOR BUSINESS
Ergonomic keyboard with wave design and cushioned palm rest for all-day comfort.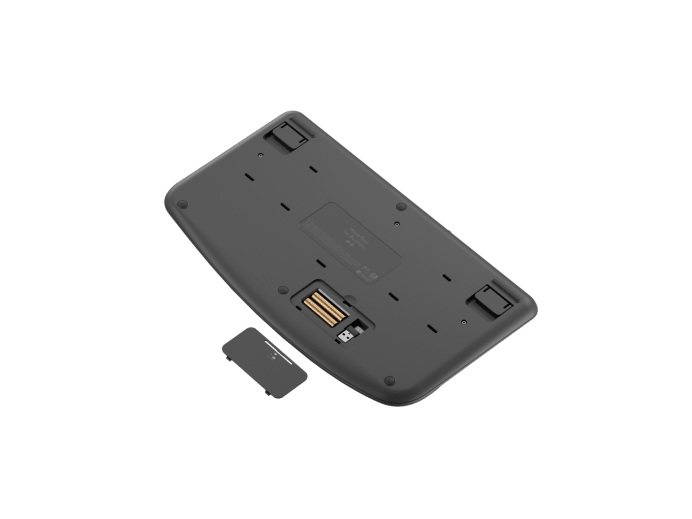 Ergo Series
WAVE KEYS FOR BUSINESS
Ergonomic keyboard with wave design and cushioned palm rest for all-day comfort.
DELIVERY OPTIONS
Enter your zip/postal code to show delivery options in your area.
We could not find your current location.
Shipping times are estimated
Includes 2-year limited hardware warranty, global product support
Dimensions
Wave Keys for Business
Height: 8.62 in (218.9 mm)
Width: 14.80 in (376 mm)
Depth: 1.20 in (30.5 mm)
Weight: 26.46 oz (750 g) with batteries
USB-A Receiver
Height: 0.74 in (18.7 mm)
Width: 0.57 in (14.4 mm)
Depth: 0.24 in (6.1 mm)
Weight: 0.06 oz (1.7 g)
Packaging Dimension
Height: 9.31 in (236.4 mm)
Width: 15.46 in (392.6 mm)
Depth: 1.61 in (40.9 mm)
Technical Specifications
Customization app
Supported by Logi Options+ on Windows and macOS
2-Year Limited Hardware Warranty
Bluetooth Low Energy Wireless (BLE) Technology
Certified for
United States Ergonomics
Works With Chromebook
Ergonomic keyboard
2 x AAA batteries
Logi Bolt USB-A Receiver
User documentation
Wave Hello to A Happier Workforce
Work in all-day comfort with an easy-to-use ergonomic keyboard that features a wave design and cushioned palm rest. Wave Keys for Business is easy to deploy and checks all the boxes for IT — security, global availability, compatibility, and sustainability.
Designed For Employee Wellbeing
Support wellbeing with an ergonomic keyboard that improves employee comfort at work — without compromising efficiency. The wave design and cushioned palm rest with memory foam put wrists and forearms in a more natural and relaxed position to make typing fluid and easy.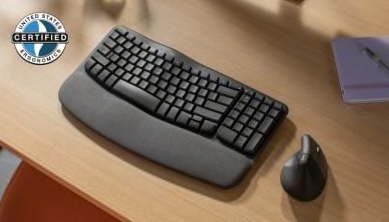 User-Tested, Ergonomist-Approved
Designed with an extraordinary amount of care and thought, Wave Keys for Business is tested by users, scientifically developed in collaboration with Logi Ergo Lab, and certified by United States Ergonomics. This keyboard is the next wave in ergonomics.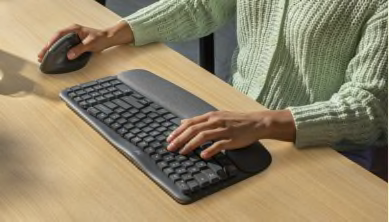 Familiar Typing, All-day Comfort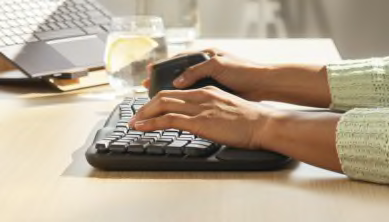 Less Pressure, More Wrist Support
Wireless Performance and Security
Wave Keys for Business provides two ways to connect wirelessly: Bluetooth® Low Energy or the Logi Bolt USB-A receiver. Logi Bolt ensures that connections are fully encrypted and FIPS secure, and offers reliable and secure connectivity in congested environments.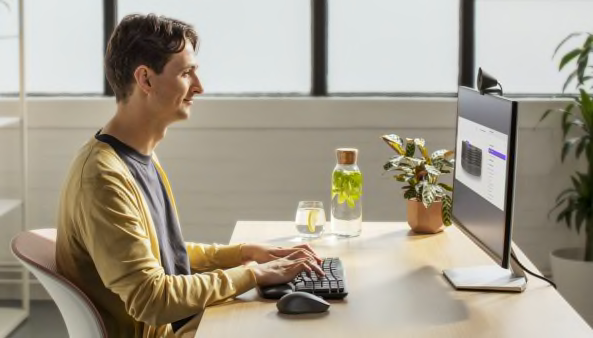 Give Employees Options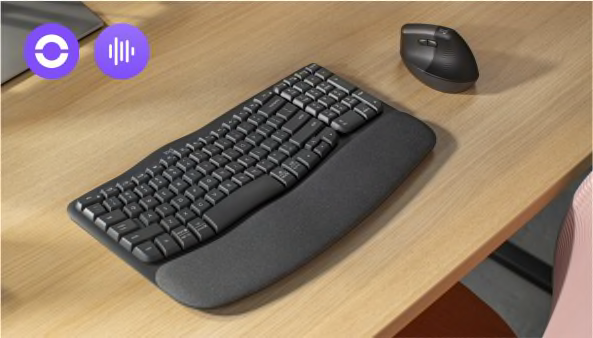 Check Device Status Through Sync and Tune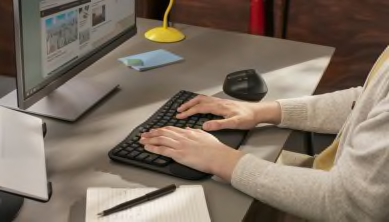 Fluid Typing
The key action on Wave Keys for Business was reengineeredCompared to Logitech Wave K350 keyboard. to create a pleasant typing experience. The keys feature an improved rubber gasket design that provides stability and fluid movement. Your fingers will glide over the keys as you type.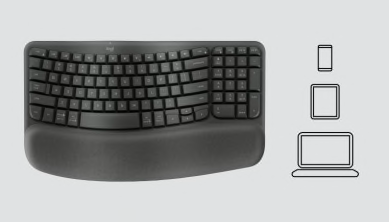 Works Across Devices
Easy-Switch lets employees connect the keyboard to up to three devices for multitasking, and then seamlessly switch between them with the touch of a key.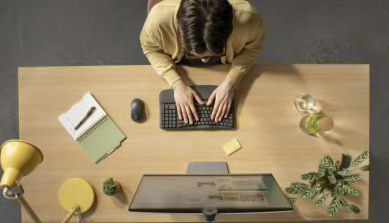 Multi-OS Compatibility
The multi-OS layout works equally well for both Mac and Windows and simplifies deployment for IT. Compatible with leading operating systems.
A Choice You'll Feel Good About
Logitech is committed to creating a more sustainable world. We are actively working to minimize our environmental footprint and accelerate the pace of social change.
RESPONSIBLE PACKAGING
The paper packaging of Wave Keys for Business comes from FSC™-certified forests and other controlled sources. By choosing this product, you are supporting responsible management of the world's forests.
CERTIFIED CARBON NEUTRAL
Wave Keys for Business is certified carbon neutral. This means the carbon impact of the product and packaging has been reduced to zero due to Logitech investment in carbon-offsetting and removal projects.
1
2
3
ERGO FOR BUSINESS
Choose Employee Wellbeing
Learn how Logitech Ergo Portfolio improves workplace comfort and simplifies IT purchase.
Contact Sales
Our team of product experts can help you find the best solution for your company. Fill out the form and a Logitech representative will contact you.
RESELLERS
Purchase from one of our trusted resellers.
GET SUPPORT
Have questions? Visit our support site to find answers.
THANK YOU FOR CONTACTING US
A product expert will reach out to you shortly.
SUBSCRIBE TO OUR BUSINESS NEWSLETTER
THANK YOU FOR CONTACTING US
A product expert will reach out to you shortly.
LEGAL TRADEMARK STATEMENT
Logitech. Logitech, Logi, Logi Bolt, Wave Keys, the Certified Carbon Neutral logo, the Logi Bolt logo and the Logitech logo are trademarks or registered trademarks of Logitech Europe S.A. and/or its affiliates in the U.S. and other countries. 
mac, macOS, iPadOS are trademarks of Apple Inc., registered in the U.S. and other countries. This product works with devices capable of running the latest version of ChromeOS and has been certified to meet Google's compatibility standards. Google is not responsible for the operation of this product or its compliance with safety Requirements. Android, Chromebook and the Works With Chromebook badge are trademarks of Google LLC. Windows is a trademark of the Microsoft Corporation. The Bluetooth® word mark and logos are registered trademarks owned by Bluetooth SIG, Inc. and any use of such marks by Logitech is under license. Linux and all other trademarks are the property of their respective owners.