Pangea temporary hotfixes here
The modern workplace demands tools that empower your teams to perform at their best. But as desktops become filled with more screens and devices all running different platforms, connectivity and workspace optimization can be a real headache.
Work Better solutions meet these challenges head-on. Our range of mostly wireless, precision tools are designed to boost user performance and optimize space utility. And Logitech software provides innovative features like multi-device and application control that take productivity to a whole new level.
Accelerating team productivity. That's workspace winning.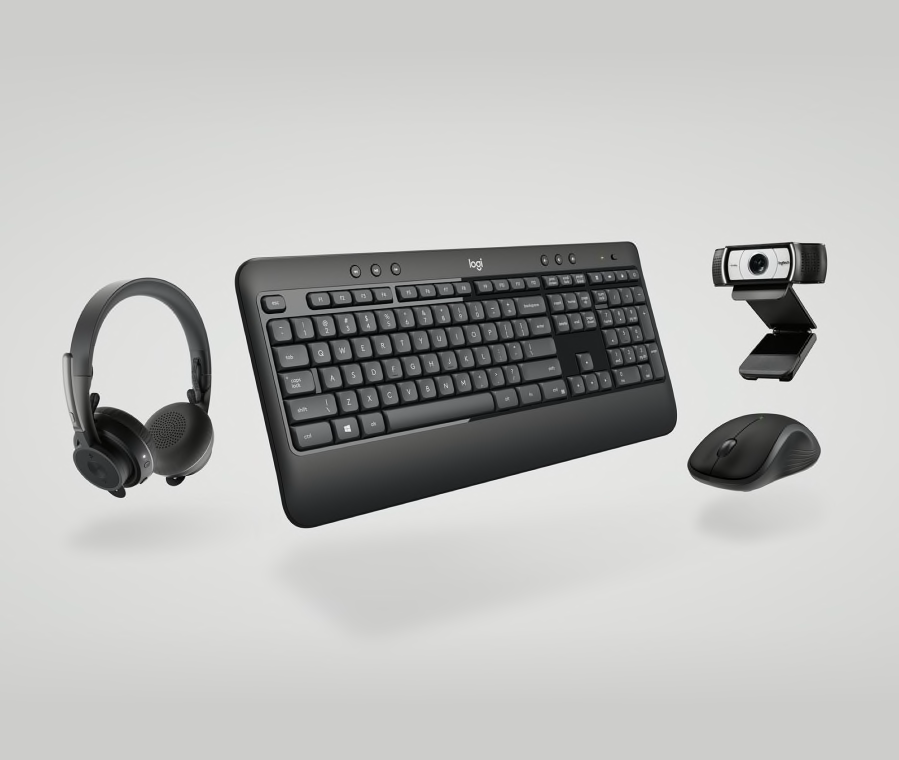 FOR CORE KNOWLEDGE WORKERS
Solid and reliable productivity devices for teams who power through tasks at assigned workspaces. Get plug-and-play connectivity and universal compatibility for your mouse, keyboard, webcam and headset.
MK540 Advanced Wireless Keyboard and Mouse Combo
Designed to get more done. Widely deployed wireless full-size keyboard and mouse built for precision, comfort, and reliability. Familiar typing experience and reduced noise.  
10 m wireless freedom with a Unifying™ USB receiver encrypted connection..

Precision ambidextrous mouse + advanced tracking.

Integrated palm rest + adjustable 4° and 8° tilt to meet various needs.

Customizable Fn key shortcuts with Logitech Options™ software.
Next best thing to being there. Lets UC users enhance video meetings with full HD 1080p clear video, wide field of view, and digital zoom.  
HD 1080p video at 30 frames per second delivers video meeting experiences that are close to in-person.

90-degree diagonal field of view perfect for clear presenting + 4x digital zoom crops out distracting backgrounds.

RightLight™ 2 Technology and autofocus intelligently adjusts to provide sharp video in low-light conditions at multiple distances.

Supports H.264 with Scalable Video Coding and UVC 1.5 encoding to minimize its dependence on computer and network resources.

Certified and compatible with popular business applications.Refer to logitech.com/product/c930e-webcam for certification and compatibility.
Designed for focus. Bluetooth® headset with active noise cancellation and exceptional sound keeps workers in their zone—anywhere.
Noise-canceling mic and active noise cancellation reduce ambient noise and isolate the user's voice, so teams can hear and be heard. 

Simple, intuitive controls include flip-to-mute mic, active noise cancellation (ANC), and Qi wireless charging. 

Certified and compatible with the business applications you use everyday.Refer to logitech.com/product/bluetooth-headset-zone-wireless for certification and compatibility.

Connects to the computer and smartphone simultaneously—seamlessly switch between them. Manage audio settings with our Logi Tune app. 
Advanced performance devices for creatives, coders, analysts and other power users. Each is further empowered by Logitech Options™ software that takes app-specific productivity to the next level—and Logitech Flow™ that enables intuitive multi-device control and file sharing.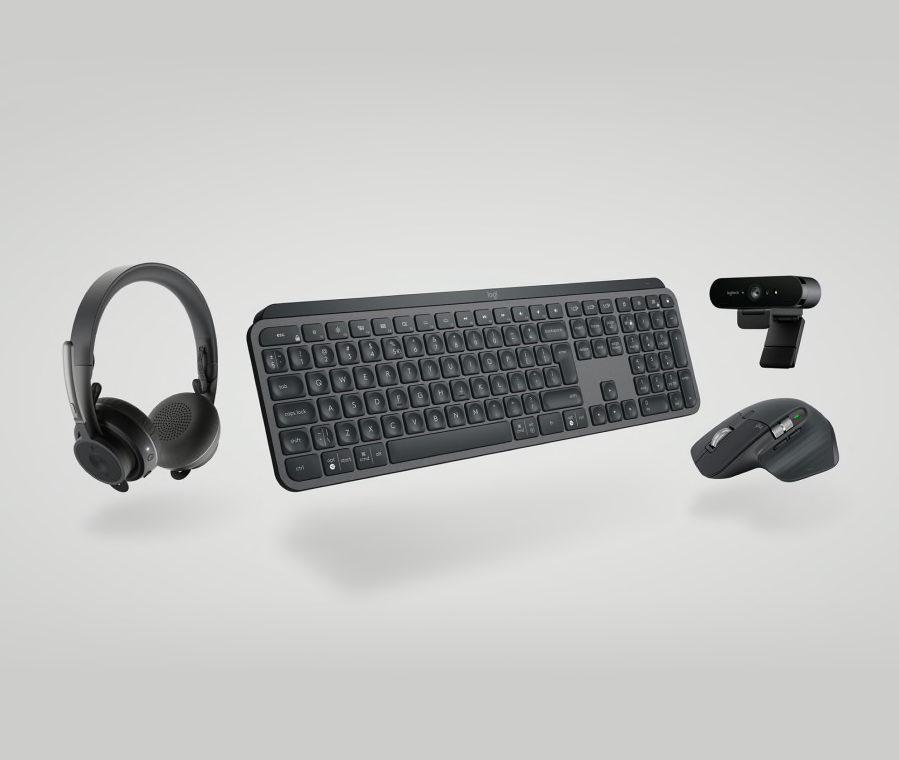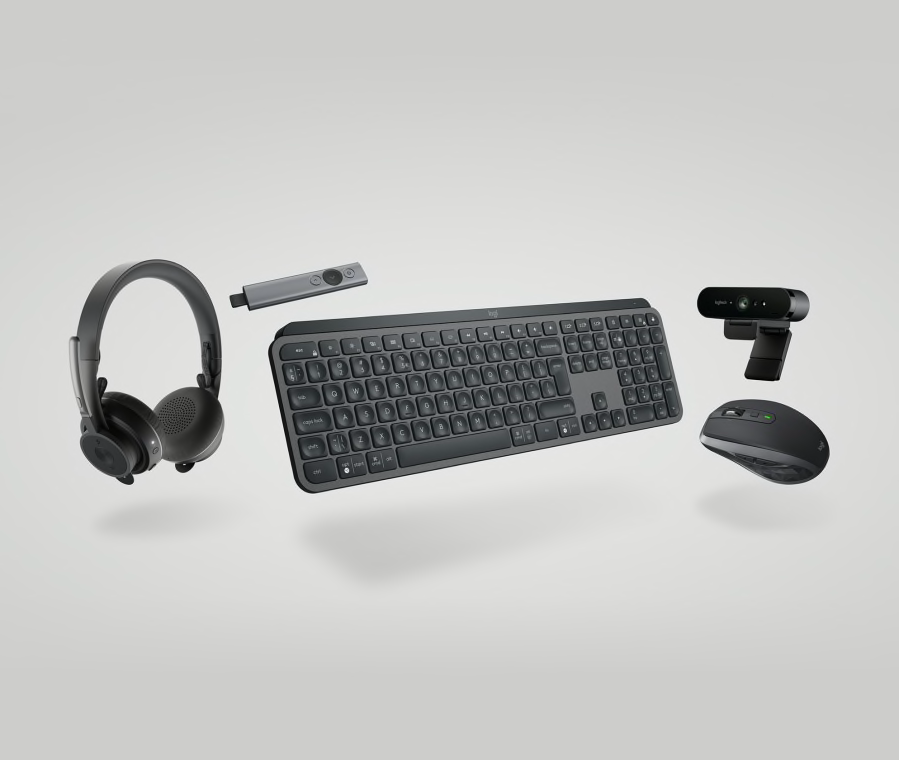 Advanced devices for senior executives who need a high-level of performance at the desk, in meetings, and while out of the office. Premium, customizable, and reliable, it includes tools like a state-of-the-art digital pointer, and a performance wireless keyboard, headset and mouse.
SOFTWARE EMPOWERED INTELLIGENT PERIPHERALS
Going way beyond point-and-click functionality, our stylish peripherals are powered with smart software that radically enhances workflow and productivity.
Reduce clutter. Improve aesthetics. Logitech wireless technology allows users to wirelessly connect all devices via just one USB port, giving users freedom of movement, while optimizing desk space and port utility.
One set of peripherals. Universal compatibility and our range of software means users only need one set of devices to seamlessly work across multiple computers and screens, regardless of OS.
Control multiple screens with one device. Easy-Switch™ allows push-button switching between computers, tablets and mobile devices. Logitech Flow™ enables seamless cross-computer, cross-platform control with drag-and-drop file sharing.
Improve workflow in Microsoft, Adobe, and more. Logitech Options™ software features advanced presets that optimize our devices for app-specific performance. Users can customize buttons, create powerful shortcuts and more. Simply open an app then each device auto-configures.

Industry-leading solutions for teams collaborating at their desks or in meeting rooms of every size.
Powerful productivity and collaboration tools for team members at home and on-the-go. 
Ergonomic mice and keyboards for users seeking comfort without sacrificing performance.
Contact Sales
Are you looking for more information about Logitech's business solutions? We have an expert team ready to help. Please fill in the form and a Logitech Sales representative will contact you shortly.
WHERE TO BUY?
Logitech's business partners are certified, knowledgeable resellers covering North America, Europe and Asia-Pacific. These trusted partners will understand your needs, then help you select and purchase Workspace Winning solutions that solve your unique challenges.