Pangea temporary hotfixes here
Our iconic combo, upgraded
Our high-performance combo just got better. Introducing MX Keys Combo for Business Gen 2 designed for precision, speed and comfort.
ALL-DAY COMFORT
DESIGN FEATURES THAT MATTER
The keyboard's solid design uses a single metal plate for stability and quieter typing. While the perfectly-crafted full-size mouse contours to the shape of the hand for easy access to the buttons and scroll wheel. The included MX Palm Rest features a premium cushioned surface, designed as an ideal companion providing all-day comfort.
QUIET
FLUID, NATURAL TYPING
Spherically-dished keys match fingertip shape while the matte surface allows fingers to glide for efficient, comfortable work. Plus tactile reference for hand positioning makes it easy to orient fingers and stay in the flow.
90% LESS CLICK NOISE
ALMOST SILENT
Logitech's Quiet Click technology eliminates 90% of distracting mouse click noise for a quieter, more focused work environment for everyone.Compared to Logitech MX Master 3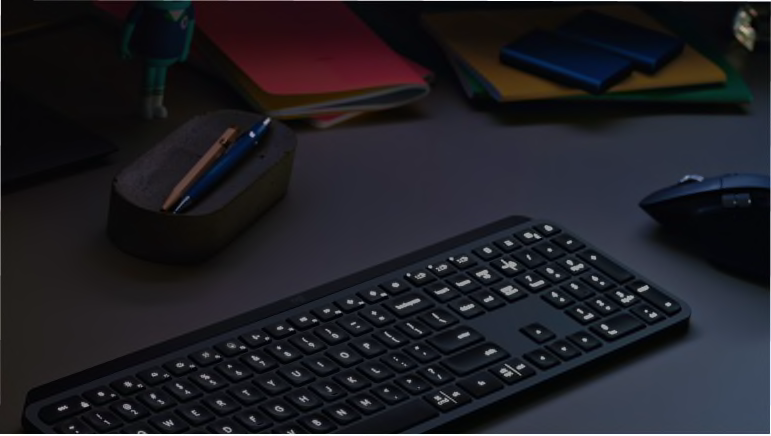 AUTO-ADJUST BACKLIGHTING
Full-size keyboard with Smart backlighting. Hand proximity sensors turn the backlighting on and ambient light sensors adjust backlight brightness to better manage battery life.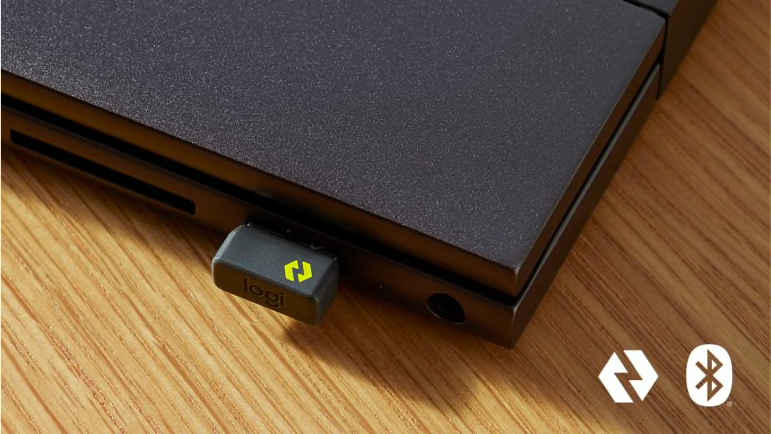 SECURE, WIRELESS CONNECTIONS
Engineered to conquer IT challenges, Logi Bolt technology is fully-encrypted and FIPS compliant when paired with the included Logi Bolt USB receiver.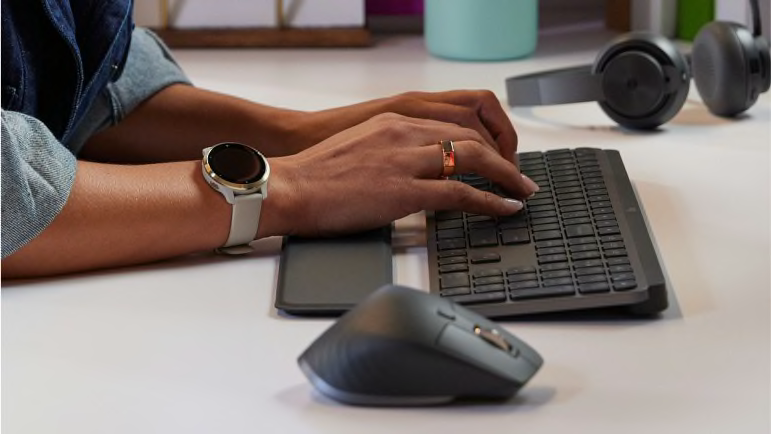 NO-SLIP SUPPORT
MX Keys Combo for Business includes the MX Palm Rest which keeps hands in a relaxed position for all-day comfort.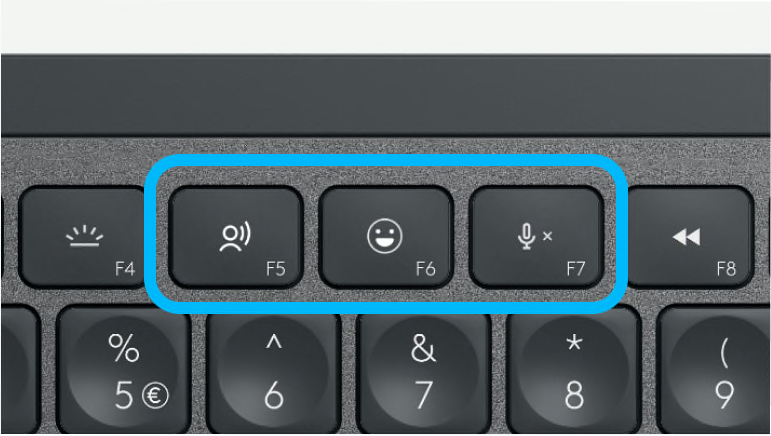 PRODUCTIVITY SHORTCUTS
Keyboard F-keys talk-to-text*, emoji selector and microphone mute, enable users to save time, express themselves and be more productive in video meetings. Additional F-Keys can be customized with Logi Options+ appAvailable on Windows and macOS at logitech.com/optionsplus .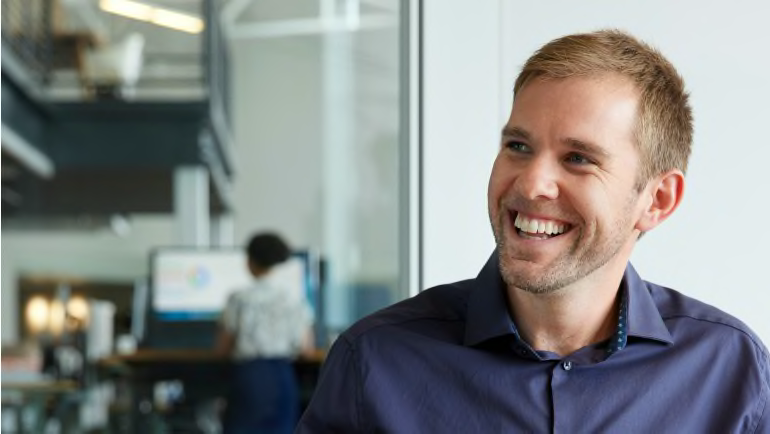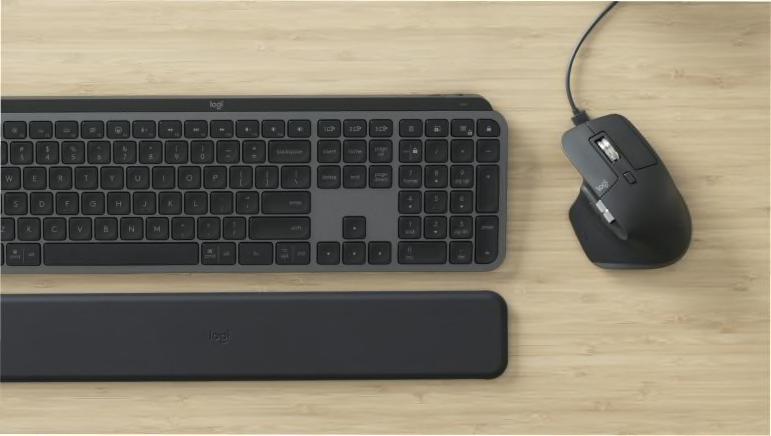 RECHARGEABLE POWER
The mouse works up to 70 days on a full charge, with three hours of use from a one-minute quick charge. The keyboard works for up to 10 days on a full charge—or up to 5 months with backlighting turned off. Both work while charging for zero downtime. Combo includes one USB-C charging cable.
SUSTAINABILITY AT LOGITECH
Logitech is committed to creating a more sustainable world. We are actively working to minimize our environmental footprint and accelerate the pace of social change.
RESPONSIBLE PACKAGING
The paper packaging of MX Keys Combo for Business comes from FSC™-certified forests and other controlled sources. By choosing this product, you are supporting responsible management of the world's forests.
CERTIFIED CARBON NEUTRAL
Rest easy knowing that the carbon footprint of your MX Keys Combo for Business has been reduced to zero. That's because beyond designing for sustainability, we also offset our residual impact by supporting forestry, renewables, and climate-impacted communities that reduce carbon.
1
2
Contact Sales
Our team of product experts can help you find the best solution for your company. Fill out the form and a Logitech representative will contact you.
RESELLERS
Purchase from one of our trusted resellers.
GET SUPPORT
Have questions? Visit our support site to find answers.
THANK YOU FOR CONTACTING US
A product expert will reach out to you shortly.
MX KEYS COMBO FOR BUSINESS | Gen 2
The ultimate performance combo, perfected. Our best keyboard and mouse, now even better and ready to perform.
MX KEYS COMBO FOR BUSINESS | Gen 2
The ultimate performance combo, perfected. Our best keyboard and mouse, now even better and ready to perform.
DELIVERY OPTIONS
Enter your zip/postal code to show delivery options in your area.
We could not find your current location.
Shipping times are estimated
Includes 2-year limited hardware warranty, global product support
MORE FROM LOGITECH FOR BUSINESSES
SUBSCRIBE TO OUR BUSINESS NEWSLETTER
THANK YOU FOR CONTACTING US
A product expert will reach out to you shortly.
Default settings which can be customized by users
Logi Bolt Wireless Technology
Bluetooth Low Energy Wireless Technology
Quiet Click technology
MagSpeed wheel
Thumbwheel
Backward/Forward buttons
USB-C quick charge
On/Off switch
8000 DPI Tracking sensor
Easy-Switch buttons
Customizable F-Keys
Automatic & manual backlighting brightness
Productivity F-Keys
Perfect Stroke keys
Easy-Switch keys
USB-C quick charge
On/Off switch
Caps lock indicator
Dual layout is designed for both Mac and Windows users
MX Palm Rest
Single metal plate design for stability
Integrated numpad
Keyboard layout may vary by country.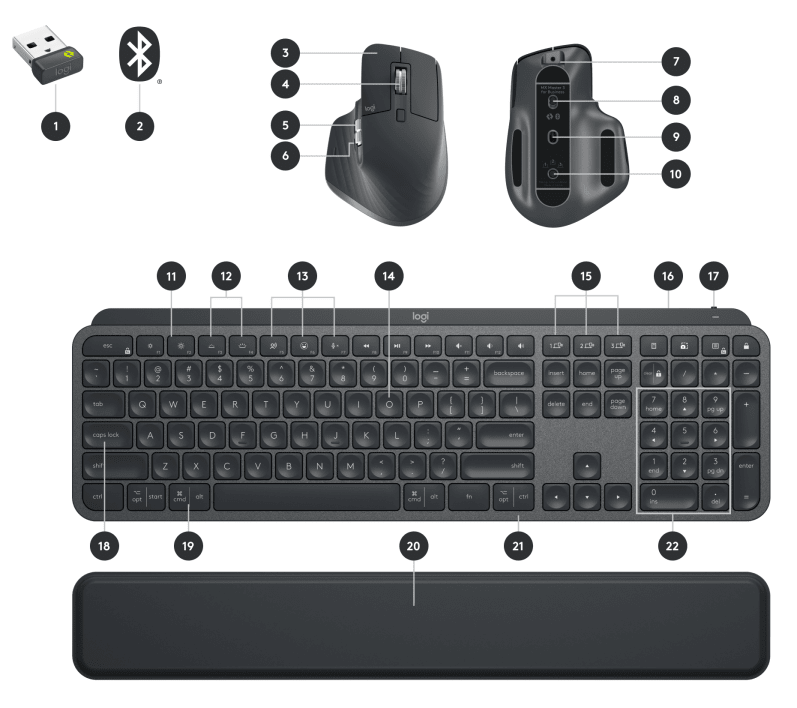 * Dictation feature is provided by Windows® and macOS® here for more details. Requires Logi Options+ software, available for Windows and macOS. Click here for download.