Pangea temporary hotfixes here
ADVANCED VIDEO COLLABORAT­ION FOR EVERY WORKSPACE
With dramatic changes in how and where people work—and immediate needs for dispersed teams to collaborate effectively from anywhere—video conferencing has become a business imperative. From huddle spaces to hot desks, workstations to working from home—–teams everywhere need to connect via video so they can collaborate at any moment.
Our affordable solutions bring the power of video to every workspace. Whether your team is in the office, working from home, or a hybrid of both, our tools offer superior audiovisual quality and feature smart software that makes using them easy. They're also designed for compatibility with your preferred video conferencing platform.
When team collaboration wins. The business wins.
VIDEO COLLABORATION FOR EVERY MEETING ROOM
Get everything you need to build out small rooms for video meetings, including Logitech MeetUp, a mini computer with room-optimized software, and the Logitech Tap touch controller.
Tap + Meeting Room Computer
Tap into better meetings. With a sleek design, silent operation, and motion sensor for always-on readiness, Tap brings ease and convenience to online meetings.
Responsive 10.1" touch screen for easy operation.

Commercial-grade cable management with strain relief to keep connections tight.

Versatile table and wall mount accessories hide cabling and conserve space.

Bundled with a meeting room computer approved and/or certified for Google Meet Rooms, Microsoft Teams Rooms, or Zoom Rooms.
All-in-one conferencecam. Designed for huddle rooms and other smaller spaces, MeetUp packs big features into a compact form factor.
4K Ultra HD camera with 5X HD zoom.

Motorized pan/tilt lens with RightSight™ autoframing.

Full-range speaker system and beamforming microphone array.

Compact dimensions and versatile mounting options conserve space and minimize visible cabling.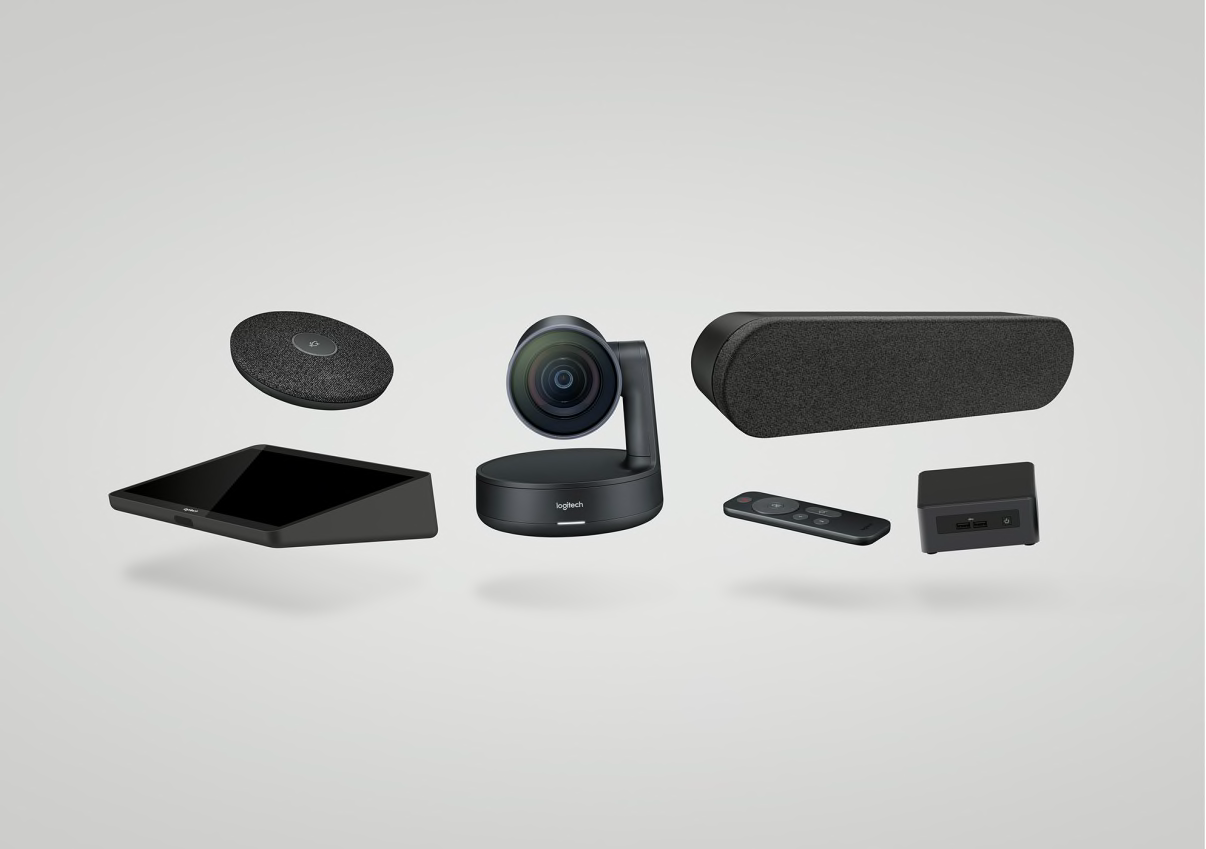 These preconfigured video conferencing solutions combine simplicity with flexibility, ensuring an ideal fit and high-end performance in mid-size meeting rooms.
Broadcast-quality video and room-filling audio, preconfigured for easy deployment and expandable for rooms with up to 46 seats.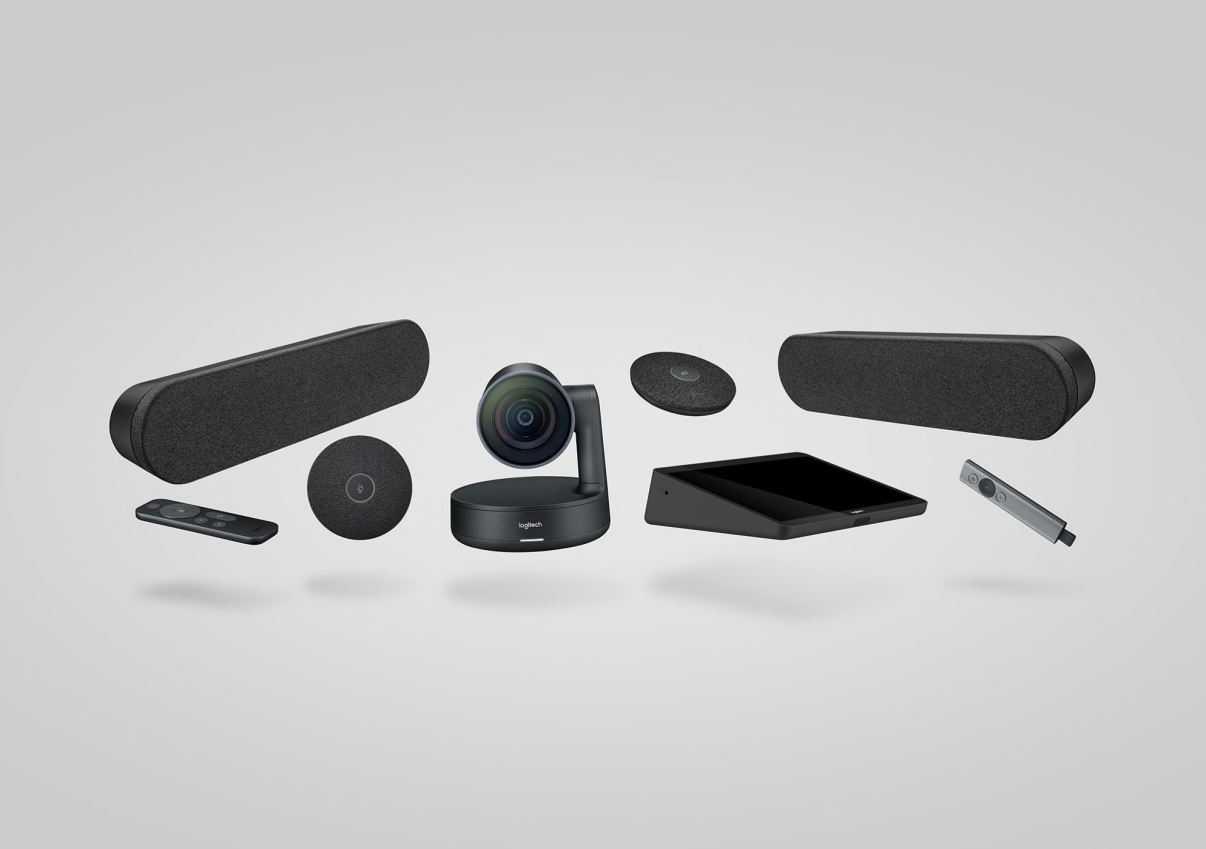 VIDEO COLLABORATION FROM THE DESKTOP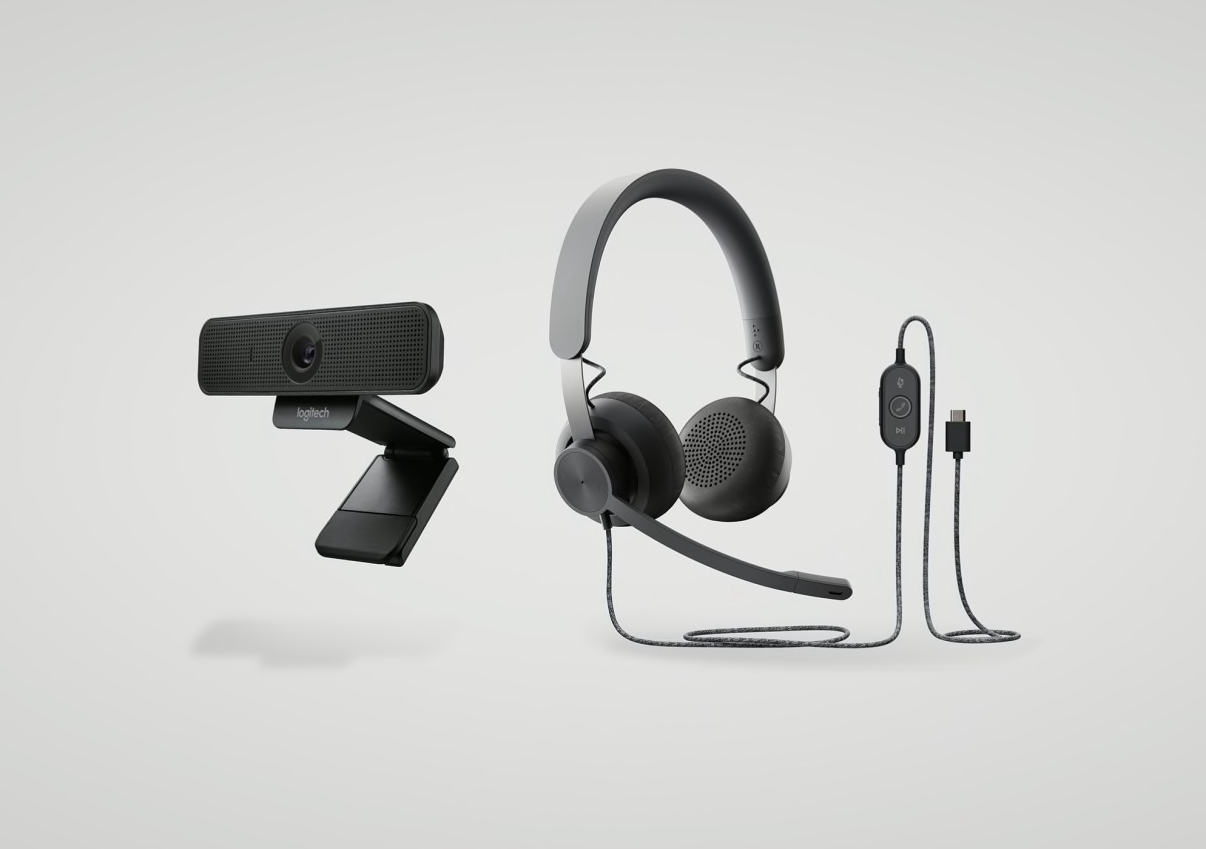 Personal Collaboration Kit

FOR CORE KNOWLEDGE WORKERS
Quality video collaboration solutions for your core team who take video calls directly from their desk. Featuring a purpose-built webcam and noise-cancelling headset, they ensure optimal video and audio quality ideal for open and noisy workspaces.
Made for the Zone. Designed for busy open workspaces, Zone Wired is a USB headset that delivers premium audio and reliable call clarity without all the noise.
40mm drivers deliver amazing sound for video calls and music—with full-bodied bass, crisp higher frequencies and incredibly low distortion.

Noise-canceling dual mic technology isolates your voice and suppresses distracting background sounds, delivering superbly clearer audio.

Lightweight and comfortable fit for all-day use, plus intuitive in-line controls on the tangle-free cable.

Compatible with popular calling platforms like Microsoft® Teams, Skype for Business, and Google Voice.Refer to logitech.com/product/usb-headset-wired for certification and compatibility.
A webcam that means business. Plug-and-play HD video for an enhanced face-to-face collaboration experience from virtually any desktop. 
Full 1080p high-definition video + 30 frames per second delivers true-to-life clarity to video meetings.

78-degree diagonal field of view perfectly frames you for every video meeting.

RightLight™ 2 Technology and autofocus intelligently adjusts to provide sharp video even in low-light conditions at multiple distances.

H.264 encoding frees up PC bandwidth by processing video within the webcam, ensuring a smooth video quality throughout the call.
PRO Personal Collaboration Kit

Ultra high-quality video collaboration solutions for members of your team who need to look professional and sound amazing. The kit combines our most advanced webcam that delivers stunning 4k video, and a noise-cancelling Bluetooth® headset designed for open workspaces.

Zone Wireless Plus Headset
Designed for focus. Bluetooth® headset keeps teams in their zone from any environment with exceptional sound, intuitive controls, and noise cancellation. Certified and compatible with popular business applications.Refer to logitech.com/product/bluetooth-headset-zone-wireless for certification and compatibility.
Unifying + audio receiver provides a reliable connection up to 10 m away from mice and keyboards, and up to 30 m away from the headset.

Noise-canceling mic and active noise cancellation reduce ambient noise, so teams can hear and be heard.

Intuitive and simple controls, flip-to-mute mic, active noise cancellation (ANC), and Qi wireless charging.

Connects to computer and smartphone simultaneously and seamlessly switches between them.
Our most technologically advanced webcam. Premier 4K ultra high-def camera with advanced features delivers professional-quality video in any environment. Certified and compatible with the popular business applications.Refer to logitech.com/en-us/product/brio for certification and compatibility.
Multiple resolutions include 4K (Ultra HD) @ 30 fps, 1080p (Full HD) @ 30 or 60 fps for outstanding clarity, smoothness, and detail.

RightLight™ 3 and high dynamic range (HDR) make users look great in any light.

Supports facial recognition for advanced security with Windows Hello™ or other facial recognition software.

3 field of view settings to perfectly frame videoRequires software download. + 5x digital zoom to get a closer look.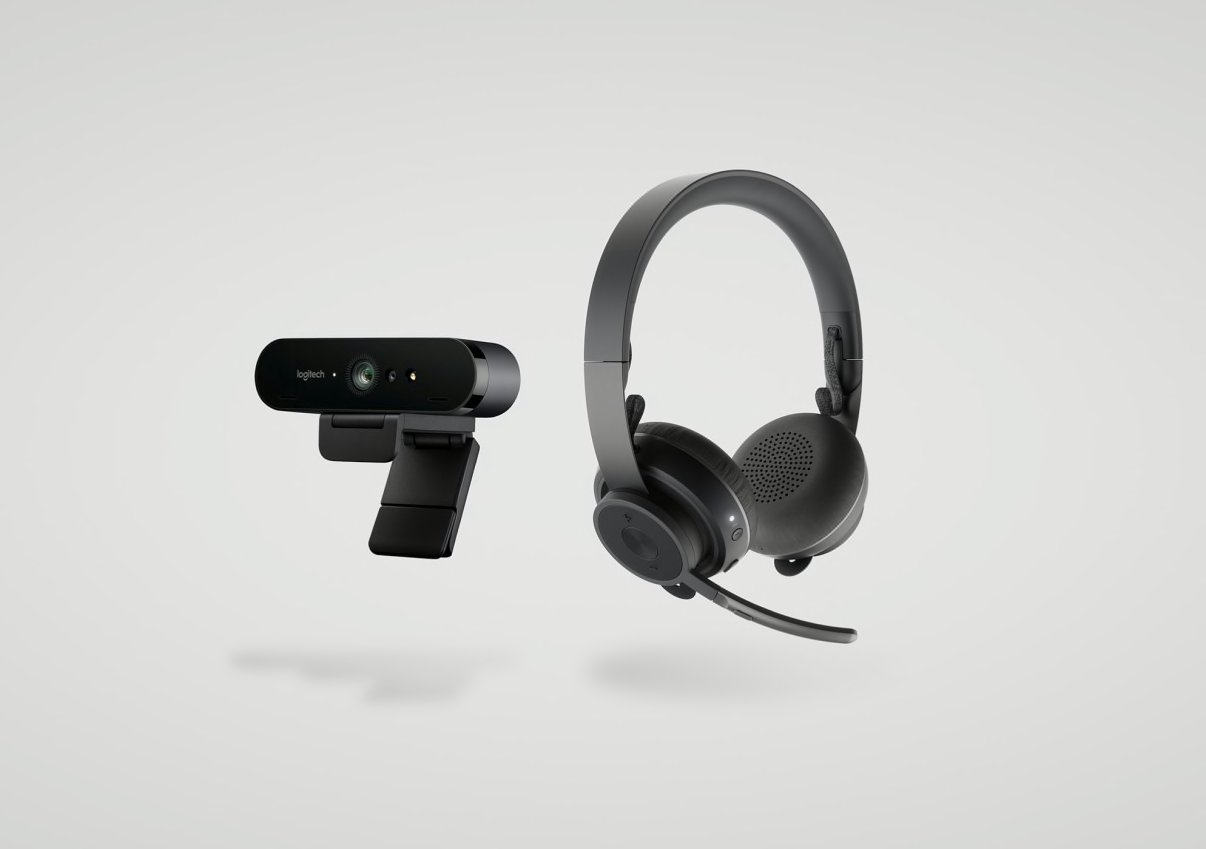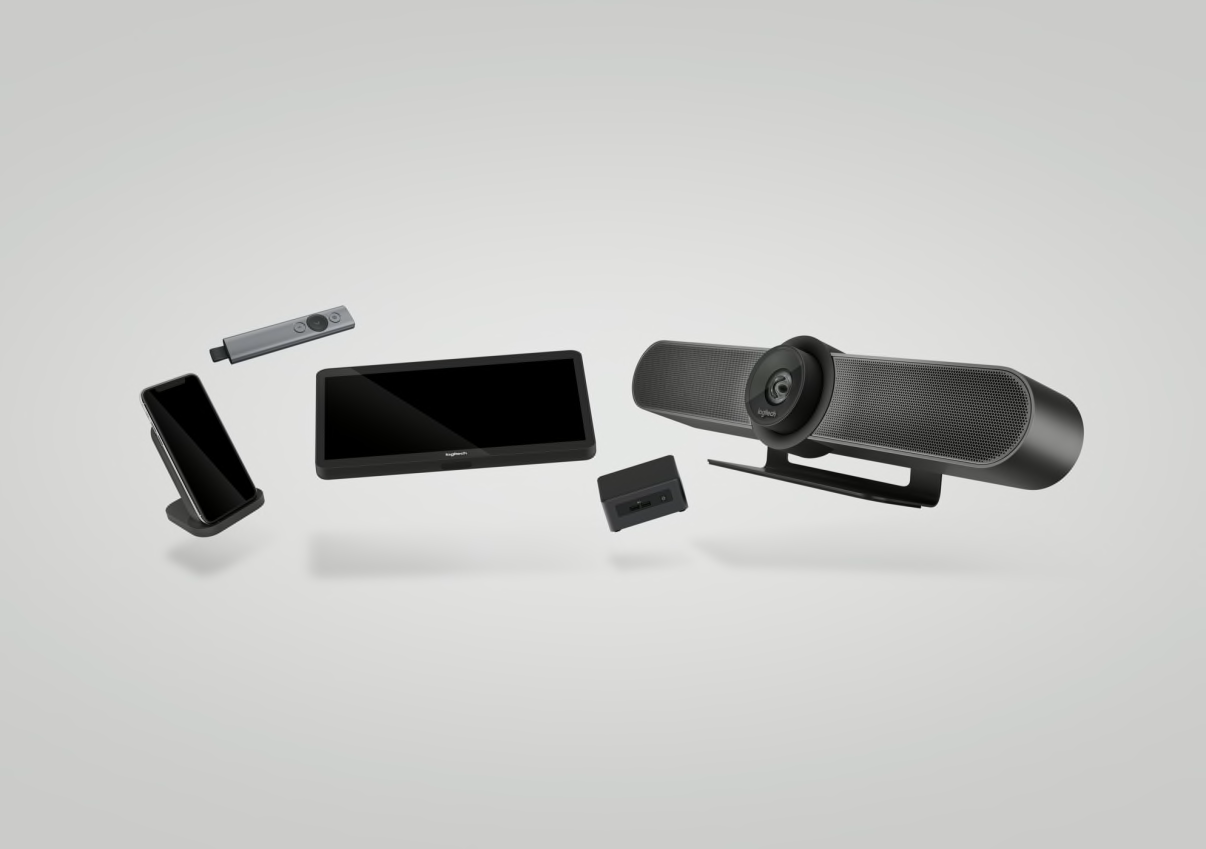 Executive Collaboration Collection

Premium collaboration and presentation solutions for the executive office space. Engage with anyone, anywhere with elegantly-designed, simple-to-use video collaboration, presentation remote, and wireless charging tools made for busy executives.
Seamless video meetings. A preconfigured system for small rooms that let executives quickly kick-off and run video with touch-screen control and high-quality video. 
Tap touch controller features a sleek design, silent operation, and a motion sensor for always-on readiness. Responsive 10.1" touch screen for easy operation. 
Meetup all-in one conferencecam with 4K Ultra HD camera, 5X zoom, extra-wide field of view, integrated audio—big features in a compact form factor. 

Bundled with a meeting room computer approved and/or certified for Google Meet Rooms, Microsoft Teams Rooms, or Zoom Rooms.
Spotlight Presentation Remote
Present with confidence on any screen. Lets users deliver persuasive presentations with best-in-class presentation control. Control a digital pointing system that works on any screen.
Highlight, Magnify, or pinpoint areas of focus with a Digital Laser.Enabled via Logitech Presentation App

Works on any digital screen—monitors, smartboards, multi screen rooms—even during video call screen share.

Plug-and-play on Windows® or Mac®, connect via USB receiver or Bluetooth®—present from any host computer than permits USB access.

Charge 1 minute for 3 hours of presenting, charge 60 minutes for up to 3 months of use.May vary based on usage.
POWERED Wireless Charging Stand
Use while you charge. Executives can effortlessly multi-task with a wireless charger that keeps their phone upright and viewable.
INDUSTRY LEADING VIDEO CONFERENCING
Work Together Solutions comprise best-in-class hardware and software, delivering crystal clear video meeting experiences that are easy to deploy and use.
Brilliant optics. Advanced audio. Our proprietary lens technology delivers stunning image quality at high resolutions. While our advanced audio engineering delivers room-filling, rich, natural sound, reduces noise, and picks up voices with outstanding clarity.
Users focus on the meeting. We do the rest. Logitech RightSense™ proactive technologies make premium quality meetings effortless. Users simply start a meeting while it automatically adjusts frame, lighting, sound and a range of audiovisual refinements that create the optimal experience.
Ready for your platform of choice. Our products and preconfigured solutions are developed in close partnership with leading video conferencing providers to seamlessly integrate with the platforms you already use.
Easy to set up and manage. Meeting room solutions are pre-configured for deployment at scale, while our Personal Workspace Kits are simply plug-and-play. And centralized device management helps your teams stay connected and maximizes uptime.
Logitech Premium Camera Optic: The Story Behind the Lens

Powerful productivity and collaboration tools for team members at home and on-the-go. 
Ergonomic mice and keyboards for users seeking comfort without sacrificing performance.
Contact Sales
Are you looking for more information about Logitech's business solutions? We have an expert team ready to help. Please fill in the form and a Logitech Sales representative will contact you shortly.
WHERE TO BUY?
Logitech's business partners are certified, knowledgeable resellers covering North America, Europe and Asia-Pacific. These trusted partners will understand your needs, then help you select and purchase Workspace Winning solutions that solve your unique challenges.