Pangea temporary hotfixes here
Slim Wireless Keyboard and Mouse Combo MK470
Ultra-slim, compact, and quiet wireless keyboard and mouse combo.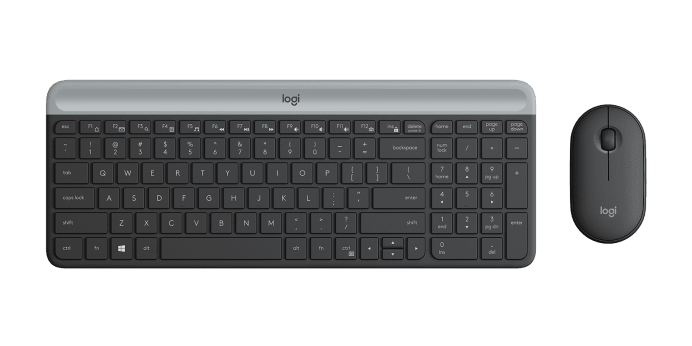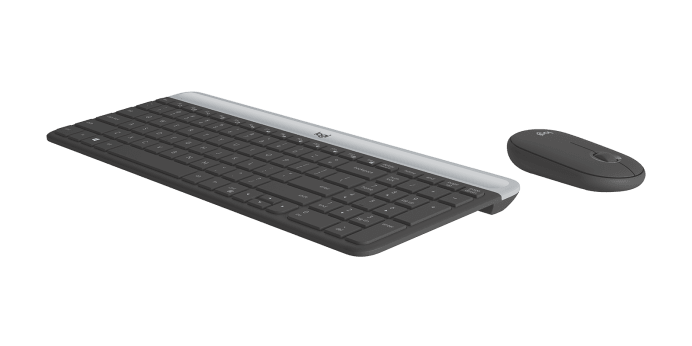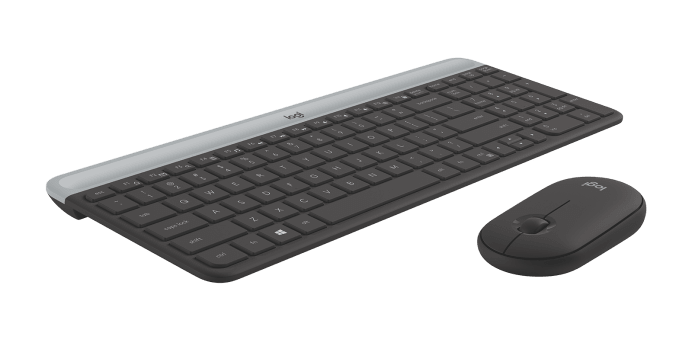 Slim Wireless Keyboard and Mouse Combo MK470
Ultra-slim, compact, and quiet wireless keyboard and mouse combo.
DELIVERY OPTIONS
Enter your zip/postal code to show delivery options in your area.
We could not find your current location.
Shipping times are estimated
Make any space minimalist, modern, and whisper-quiet with the MK470 Slim Wireless Combo – an ultra-thin and design-forward keyboard and mouse combo perfect for getting things done efficiently – even in the tightest desk spaces
Due to ongoing product enhancements, the battery door on the keyboard you receive may be either glossy or matte
Dimensions
Mouse Dimensions
Height: 4.21 in (107 mm)
Width: 2.32 in (59 mm)
Depth: 1.04 in (26.5 mm)
Weight (including battery): 3.53 oz (100 g)
Keyboard Dimensions
Height: 5.6 in (143.9 mm)
Width: 14.7 in (373.5 mm)
Depth: 0.84 in (21.3 mm)
Weight (including battery): 19.7 oz (558 g)
Nano receiver
Height: 0.57 in (14.4 mm)
Width: 0.74 in (18.7 mm)
Depth: 0.24 in (6.1 mm)
Weight: 0.06 oz (1.8 g)
Technical Specifications
Mouse
Sensor Technology: High Precision Optical Tracking
Sensor resolution: 1000 DPI
Number of Buttons: 3
Scroll Wheel: Yes- Mechanical
Scroll Buttons: Middle Button
Unifying ready mouse: No
Unifying ready receiver: No
Battery life Mouse: 18 months
Battery type mouse: 1xAA
1-Year Limited Hardware Warranty
Graphite English :

920-009437

Off-white English :

920-009443
California Warnings
WARNING: Proposition 65 Warning
Receiver
Required : Available USB port
Windows® 7, 8, 10 or later
ChromeOS™
Works with Surface
Keyboard
2 AAA batteries (pre-installed)
Mouse
1 AA battery (pre-installed)
USB receiver
User documentation
MINIMALIST. MODERN. SLIM.
The MK470 Slim Combo stands out for its simplicity. The slim profile and minimalist design transform your keyboard and mouse into a visual statement for a clean, sleek desk setup.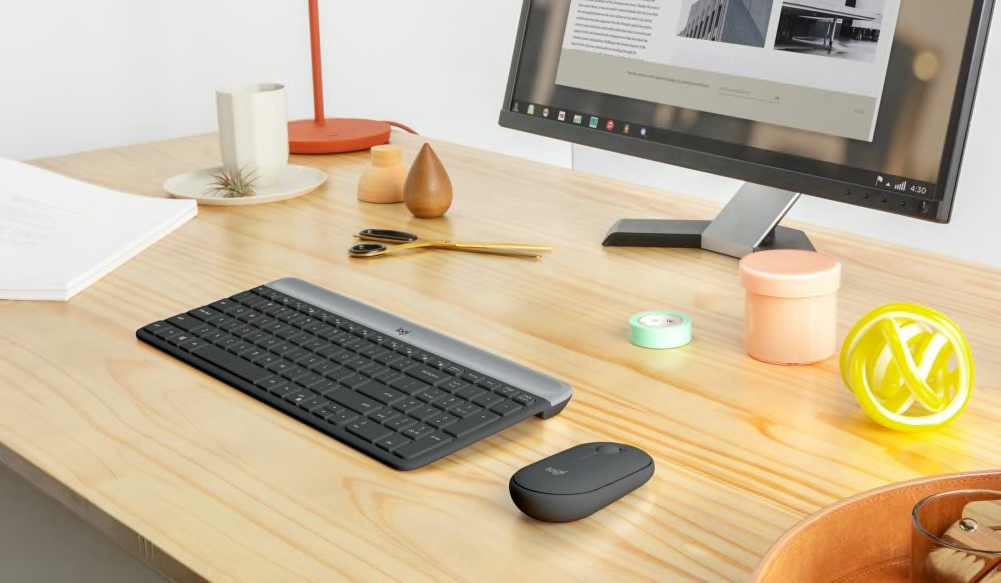 SPACE-SAVING PRODUCTIVITY
The compact keyboard includes a number pad and 12 FN shortcuts, giving you all the keys you need for efficient data entry, in a tighter key layout. The slim mouse is extra portable and you can easily store it in your laptop bag or in your pocket for on-the-go productivity. 
The combo's smaller footprint means you can work on the tightest desk spaces and keep your mouse comfortably within reach.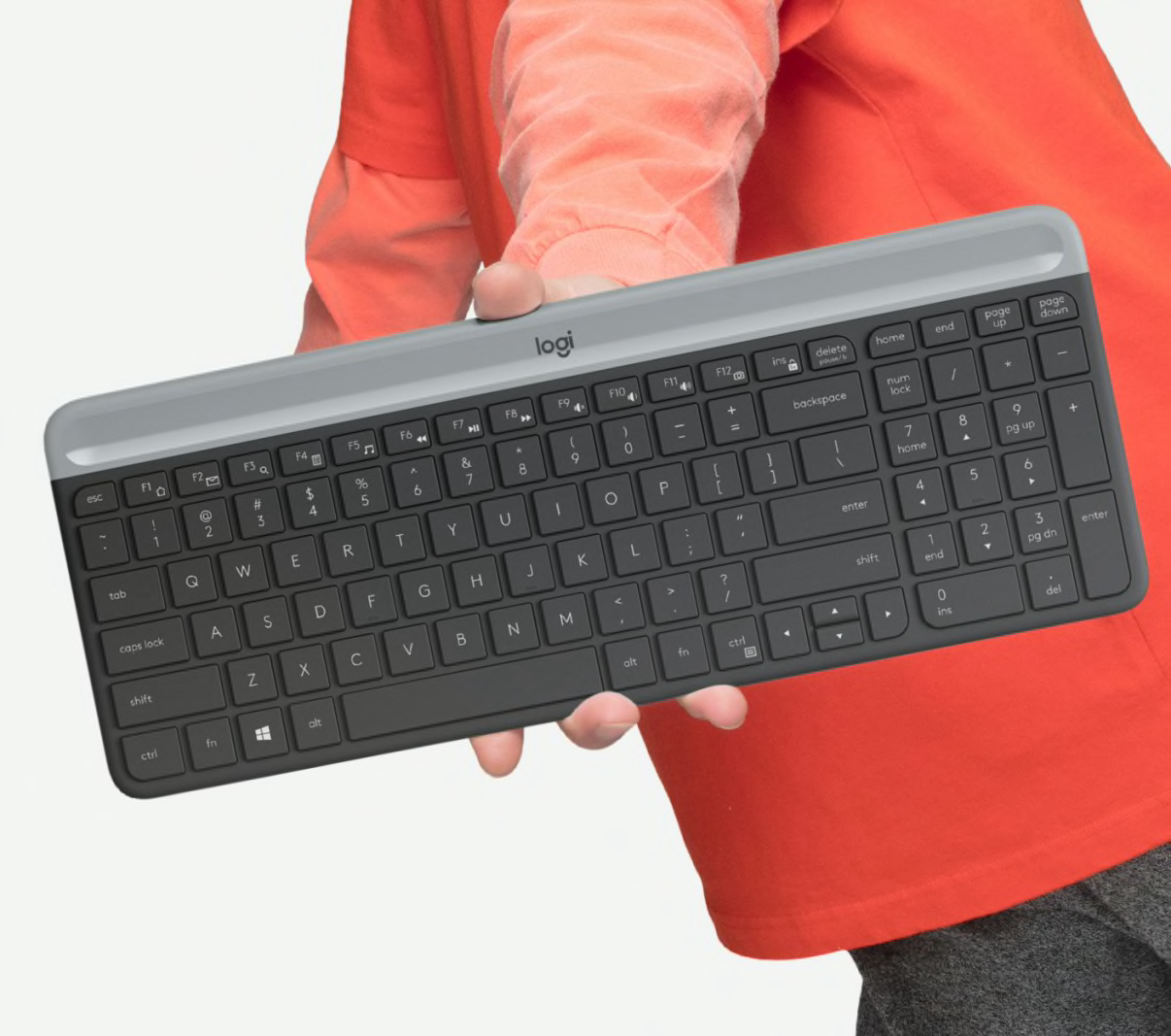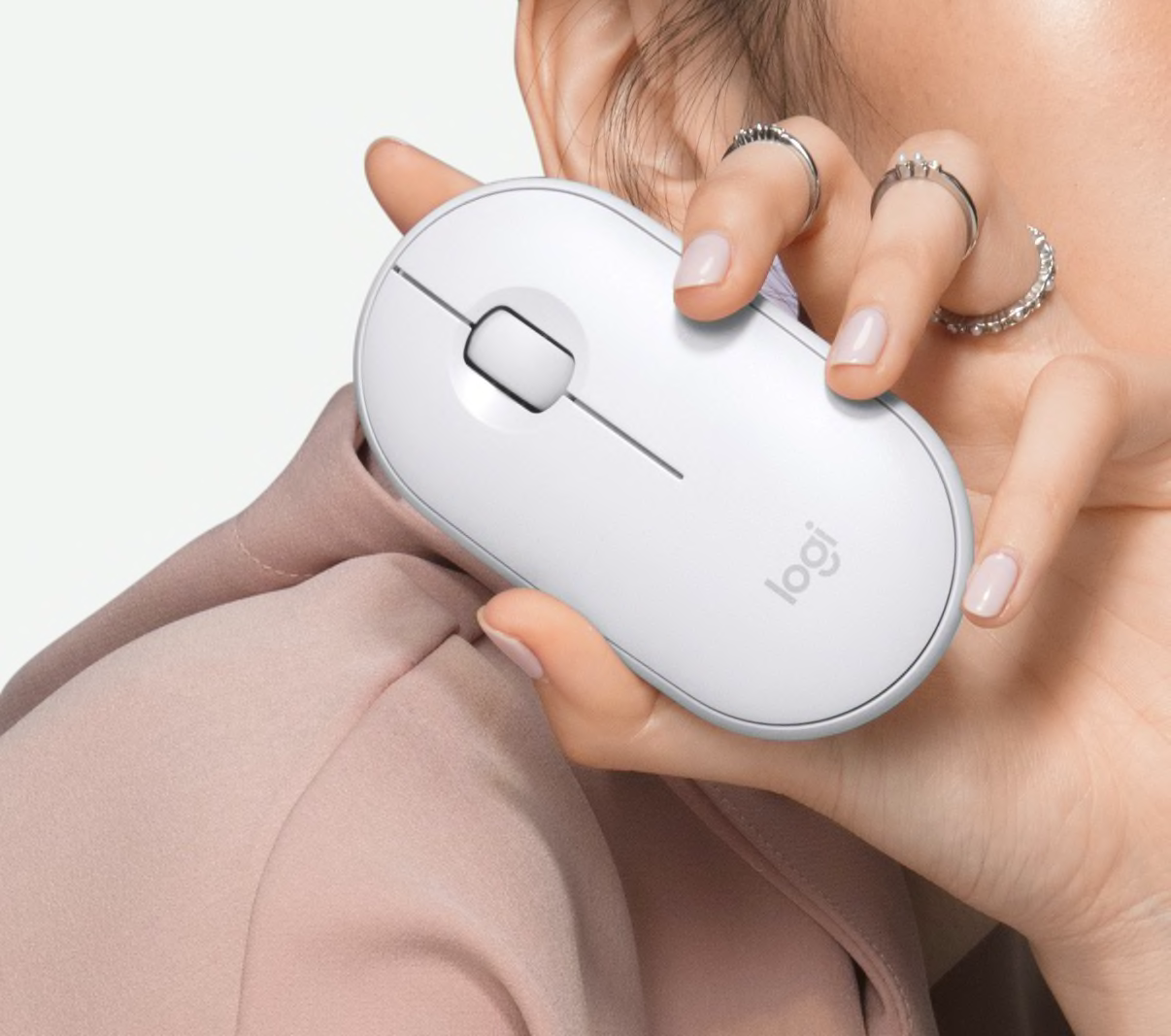 FLUID, COMFORTABLE TYPING & MOUSING
Low-profile scissor keys provide a fluid and familiar laptop-like typing experience. The smooth pebble shape of the ambidextrous mouse feels great in either hand.
COMPLETE WITH AUDIO AND VIDEO
Add a modern webcam and headset to complete your work-from-home setup.  Great video and audio go a long way in boosting communication in virtual meetings and presentations.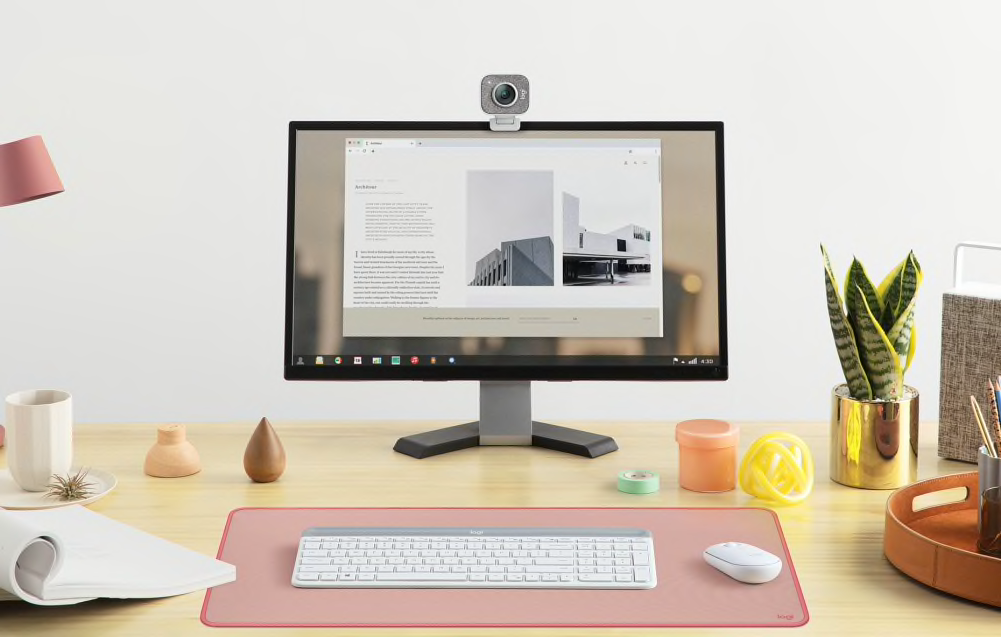 Is the MK470 compatible with Mac®?
Yes! While this keyboard has a dedicated Windows layout, it still works on macOS®.
Does the MK470 work with a Chromebook™?
Yes! While this keyboard has a dedicated Windows layout, it still works on a chromebook that has a spare USB port for the receiver. Some specific Chrome shortcuts will not be available.
Have you found that the MK470 keyboard goes to sleep? If so, how do you wake it up?
Yes, we do put out all our products into a sleep state if left idle. We do this to save battery for you so you have much longer utilization of the keyboard and mouse. Normally you just need to start typing or move the mouse to wake them. If you experience any issues, please reach out to our Customer Service team.
How to clean the MK470 mouse and keyboard combo
Just follow these steps:
Switch off or unplug the keyboard or mouse to make sure nothing is typed or clicked during cleaning.



Rub exposed surfaces with standard 70% isopropyl alcohol wipes, such as Clorox Wipes — or dampen a cloth with 70% isopropyl alcohol solution.



NOTE: Avoid using abrasive scrubbing brushes, and don't submerge the devices in fluid as they are not waterproof.
What happens if I lose my Logitech USB Receiver?
If you've lost the USB receiver to your Logitech MK470 wireless keyboard and mouse combo, please contact support for more information.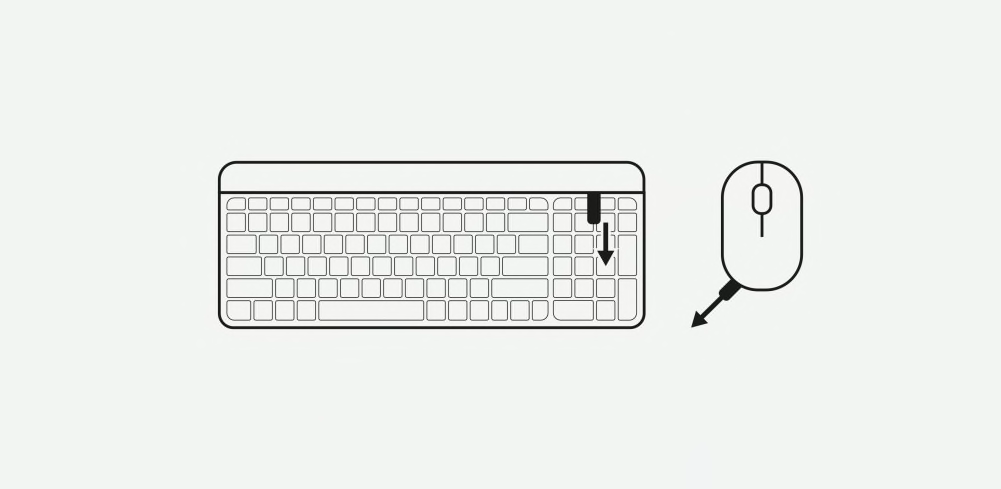 Step 1
Remove the pull-tab
First, pull the tabs protecting the batteries from your mouse and keyboard. Your Slim Combo MK470 will automatically turn on.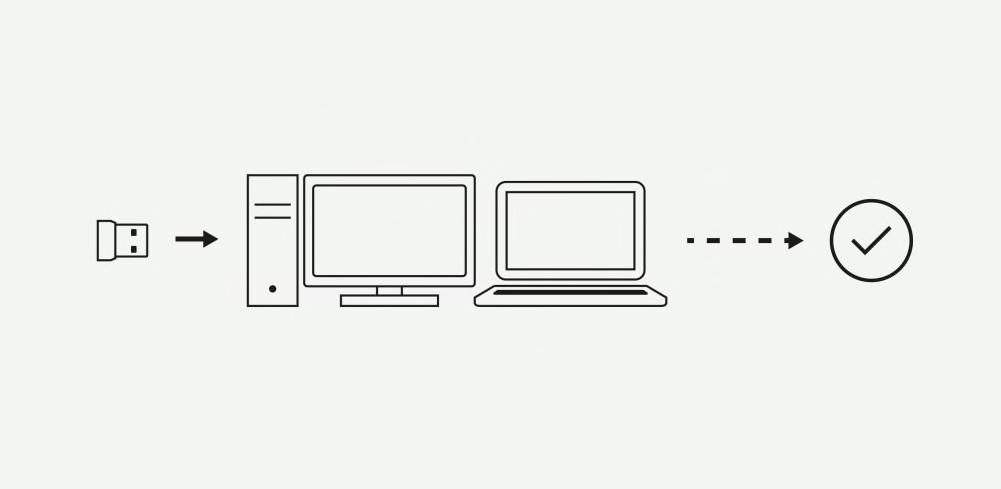 Step 2
Connect via USB
Insert the USB receiver in any available USB port on your desktop or laptop. Your keyboard and mouse will be ready to use.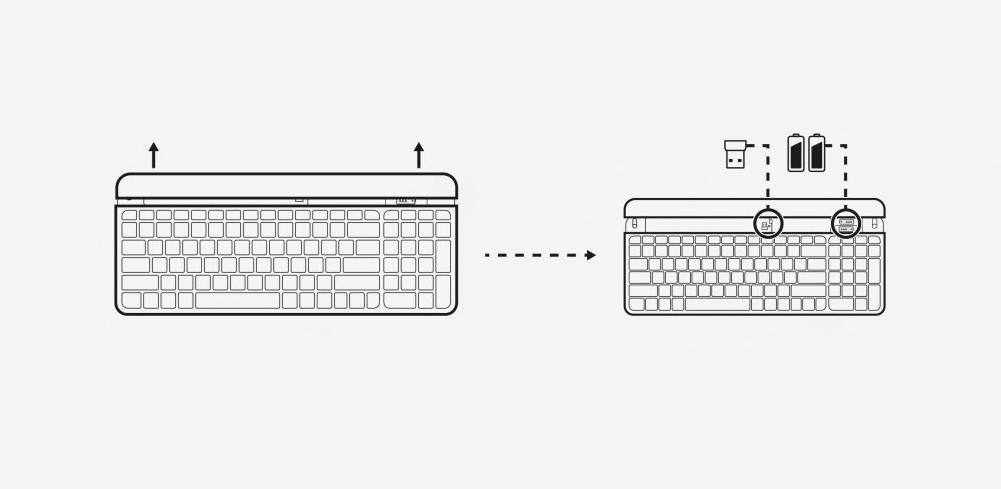 Step 3
How to remove the keyboard battery
Slide the upper part of the keyboard up to find the batteries and receiver storage inside.
1
2
3