Pangea temporary hotfixes here
MK540 ADVANCED
Instantly familiar. Simply advanced.
MK540 ADVANCED
Instantly familiar. Simply advanced.
DELIVERY OPTIONS
Enter your zip/postal code to show delivery options in your area.
We could not find your current location.
Shipping times are estimated
The MK540 Advanced is an instantly familiar wireless keyboard and mouse combo built for precision, comfort, and reliability.
Dimensions
Keyboard
Height: 7.62 in (193.5 mm)
Width: 18.00 in (457.3 mm)
Depth: 0.94 in (24 mm)
Weight (without batteries): 22.33 oz (633 g)
Mouse
Height: 2.43 in (61.8 mm)
Width: 1.54 in (39.2 mm)
Depth: 0.45 in (11.5 mm)
Weight: 2.59 oz (73.5 g)
Technical Specifications
Customization software
Supported by Logi Options+ on macOS 10.15 or later and Windows 10 or later
1-Year Limited Hardware Warranty
Windows® 7,10,11 or later
Wireless Keyboard K540
Wireless Mouse M310
Logitech Unifying™ receiver
3 AA alkaline batteries (pre-installed)
User documentation
RECOMMENDED DESK SET-UP
Instantly familiar. Simply advanced. The everyday desk set-up for your home.
INSTANTLY FAMILIAR. SIMPLY ADVANCED.
The MK540 Advanced is an instantly familiar wireless keyboard and mouse combo built for precision, comfort, and reliability. The full-size keyboard features a familiar key shape, size, and feeling – and the contoured and ambidextrous mouse has been designed to fit comfortably into either palm.
FAMILIAR TYPING EXPERIENCE
The keys have been optimized for improved accuracy and reduced noise – and your fingers will immediately feel at home on the familiar key surface and layout. The palm rest and adjustable tilt legs keep you comfortable for long stretches at the desk.
CONTOURED COMFORT MOUSE
The wireless mouse's contoured shape and soft rubber side grips are designed to fit comfortably in either your right or left palm – and enhanced tracking and precise cursor control keep you in command.
PRODUCTIVITY AT YOUR FINGERTIPS
Convenient and essential hot keys give you direct access a media, calculator and battery check functions. Preset Fn keys can even be personalized in Logi Options+ to meet your specific needs.
ESSENTIAL TOOLS. BETTER WORK.
Simple, powerful tools that deliver real work victories — even at home. Complete your setup with the right keyboard, mouse, headset, and webcam for better typing and navigation, plus superior audio and video—so you can conquer just about any task from home.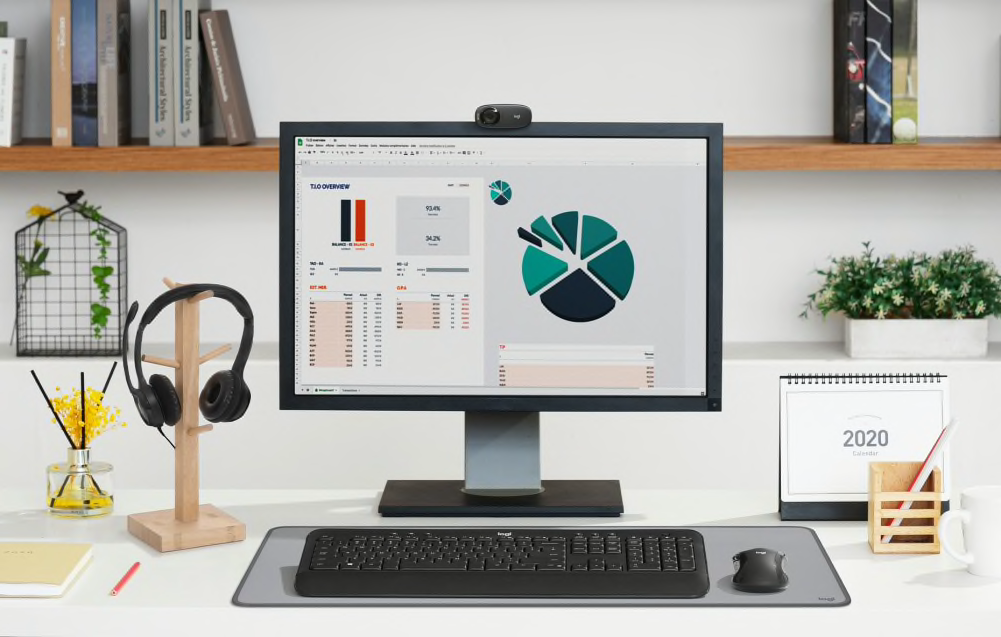 How do I pair the Logitech MK540?
To connect the MK540 mouse and keyboard, plug the provided Unifying receiver into a USB port on your computer. You can reprogram some of the F-key shortcuts and hotkeys using the Logi Options+ software available for download below or from www.logitech.com/software/logi-options-plus.html.
Is Logitech MK540 compatible with Mac®?
Yes! While the MK540 Keyboard and Mouse Combo features a Windows layout, it will work with macOS®.
Is MK540 Unifying Ready?
Yes! The Mk540 Keyboard and Mouse Combo are Logitech Unifying-ready — this means they can be paired to any Logitech Unifying receiver. You can pair up to 6 compatible devices to the Logitech Unifying receiver that comes with this combo. It can be bought separately
How to clean the MK540 mouse and keyboard combo
Just follow these steps:
Switch off or unplug the keyboard or mouse to make sure nothing is typed or clicked during cleaning.



Rub exposed surfaces with standard 70% isopropyl alcohol wipes, such as Clorox Wipes — or dampen a cloth with 70% isopropyl alcohol solution.



NOTE: Avoid using abrasive scrubbing brushes, and don't submerge the devices in fluid as they are not waterproof.
What happens if I lose my Logitech USB receiver?
You can buy a separate Unifying USB receiver on logitech.com or other retailers and pair it to your keyboard and mouse via the Options software.
Download Logitech Unifying software to easily add all of your Unifying products to a single Unifying receiver.
FIND THE PRODUCTS THAT ARE RIGHT FOR YOU
Description
Connectivity
Multi-Device
Size
Battery life
Compatibility
Logitech Options Software
Typing feeling (Keyboard)
Adjustable height (Keyboard)
Palm rest (Keyboard)
Phone or tablet stand (Keyboard)
Tracking (Mouse)
Scrolling (Mouse)
Programmable buttons (Mouse)
Rubber grip (Mouse)
Instantly familiar. Simply advanced.
USB Unifying Wireless
No
Keyboard: Full-size (with number pad)
Mouse: Full-size
Keyboard: 36 months
Mouse: 18 months
Windows, ChromeOS
Logi Options+
Deep-profile keys
Yes
Yes
No
Smooth Optical Tracking
Line-by-Line scrolling wheel
1
Yes
Wireless Keyboard and Mouse Combo
USB Unifying Wireless + Bluetooth
Yes
Keyboard: Full-size (with number pad)
Mouse: Full-size
Keyboard: 36 months
Mouse: 24 months
Windows, Chrome OS, macOS
Yes
Deep-profile keys
Yes
Yes
No
High Precision Optical Tracking
Hyper-Fast + Tilt Wheel
6
Yes
DECADES OF DESIGN EXPERTISE
With more than 22 years experience designing high-quality keyboards and mice, we carefully design, develop, prototype, and study all the essential components of our devices, from the core technologies to the comfort and ergonomics of their design.
We strive to provide each individual with their ideal typing and navigation experience, according to their stature, lifestyle and deskspace.