Creative Unblock
Craft adapts to your unique workflow so you stay in the moment and deeply connected to what you're making.
The Crown – A Unique Input Dial
Touch the Crown to instantly access context-specific functions, tap to change function, and turn to change the selected function's value.

The Crown spins fluidly then switches to ratchet mode for point-by-point precision when you need it.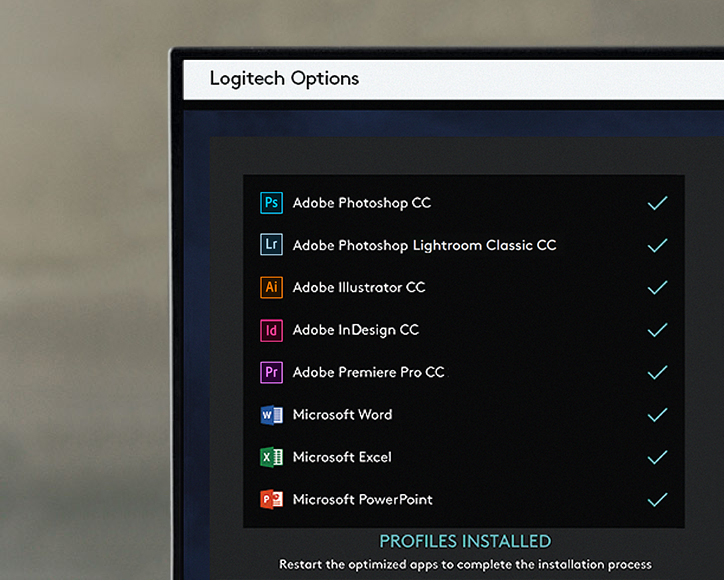 Optimized For What You're Working On
Craft adapts to the app you're using — and how you're using it. Install profiles in Logitech Options to enhance the Crown for use with Adobe Photoshop® CC, Adobe Photoshop Lightroom® Classic CC, Adobe Illustrator® CC, Adobe Premiere® Pro CC, Adobe InDesign® CC, and Microsoft PowerPoint®, Microsoft Excel®, and Microsoft Word.1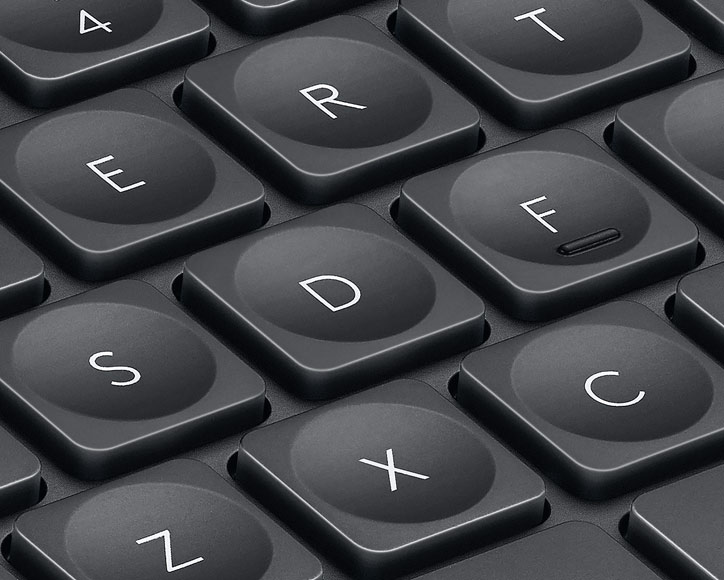 20 Years Of Experience In Every Key
Decades of Logitech expertise have gone into ensuring that every keystroke is fluid, natural, and accurate.

The unique spherical dishing of the keys matches the natural shape of your fingers, and their round edges provide feedback to your fingertips — no matter where they strike the key. Matte coating has been applied to every key so your fingers glide effortlessly over the surface.
Backlighting That Welcomes You To The Desk
Proximity sensors detect your hands, illuminating the keyboard the moment your fingers approach. The backlit keys then fade off when you leave the desk — saving power for those moments of inspiration.

Backlighting intensity automatically adapts to lighting conditions, or can be set manually.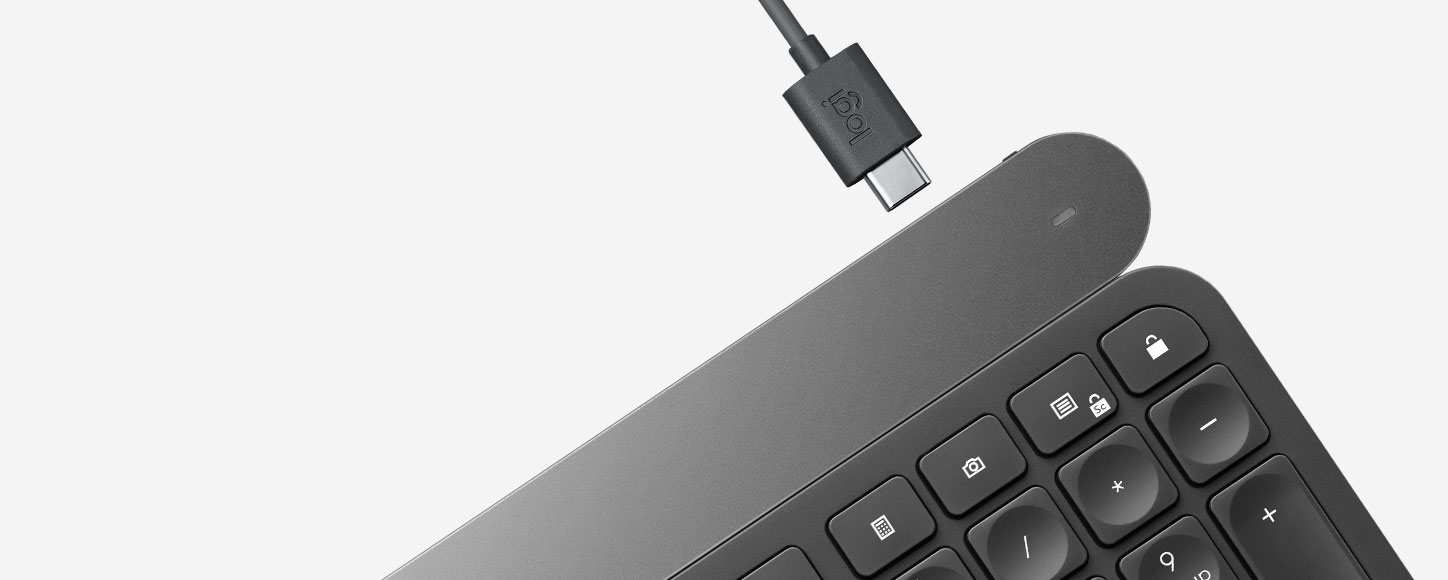 Free of wires. And distractions.
Never break your flow for battery or connectivity issues.

Craft stays powered for an entire week (battery life varies based on how much you use the Crown and/or backlighting.) When it's time to recharge, Craft's battery indicator light glows red. Use the USB-C charging cable to top up the power. Craft reliably connects wirelessly via Logitech Unifying or Bluetooth® Low Energy technology.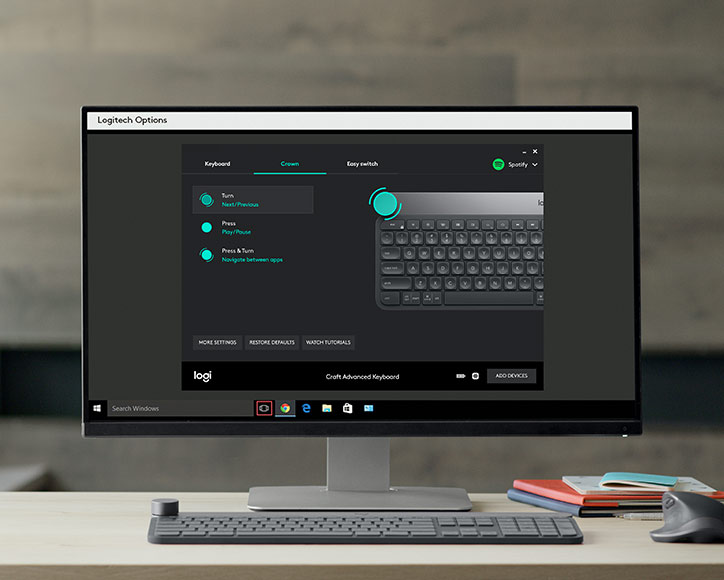 You've Got Options
Personalize Craft in Logitech Options software. Assign the F-Keys for specific functions or custom shortcuts — and set the Global Controls of the Crown to control media, navigate tabs, and more.2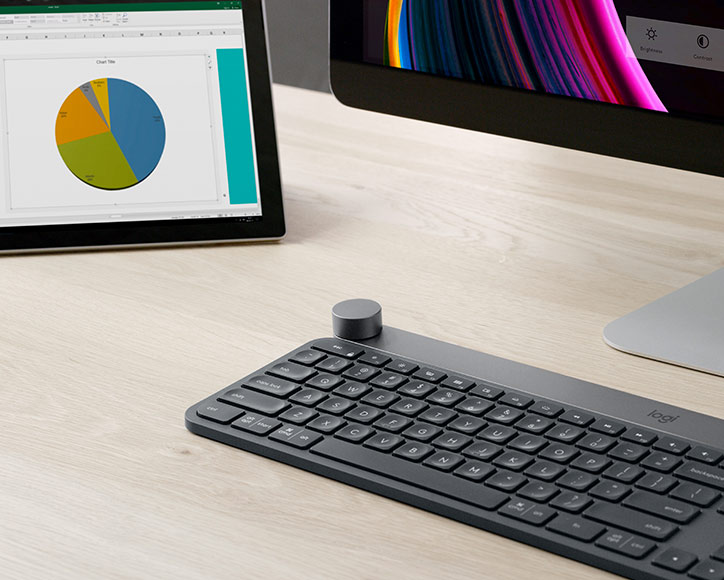 Multi-device And Multi-os
Easy-switch between three devices with a the touch of a button – or flow between them with a Flow-enabled mouse. Craft's dual layout is designed for both Mac and Windows users, and the experience has been optimized for both operating systems.
More about Logitech Flow
Dimensions

Height x Width x Depth:
32 mm x 430 mm x 149 mm

System Requirements

Internet connection for software download

USB connection:

available USB port required

Bluetooth connection:

Bluetooth low energy technology ready device with keyboard support required (Bluetooth HID)

Logitech Options on Windows 7 and above, macOS 10.11 and above

Technical Specifications

Connection support:

Logitech Unifying 2.4GHz wireless technology

Bluetooth Low Energy technology

Software support:

Logitech Options on Mac OS 10.11 and above and Windows 7 and above

Enhanced input dial experience in

Microsoft Word®, Microsoft PowerPoint, Microsoft Excel 2010, 2013 and 2016 - Windows only
Adobe Photoshop CC, Adobe Photoshop Lightroom Classic CC, Adobe Illustrator CC, Adobe Premiere® Pro CC 2017 and above – Windows and Mac

Adobe Reader® DC, VLC Media Player - Windows
Preview, Quicktime, Safari® - Mac
Spotify™ - Windows and Mac

3 connection indicator lights

Caps lock indicator light

Rechargeable with USB type C

Compatible with Logitech Flow™ enabled mice

Package Contents

Wireless keyboard
Unifying receiver
Charging cable
User documentation

Warranty Information

1-Year Limited Hardware Warranty

Part Number

CALIFORNIA RESIDENTS

WARNING: Proposition 65 warning

Adobe CC 2017 and above - Windows and Mac
Office 2010, 2013 and 2016 - Windows only
Requires Logitech Options on macOS and Windows. Available for download at logitech.com/options.
Wireless range may vary depending on operating environment and computer setup.
Wireless encryption is between keyboard and the connected computer or mobile device.