Wired 3.5MM Headset with Microphone
Designed with students in mind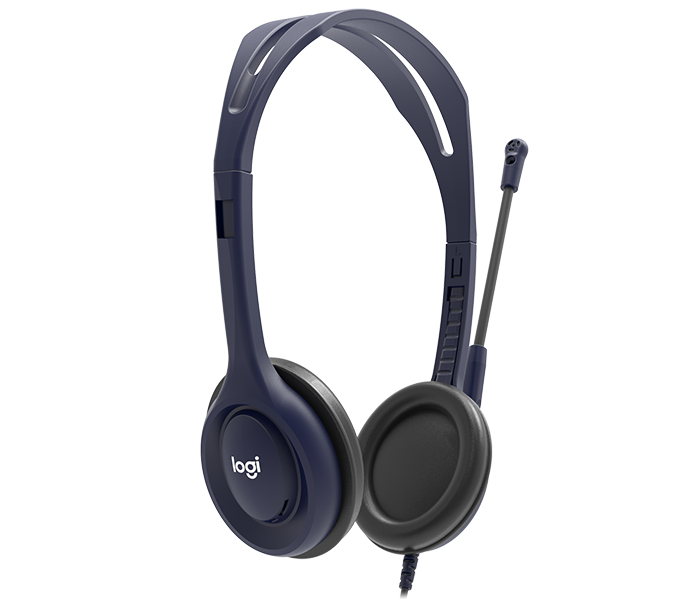 Start lessons quickly with a plug-and-play 3.5mm jack
Durable non-PVC cable is knot-resistant and chew-resistant
Enhance screen-based learning programs with clear audio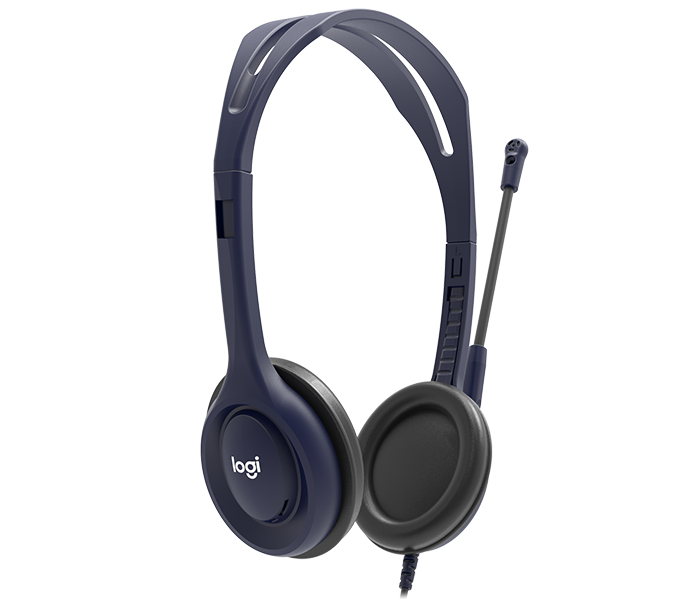 Key Features
SAFE AND DURABLE FOR STUDENT USE
Our headsets are designed to stand up to everyday use and occasional mischief. They're subjected to a tumble test, drop test, and plug-and-play test over and over again. Being mindful of student's health, our headsets are made from non-toxic plastic and have a 85dB volume limit to protect delicate ears as recommended by OSHA and NIOSH. The non-PVC cable is knot-resistant and chew-resistant (our favorite test). A 2-year warranty gives you peace of mind.
SIMPLE TO USE, EASY TO CLEAN
Students can jump right into lessons by simply plugging the 3.5mm connector into the headphone port of any computer, laptop, or tablet. The flexible microphone and headband easily adjust to fit most students. The durable plastic headset and leatherette ear pads can be quickly wiped clean with any disinfectant or antibacterial cloth. Replaceable ear pads are available to order.
TECHNOLOGY THAT SUPPORTS ELEARNING
Logitech headsets make screen-based learning a positive experience for everyone. This model provides analog stereo sound and is compatible with most learning platforms and software programs. The flexible, unidirectional microphone can be easily positioned to capture the student's answers clearly and minimize background noise so the audio playback is accurately heard. The ambidextrous microphone rotates 180° so students can choose whether to wear it on the left or right and it can be tucked out of the way when not in use.
HANDY CARRYING AND STORAGE BOX
Each box contains 5 headsets with 5 individual compartments for convenient storage. When class is over, just slip the headsets into individual zip-top plastic bags to keep them clean and tangle-free, a perfect task for classroom helpers. Both sides of the storage box include a designated space to write a teacher, classroom or group name. The front of each headset compartment also has a space for each student's name.1
EMPOWERING INDEPENDENT LEARNING
Headsets help kids focus by blocking out distractions and classroom noises. When students are able to learn at their own pace, they're more likely to retain what they've learned and achieve better scores. Logitech headsets are rugged, intuitive, and plug-and-play into the 3.5mm jack of any computer, laptop, or tablet. So students can take charge of their learning and their gear without additional supervision, giving teachers one less thing to worry about.2
Dimensions

Height x Width x Depth:
6.38 in (162 mm) x 5.67 in (144 mm) x 1.81 in (46 mm)

System Requirements

Available 3.5 mm headphone port on devices including computers, Laptops, and tablets

Technical Specifications

Cable length: Audio-in-cable: 4.3 ft (130 cm)

Boom type: ambidextrous, rotates 180°, wear on left or right side

Sensitivity (headphone): 85dBA at 1Vrms input

Sensitivity (microphone): -42dBV/Pa +/- 3dB

Frequency response (Headphone): 70Hz - 9KHz

Frequency response (Microphone): 200Hz - 5.5kHz

Package Contents

1 Wired 3.5 mm headset with Microphone
User documentation

Warranty Information

2-Year Limited Hardware Warranty

Part Number
Replaceable Ear Pad Covers

Leatherette ear pad covers are easy to replace.

Related Spare Parts

Replaceable leatherette ear pad covers package 25/bag
Find the products that are right for you
H111 Stereo Headset

3.5mm multi-device headset

$ 14.99

Wired 3.5MM Headset with Microphone

Designed with students in mind

$ 14.99

WIRED USB HEADSET WITH MICROPHONE

Designed with students in mind

$ 39.99

H390 USB Computer Headset

With enhanced digital audio and in-line controls

$ 39.95

Style

Headband, adjustable, over-head, on ear
Headband, adjustable, over-head, on ear
Headband, adjustable, over-head, on ear
Headband, adjustable, over-head, on ear

Connection type

3.5MM
3.5MM
USB
USB

Ear cushions

foam
leatherette
leatherette
leatherette

Cleanable, replaceable ear pads

Volume limiting at 85 decibels

Frequency Response (headphone)

20Hz - 20kHz

Sensitivity Response (microphone)

-58 dBV/µBar, -38 dBV/Pa +/- 4 dB
-42dBV/Pa +/- 3dB
-17dBV/Pa +/- 4dB
-17dBV/Pa +/- 4dB

Cable length
Audio-in cable

7.7 ft
(235 cm)
4.3 ft
(130 cm)
4.3 ft
(130 cm)
7.6 ft
(233 cm)
Wired 3.5MM Headset with Microphone
DESIGNED WITH STUDENTS IN MIND
DESIGNED WITH STUDENTS IN MIND
$ 14.99
Free shipping on orders over $49.00